In This Issue – Guest Editor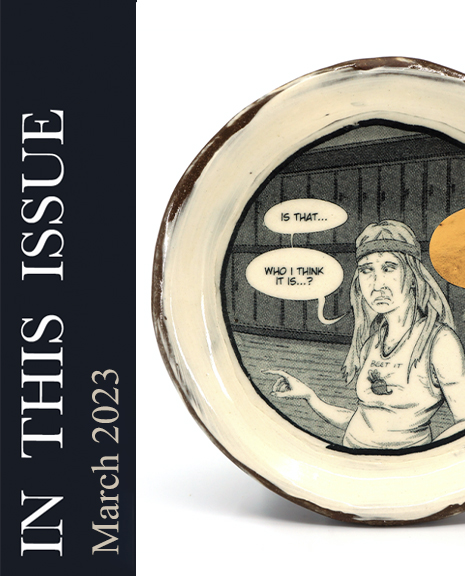 More than a demonstration of technical prowess or material feats, I have long been interested in the social aspect of pots—functional objects that circulate and empower the user to express something about themselves, their personality, history, or identity.
What caught my eye about the narrative strand among contemporary ceramics is how it approaches the vessel as a notepad, comic strip, and looking glass, translating daily experiences and nostalgias into casual characters, truncated quips, and brand-name fantasias. A wide-ranging group of artists use highly personal and idiosyncratic decoration and depictions to frame identity, pop culture, and mundane life as essential cultural currency. Large and small joys, struggles, and memories that are distinctly of our time are all candidly shared in a medium that will last for thousands of years. Encountering stories that seemed abstract or opaque at first, I found them asking for a bit of effort and compassion to enter and understand.
In this issue of Studio Potter, you will find artists and writers reflecting on their intentions, strategies, and techniques for creating their work, the similarities and differences in the voices or approaches, and what it means to tell these stories and experiences in this moment. My theme, as I highlight in my interview with Angelik Vizcarrondo-Laboy, was inspired by my continual encounters in recent years with vessels I didn't quite know how to categorize – multiple artists depicting glossy branded products in a firmly handmade way, as if to emphasize their individual experience with and ownership of this product in their life story. As a curator, Vizcarrondo-Laboy provides context to the reëmergence of narrative ceramics at this time, and her list of examples and references expands how we can think of pottery as well as the role of narrative. This interview is this month's FREE article.
Illustration is just one way that narrative can come into pottery. Ian Petrie writes about the multi-panel silk-screen transfer drawings he has spent years perfecting. Lest we forget, we are all play-acting new narratives on a daily basis.
A devout practitioner of the illustrated vessel, Matt Nolen performs an exquisite reading of the trajectory of his career, dissecting how his use of narrative has changed since the 1980s. Nolen explains some of the glossary of his own symbols – personal and cultural, private and global. 
Christina Erives sets the table, literally, for stories about her family history as told by shared meals and iconic ingredients. Her reflections on her pots and sculptural installations make explicit the endurance of passing down recipes, of habitual making in clay, and ultimately of the fired objects we leave to history.
Lastly, I want to celebrate how commonplace it seems to be for artists to put down a piece of their own story, on clay or in any material. Learning more about the artists included here and many others, I found time and time again the compulsion and ability to create, at any time, at any scale, whether for ten minutes in the car, or late at night, all night, evenings, and on weekends. I can't help but think of short-form social media videos as another individualistic, narrative, and often casual way of broadcasting one's story to the world. In the hand opposite our slick app interfaces, we might find a carved line, a fingerprint, a portrait, or a poem. Just as we crave balance to the online world in the tactile, local, slow, and handmade, it is important to see, share, and experience the small daily world – ours and others – in contrast to blockbuster film franchises and disempowering news narratives. 
I am so glad that a wide range of artists have chosen to share their narratives. May we be a worthy audience.
Dustin Yager
Guest Editor
---
Studio Potter is honored to welcome Dustin Yager to our guest editor legacy. The thoughtfulness and expertise that Dustin brings to our digital magazine play a vital role in curating high-quality contributions that advance the state of our creative knowledge. Studio Potter has held a long-standing legacy of the artist-invite-artist mindset, bringing in new creative thinkers that have brought us our most beloved archival collections. Of these collections and in honor of women's history month, I also encourage you to read Grace Sheese's, "Highlighting the Human," which compliments Dustin's curatorial vision, and the esteemed 1991 Women / Clay - Vol. 20 No. 1 - Part I and  Part II, as well as our Winter/Spring 2017 Women in Ceramics Vol. 45 No. 1.
Finally, on behalf of Studio Potter, I want to express our heartfelt thanks to everyone who lent us their expertise as guest editors over the past fifty years. Do you have a recommendation or nomination for a guest editor? Send your nominations to editor@studiopotter.org.