Latest News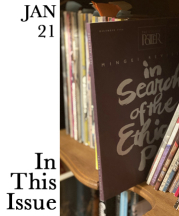 Welcome to 2021.
At our home the black-eyed peas and greens were prepared and eaten. The closets were cleaned, out with the old in order to welcome the new. We released old obligations, acknowledging our short-comings as we embraced our humanity. We were grateful for the gifts of grace... Read More
Letters to the Editor
Letters to the Editor
Studio Potter encourages dialogue with our readers. If you feel compelled to engage one of our authors' articles, we want to hear your thoughts. If you are moved to write your own article in reply, send us your pitch. If you think we are missing out on a story our community needs to read, you've come to the right place. We will support your story and work with you to preserve your voice.
Email: editor@studiopotter.org