Latest News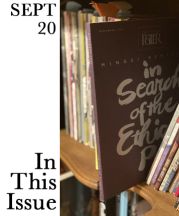 Welcome to September everyone. 
We've made it this far through 2020 – not unscathed, but we can see the year's terminating horizon with a strange combination of trepidation and hope. I can't imagine anyone would hazard a guess at this point about what lies around the corner, but we have... Read More
Studio Potter's 48th Birthday
Studio Potter's 48th Birthday
Studio Potter turns forty-eight this month! We will be celebrating on social media and invite you all to join us to learn about how the journal has evolved in the past year. You can help us celebrate by GIVING A SUBSCRIPTION to your favorite ceramist. Also keep an eye out for updates about our GRANTS FOR APPRENTICESHIPS program. The application window will be open from October 1 – November 1. We are looking forward to a competitive round of submissions for this unique opportunity that awards $10,000 to mentor and apprentice teams around the country.