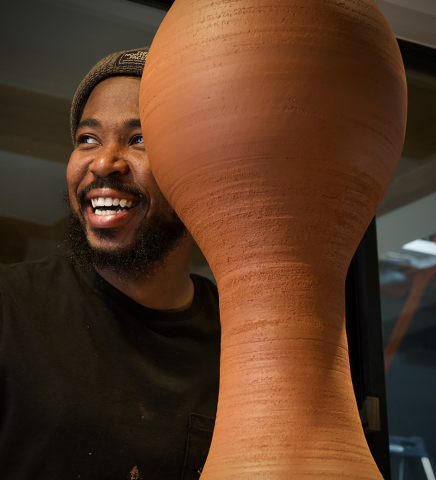 Author Profile
Khalil Jannah
I'm a twenty-two-year-old Black male with nothing to lose. Although some might say this would impede my progress, it has given me the unique liberty to pursue my dreams. In the past, I've run from my color being a prefix to my profession. Little did I know, it deepened the product of my labor. 
I was born in and lived in Milwaukee, Wisconsin, for about eight years. After our garage door was inscribed with "nigger," my parents found it best to move to the south side of Atlanta. As a child, Atlanta was a huge culture shock, but attending KIPP South Fulton Academy (Knowledge is Power Program) ensured a promising future. I lived in Atlanta for the past decade but attended George School in Bucks County, Pennsylvania, and recently graduated from Bates College in Lewiston, Maine. During the pandemic, I spent a year on the couch of a ceramics studio in San Diego while selling my wares in Santa Fe, New Mexico, and most recently, I moved to Detroit with friends from high school. Nomadism feels like home. Here I'll continue my pursuits in the art industry as I prepare for my internship in Taku, Japan next summer.  
I'm confident I'll be in museums in due time as I intend to own one in the future.