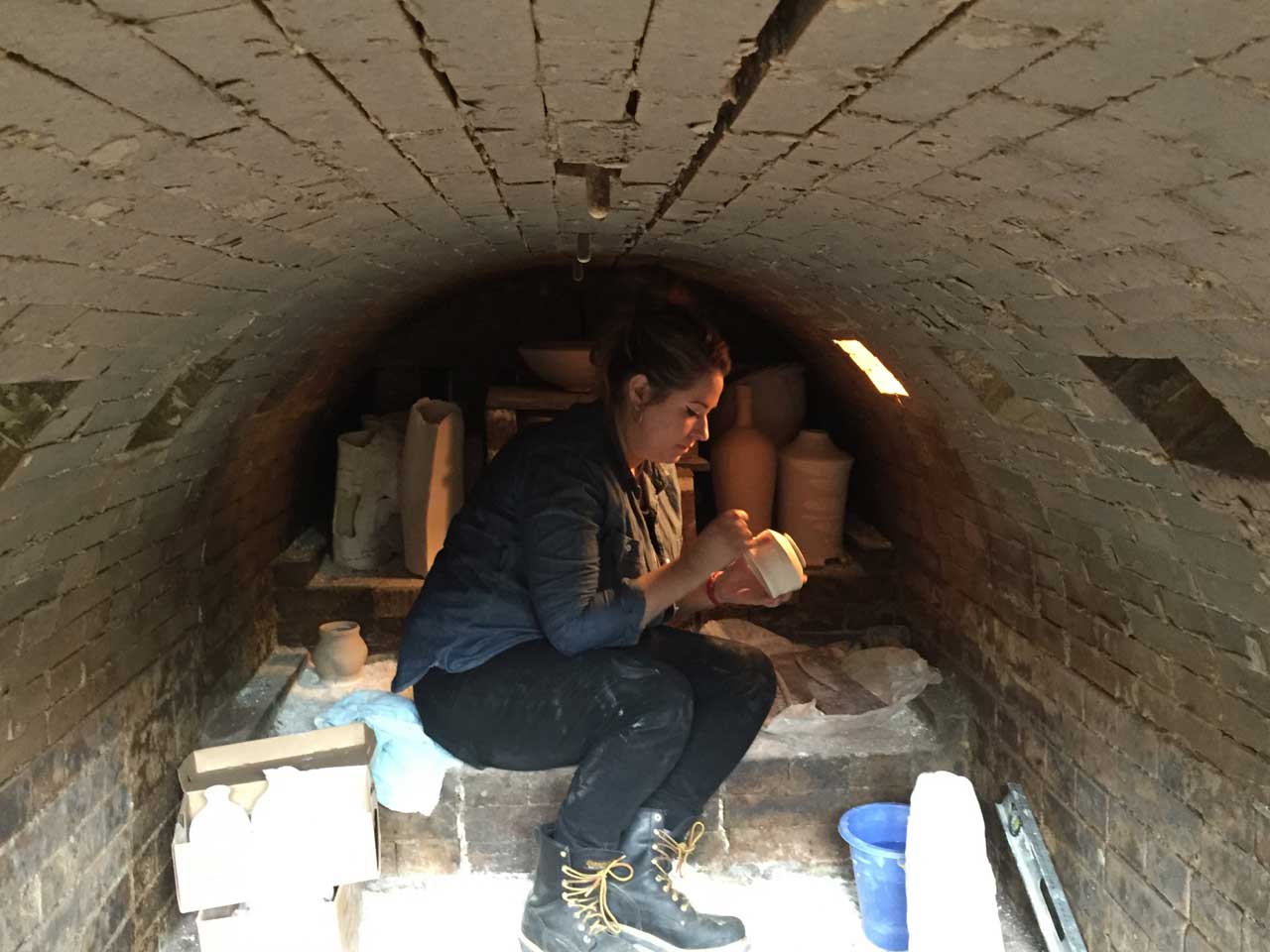 Fortunately, these days, potters and aspiring wood-firers don't have to own a kiln to wood-fire. Twenty years ago, there weren't as many wood-fired kilns as there are today, and opportunities to learn were few.  But now, there are hundreds of kilns in the United States. In addition to private kilns, there are teaching kilns at craft centers, universities, community colleges, and collectives. Opportunities range from weekend workshops and private firings to multiyear apprenticeships and degree or nondegree academic programs.
Workshops are a great first step for a beginning wood-firer. They offer opportunities to fire with knowledgeable people in a pedagogical setting that cost far less than formal academic courses. Participating in workshops is also a great way to immerse yourself in the process for a short time, while networking with people who share your interest.
Craft schools such as Peters Valley School of Craft (New Jersey), Penland School of Craft (North Carolina), and Arrowmont School of Arts and Crafts (Tennessee) have many different types of atmospheric kilns and firing opportunities. Besides offering short-term workshops, many craft and clay centers offer residencies, assistantships, and work-study programs for professional development. They are designed for artists who want concentrated time to explore techniques and directions in their work, and provide some financial support.
Full-time, live-work apprenticeship requiring a commitment of a year or two at a time will appeal to those who want an intensive experience. Typically offered in limited numbers by established artists, apprenticeships work best when the artist and the apprentice feel comfortable with each other.
On the other hand, for those who want to fire occasionally, there are plenty of opportunities. Many wood-fire ceramists own kilns and invite others to participate—for a fee, for work exchange, or a combination of both. You don't need a lot of experience to join a firing. Preparing for a wood-firing requires a great deal of work, but many hands make for light work. If the kiln is large, space is often rented out to participants, which helps pay for the fuel and assorted expenses of firing. A quick Internet search will turn up information about wood-fire potters and artists who open up their firings to the public, but the best way to learn about them is through word of mouth.
Through firing with many people in different kinds of kilns, beginners develop skills and a deeper understanding of wood-firing practices. They can assess the type of firing that best suits their work and learn about loading and stacking, glazes, clay bodies, wadding, types of wood, combustion cycles, problem solving, kiln designs, collaboration, the effect of the firing on the pots, and more. 
Regardless of which firing you choose, go to it prepared and eager to help. Bring protective gear, such as leather work gloves and eye protection. Polarized sunglasses will do, but for long firings, you'll need a pair of welding goggles (shade 2.5 or higher) to protect your eyes from exposure to heat and ultraviolet light. Wear nonsynthetic clothing and sturdy boots. Even in the middle of summer, you will want to have protective layers. A cotton bandana is useful to protect your hair and your face during high-temperature periods.
Learn to use tools and equipment safely. Be prepared to encounter grubs, spiders, carpenter ants, mice, and bees and to work in rain, snow, and sweltering heat. Know that preparing the kiln, kiln shelves, and wood for a firing may be scheduled months before the firing. After any firing, expect a lot of cleanup work.
A member of a firing crew is part of a dedicated team. Being generous and grateful to your crewmates will help you get through the challenges that a firing can present. If there is a set stoking schedule, show up a half hour before your shift so that you can learn how the stoking pattern is being managed. Pay attention; A good conversation can sidetrack you and make you lose the stoking rhythm. If the kiln has a pyrometer, find out where the cones are and take a look at them during your shift. Observe the changes of color and texture of the work inside the kiln and, most of all, learn to read the coals and combustion cycles.  
Before your shift ends, take a moment to tidy up around the kiln and set up wood for the next stoker.  If you show up for your shift and the kiln is at a transitional moment, know that the kiln master may step in and change plans to make the transition successful—a lot of decisions are made during the firing to manage conditions.
I hope these suggestions will help new firers manage their expectations and understand that a wood-firing is not just about what you want to get out of the fire, but also about what you bring to it.