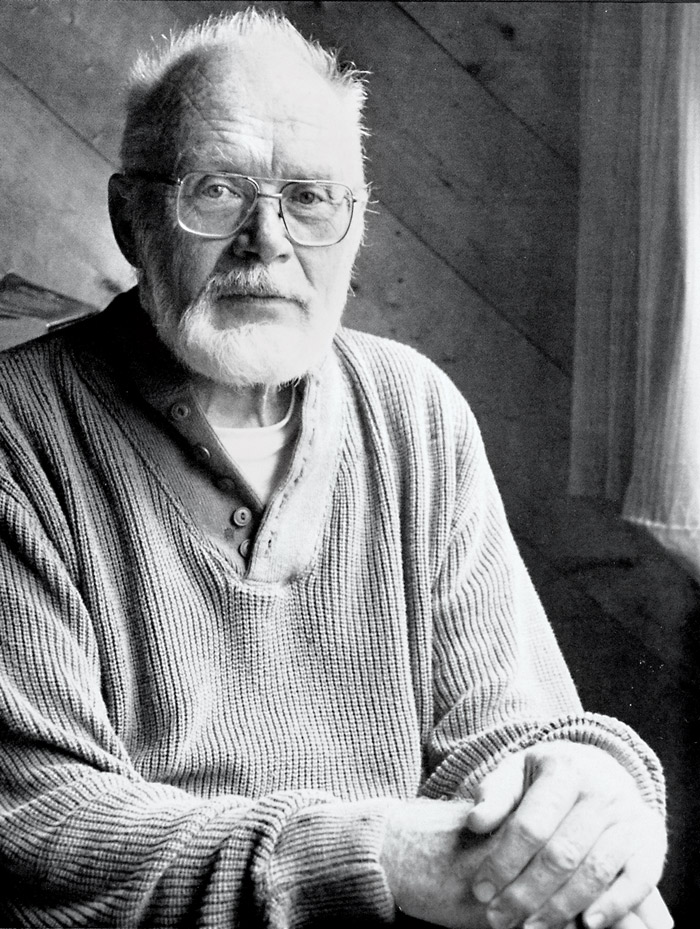 Studio Potter offers you, our readers, a remembrance of MacKenzie through his own words. The following is an excerpt of his 1990 interview with SP founding editor, GerryWilliams. 
It has been said that I have a strong influence on other people's work, sometimes referred to as the "mingei-sota" school. This is mostly legend. I am a person trained in the '40s and '50s, and certainly getting on in years. Young people today have completely different backgrounds and are exposed to other in­fluences. It would be wrong of them to make pots like mine, but we can certainly talk together about ideas and about an approach using the functional pot as an expressive form of work. That is what I encourage and what I teach.  
I may have shown also that it is possible to earn a living as a functional potter and not be bored with what you're doing. If that encouraged people, I'm happy. But there is no one around where we live, as far as I know, or any former student of mine, making pottery like mine. Some base their work on utilitarian pottery, that is true, but many others have abandoned the pot form completely in favor of purely sculptural work. 
I make the same pots today that I always have: pots for people to use in their homes. I make vegetable serving bowls, baking dishes, teapots, pitchers, mugs, drinking vessels, vases, and storage jars. I have an aversion to casseroles, partly because some of the loveliest casseroles are hidden away in storage un­til they go into the oven. I would rather make a deep baking dish, and, if you want to use it as a casserole, just put tinfoil over it. Otherwise, use it as a fruit bowl. […]  
When I am working in my studio, I think about the use a pot will be put to in someone's home, and that starts me off. If it is to be a vegetable bowl, I try to provide a sense of scale. A bowl for two people is smaller than a bowl for eight. In both cases I am dealing with a container that has an internal or negative space. Often, in trying to think of new shapes for pots, one must go back to the original function of the pot. Is it a conveyor of liquid from one place to another if a drinking vessel? Does your mouth realize that sense of liquid being conveyed into your mouth? That already locates you in terms of the sense of the pot—not the exact shape but the sense of the internal space. It reveals itself by acknowledging the presence either of a spoon, or of a place to pour, or of an edge to put against your lip. In addition, through time, we ourselves change, and thus we change the emphasis of the pot. […] 
There will always be strong pots made, and such things will eventually find their way into the hierarchy of museum collections and be a reflection of the greatest expressions of our age. The challenge is to do the thing you have to do because you're in love with it and can't do anything else. Not because you want to become famous or rich, but because you will be unhappy if you can't do it. It is not something you can turn on and off.  
Keeping up with fashion is the wrong challenge. The pressure of commercial art can lead to ludicrous manipulation that requires you to produce something different from last year's design, so that the consumer can immediately distinguish this year's product from last year's. Yet I am an optimist about the future. I only regret not being smarter fifty years ago. My father lived to a ripe old age, and I hope I will, too. I get nervous and irritable and shout at people and make rude remarks if I don't make pots, and that's not good. Obviously my physical machine will wear down. But I hope it will be offset by an increase in perception as well as an enrichment of perception, and that my pots will ripen with me into old age. 
---
MacKenzie's Studio Potter Bibliography: 
"Aesthetics, Criticism, and the Ceramic Arts." Vol. 9, No. 1, 1980, pp. 68-73; with Tony Hepburn and George Woodman. 
"Warren MacKenzie: Potter's Potter." Vol. 19, No. 1, 1990, pp. 1-16 ii., port; Interview by Gerry Williams.