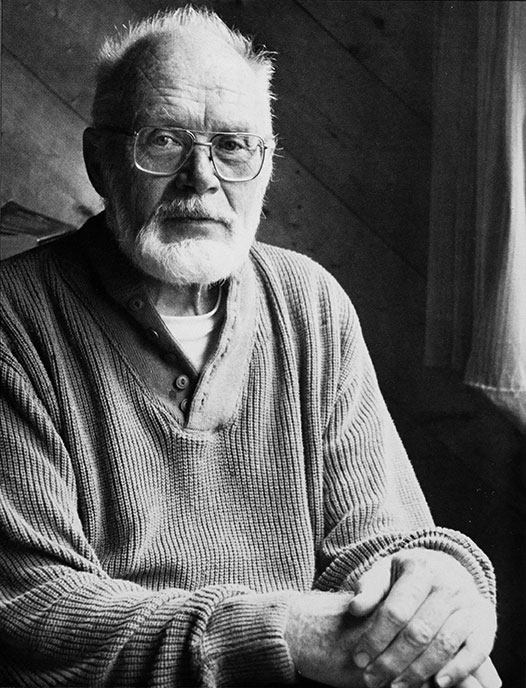 An interview with Warren MacKenzie on August 11, 1990, at Deer Isle, Maine, conducted recorded and edited by Gerry Williams.
Bernard Leach stood and looked as we showed him samples of our pottery and photographs of our work we had brought to promote our request for apprenticeships at his St. Ives pottery in Cornwall, England. For a long time he said nothing. Finally, he straightened up and said, "I'm sorry, we're all filled up." My wife Alix and I had saved enough money to travel to Europe during the summer of 1949. We had read Leach's A Potter's Book, and knew that we desperately needed apprenticeship training. We had written to Leach and told him we were coming, to ask if we could discuss apprenticeships with him.
We secured a room in town and told Bernard we would be in St. Ives for two weeks. Did he mind if we visited the pottery to learn from observation? He said, "No, that was quite all right." So we walked up the hill to the pottery every day and hung around and asked questions. Toward the end of the two weeks, they fired the large oil-burning kiln in use at that time. Leach was still sitting a kiln watch during these firings, and his watch came on between one to four in the morning. He said to us, "Do you want to come up and talk on this last day you will be here?" We answered, "That would be wonderful, we appreciate that."
We caught a quick nap and at midnight trudged up the hill to the pottery, where we sat and talked with Bernard. We talked until eight in the morning about the state of the world, about politics, economics, social issues, history. In the end Bernard said, "Well, I've changed my mind. We're all filled up now, but you can come back a year hence and become apprentices."
We were disappointed at his initial rejection. We had thought we were passable as prospective apprentices, but much later realized that his first judgment was made on the basis of our work, and the second was made on the basis of personal contact. He was looking for someone who could fit into the pottery group, adapt to its strange circumstances, and who might have concerns for larger interests.
Alix and I returned to the United States for a year of teaching, but, by the spring of 1950, Leach had himself come here to tour around the country doing a series of workshops and bringing an exhibition of his work. At one of his stops, he spent a week at St. Paul, Minnesota, and we made arrangements to go back to England on the same boat with him in June. This was before air travel was common.
The slow trip across the Atlantic with Leach was marvelous. We sat and talked and read together for seven days. When we arrived in Southampton, Bernard asked, "Do you have a place to stay in St. Ives?" We said, "No, but we'll get a bed and breakfast some place." He said, "Would you like to stay with me?" He had just separated from his second wife, Laurie, and was living alone. We said, "Of course, we'd love to share your house!" And we did. I believe Bernard truly liked to interact with people. He was a sociable person, and that was probably why we were asked to share his home. He couldn't stand going back to an empty house, and it worked out nicely for us.
We shared his house and worked in the pottery for two and a half years. It was a marvelous experience. We were very young. I was twenty-five, Alix twenty-six, but Bernard treated us as people who had some worth. But more than that, we interacted with him on a daily basis and, by living with him, lost the awe of the master common to most apprentices. We were able to disagree and argue with him, sometimes quite violently, about the way things were going at the pottery. We were Americans and had firm ideas.
Bernard was a wonderful, sympathetic person, and his thoughts centered around pottery, which was his whole life, and which is probably why his marriages failed. It must have been difficult to be married to a person who thought, talked, and drew pots eighteen hours a day. He would sit down at breakfast, eat, and upon finishing, push the plates to one side, reach into his pocket, pull out a little scrap of paper and begin drawing ideas for pots. He just could not sit there doing nothing. One of his tragedies was that he was an incredible draftsman and could delineate three-dimensional form on paper with a simple stub of a pencil, and stick them into his pocket, pulling them out when he wanted to make a pot. But he solved all his creative ideas in his drawings. The creative act had already occurred.
Bernard was also a Victorian gentleman. He could move anywhere in British society with ease. He was proper but not stuffy and never took off his tie. In fact, Janet, his third wife, once said she had seen Bernard, dressed in tweed jacket, gray flannels, heavy shoes, white shirt and tie, playing with his grandchildren at the beach. As the day wore on, his shoes and socks came off, then his jacket, his sweater, then he rolled up his pants to wade in the water with the children. But his tie never came off. He was an amazing person. When I was in England just before he died, I found he could not see, could not hear very well, and certainly could not pot. Yet we had a marvelous time talking together. While I was there he received a request for a short magazine article. He thought about it for perhaps an hour, then turned on a tape recorder and dictated the article. His secretary typed it up, and when it came back, he changed only about two words in the whole article. He had a talent for speaking in whole sentences with a continuity that expressed exactly what he wanted to say.
*
I happened to be in Kansas City, Missouri, the day I was born, February 16, 1924. My parents were second-generation Scotch, and I admit to inheriting certain qualities of thriftiness and frugality as well as a flamboyant need to spend money on things I really wanted. We moved to the small Midwest suburb of Wilmette, just north of Chicago, when my father was transferred from Philadelphia. My two brothers and two sisters and I all went to the excellent high school there and were essentially too immature to know how good it was. The art instructors taught us art history, musicology, ethnic music, painting, and printmaking, and although at the time we thought it was all just crazy, somehow it stuck with me for the rest of my life.
I had decided to become a painter because that was what you did if you were an artist. My family tried to dissuade me, but fortunately one of the high school instructors persuaded them to let me go ahead and be an artist because "he's going to do it anyway, so stop arguing." As a result, my parents became supportive until some time later when I decided to become a potter. Being a painter was okay, but to push clay around was not too good.
I enrolled in the Chicago Art Institute, but World War II came along and I was drafted into the army where I worked in a graphics studio, printing charts. Later I was shipped out to Japan where I was attached to a printing plant in Yokohama. The Japanese ran the plant and produced beautiful color reproductions with abandoned and primitive equipment they had refurbished. All the Americans needed to do was keep their hands off and let the Japanese run things. What a lost opportunity Japan was to me because I was still not interested in pottery. When I was discharged from the army in the spring of 1946, I returned to pick up my schooling at the Chicago Art Institute. All the painting classes were filled so I started out in the ceramics class.
I will be frank with you: it was a terrible class. Looking back, I realize with horror that never once did we discuss aesthetics or the quality of work. Our instructor, who had studied with Charles Binns at Alfred University, could handbuild, but she could not throw on the wheel and left it to her assistant to demonstrate throwing. Her assistant couldn't throw either because she had learned from the previous assistant. We spent six weeks coiling and scraping a six-inch handbuilt pot. It was ludicrous.
Fortunately, in my class were a dozen young people who, for various reasons, had drifted into ceramics from painting. One day one of them discovered A Potter's Book by Bernard Leach and brought it into class. When we read it, it made much more sense than what we were doing. We began to sneak into the studio on the days when the instructor was not there and attempt to do what Leach told us we should be able to do. Of course, we couldn't and made a mess with some terrible pots, but we did begin to get a sense of the possible.
My wife Alix was a year ahead of me. In fact, she was the assistant who taught us to throw, and we were married before we left school. She taught third-grade while I finished up my schooling, and then we looked for a job together. The only job offer we received was from the St. Paul Gallery and School of Art in St. Paul, Minnesota. We were hired to set up the craft program and I taught painting and design, while Alix was to teach ceramics and drawing. We worked in the studio on the days when we were not teaching and, because of my army experience, began to make and sell silk-screened fabric designs.
It only took us six months to realize that we were really not qualified to teach ceramics and run a pottery because our training was inadequate. We could drag up the wall of a pot and possibly push it around, but the work was pretty un­formed. Not only that, we were diddling around with painting, diddling around with fabric, jewelry, in addition to pottery. We had to make up our minds what we wanted to do and settled on ceramics. Since we were not well trained, we also decided to seek further training elsewhere.
We were the first American apprentices at the Leach pottery; the others were from England, Scandinavia, Germany-all over, but no Americans. When we first arrived, Bernard and David, his son who was running the pottery, talked together when we first arrived, and must have said to each other, "Well, these Americans, they've gone through art school training in the States, they've been teaching for two years, they've run their own pottery, surely they know how to make pots."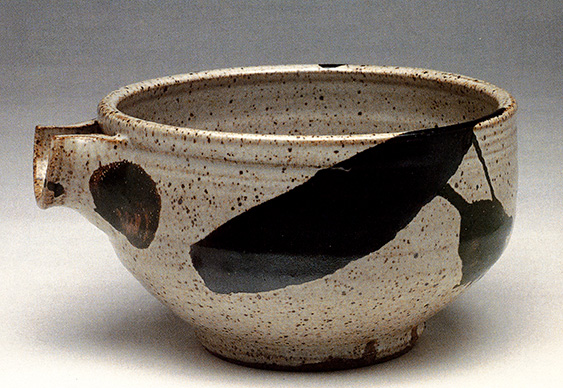 Accordingly, they assigned us to what was called the Making List. Every thrower in the pottery had a list of the pots to be made for the next firing. These were standard shapes worked out over the years, for which there was a drawing, the weight of clay it took to make each piece, and the size when wet. Since we were new to the shapes, we were given a very short Making List and an easy selection of shapes. I will never forget my first assignment: fifty half-pint beer mugs, fifty open soup bowls, and fifty what they called squat jugs, little flat jugs. I started off on the beer mugs and made several boards of what I thought was the correct shape. I took them to Bill Marshall, the best thrower in the pottery, who was assigned to oversee our training, and said, "Bill, how are these?" He looked at one and said, 'Well, that's too wide in the mouth," and put his finger through it; "that swoops too much," and put his finger through it; "and that's too stiff and upright," and put his finger through it. There was something wrong, of course, with every one of them. I made six hundred beer mugs before forty or fifty were allowed to pass the minimum quality standard. We had not been trained, either in school or by ourselves, to observe accurately, and to put the clay where we wanted. It was a shock to learn we had much simple, technical training to go through before we gained some degree of confidence and ease. Gradually, our Making List increased, as did the complexity of forms we were assigned.
If we had not been living with Bernard, I think we might well have opted to leave St. Ives at the end of six months. By that time we were essentially working in a production pottery and we began to get into some rather intense battles with Bernard over our perception that the pottery we were working on was not the pottery he had written about in his book, which was why we had come to England. In his book he had talked about the creative act and individual expression, whereas in the pottery that simply didn't exist.
Looking back on it, I now realize why it couldn't exist. They had to have a certain income to sustain the people working in the pottery. Apprentices were coming in periodically from year to year; a dozen people worked in the pottery, only five of whom were throwers, the rest were in administration. All were salaried in a socialistic manner according to need, not skill. For instance, the man who made clay and packed all the pots got the same salary as Bill Marshall, who was the best thrower in the pottery. Bill was unmarried, Horatio was married and had several children, so there was a need for Horatio to have a decent salary. Also, profits were divided up and shared according to each person's salary. This meant that the throwers had to produce salable items in response to mail order requests from shops which expected a certain quality of work. Just anything would not do. That was the reason for the tightness in controlling production.
Two years later, at the end of our sojourn at the Leach pottery, we attended an international conference of potters and weavers at Dartington Hall in Dedham that had been organized by Leach. His friends from Japan, Shoji Hamada and Soetsu Yanagi, had been invited to attend and were there with him. When we arrived-after a month's holiday in Wales, there were greetings and hugs all around, and the first thing that Bernard said to us was, "Hamada agrees with you." "What do you mean, Hamada agrees with us?" we answered. "Well," Bernard said, "Hamada came down from London to St. Ives and went right into the pottery. He walked around and picked up all the pots, turned them over, handled them, didn't say a word, just circled the pottery. Finally he looked up and smiled that big smile only Hamada can give, and said, 'Bernard, the best thing that should happen to your pottery, it should burn down.'" Of course, Hamada could say that to Bernard because they had been the greatest friends from time immemorial, and Hamada had always been completely honest with Bernard. Still, Bernard did not know how to envision a change for the pottery.
When we were on the boat returning to the United States, Alix turned to me and said, "You know, these were the greatest two years of our lives, but we will never run our pottery that way." And we never did.
*
We returned to the United States in 1952, the same year that Bernard Leach, Hamada, and Yanagi made their famous trip across America giving lectures and workshops. Actually, it was Alix's idea that since they were on their way to Japan, they might cross America doing a series of workshops. They said, "We'll do it if you arrange it." So she did. The first venue was at Black Mountain College, the second at St. Paul, the third at the Archie Bray Foundation, and the fourth in California.
I was sent by our school to Black Mountain for their two-week workshop because it had been decided to publish a narrative of all four workshops. At the end of the two weeks there was a critique. I remember it was a beautiful October day, and all the pots brought by participants in the workshop had been laid in a field of grass to be set up on a table and critiqued. Bernard picked up the first pot, looked at it, studied it, then analyzed it, and spoke about its strong or weak points. Pot after pot went up on the table. Finally, someone turned to Hamada and said, "Mr. Hamada, you have not said anything." There was a rather ordinary-looking pot with an uninteresting turquoise-blue glaze on the table, a soft, amoeboid shape without much structure that Leach would have criticized heartily. Hamada looked at it for a long time and finally said, "In Japan there are many pots that are much worse than this."
It was an example of the difference between Leach and Hamada. Bernard was an intellectual whose analyses were of great value to us. He taught us ways of looking at three-dimensional forms and at pots as expressive things. Hamada worked from his gut. I don't know whether he communicated with the Japanese in his home territory, but he was certainly reluctant to do any more than make pots in America.
At the time of their tour, the impact on Americans was tremendous. Since then, however, Leach has become down­graded if not denigrated. Most people who do so forget that their current work is based to a large extent on the work started by Bernard Leach in the 1940s. I myself would not be doing what I am doing now if it weren't for A Potter's Book. When I attended school, it was a time of secrets; nothing was revealed. Leach's book told all, in a frank and open manner, the formulas, procedures, and practices that went into pottery. I still enjoy reading it. It's ancient, and we've gone far beyond it; yet there is not a thing in it that is irrelevant to what we do today.
I do not have a degree from any college or university. I have a diploma from the Chicago Art Institute, but at the time thought it foolish to take a degree, as I wanted just to work in my studio and who needed a degree for that? However, the person teaching ceramics at the University of Minnesota in 1953 was leaving and, since the head of the department could bring in the people he wanted at that time, I was hired because he liked what we were doing, even though I had no degree. I'm certain our experience with Leach was helpful. Meanwhile, we looked for a place in the countryside in which to establish our pottery, and found a farm about twenty miles outside St. Paul, near the little town of Stillwater. The price was right, and I thought the barn could be converted into a studio. We were able to move right in in 1953 and establish our pottery.
I started teaching two classes part time at the university. (I did not go on full-time for several years.) Alix, meanwhile, was at home with the first of our children, born in January 1953, taking care of the baby and making pots. We had tremendous cooperation from our St. Paul friends, who cleaned the tons of manure out of the barn. We erected walls, put up insulation, tightened things, bought bricks, and built a kiln. There were no potters in the area when we first moved there, but gradually more and more people began setting up potteries. I think that teaching at the university created a flow of young people who began to approach pottery as a way of making a living.
It has been said that I have a strong influence on other people's work, sometimes referred to as the "mingei-sota" school. This is mostly legend. I am a person trained in the '40s and '50s, and certainly getting on in years. Young people today have completely different backgrounds and are exposed to other in­fluences. It would be wrong of them to make pots like mine, but we can certainly talk together about ideas and about an approach using the functional pot as an expressive form of work. That is what I encourage and what I teach.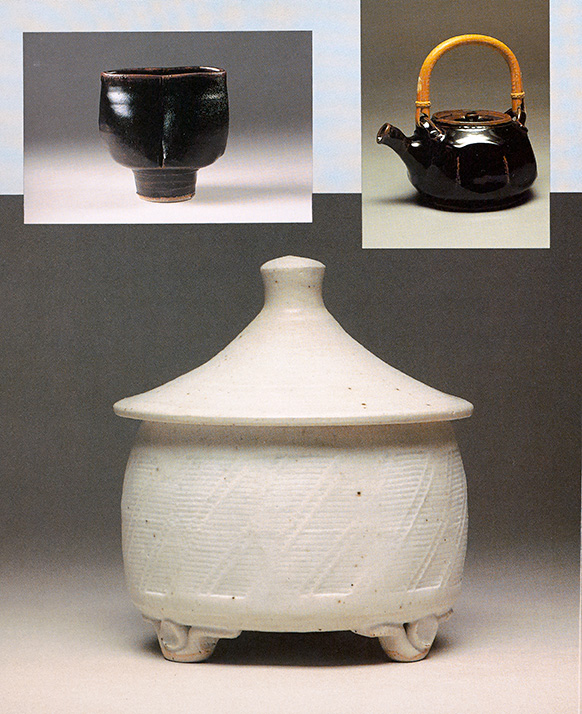 I may have shown also that it is possible to earn a living as a functional potter and not be bored with what you're doing. If that encouraged people, I'm happy. But there is no one around where we live, as far as I know, or any former student of mine, making pottery like mine. Some base their work on utilitarian pottery, that is true, but many others have abandoned the pot form completely in favor of purely sculptural work.
I make the same pots today that I always have: pots for people to use in their homes. I make vegetable serving bowls, baking dishes, teapots, pitchers, mugs, drinking vessels, vases, and storage jars. I have an aversion to casseroles, partly because some of the loveliest casseroles are hidden away in storage un­til they go into the oven. I would rather make a deep baking dish, and, if you want to use it as a casserole, just put tinfoil over it. Otherwise, use it as a fruit bowl. Most of my work is in stoneware. I use very little porcelain because I am not comfortable in porcelain. It does not produce the gesture I want, that offhand quality of potting. When I do work in porcelain, I usually wedge about ten percent stoneware into the porcelain, to give it an opaque, slightly irregular appearance. This gives a warmth that pure white porcelain does not have. I mix clay in a big, old dough mixer and store it in plastic barrels. Presently my clay mixture is 100 pounds of Hawthorne Bond fireclay, 100 pounds of Cedar Heights Goldart, 50 pounds of ball clay, 25 pounds of feldspar, and about 80 pounds of ex­tremely fine natural silica sand. I emphasize "natural" because it has a round grain as opposed to crushed silica that has a sharp grain. There is also a small amount of yellow ocher, for a warming color.
Five years ago I bought a Venco de-airing pugmill, and it was the greatest purchase of my life. I spent too much time waiting for the clay to age after using the dough mixer (which aerates the clay), and then wedging it for use on the wheel. Now I mix clay in the dough mixer and can the same day put it through the pugmill, and, if I'm careful, it comes out in a throwable condition. It saves my wrists and shoulders great strain.
I use the same treadle wheel bought back in the '50s in England that was developed at the Leach pottery. It's ideal for the kind of pots I make. After a while you forget the trouble of co­ordinating foot and treadle as the hands shape the pot. It provides a source of constant power, as opposed to a European­type momentum wheel that coasts to a stop, and I can change the speed at will, depending on what happens under my hand. It is powerful enough to center and throw 25 to 30 pounds of clay without much effort, which is all I use at one time.
Ten or twelve years ago I rebuilt my kiln from the two­chambered one that Alix and I had built originally. The kiln was not wearing out; I was. I had to stoop over while carrying pots or a heavy saggar full of pots, and my back just wouldn't stand it. I decided to make a car kiln and increase its size so that I wouldn't have to fire so frequently. (I don't really like firing that much.) Wanting a car kiln, I had to arrange to pull the car out of one side, since I wanted a second chamber to be used for biscuit. The flames were to go up the front wall, across a long arch, then down the back and out the exit flues.
The first time I fired the new kiln, the flames had cooled considerably at the end of their long traverse, and I found I had Cone 14 in the front and only Cone 2 in the back. I haven't rectified it. I make use of the temperature differential by using lowfire glazes on my stoneware in the coolest part of the kiln. I'm quite fond of transparent, glassy glazes that look like those with lead. I have gradually improved the firing, and now have a Cone 12 to Cone 5 differential.
I use a tenmoku glaze, a shino glaze, and several celadon glazes. I don't do an excessive amount of glaze experimentation, feeling that I'm still faced with so many interactions of the glazes I do use that I constantly make new discoveries. When Alix was alive, I grew to depend upon her as a decorator. When I made a rather dumb pot, she would simply pick it up and take a brush with a little iron oxide and draw on the sur­face. She had a great ability to relate her decoration to the form of the pot in her hand.
When she died, I was faced with having to solve my own decorating problems, and my way of solving them was to rely more on a richness of surface form. I try, therefore, to use glazes that reveal form by changing color where they run thick or thin, or by being transparent to reveal what is taking place on the clay surface beneath. Essentially I can say that I look for a richness of three­dimensional form that implies an interaction between the concave/convex, curve/angle relationships. I look for light and its shadow on the surface of the pot. The rhythm of the parts of the pot as one plays against the other is important to me. And tactile values are essential: each pot should be comfortable to pick up, and invite being passed from person to person around a table.
Gesture is extremely important as well. Gesture is the rela­tionship of the speed with which your hands rise on the surface of the clay to the speed of the wheel: where there is a pause, where there is an intersection, or a compression of clay under your fingers-all becomes critical. This compression is different from shaving the clay with a steel tool when half dry, and the difference can be exploited. I learned this watching Hamada work; he enjoyed creating a textural break.
*
When Alix and I first started making pots, we made two observations: first, when we went to various museums in the Chicago area—especially the anthropological museums where there might be seventy pots in one case at a time—we found we responded to those pots of whatever culture that were made for daily use. The minute, however, we got into collector's pots, or forms for religious or royal use, they interested us less. Our observation was that if this was true for the pots of other cultures, it should be true for our own as well. Those were the strongest pots we saw, and that was what we would stick with. I've never been sorry we did.
Our second observation was made as we visited galleries and noticed that the pots we truly wanted to own were those we couldn't afford to buy. This irritated us and made us unhappy. We resolved to make affordable pots. Our pricing philosophy began there. Over the years, people have said, "Well, MacKenzie only prices his pots low because he draws a university salary." This is true, but when I had a sabbatical at the university, I never used the half-salary that we got as support. I always lived off the pots I made. So I knew it was possible to do this even though I wasn't a very good potter when I was younger. The thing about pricing is that I price pots so that I can earn a living. If I make a lot of pots, I can sell them inexpensively.
My friend in England, Lucie Rie, makes very expensive pots. Lucy's standard refrain when we visited her was, "I know you think my pots are too·expensive." One day, in exasperation, I said to her, "Lucie, I'll wager your income and my income from the pots I sell…" (I was teaching full time then) "…are about equal." We compared incomes, and I was not quite right: she earned perhaps two thousand dollars more per year from her pottery than I did. The point was her method is different than mine. She works them for a long time, and does a lot of decoration, and has a tremendous loss in firing because of pots splitting and cracking, requiring refiring. While she sells a pot for $1000, I sell the same sized pot for $10. I make more pots than she does, and it works out that I make a good living.
You have to figure out what you need to pay the expenses of running your pottery, amortizing your kiln, paying for gas, chemicals, the mortgage, insurance, clothing, plus putting a little away for retirement.
*
What is the essence of the pot? I would have to say that when I am working in my studio, I think about the use a pot will be put to in someone's home, and that starts me off. If it is to be a vegetable bowl, I try to provide a sense of scale. A bowl for two people is smaller than a bowl for eight. In both cases I am dealing with a container that has an internal or negative space. Often, in trying to think of new shapes for pots, one must go back to the original function of the pot. Is it a conveyor of liquid from one place to another if a drinking vessel? Does your mouth realize that sense of liquid being conveyed into your mouth? That already locates you in terms of the sense of the pot-not the exact shape but the sense of the internal space. It reveals itself by acknowledging the presence either of a spoon, or of a place to pour, or of an edge to put against your lip. In addition, through time, we ourselves change, and thus we change the emphasis of the pot. For instance, some years ago a customer purchased some wine cups, and recently he called to say that he wished to buy some more like them. I told him I still made wine cups, and to bring one of the originals over. I found it was completely different from what I now make, and had thought they were the same wine cups. The cup hadn't changed; we had changed.
Often, when I unpack a kiln, I find only a small number of pots truly have the quality and vitality I am looking for. You can talk about quality all you want, but it is usually recognized only when you see it and often much later. The spirit of the pot should reflect the spirit of the maker in an un-selfconscious way. In other times and cultures it may have been possible for this to occur but it is difficult to do that now. I mean, we're not simple potters; we go to school, read books, look at photographs. Our best hope is to stop thinking when we sit down at the wheel.
A wonderful story is told about Hamada. When he wanted to make important ceremonial tea bowls, he would often invite a friend or two over to sit and chat while he made the pots, so that he would not be too conscious of what he was doing. It was a clever device because Hamada couldn't go back to becoming a simple, country potter; he was an educated man.
The eye of the beholder selects those things it can relate to and hence relate back to the maker. In our home we have very few of my own pieces, only some chipped plates. If, in fact, the pot is to communicate and serve as a liaison between the maker and the user, it makes little sense to be talking to yourself. I'd much sooner talk to others and communicate with their ideas through their pottery. I've never understood why some potters, like some painters, surround themselves with their own work. However, I must admit I often have taken a pot into the house to use for a few weeks and acquire a greater understanding of it. The term "life-function" applies to this relationship. I own a small Hagi-ware teabowl from 18th century Japan that probably started out as a rice bowl until someone along the line selected it as a ceremonial tea bowl. I see all kinds of things in that bowl, and probably a lot more than is actually in the bowl. If someone else looks at it, it may mean nothing to him. The observer should be willing to learn the language of the pot, and from there on be aware of the poetry and meaning of the pot. For this reason, the people who buy pots are the best judges of those pots for themselves. They understand the intimate language of the pot and its meaning in their lives. Beauty, in its broadest sense, is unimportant because it is only the beginning of that understanding. You have to go beyond beauty. In the film that David Outterbridge made of Bernard Leach and Hamada, Leach put it succinctly when he said that some things never hit the bull's-eye by aiming right at the bull's-eye. When you try to be good, you look like someone trying to be good, and the result is that no one believes in you. The problem is to deal with these things without becoming hyperconscious or overintellectual.
Tradition, in and of itself, is not a justification for making pots. People have long made traditional pots by rote, without any real reason or passion. A once powerful form loses vitality and strength as it is traced farther and farther from its origin. Eventually it is only a weak shadow of its original form. In 1952 Yanagi gave several lectures at the Dartington confer­ence where he spoke in favor of a tradition that is passed on and remains a power behind continuing work. As an example, he cited the case of the teapot decorator, Minigawa, who was said to have worked with great rapidity and could decorate a thousand teapots a day. This was incredible because these decorations were not simple patterns but complex landscapes. Yanagi showed slides of her teapots, and they were truly lovely and charming bits of country pottery. Then he made the mistake of showing a slide of the original patterns made many generations previously. The second slide had such power that Yanagi's audience gave a loud gasp. Yanagi was challenged but refused to acknowledge the power of the original and was blind to the difference. He couldn't give up the idea that tradition and repetition created a better pot.
Some potters in this country build their work upon early American pottery while others try to pick up inspiration from the Native American pottery. To a certain extent, it is true that we do have a tradition, if one accepts that it was passed on to us from the French, German, or English and flourished in the eastern and southeastern United States, gradually being carried westward. Probably it can also be said that we, today, eclectically choose to follow a culture we like through looking at books, photographs, and films. This is completely different, mind you, from churning out copies of early American salt glaze. This is not creating anything, just unfortunate reproduction.
People say I am influenced by Oriental traditions. But if one examines my pots beside oriental ones, one is immediately aware they are not the same. When we lived with Bernard Leach, the young apprentices would challenge me by saying, "Ah, MacKenzie, you're just too influenced by the Japanese." One day a Japanese connoisseur came to visit. A little pot of mine was on the table, and Alix pointed to it and asked, "Do you think that looks like a Japanese pot?" He just glanced at it and said, "Absolutely not, absolutely not." He could tell immediately that it wasn't Japanese and that it was a Western pot by a Western potter. I am strongly influenced by the Orient, but I am certainly not an Oriental potter.
I believe there is a difference between being an artist and a craftsperson. To say you are an artist is foolish. Not all painters are artists. We are painters, sculptors, weavers, potters, or whatever. And those who are artists will be selected somewhere down the line and in a manner yet unrevealed. The artist who has influenced me in my life more than any other person is, of course, Bernard Leach. Not as a potter but as a person who lived a full life and was dedicated to an ideal. He never gave up his ideal of creating pottery, and his passion never flagged.
A culture that has inspired me is that of the Yi dynasty of Korea. Potters in Korea made pots that were wholly natural, without ego or artifice, with great skill yet without showing off their skill. This offhand method of pottery making is something I have admired and have attempted to emulate without even coming close. The Japanese thought the same apparently because they brought Koreans back with them as prisoners of war and established them in Japanese cities to make pots. I often think of my little Hagi tea bowl, and that it was probably made by a Korean potter, or a descendant of a Korean potter. Perhaps that's why I feel so close to them.
*
I have taught all my life because I really like to teach. At first, perhaps, I saw teaching as a way of earning a living even though I was not completely earning my living through teaching at the time, but very quickly I became fascinated by the interaction between instructor and students. It's a two-way street, and I've gotten as much from the students as I have been able to give to them.
Teaching is not for everybody. I know some who teach just for the money and hate it in the process. They're just holding down a job instead of being good teachers. This irritates me when I see that a good teacher should be there instead. I'm inclined to believe that the short-term, intense session, that may run from one to five weeks in length, is more valuable than a graduate program. First of all, you select your instructor because she or he is doing something you are interested in or has a philosophy you subscribe to. Second, your achievement is far more important than grades or academic requirements. Unfortunately, teaching is one of the few avenues open to people who want to engage in art, and for this, a graduate degree is usually required.
Essentially, I encourage students to find themselves and expand their expression. At the beginning of some of the three­week sessions I have taught, I set out four general projects or areas of investigation and give demonstrations. I try not to indoctrinate them in the process, but sometimes it is difficult. In a recent session, I proposed a project wherein separate units were to be made by whatever means and then assembled into a finished form-the obvious example being a teapot, but one also could think of a high-footed bowl or a vase form, and so on. I demonstrated a teapot as a model for the project because I love to make teapots. Now, I told the class, go on with the assemblages. They all made teapots. I raised objections with the class, asking why no one had tried anything different, but they countered by saying I hadn't shown them how. I told them I purposely didn't show them how, that it was ludicrous just to copy something, and that I wanted to leave their options as wide open as possible.
I retired officially from the university in June 1990, having taught there since 1953. The university made me a Regents Professor in 1984, a rank established recently to honor faculty members for their achievements. It is the highest honor one can receive and is accompanied by a stipend. I liked the fact that the university was recognizing the visual arts, for the Regents professorship has usually been awarded to members of the science or medical faculty. The ceramics department is not a large one, compared to the size of the school, and has only three faculty members as part of the art department.
At the time of my retirement, the university museum mounted a retrospective exhibition of my work. They sought out old pots and produced a fine catalogue of the show. It also brought together for the opening many old friends, some of whom I had not seen for thirty years or more.
While I have pots in some large collections, I am aware that my pots occasionally appear in second-sales or on the auction block. There is nothing I can do about the high prices thus generated. I can only control the primary sale. Part of the problem lies in the fact that there are so many collectors today. Collecting for the sake of reputation or for the rarity of the pot does not hold any validity for me. Yet I can't really criticize galleries which are in the business to show and sell art. They have to pay the rent, utilities, and help. I am sympathetic but don't want to get involved.
Frankly, I don't follow the cutting edge in our field, and I find those who do pursue it as an end in itself not very convincing. I am far more inclined to appreciate individuals for their relationship to their work, rather than to the ceramics field. In this context, the National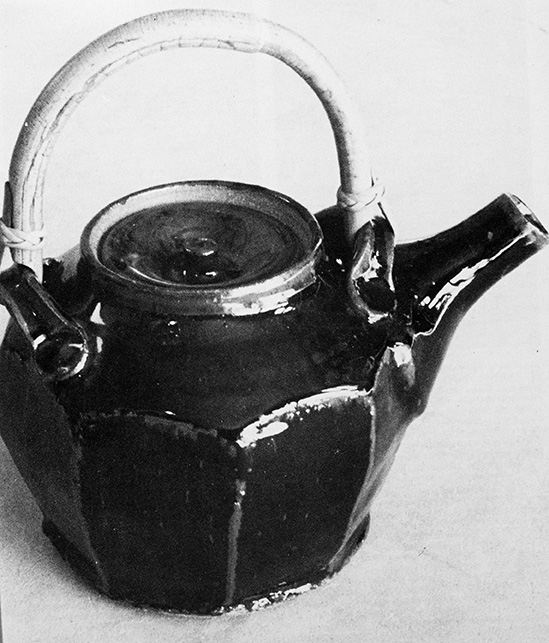 Endowment for the Arts has been helpful in its direct support to artists, which is, of course, only part of its activities. I know of several artists truly on their last legs, barely able to make a go of it and ready to change careers who were sustained and encouraged to continue by the award of an NEA grant. What disturbs me in recent years is that NEA grants have become more like prizes sought after for the prestige rather than for any real need. I do not believe that those grants were originally established to give grand prizes like academy awards. In its charter, the NEA was charged with bringing art to people who ordinarily would not have it as part of their lives and to sustain artists in their formative years.
The problem is not with the NEA; it is the field that should be more self-disciplined. I believe the endowment should establish a super award in the visual arts, similar to what is given out for the performing arts. The awards ceremony could be held at Kennedy Center, be a black tie affair, and the President could present the awards. This would take care of prestige and recognition. It would cost little, and would be the highest honor in the visual arts to which a person might aspire.
Now that I am retired, I stay home making pots. Nancy, my wife, works at the university and goes off every day to her office. I go into the pottery and start working toward my next firing. There will always be strong pots made, and such things will eventually find their way into the hierarchy of museum collections and be a reflection of the greatest expressions of our age. The challenge is to do the thing you have to do because you're in love with it and can't do anything else. Not because you want to become famous or rich, but because you will be un­happy if you can't do it. It is not something you can turn on and off.
Keeping up with fashion is the wrong challenge. The pressure of commercial art can lead to ludicrous manipulation that requires you to produce something different from last year's design, so that the consumer can immediately distinguish this year's product from last year's. Yet I am an optimist about the future. I only regret not being smarter fifty years ago. My father lived to a ripe old age, and I hope I will, too. I get nervous and irritable and shout at people and make rude remarks if I don't make pots, and that's not good. Obviously my physical machine will wear down. But I hope it will be offset by an increase in perception as well as an enrichment of perception, and that my pots will ripen with me into old age.