Remembering Manuel Pagán
Puerto Rican ceramist Manuel Pagán died Saturday, November 19, 2016. We at Studio Potter send our deepest condolences to Manuel's wife, Mae Teitelbaum, and his children, Juan Manuel and Iliana.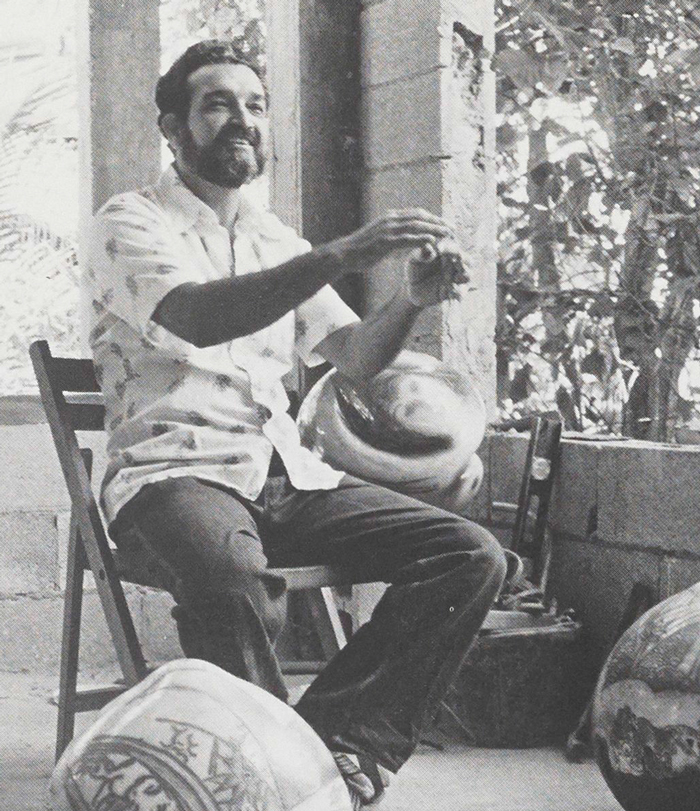 Gerry and Julie Williams visited Manuel and Mae in Puerto Rico and profiled Manuel in Volume 14, Number 2, June 1986. The profile is a vibrant account of Manuel's lust for life, ceramics, and the community of Puerto Rican artists that he championed. "Manuel bridged both the more down-to-earth craft movement and the gallery-oriented ceramic arts people," remembers Mae. "He dreamed of forming a cooperative arts school in the mountains."
Born in 1942 in the small mountain town of Vega Baja, Pagán was the epitome of a self-made man. In high school, with the help of a beloved teacher, he was able to take painting classes in San Juan. Eventually he won a scholarship to the University of Puerto Rico where he majored in art. When a cousin introduced him to slip-cast ceramics, Pagan was floored and immediately switched his artistic focus to ceramics, and began casting and wheel throwing.
In 1985, Pagán completed his MA in ceramics and sculpture at the Rochester Institute of Technology. His thesis, A Personal Statement About Space, is a gorgeous account of his struggle to convey the effect different spaces have had on his life through sculpture:
My experiences with space have had tints of both extremes – joyousness and sadness. I remember being soothed by the sprawling grasslands being swept alive by different moving patterns as the wind blew gently back and forth, with sideways swirls, on top of a quiet mountain. There was beautiful cloudless deep blue sky as background. The space in front of me was immense, and it was heightened by the "loud" silence pervading every infinitesimal part of everything around. I experienced the sheer joy of space!
The following is Manuel Pagán's full obituary, written by Mae:
Manuel A. Pagán Rivera, 74, died November 19, 2016, outside his ceramic workshop in Vega Baja, Puerto Rico. He was born in Vega Baja, the oldest son of nine children, in a family of scant resources. During his early childhood, their wooden house was expropriated by the government, and the family was relocated to a housing project in town. 
Manuel was the only sibling to graduate from the University of Puerto Rico at Río Piedras, where he majored in art, specializing in painting and drawing. He supported himself, in part, by designing and producing silk screen posters for the university's museum. He did post-graduate work in London at the Central School of Art and Design. 
He taught himself ceramics from books and by experimentation with clay, and it became his passion. He sold his work at major island craft fairs, and participated in the leadership of La Hermandad de Artesanas y Artesanos for several years, until the government intervened and forbid the use of the market grounds at a popular San Juan park, closing a weekly crafts fair that enriched Puerto Rican culture and identity. Manuel also cooperated with the Institute of Puerto Rican Culture in defining guidelines for crafts on the island. 
In 1985 Manuel completed a MA in Ceramics and Sculpture at the Rochester Institute of Technology. Subsequently, Manuel participated in many ceramic exhibitions, including the Bienal de la Cerámica Contemporánea (Premio Casa Candina). He offered workshops around the island, and taught ceramic classes for many years at the University of Puerto Rico, Taller de Bellos Oficios.
Above all, Manuel was a Puerto Rican patriot, a humanist, a teacher, a devoted father, and an amazing versatile artist. His beloved wife and children, his dear brothers and sisters, his much loved grandchildren, his nieces and nephews, and his friends all feel fortunate to have known Manuel.
I encourage you to also read (or re-read) his article in Volume 14, Number 2 Summer/Fall 1986, and his full thesis paper.