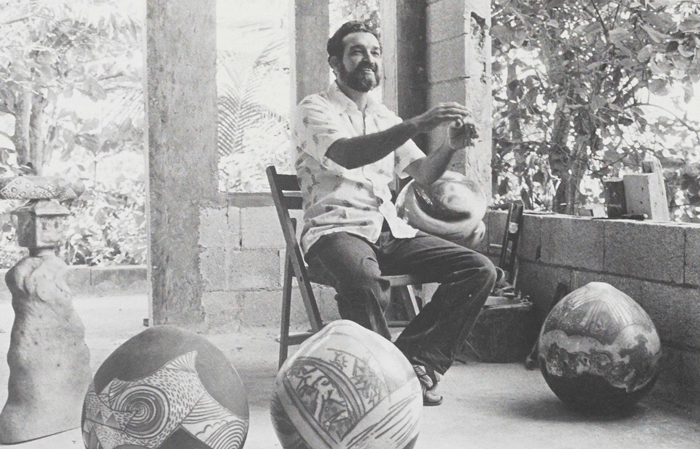 The community of Brisas de Tortugero, not far from Vega Baja, stands on a hill once used by the American Army for training. When the land was no longer used by the Army, people moved onto it. Thus a rescate aldea (land taken by the people) came into being. Its inhabitants lived on this land without benefit of title until a local politician had the clever idea of handing out titles in exchange for votes. Manuel Pagan was one who moved into Brises de Tortugero.
The house he and his wife Mae built with their hands is a two story concrete structure, with pottery studio downstairs and living quarters upstairs. (When Manuel dug the cellar he found many spent bullets in the ground.) They have planted pomegranate, mango, corazon, nispero, banana, and eucalyptus trees around the house. Stone steps lead up from the street, past a defunct cement mixer and flotsam of construction equipment. Manuel also has built concrete houses for two of his brothers in the community.
It is clear that Manuel's roots run deep in the land and the Puerto Rican people. He is a potter with intellectual perceptions based on the hard realities of his background. This reality is not imagined; his life is not a metaphor for something else. Manuel Pagan is part of what might be described as a third force, a positive aesthetic and political energy through which Puerto Rican artists will transform their culture into a new identity in the future.
Manuel Pagan sits in a chair surrounded by his pots and sculpture and children, describing the colorful life in Vega Baja. He sweeps his arm across the scene below the hill as he points out houses of friends and neighbors. His voice breaks with emotion, and his eyes tear as he relives his childhood.
Manuel Pagán
I was born in Vega Baja in 1942, in a small mountain village on the outskirts of town. There was no road there and we children played everywhere: under trees picking up fruit, going to the sugarcane factory, doing things children in the country do. I went barefoot, which embarrassed my mother as I was supposed to be properly dressed. Now I look back on this poor, rundown community with rosy eyes because I remember not the bad things but the wonderful things I experienced as a child. 
There were eight other brothers and sisters, so my mother worked constantly for us. My father sold fritters throughout the villages and towns. He had converted a baby carriage into a selling cart by putting a glass top on it, and went about loudly selling his food. He was a famous folkperson, funny and charming, and people recognized him as one who truly represented Vega Baja. 
In our community at that time there were people who tattooed figures on their bodies. I liked that. It interested me. I also started to draw on my arms. I liked to draw and would go about the village showing people my drawings. I liked seeing beautiful things like birds, flowers, trees, and the landscape. I was always drawing. When I was only five years old, I wanted my family to buy me a notebook and crayons, but I had to wait three years before I won them as a prize in school. 
In high school I was recognized as the only child around who could draw well.  My teacher decided to collect money to send me to painting classes in San Juan. Later I took summer classes at the University of Puerto Rico. 
Actually, I never dreamed of going to the university as a regular student because my family never had enough money, but I was encouraged to apply for a scholarship and did so and was accepted. I finished my bachelor's degree after a period of working in New York City. 
In Puerto Rico, until that point, I had had no experience with clay except as sculpture. I did not see clay in the way I now do until one day a cousin came to visit and brought a little frog which she had cast in a mold out of clay. I said, that's beautiful, I would like to do that. Immediately I borrowed some money from my brother, bought some clay and a kiln, and started to cast clay figures in plaster.   
I became good at casting, but after a while I wanted more because I had become enthralled. I started experimenting and gaining more knowledge through books. I wanted to learn how to turn on the wheel, so I built my own wheel the hard way, as I had no idea of how I to make it. I made it so S heavy and small in diameter that friction slowed the momentum.    
I started making functional I pots and joined a group I of craftspeople whose I relationships with me were 1 very honest and true. I felt close to them. I knew their struggles. As a child in the community where I grew up, I had learned to share. If the neighbor cooked something, I she shared with my family.  One of the important things s about Puerto Ricans is how hospitable and sharing we are. We enjoy life and share our good spirits. 
I read Ceramics Monthly magazine and was impressed by all its information. I said, God, I would like to do all those things. I would like to have a nice studio and a nice kiln built by me and do salt and high firing. So when the opportunity came to apply for schooling outside of Puerto Rico, I welcomed the chance to increase my knowledge. I applied for study at the Rochester Institute of Technology in Rochester, New York, and with my wife Mae and our two children immediately left for the United States.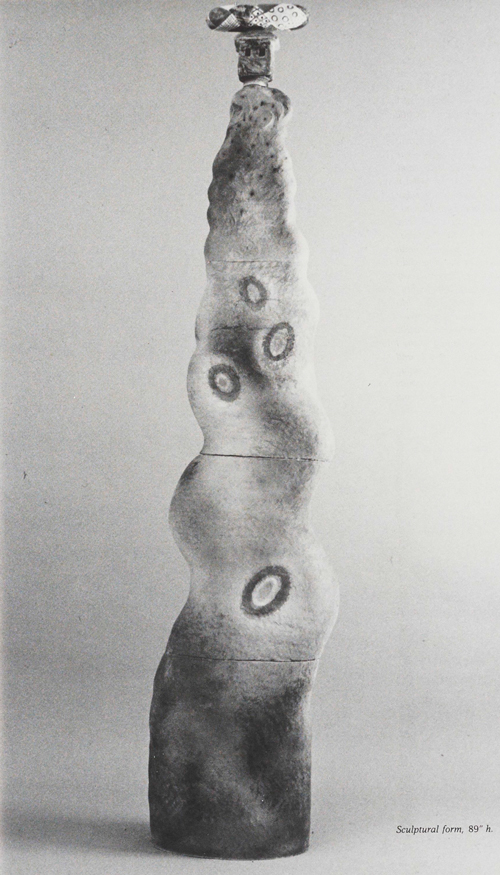 In Rochester I worked hard, day and night, forgetting even vacations. I never did anything but ceramics and was always happy because so many people there were doing different things in clay. I was constantly in ecstasy because I was learning. Once I worked two days in a row without stopping. It just didn't bother me. 
Some of the projects of importance to me that I did there I would like to tell you about. I did some large spheres and decorated them so as to give a feeling of the tropics. I drew scenes from landscapes and places in Puerto Rico, wanting to transpose onto those spheres the good experiences I had there. 
In another project I explored the concept of space. I had grown up on a mountain that was always being climbed. I remember constantly looking beyond the town into space, seeing the plateau in the distance. Once in Canada, Mae and I took our children to see Niagara Falls. I picked up my son Juan Manuel so, he could see over the wall. When he saw the big chunk of water going down the cliff, he gasped. Oh! he said. Immediately it hit me. That was how I had felt as a child seeing all that immense space around me. I wanted to relate somehow that feeling of space from my childhood to the clay forms. I extruded clay and made four legs and latticed pieces on top of them. Inside I made a hollow piece like a cocoon, looking as if it were wrapped in cloth. I wanted to give the feeling of restricted space in comparison to open space. 
Some bigger structures were curvilinear. With these I tried to project a feeling of restricted space and shaky foundations by putting a house on top with a cocoon. The wrapped piece symbolized my inner self that wanted to be free but was still being trapped in the shaky foundation. I saw these sculptures as extolling on one hand my feelings about space and the mountains, and decrying on the other hand the shaky foundations of my upbringing. 
I am aware of the renaissance of claywork in Puerto Rico. I would like to contribute to it in a way that has not yet been done. That is why I went away to study. Now that I am back, I want to join them again, this time with more knowledge. I want to do work that speaks about things that relate to our life and culture. I would like my work to speak of ideas, feelings, and preoccupations of our society. I cannot be concerned only with technique and material. I cannot work without heart for what is going on in this country. Art should relate to the people, whether that relationship be social, economic, or political. Art must have some meaning. Certainly it may be beautiful, it may be interesting to the collector or to the critic, but in the future, if it has nothing to say, it will be thrown out. 
There is a Puerto Rican poet who comes to my mind. His name is Juan Antonio Corretjer. He represented the struggle and the aspirations of the Puerto Rican people longing to become a sovereign country. He dedicated his life to justice and to a democratic society. His poems are so strong that even the most backward of our people cannot help but recognize the merit and class of his beautiful work. Last year he died. The people gave him a beautiful and emotional funeral procession. In the last portion of his poem Oubao-Moin he cries out for liberation.
This article originally appeared in Volume 14, Number 2, Summer/Fall 1986. Renew or become a member to read the full issue.