In This Issue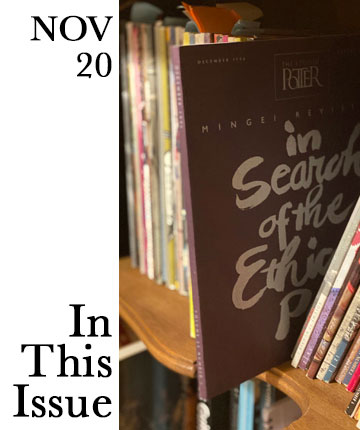 Everything is in question right now. 
As I contemplated how to introduce the November stories to Studio Potter readers, Portia's speech from The Merchant of Venice came into my mind, especially the opening lines, 
"The quality of mercy is not strained;
It droppeth as the gentle rain from heaven
Upon the place beneath. It is twice blest;
It blesseth him that gives and him that takes."
It came to mind because I was thinking about the season at hand and the emotions attached to the season. Words like mercy, gratitude, and hope swirled around my thoughts coming to rest like the dying leaves piling up around the yard. The leaves falling around us now should not be bagged and hauled away, their nutrients wasted. They should be allowed to decay and fertilize the fragile seedlings that are being laid bare to the elements. Holding one hand open I cradled the concept of mercy, something our world is in desperate need of. Adding gratitude to my palm let me count on the new growth that may yet come. In a season of dying, there may be some hope.
But everything is in question right now. 
I can't think about this speech, written by Shakespeare, without noticing the gender bias of the pronouns, and yet Portia was a strong female role model who deftly navigated the gender norms in a time when women were not allowed to act on stage, let alone assume positions in a court of law as her character brazenly assumed. I can't think about the coming holiday, Thanksgiving, without considering all the cultural insult wrapped up in its history, but this has been the case for many years – it just seems so much more pointed now. And yet, there is value in gratitude. There is value in mercy. There is value in hope.
In the studio, working with clay, we are all too familiar with the humility the material serves our egos when we push it too far or don't tend it enough. How else are we supposed to learn? But we don't always, do we? We are also familiar with gratitude. In gratitude, we speak of the gifts delivered to us from the belly of the kiln. Every new and weighty ball of clay is a metric of our hope to create something new. This month Studio Potter brings you a story from Chotsani Elaine Dean who has a clear understanding of our role in the process of creation, that we are in service to the materials from the earth because they do not need us. It is we who need them. Howard Sawhill displays gratitude for a lost companion with honor and love in the language of chemical alchemy. Parents Carrie Whalen and Jon Morin open the doors of their home and welcome us in to their world where our curiosity can be our unfettered guide. I wonder, will the freedom of a democratic education be too much for us to digest or will it be just enough for us to imagine a new reality?
But back to the beginning, I think I was considering the quality of mercy because of a conversation I had with Sunshine Cobb which is included in this issue as a companion to a series that begins this month, "Navigating an Evolving Market, Part I." The first installment of a much larger conversation, one where the question about the existing dynamic of the gallery/artist relationship became the genesis of many other questions. All the questions point toward our community figuring out how to redefine itself. I don't know how we do that without mercy, gratitude, and hope – on all sides of the equation. "Upon the place beneath. It is twice blest; It blesseth them that gives and them that takes." 
And at a time when everything is in question them is every one of us. 
In This Issue:
By Chotsani Elaine Dean
"I may start with some ideas and questions, but the wisdom is in the soil, just like the wisdom is in the clay. This properly humbles me, reminds me what my capabilities are, what my limitations are, and how generous the material is, how fortunate I am to continue exploring." Dean digs through the strata of her inspiration and takes us through the history, real and expanded through imagination, of her trading posts.
By Carrie Whalen and Jonathan Morin
"I think anybody can get really good at anything they're interested in at any age if they have a good mentor and spend enough time doing it." Readers get a generous glimpse into the environment that produced Tuile-Fionnuala, a ten-year-old potter with a chicken named Lucy.
By Howard Sawhill
"I like how the glaze reminds me of our pet's warmth and mottled look, complete with some imperfections, and how it offers some comfort during the quiet days in the studio." A retired DuPont engineer shares the chemistry for commemorating his faithful companion. 
Navigating an Evolving Market, Part I
By Studio Potter
The first installment of a series on navigating the market as a studio artist, wherein we will share the wisdom of field and consider what the gallery/artist relationship might be in the future. Inspired by an inquiry from Osa Atoe.
A Conversation with Sunshine Cobb
By Studio Potter
Studio Potter's Jill Foote-Hutton sat down with Sunshine Cobb in this video interview and discussed the changing marketplace for studio artists. Cobb shares lessons she has learned so far in her career, tips for defining your terms, and her thoughts on what 2020 has shown us so far. 
Be well everyone and thanks for reading,
Jill Foote-Hutton
Editor