In This Issue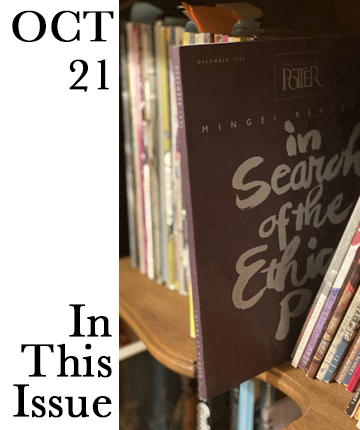 Three stories this month. Each one is a journey. 
One author writes from the early part of his journey; if this was a story about a quest, we are meeting him on the road where he has already gathered his kit and set out from home. We, the readers, follow his nascent journey as he arrives at the point where "If [he] take[s] one more step, [he'll] be the farthest away from home [he's] ever been." Some of you may recognize the wistful (if modified) quote of Samwise Gamgee, from The Fellowship of the Ring, who finds himself capable of more courage than he would have imagined. He, and our first author, leave tools they thought they would need on the journey behind as they simultaneously gather more suitable means to aid them on the path forward.
The next author has traveled farther, and the reader may feel our hero's excitement as lessons from his path are finally making their purpose clear. He has had a little time to reflect on the gifts he gathered from many lands. He has identified aspects of life that keep one whole on the uncertain path of an undefined life. His view has perhaps been altered through the lens of parenthood, seeing anew through his children's eyes. The quest is far from over. There are more battles to be waged between hand, material, and kiln, but he has the confidence of experience backing his optimistic determination now. 
In the final story, a fellow traveler has stepped in to capture what will be a familiar journey to some. A pair of potters set out, as a young couple, over forty-two years ago to continue their ceramics education and further develop the skills and philosophies that would continue to define the rest of their lives. From the backward glancing vantage point of a life well-lived, they can laugh about the more arduous struggles, appreciating the sweetness of fruit that may have seemed a little tart at the time. 
All, regardless of where they are in their travels, have an appreciation of failure. They also share an ability to convey gratitude in the heart and voice of their writing. Finally, you may also recognize a familiar sense of inevitability. Wherein, when the gravitational pull of purpose makes you answer, "I could not have done anything else," when asked, "How did you know art/ceramics/craft was for you?" 
Please enjoy the October issue!
The Elusive Catch FREE Article!
by Kiefer Floreal
I looked her dead in the eye as I resentfully told her, "I will never be a potter." 
by Adam Knoche
Every risk has added to my development as an artist and human being. It's the little things, the fragments of the journey, that make the destination that much more fruitful.
Gary and Daphne Hatcher: Formed in Place
by Barbara Frey
Gary and Daphne Hatcher have spent their lives wholly committed to each other and the shared belief that making art would sustain them financially and in all other facets of their lives.
Be well everyone, and thanks for reading,

Jill Foote-Hutton, editor