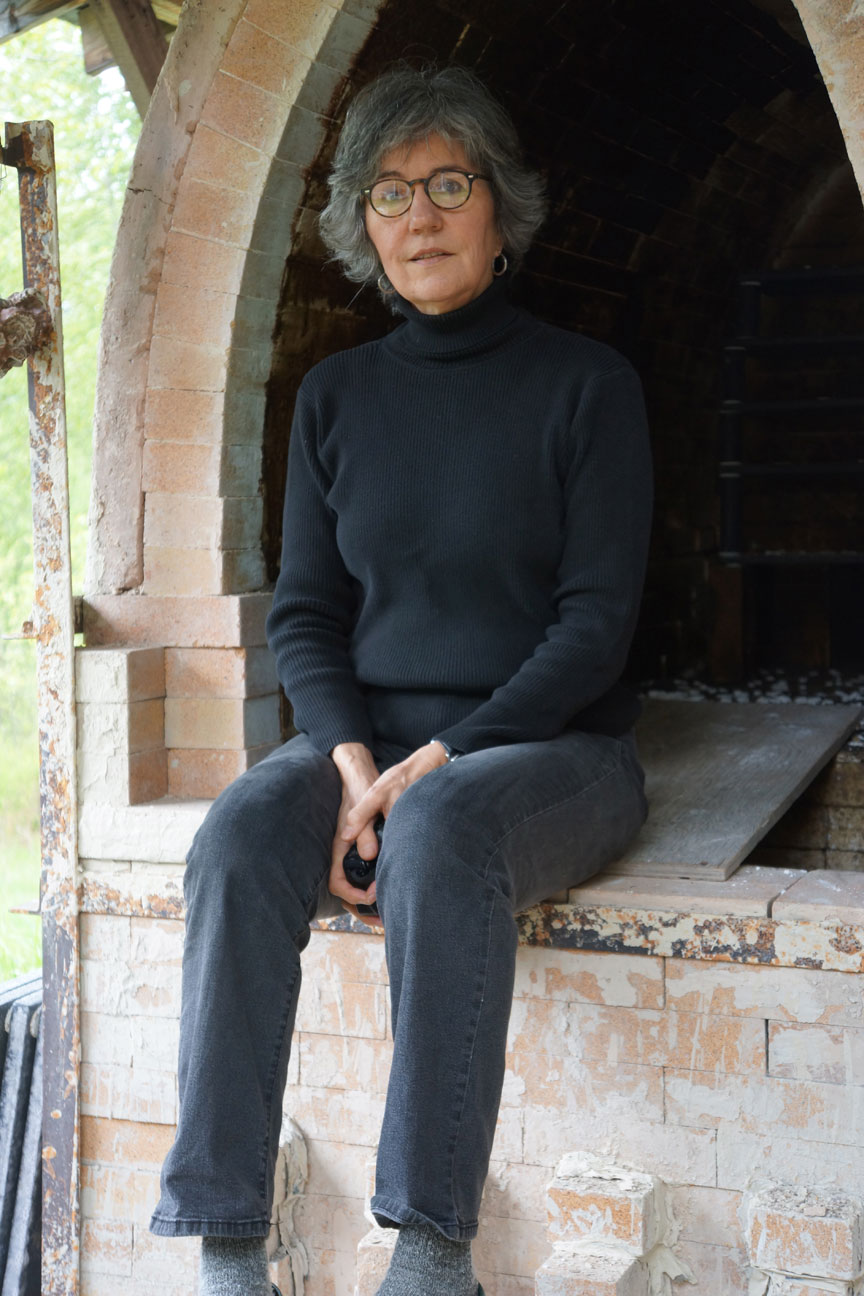 Gunda Stewart always dreamed of being a potter. Today, she makes pottery in a studio framed by the Purcell and Selkirk Mountains seven kilometers outside Canyon, British Columbia. Stewart's acreage, with its massive cedar and fruit trees, and vegetable and herb gardens, is idyllic; a long and winding road leads to this place of pin-drop quietness.
Sitting in her studio, looking out onto the lush garden, one would never guess that Stewart had been poor in her life. The tenacity that kept Stewart going to get to where she is today isn't apparent to the casual visitor to her showroom or booth at the farmers market. Dreaming of surviving on pottery sales is one thing, the resolve to give up everything to do it, is quite another. Stewart is an example to many that if you want something bad enough, eventually through sheer doggedness, you can make it happen.
Stewart took her first class in clay at a community arts center in Vancouver. Like other young moms, it gave her a chance "to go out, to be on my own, to be creative." She enrolled in the Vancouver School of Art in 1976, where she studied under Tam Irving for the next four years.
"My main inspiration at that time was the whole Leach-Hamada-Yanagi school of thought, Stewart remembers. "I passionately loved the old Japanese kilns even though my work at the time was more Leach-directed functional ware."
After studying at Vancouver School of Art, she ran her own studio in Vancouver, working part-time in a pottery shop to eke out a living. She was a single mom; it was worse than difficult. Her pragmatic side took over—Stewart put her pottery work on hold while she studied occupational therapy. For years, this career provided the financial stability she needed for her and her son, but it didn't bring her the joy that working in clay did. At the time, she was able to spend only one evening a week working on her pottery. It was simply not enough!
In 1993, two things had a big impact on her: Stewart's close friend was diagnosed with cancer, and Stewart took a trip to see her sister in Creston, British Columbia. Her friend's illness reminded Stewart of life's brevity, and a result, she became determined to make necessary changes. While at her sister's, she decided to leave the noisy city of Vancouver and attempt to create the life she longed for—a quiet life in the country supported by the sale of her pottery. It was a risky move, but it paid off. Today, Gunda Stewart is living her dream.
One of the aspects of working in ceramics that attracted Stewart was that it offers her participation in and control over each step in the making process. She throws pots on either her treadle- or kick-wheel, methods which highlight her acute sense of the material. She refuses to purchase clay in boxes and instead makes it in a horse trough just outside the back door of the studio. To ensure that the clay matures slowly without drying out, she repurposed a broken, seven-cubic-foot chest freezer into a clay storage unit. Her limited glaze palette includes an ash glaze made from local clay and the ashes from her brush pile and woodstove—a mix of cedar and other woods. The intensity of her wood-fired kiln leaves its trail of heavy ash on the pots in the front of the kiln, while only kissing the pots at the back, exactly as she intends.
Given Stewart's work and knowledge of wood-firing, you might think she has been doing this for thirty or forty years. Stewart is quick to correct anyone who thinks so. Her independent nature and drive led her to build her first kiln in 2004. She did her homework, and chose to build a 36-cubic-foot, wood-fuelled, Bourry box salt kiln based on plans by Canadian wood-fire potter Alan Lacovetsky.
"I read and re-read The Kiln Book by Frederick L. Olsen and Jack Troy's Woodfired Stoneware and Porcelain," she says, adding that she is still learning about the process. "I fired alone but had mentoring from Linda Christianson and Alan Lacovetsky before and during the firing. To be completely honest, I think I had a romantic notion of returning to the roots of ceramics, of being self-sufficient like Michael Cardew in his book, Pioneer Pottery."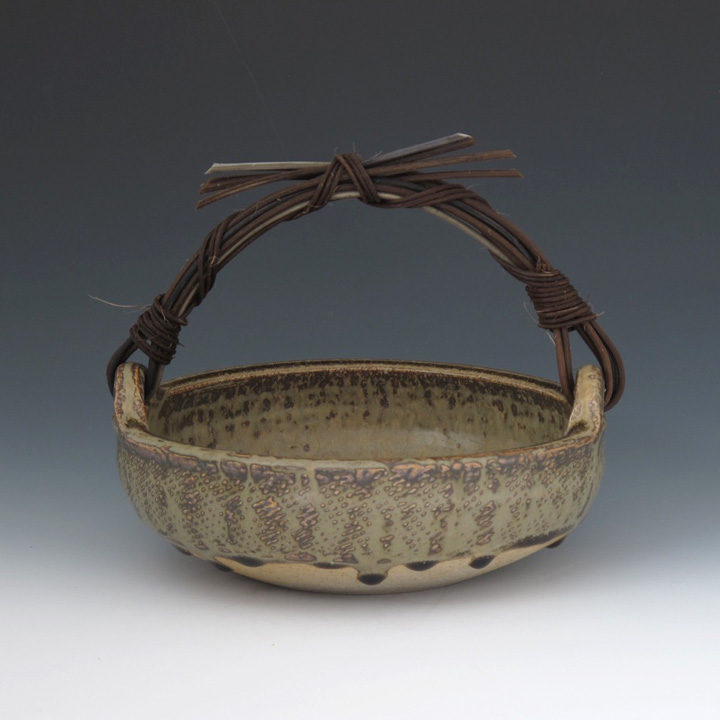 In 2009, Stewart ordered the plans for John Thiess's Manabigama and built one, with some minor alterations. Stewart chose the Manabigama "for its smaller size [about forty cubic feet], faster turn-around time, and ease of firing by one person." With a big smile and a twinkle in her eye, Stewart says that she calls the Manabigama her "geriatric kiln" because it takes only fifteen to sixteen hours to reach temperature, requiring less stamina than larger kilns. It is also her favorite because of the intensity of colour it gives and the ash. "Because of the strong draw and speedy firing, I do get a bit more warping, but the richness of the colours more than makes up for it."
When she was a student, her main inspiration was the Anglo-Japanese School transmitted through British Columbia potters such as John Reeve and Ron Vallis and, of course, her instructor, Tam Irving. But any urge to create work that resembled that of the Momoyama era in Japan was thwarted. She recalls Tam Irving challenging her students to create work that was "part of their lives." Later, Stewart says, "Linda Christianson and Micki Schloessingk became strong influences, and then Bob Briscoe and Anne Mette Hjortshoj more recently. I love all of their work, but that strong, clear, pared-down, almost Japanese influence is what really appeals to me now."
At one time, she was supplying olive oil bottles to a specialty shop in St. Louis and selling wholesale to the Gardiner Museum in Toronto, the Potters Guild of British Columbia, and a few other craft shops in British Columbia. Today, she sells work to local residents at the Saturday farmers market and from her studio; she says she makes her pots for the people who live nearby. These include many artisans who raise sheep for their wool and beekeepers whose hives dot the landscape near the river. She makes honeypots and garlic pots, batter bowls and nesting bowls, teapots, and olive oil dishes and bottles.
The wood-fired vessels that Stewart makes are as beautiful and useful as she is pragmatic. Indeed, all she has ever wanted to do was to create work that was "quiet," that would help the food being served to stand out. She says, "I only want to make beautiful, practical things, full of the energy of the Taiko drums."
Author's note: The quotations in this article come from an e-mail interview with Gunda Stewart on July 3, 2015 and a visit to her studio in Canyon in October, 2015.