Was Hertha Hillfon an artist who made pots or a potter who made art? Among the many messages to be derived from her work is that making distinctions between art and craft is beside the point. In fact, she always referred to herself as a "ceramist," a more particular designation. During a career that lasted more than half a century, Hillfon embraced and pursued a range of creative possibilities, moving seemingly effortlessly and without hesitation back and forth between sculpture and pots and plates and drawing, between the functional and the formal, the figurative and the abstract, the flamboyant and the somber, the humble and the bold, the sentimental and the monumental. Although she wasn't the monster of originality that Picasso was, Hillfon brought to her prolific output something like his voracious curiosity about forms, media, and technique. In her case, "the force that through the green fuse drives the flower" was a drive toward experimentation and creation that sustained a long blossoming of Hillfon's talent and an outpouring of work.
Hillfon came of age creatively in the late 1950s, as what has been called "the housewife era" was drawing to a close in Sweden. Women had been part of the Swedish workforce well before World War II, but in the 1960s, their numbers surged, for reasons that included a national labor shortage, an economic boom, and the rise of the Swedish welfare state. Hillfon had been married for sixteen years to Gösta Hillfon and was the mother of two school-age children when she made her debut as a ceramist in 1958. She and her architect husband had met in art school; from 1953 to 1957, she became a student again, at Konstfack, the University College of Arts, Craft, and Design, in Stockholm.
Life-size busts of an infant; a relief of a woman in profile, sleeping with her child; bowls; casts of her children's hands and feet—these are products of her domestic side. But what to make of the ceramic baby with its legs formed separately, as if broken off? Is it an evocation of the allure of classical fragments, a harking back to something seen, for instance, in the Forum in Rome? Possibly: Hillfon studied Italian, traveled to Italy to study, and was drawn to Etruscan art. Or is it a more personal memento mori of motherhood? What about the upper half of a woman's torso, hands and arms gracefully folded in front of it but with only a square, roughly edged space where the breasts should be – and no head? Or the bodice that looks like a piece of armor, its stoneware surface the color and texture of forged steel? And the rough clay box, thick walls and lid that mimic stone, filled with buttons and buckles: Is it raising the miscellany of the homely art of sewing to the status of artifacts, or is it entombing them? (Or was it just where she tossed stray bits and pieces—akin to that kitchen drawer we all have?)
These ambiguities make for rich conversations between the work and their viewer; they grew out of the conversations she had with the life around her, and with time. Working in a dream of a studio-workshop that Gösta added to their home in 1968, she often took her subject matter from what was at hand (or foot, as evidenced by her fabulous, oversize sculptures of feet): clothes, children, loaves of bread, pets. She also drew on and invoked the history of pottery and plumbed her attraction to ancient artifacts, conferring a mythic quality on homely objects.
At the same time, she commented on, contradicted, and pushed against the confines of art, tradition, and domesticity. She was deconstructing art forms years before that method of aesthetic criticism arose. Early works still look remarkably bold and uncompromising. Take, for instance, her sixty-three-centimeter-tall stoneware piece (circa 1960) coated in gleaming oxblood and brown glazes; its circular thicket of spines and sharp points suggest a twist of barbed wire, a tall crown of thorns, a ransacked tree: beautiful, unapproachable. Or the 1963 Friday/Calvary, a trio of freestanding pieces glazed shiny black – raven feathers, charred timbers – rising from red earthenware, the patent-leather finish reflecting light, the reflections overlaying the surface with a complex pattern of grays.
Their originality stands undiminished today; no wonder her debut in the 1958 group show Form I Centrum was "a sensation," in the words of critic Eugen Wretholm: "It was wild cat Hertha Hillfon who crept in among the ceramics stoats." She wasn't the only untamed artist on the prowl; other makers were questioning distinctions between art and craft and blurring the boundaries between them. Art historian Cilla Robach places Hillfon among the Swedish "rebels" who, with "irregular stitching in embroidery . . . and the odd gnarled lump of clay with runny glaze . . . opened the path toward a flourishing of the free form in the 1960s."1
Hillfon's compatriot rebel in clay Anders B. Liljefors was making deliberately imperfect work, their "snotlike" glazes mixing it up with "rough, raw" unglazed surfaces, as Robach put it, that served "no practical purpose." Some critics hailed these iconoclastic departures, others persisted in regarding them as design specimens rather than art. Writer Carolina Söderholm describes the "free form" approach of Hillfon and her peers this way (rendered here from the Swedish in charming "free-form" Google translation): "In their hands was the material living, unruly, personal—even ugly." Meanwhile, in the United States, as Robach notes, Peter Voulkos was making "action pottery," inspired by the "action painting" of Jackson Pollock and other Abstract Expressionists.
Hillfon's abstract explorations were definitely lively. Unruly? Hillfon ignored the rules or, more precisely, the conventions, the assumptions about what ceramics should be; she went her own way. But today, these works impress us with how accomplished as well as beautiful they are. The treelike Huldra (1970) deftly commingles the abstract and the figurative. Intricate, entwined organic forms suggest vines, animals—is that a bird's head? A mask?—and glazed with a polychrome palette of gold, black, azure, jade green, terracotta, and other colors, the sculpture is baroque, totemic, luscious. Huldra is the Norwegian word for a female forest spirit (sometimes depicted as a woman with a tail beneath her skirts and a temptress nature similar to a mermaid's). I think the shape-shifting artist Hillfon identified with the sprite's elusiveness and inclination to mischief. Hillfon's Skulptur (1965) is an equally complex work, a stoneware stack of rugged, jagged-edged, mottled, and pockmarked shapes, irregularly glazed in blood red; it balances on a polished stone square. Both uncomely and elemental, Skulptur manages to be equally poised aesthetically.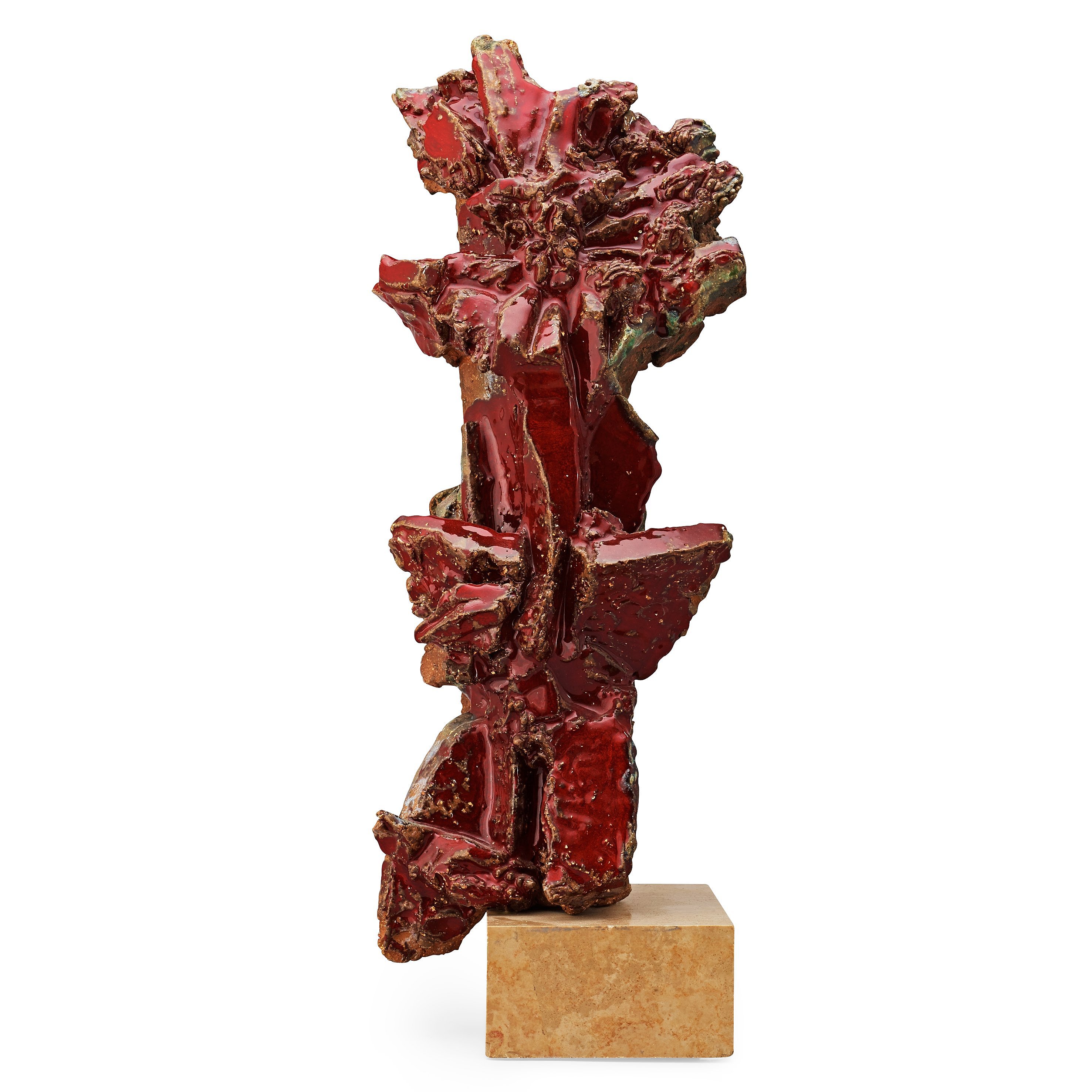 At the root of her work's drama and artistic poise was Hillfon's confidence and daring as a ceramist. Why not use a slew of glazes? Why not pile on clumps of clay, then scrape and worry them to resemble a fading dahlia—or a broken bone? Why not risk ugliness, embrace rawness, and capture something deeper? Her willingness to take chances is all the more impressive considering that, in 1971, when Hillfon was elected to membership in Sweden's Royal Academy of Fine Arts, she was "quite alone as a woman in the male-dominated assembly, and very alone as an artist working with ceramics."2 As a girl years before, Hillfon had been told, "[there's] not much point in you training as an artist, young lady—in any case you're bound to get married and have a family."3
Hillfon did not have an easy childhood, either, according to My Mom Had Fourteen Children, made by her filmmaker brother Lars Lennart Forsberg. Variety's review of the documentary noted that the family grew in size "despite financial hardship, health problems, and frustrated personal goals (both parents had artistic/intellectual leanings)." The San Francisco Chronicle review quoted one of his siblings as saying, "At a very early age, I stopped expecting motherhood from Mother and fatherhood from Father."
Yet childhood challenges and early words of discouragement didn't stymie Hillfon; maybe they spurred her on. It helped that like her balancing Skulptur, the ceramist had a solid base of support: her soulmate, Gösta; recognition early in her career; a stream of commissions; and the physical workplace created for her by Gösta, where she was active until her death. The couple had moved into a house in Mälarhöjden, today a Stockholm suburb, after their children were born. (It had been the summer home of Gösta's parents.) At the end of her life, she was using seven wheelchairs to move from one level to another. According to artist Dan Wolgers, "If you have seen Hertha's ceramics but not seen her home or her studio, then you haven't yet seen or understood Hertha."
In the studio and the garden (which over time took on its own Roman Forum quality as she tucked pieces here, there, and everywhere), she tackled large-scale projects. She moved away from the abstract; having mastered the free form approach, perhaps she felt free to tackle representation – or just more at home with it. At one point, she was going through two tons of Höganäs clay a year, and critic Joanna Persman's description of her approach (another slightly edited Google translation) will sound familiar to any potter:
Hillfon stressed the importance of physical process. . . . It requires power! The material resisted and challenged. She defied all. Wrestled. Large format was heavy physical work. . . . Figures collapsed under their own weight. Pieces that were thick at one place and thin in another burst in the oven. It was a constant battle to outwit the matter. Some pieces were so large that they must be cut into pieces to fit in the oven. They were glued together afterward. Even when everything went right, the mud shrank during firing.4
Hillfon fought the good fight, with energy and élan, to the very end. Friend and neighbor Christer Chytraeus recalled, "I often had to carry the mud to her bed." Certain later works—some of the busts, the stylized portraits of women with flowing hair—are less exciting, almost kitschy, to me. In a short film, the seventy-nine-year-old Hillfon says, "I am a peasant," and as I watched, I wondered if her poise had turned into a pose: the grande dame artist. I thought of Louise Nevelson, with her flagrantly fake eyelashes, and Georgia O'Keeffe haunting the desert, women revered by feminists, including me, for their self-sufficiency and strength and yet, in their last years, the persona seemed a little calcified. (This sliding into caricature is certainly true of male artists, too.) Then Hillfon tenderly stroked the face of a stoneware portrait, Little Saga, and told the back story of another sculpture. The affection was so genuine. I succumbed. Her home was, as she said, her farm; her works, her beasts.5
In 2015, the Liljavalchs Museet in Stockholm turned over its galleries to a retrospective of her work. The show began with a flourish. A large, high-ceilinged, dramatically-lit room, paneled with Mattias Lindbäck's oversize photographs, set you down in her exuberant, disheveled garden, where pots and statues nestled among ivy and ferns. An array of sizeable works from different periods were displayed. In the next room, abstract pieces stood on plain white plinths. Highly glazed leaves and tiles, a variety of braided-clay loaves of bread, and earthenware plaques and pots (one or two with a cobweb still inside) invited close inspection. There was the occasional curiosity: a sandal of sorts, the sole dotted with burrlike tufts and a leather cord and pearly ornament attached to the sole. Expansive, expressive drawings made with a sure hand shared her three-dimensional works' command of line, shape, and negative space.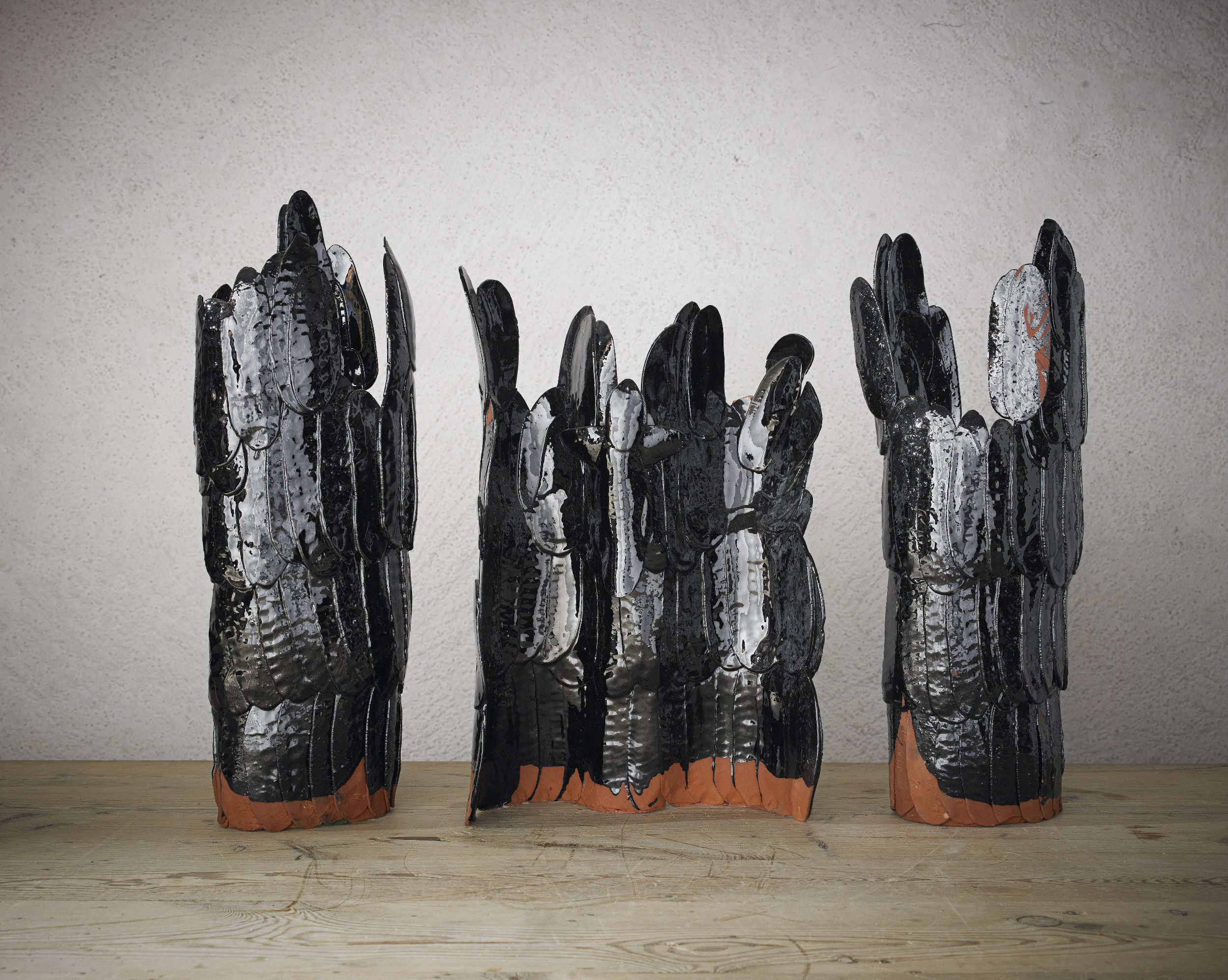 And on low matte-black platforms, a feast of beautiful functional bowls, plates, and cups. As she said, "I always return to the bowl, it is my mantra." Hillfon honored the basic forms: I wanted to cradle these pieces, feel the texture, the heft, in my hands.
In her hands, ceramics could comfort, or assume the gravitas of bronze. In one of the last exhibit rooms at the Liljevalchs, spot lighting illuminated the solemn power of large stoneware heads, the bodices mentioned earlier, a wing mounted on a wall. Most of the pieces were dark; a few wore brilliant red or cobalt blue. For years after Chernobyl melted down in 1986 sending toxins into the atmosphere, later to rain down upon Hillfon's homeland, she made somber, weighty steel-black pieces – and a simple plaque that reads, Vinden förde giftet till mind trädgård: "The wind carried poison to my garden."
Yet Hillfon was also the artist commissioned to make a portrait of Astrid Lindgren, author of the beloved Pippi Longstocking children's books. She brought a sense of playfulness, humor, a child's wonder, to her work. It's fitting that in the Liljevalchs's soaring atrium, large tables and three pottery wheels were set up so that children could make pottery. Interactivity, engagement: these words are in fashion in the museum world, but this temporary studio made perfect sense. Its setup recognized one of the most ancient of impulses: to get one's hands in clay. This was an impulse that Hillfon was impelled by, found her life's meaning in, and was faithful to for more than sixty years, and the primal power of clay comes across in the ceramics she left us.
"I am really clever at forgetting. I have never been this old and never had so many plans. I rest in my work."
---
Endnotes
Not knowing Swedish, I relied on Google translations and a dictionary to render quotes into English. There is a lot about Hillfon available online, including articles about the 2015 Liljevalchs exhibit, with quotes from the exquisite catalog, some of which are in this essay, and Mailis Stensman's writings. An excellent way to see a large sampling of Hillfon's work, with titles, measurements, etc., is from the Stockholms Auktionverks (auction house) website http://auktionsverket.se/ Her house was the subject of a beautifully photographed feature in Elle Decoration (Swedish edition). http://www.elledecoration.se/hertha-hillfon-ett-liv-pa-auktion/
1. "The Liberation of Form: Applied Art and Design in Swedish Debate in the 1960s," Art Bulletin of Nationalmuseum Stockholm, 2011, Vol. 18, pp 158-164.
2. Hillfon interview, Cora magazine, 2012, by Mailis Stensman, author of the book Hertha Hillfon. http://www.cora.se/2014/03/27/skalen-ar-mitt-mantra-konstnaren-hertha-hillfon/
3. Anja Notini, Made in Sweden, excerpted in Ceramics Monthly, October 1990. https://ceramicartsdaily.org/ceramics-monthly/wp-content/uploads/sites/6...
4. Joanna Persman article, Svenska Dagladet, June 2015. http://www.svd.se/hertha-hillfons-trotsade-allt-med-sin-konst/om/kultur:konst
5. After Hillfon's death, her house was sold, the contents auctioned; a campaign to preserve the house as an art center has stalled. The Friends of Hertha Hillfon bought sixty-three, about one quarter, of the works auctioned; family members have others, and her work is in many museums. Some public art, such as "Dove" and "Frida on a Rabbit," both in Stockholm, and "Astrid Lindgren" outside the Astrid Lindgren Children's Hospital in Solna, Sweden, are still on display; others have been dismantled or are in jeopardy.