Sexism, along with other forms of oppression, is still prevalent in our society, and in the world of clay artists. Think about all the instructors you had in ceramics programs in college. How many of them were women? And, how many female ceramists did you study? It is safe to say that women are becoming more included, but we still have a long way to go. Clay programs are fantastic when it comes to teaching the highly technical, scientific aspects of working with clay, but they need to keep moving towards diversity and inclusiveness.
Young females working primarily in clay and with feminist themes, are rare. Does this have something to do with younger female clay artists and their involvement with Fourth Wave Feminism? This particular wave focuses on technology, a strong online presence, sexuality, body- and sex-positivity, and the self as subject. The intersectional aspect of the movement is queer-based, trans-inclusive, extends its invitation to men, and deals with racism, classism, homophobia, and other prejudices.  Intersectionality is underscored by artists' choices to incorporate mixed media. The clay world is notorious for being a mono-medium field, so it's no wonder that these niche artists often cross over to other art groups. Though many feminists have started out working with different materials, some have been drawn to clay and are producing bodies of work with the malleable material.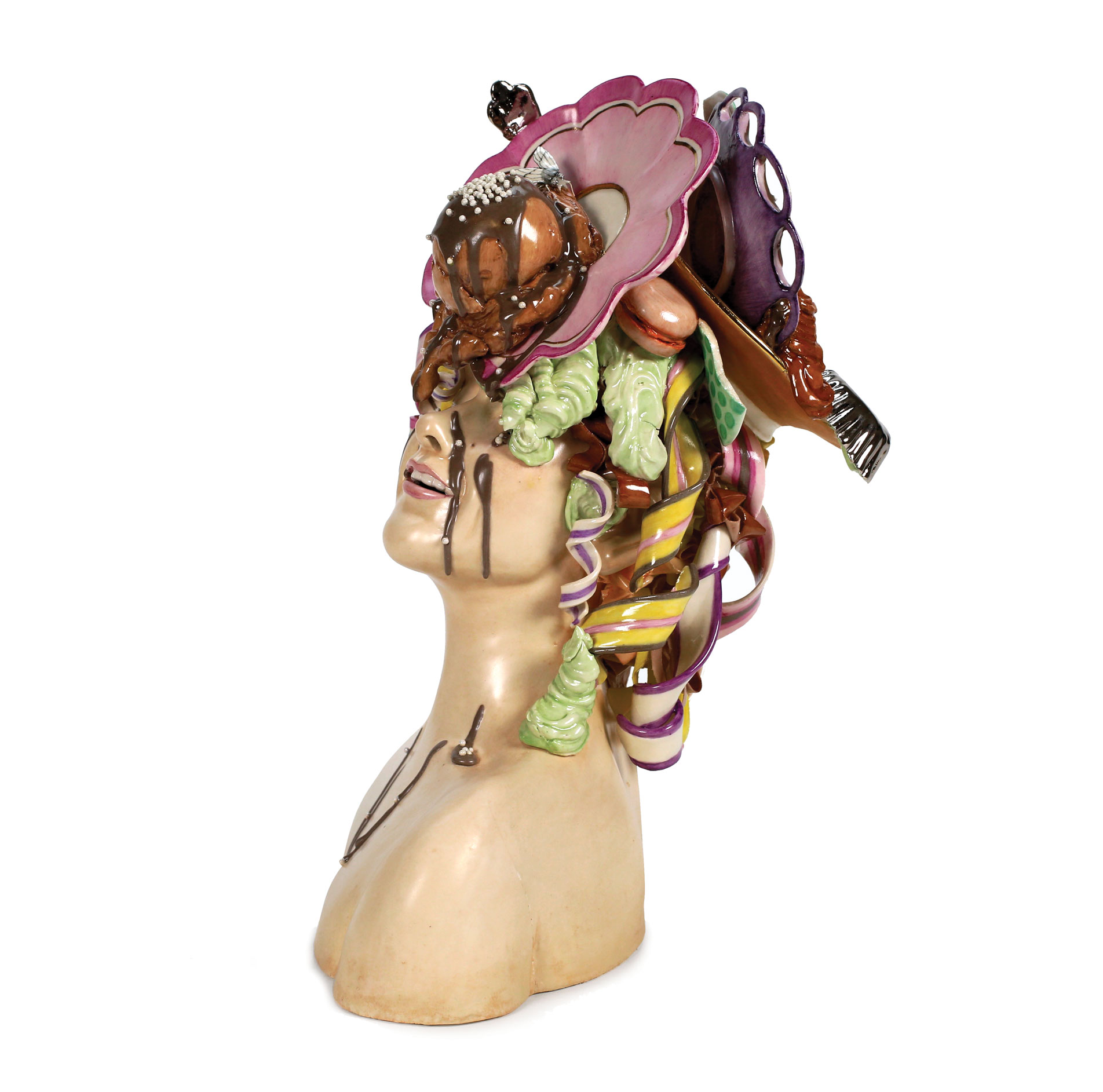 Jessica Stoller has used mixed media in her past artwork but has moved on to working primarily in clay, specifically, with porcelain and china paints. The objects she creates are sexual scenes that incorporate decorative body parts, food, and plants, assembled to look as if they are morphing and melting together and finished with a pastel color palette. Stoller's Untitled (Slip), a bust of a young woman blinded by melting desserts and other foods sliding down from atop her head, comments on overconsumption by the richest consumers in our society. The rococo style of her works is also an oblique reference to how women have long been perceived as decorative, weak, and unaware of the power they hold. As seen in such works as Untitled (Stack), body shapes range from thin and perky to voluptuous and droopy—evoking both fear and empowerment. Her sculptures are simultaneously grotesque and pleasurable.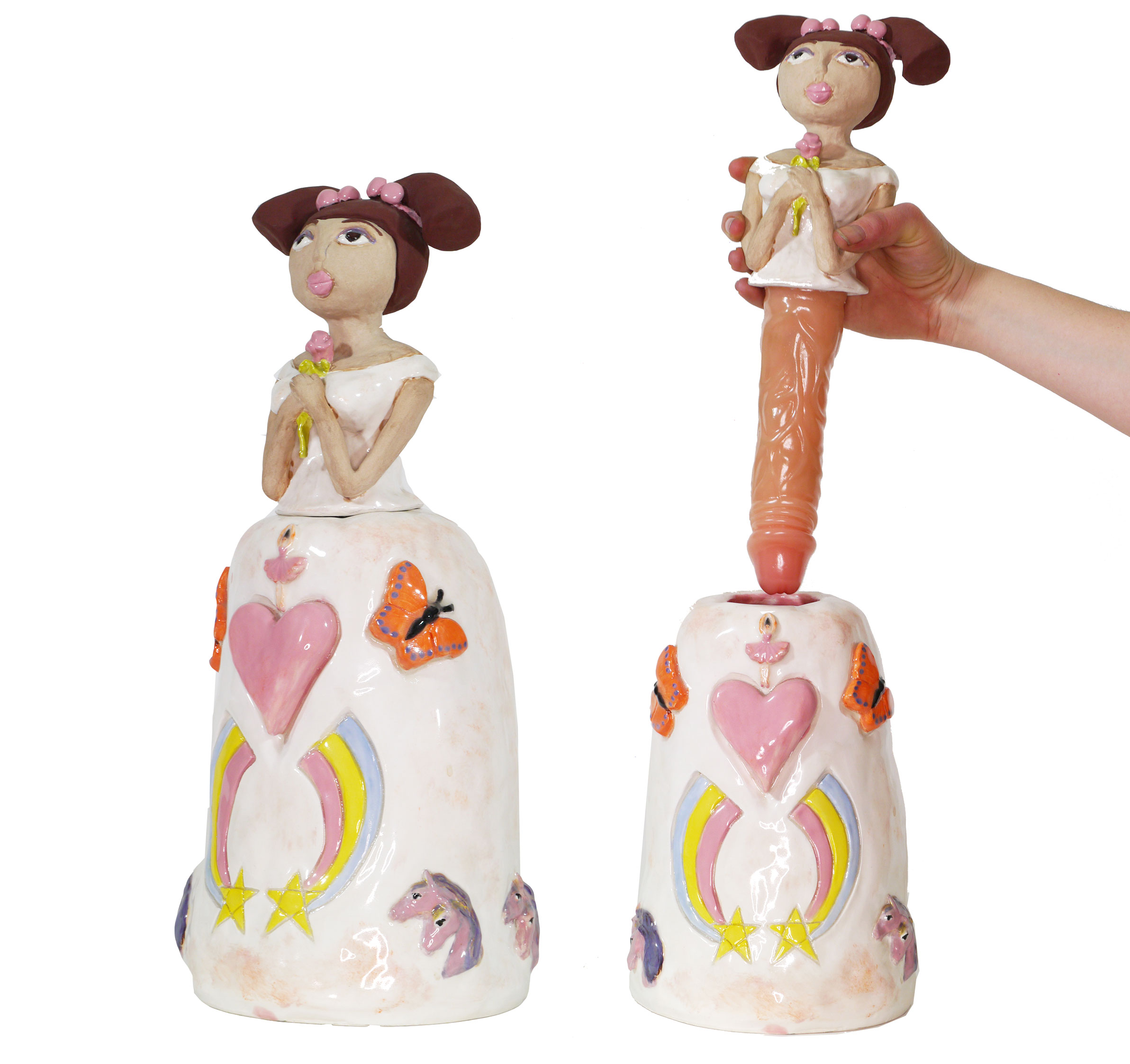 Rebecca Goyette works in video, performance, and sculpture and has produced many bodies of work in which clay is the main material. Her ceramic pieces are sometimes used as props in her performances or surround video works. In Puritan Projects, Goyette depicts rigid puritans and their strict gender roles, juxtaposing a playful use of clay with unapologetic scenes of sexual appetite and repression. An example is Corncob Masturbating Puritan, a figurine serving as both small-scale sculpture and scene prop. In her Bride series, figurine-style characters are shown caught in male-dominated marriage scenes that sarcastically convey what women "should expect": narrow futures that revolve around bearing children (Bun-in-the-Oven Bride) or providing sex (Hidden Pleasures Bride) Goyette makes fun of these socially normative scenarios in hopes of disrupting them. Some artworks have hidden dildos—they're incognito in a world of forced patriarchal repression. Her use of the self as the subject, body- and sex-positive humor, and blunt imagery all tie in with the themes of Fourth Wave Feminism.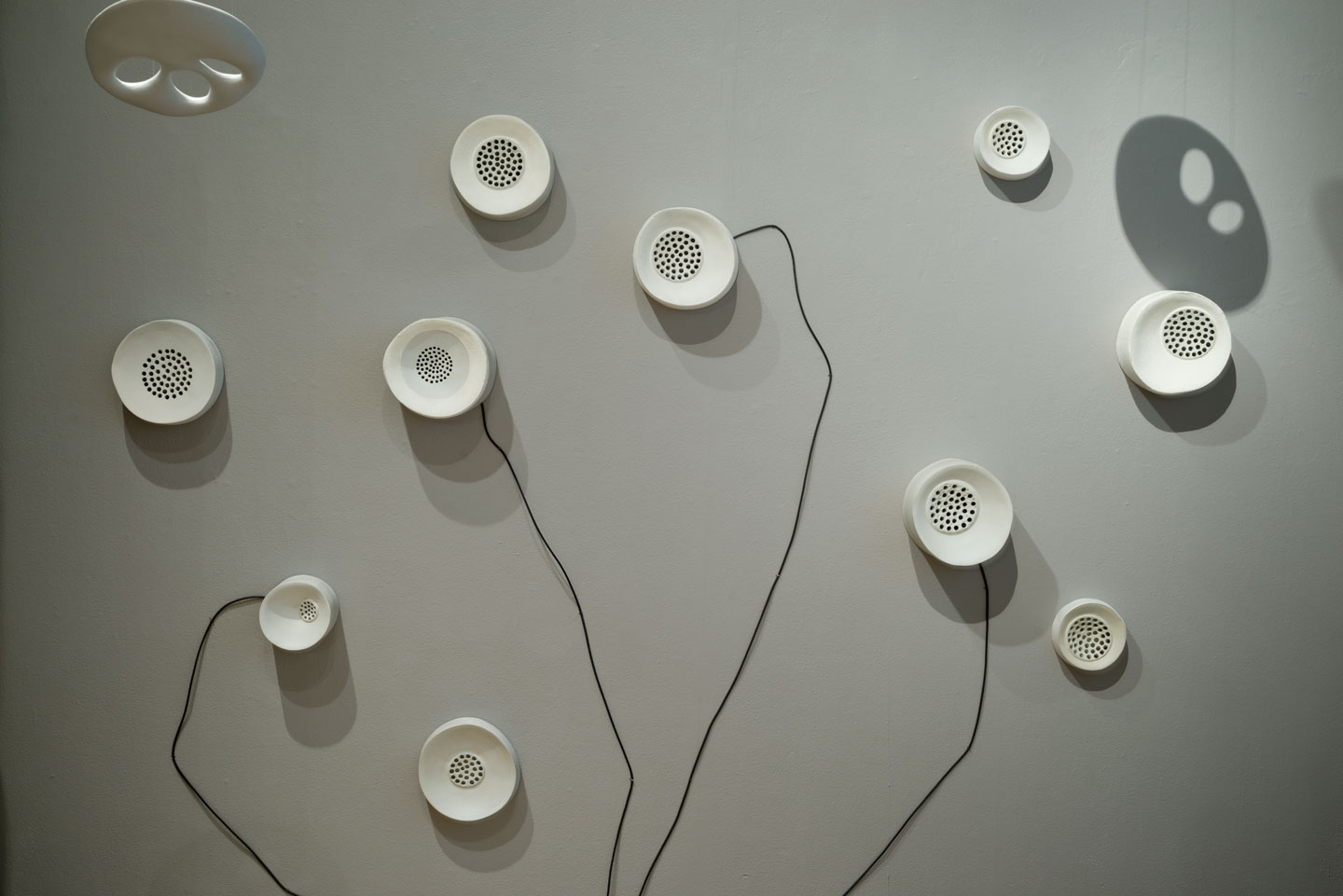 Nicole Gugliotti's work also incorporates video and ceramic objects, particularly in her awe/agency. In that 2014 exhibition, ceramic speakers emit positive abortion stories of women in her community. The work seeks to empower women, voicing their message that choosing abortion can be a brave and intelligent decision and that abortion enables women to have control over their bodies and lives. Maintaining an optimistic and professional tone, she fabricates an environment where such ideas can be discussed with poise. The use of mixed media, specifically, video and sound, invite viewers to stay for a while and take in the whole story. Gugliotti is active in her community, collaborating with other object makers through two organizations she cofounded, Project Canary and the Socially Engaged Craft Collective. These projects are highly effective in using the Internet to bring people together, generating strength in numbers.
Through my work, I celebrate sexuality and explore the role of gender in relationships. I use various types of earthenware and underglazes to respond to gender, racial, and sexual oppressions. My personal stories of sexism in the art world display the commonality and constancy of this daily oppression, as seen in She Does Pottery on the Side, a series of collaborative video stills with writer Abigail Blank. My use of ceramic objects—domestic and sometimes functional—keep conversations about the work at the "everyday" level, thereby making them accessible to people of all socioeconomic backgrounds. Within a patriarchal society where reproductive rights are under heavy political fire, I respond to the shameful accusations thrown at women who decide to take their health into their own hands in my Birth Control Plates. This series contains words such as "cunt" and "slut," cartoonish pornographic drawings that incorporate humor, and vibrant colors that emphasize the intense subject matter. My work acts as an advocate of the intersectional theory as it relates to human rights.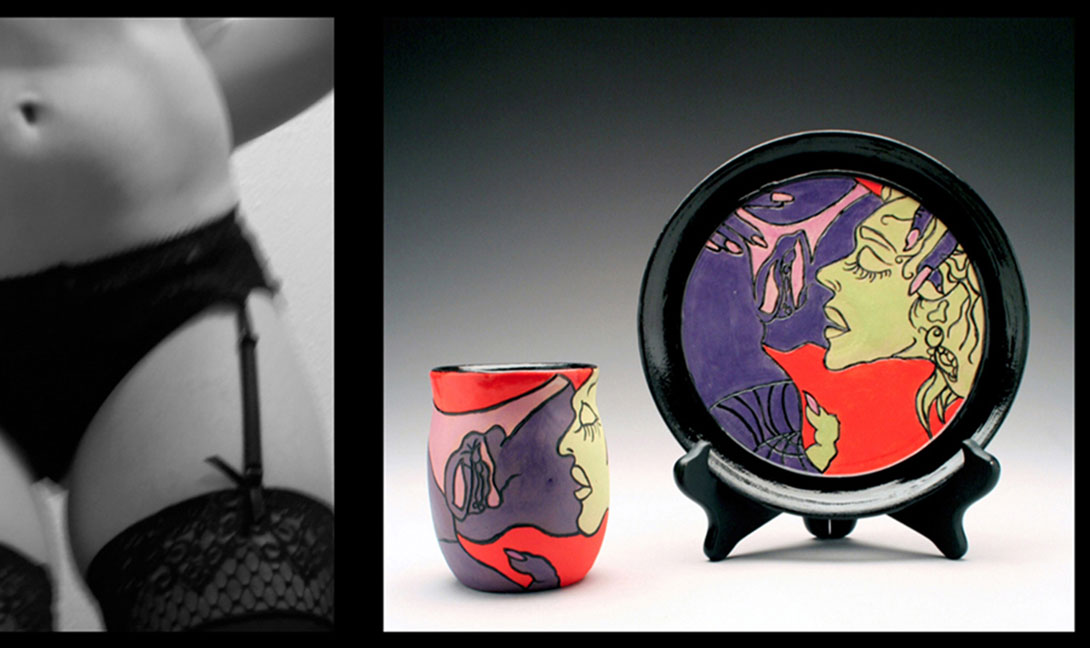 The tactile sensation of clay makes it a seductive material to work with for artists and to experience for viewers. The artists discussed here create work about how women do or do not want to be viewed and about women owning their sexuality. These artists visually or conceptually present themselves or women in general as their subject in response to gender discrimination, and, by extension, the myriad societal prejudices still at large today.
All of these artists use the Internet and social media to convey ideas to reach a broader audience. Women are far too seldom included in history books and in contemporary exhibitions. While their struggle to exhibit ideas in the high art scene endures, they are creating their own platform to be heard.