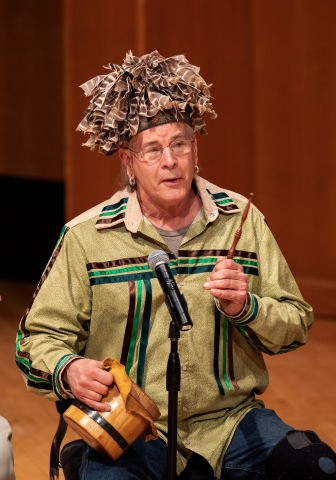 Author Profile
Richard Zane Smith
Sǫhahiyo (He Has a Good Path) Richard Zane Smith, was born in 1955 and raised in Missouri. Richard grew up in a spiritual and creative home. In the evenings of his youth, artistic expression was cultivated by means of  scattered pencils and paper on the coffee table, while his parents read stories to the five children. His mother always encouraged them to be proud of their rich Wyandot heritage.  
Richard has been a self-employed full-time ceramic artist since 1984. He's active in Wyandot/Wendat language and culture revitalization longhouse ceremonies and spent seven years teaching Wyandot language and storytelling in the Wyandotte public schools. He holds pottery workshops for First Nations peoples, including Wyandot, Seneca/Cayuga, Mi'kmaq, Shawnee, Oneida, as well as Wendat, and Innu in Canada. He enjoys telling Wyandot stories to children and passing on what he's learned in bow making, rattle making, and other indigenous art forms that tie people to their ancestors. He's been fortunate to be invited to New Zealand for three different indigenous artists' gatherings and cherishes those inspiring gatherings with people of similar passion.
A dream of his is to see all indigenous art traditions restored. Richard says, "I believe all artists are stronger when they're grounded in their own ancestral art forms first." 
Richard was nominated and honored with a First Peoples Fund Community Spirit award for storytelling and voluntary service to his Native American community. His work can be viewed in major art museums across the country, and his work is included in a number of books and publications.
Richard is an enrolled member of the Wyandot Nation of Kansas (not federally recognized) and a certified Indian Artisan by the Indian Arts and Crafts Board. 
SELECTED PUBLICATIONS:  
"Spoken Through Clay." The Eric S. Dobkin Collection, 2017, 300-307. 
American Art Collector. Issue 118, August 2015, 162-163.
The Olson- Brandelle North American Indian Art Collection. (Augustana College, 2010), 254-257.

Aotearoa, Toi Maori.

Maori Art Market, 2009, 144-45.
Aimone, Steven. Design!: A livley Guide To Design for Artist & Crafts People

(Lark Publishers,  2004), 20.

"In Touch with the Past." Southwest Art Magazine, Aug. 2003, 154-158.
Changing Hands, Art without Reservation, 1. (

Merrell Holberton, 

2002)

.
 SELECTED MUSEUM COLLECTIONS:
Eiteljorg Museum, Indiana collection,

Indianapolis, IN. 

The Crocker Museum, Sacramento, CA.

Autry Museum of the American West, Los Angeles, CA. 

Cultural Resource Museum - Eastern Shawnee Nation of Oklahoma,

Miami, OK.

Muscarelle Museum of Art at the College of William and Mary,

Williamsburg, VA.

National Cowboy and Western Heritage Museum,

Oklahoma City, OK

.

Wyandot County Historical Museum, Bonner Springs, KS. 

Philbrook Museum, Tulsa, OK.  

Denver Art Museum, Denver, CO. 

American Craft Museum, New York, NY.