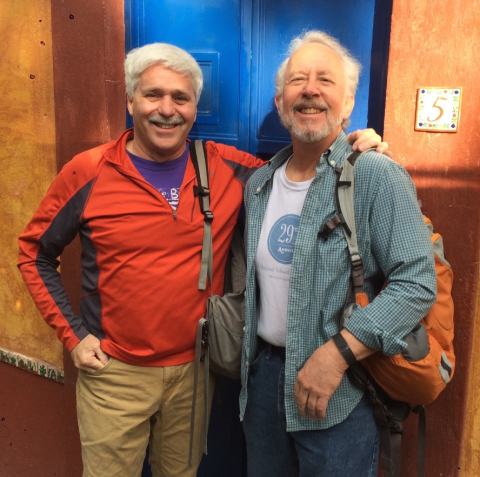 Author Profile
Richard Burkett and Joe Molinaro
Richard Burkett 
After teaching for thirty years, Richard Burkett is an emeritus professor of art at San Diego State University. His clay work has largely focused on soda-fired vessel forms, both functional and sculptural. He and Nan Coffin currently make pots in their studios at their home in San Diego, and in his spare time, he plays bluegrass music. Richard is the co-author of Ceramics: A Potter's Handbook and Porcelain Masters: Major Works by Leading Artists. An early adopter of digital and web technology for ceramics, he created HyperGlaze educational glaze calculation software for artists in 1988. Burkett has lectured on ceramics in Wales, Korea, Ecuador, Sweden, Turkey, and Finland, and taught workshops across the U.S. and Canada. He was awarded an honorary membership in the National Council on Education for the Ceramic Arts (NCECA) for his contributions to the ceramics field.
Joe Molinaro
Joe Molinaro, a resident of San Miguel de Allende, Mexico, is a native of Indiana. He is a faculty emeritus at Eastern Kentucky University, where he worked from 1989 to 2016. He is the founder of Clayart, a popular electronic ceramic listserv, as well as the co-originator and founder of the Virtual Ceramics Exhibition (1994), which was the first ever ceramics exhibit held entirely on the Internet. He is also the author of the book A Pottery Tour of Kentucky and regularly contributes writings on aspects of the ceramic arts for various national and international ceramic publications. He served as program director for NCECA from 2005 to 2009 and is the recipient of two Kentucky Al Smith fellowships in 1996 and 2002, as well as the Rudy Osolnik award for outstanding craftsman in Kentucky in 2000. A recipient of two Fulbright Awards in Ecuador, he has written extensively on this research and is also the producer of two ceramic video documentaries: Jatun Molino, an Amazonian Pottery Village, 1996, and Jatumpamba, an Andean Pottery Village, 2003.
Together
Richard and Joe have traveled extensively in Ecuador over the past twenty-five-plus years, documenting indigenous pottery cultures in the Amazon basin and elsewhere. In addition, they, along with Nan Coffin, produced a book titled Mythical Figures & Mucawas: Ceramics from the Ecuadorian Amazon.