Type "define learning" into a search engine, and more than 500 million hits come up in less than a second. In 2018, the various contemplative strains floating through the stratosphere on how we learn, why we learn, what we learn, how we increase learning, and how we measure learning are legion. Amongst the virtual stacks of data on learning is a section targeting another equally vast area of interest, debate, concern, and research: memory care, a distinct form of long-term care designed to meet the needs of a person with some type of memory problem. 
In 2001, the National Endowment for the Arts began a long-term research project with George Washington University that has come to be known as the Creativity and Aging Study.[i] The study identified many benefits of participating in creative activities, not the least of which was improved health.[ii] Over the years, the study has led to further research related to the creative arts and aging, and has supported the work of individuals and organizations who ask, "How can acquiring a new skill stem the tide for an individual who has not only ceased acquiring knowledge and skill, but is actively losing both?"
It was at the corner where aging and learning meet that Northern Clay Center (NCC) found itself in 2008. Serving the Twin Cities region, NCC had just received a Wallace Foundation Excellence Award Grant[iii] to support the development of new programs that would bring in more participants age 55 and older. NCC envisioned creating a program that would support healthful aging and capitalize on the progress and momentum of its outreach program, ClayToGo!, through which NCC provides short visits and extended artist residencies using the ClayToGo! Van, tours and artist demonstrations for groups, and public programs with neighborhood festivals. All activities are taught by professional teaching artists.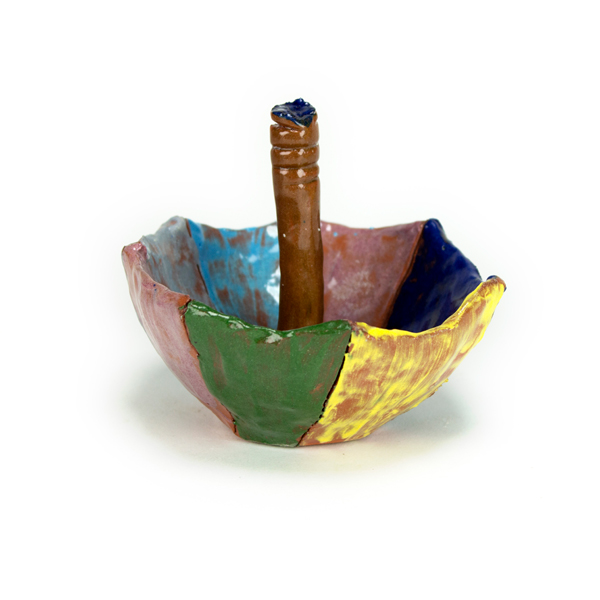 The grant enabled NCC to invest time and staff resources into the "Clay 55+" outreach initiative. Clay 55+ was the purview and responsibility of one senior staff member, who oversaw all educational objectives. After the award, it became ART@HAND[iv], now managed by a team. As stated above, ART@HAND's original goal was to broaden participation in ceramics by people age 55 and older, involving them in a range of clay activities. Its strategy was to overcome such barriers as seniors' access to information about clay activities and their physical access to the material.
Interests and abilities among seniors vary widely. Within the 55+ demographic are several subgroups, defined by such variables as life experiences, education, disposable income, and physical mobility, as well as cognitive aptitude. NCC employs teachers who are also practicing artists as a commitment to the significance of creative inquiry and the ability to deliver information. Armed with deep creative and pedagogical skills, NCC's ART@HAND teaching artists aimed to reach as many seniors with varying degrees of ability as possible. Many seniors have dementia, an umbrella term for a range of disorders affecting the brain. A subgroup battling a variety of lesser cognitive impairments lies at the far edge of the ability spectrum. Next to that group on the spectrum is the subgroup s battling Alzheimer's, a disease that accounts for 40 to 70 percent of all dementia.[v] Focusing on improving quality of life for people in both these groups—the main goal of memory care—is critical. NCC teaching artists are important agents in the work of memory care, and they do it through engaging students in tactile, experiential learning.
The original question that NCC sought to answer was "How can acquiring a new skill stem the tide for an individual who has not only ceased acquiring knowledge and skill, but is actively losing both?" Because NCC supports and empowers teaching artists to have autonomy in the classroom, over time that question evolved to be, "How do you create a learning experience in clay that subverts the traditional model of building upon skill sets from session to session but still achieves qualitative and quantitative measures?" After ten years in the field, NCC's teaching artists, supported by the organization's commitment to responsive, professional development, have developed a deep understanding of the human brain, of aging, and of healing that has helped shape the practice of ART@HAND.
Throughout the tenure of the multiyear Wallace funding, NCC interviewed and evaluated every stakeholder involved in any project, including site administrators (the "gatekeepers" who ensure care and communication are consistent and professional), site staff, residents and their families, and teaching artists. These efforts led to successful connections with individuals over age 55 through experiences in clay and created a model of assessment that remains very active today.
The research revealed distinctions between generations, among them that a significant number of individuals over age 80 experience a drop in autonomy.[vi] The majority of these people seek supportive living situations and community programs NCC formed several collaborative partnerships with these places and programs and found an important new audience to enrich with clay experiences.
Early conversations with gatekeepers were all about identifying a solid foundation for the architecture of meaningful memory care programming. Crucial to any successful query that involves working with target communities is the facilitator's ability to understand their specific needs. To continually adapt to changing needs, NCC actively observed from start to finish, measured beginning and ending points, and adjusted one variable at a time.
Not surprisingly, flexibility seems to be the most important skill for NCC teaching artists to hone, followed closely by a need to facilitate mutual respect for all skill sets at the worktable. Professionals working in assisted living facilities, specifically those working in the memory care wings, have an intimate understanding of the residents.[vii] They may be able to share an insight about a resident's past or about where they are in the progress of their disease. The residents have lived full lives and bring their backgrounds to every new encounter, even if memories of those backgrounds are slipping away.
It is also important to respect the disease and to meet residents where they are on their journey. One teaching artist explained that memory care participants are more variable in mood, attention span, and physical abilities over time than other adult participants, and not all have the same condition. The burden of gaining the trust and respect of gatekeepers can rest heavily on the shoulders of teaching artists and arts administrators, as they gently win over care center residents and staff to the main objective: process.
Prioritizing product over process is a misconception about creative activity teaching artists may face in any learning environment. NCC, in most of its programming areas, is an arbiter of quality craftsmanship, setting a standard for ceramics culture. However, over the years of developing outreach programs that have gone from serving 600 people to 13,000, NCC can point to one of its biggest achievements being its impact on experiential learning. Equally significant is its ability to eliminate preconceived notions of quality, teaching people to trust their hands and that their handwork is more significant than any resultant object.
Success with experiential learning can be all about getting traction and maintaining momentum. For example, NCC teaching artists use books to engage students who arrive early, lessening their frustration in waiting for the rest of the participants and their aides to enter the classroom. To accommodate shorter attention spans, teaching artists become entertainers and joke tellers.
What learning looks like in a memory care setting varies from one person to another. Learning can mean a resident's attention span stretches out. Another begins to eagerly anticipate going to clay class rather than contemplating an empty horizon. A sullen character looks happier or becomes engaged in conversation with new friends.
Sometimes a teaching artist will introduce simple, random objects, such as a feather, a stone, or a stick, in class, drawing out recollections and stories from students. Their stories feed the making process, regardless of the original intention of the particular lesson plan.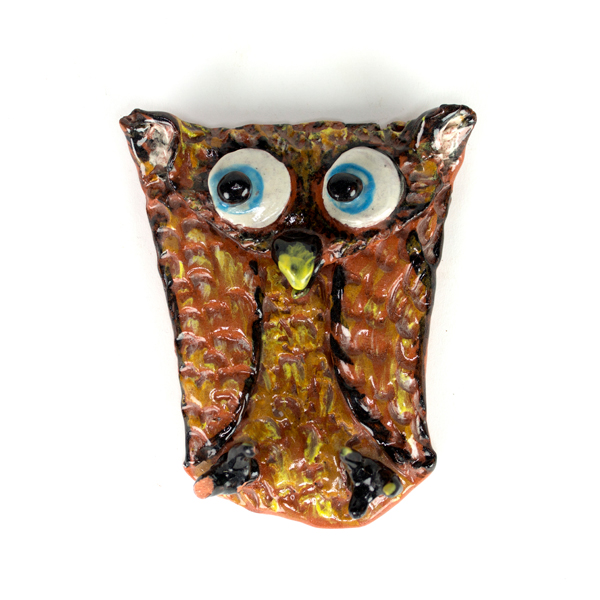 The "folded owl" lesson is a great example of how this technique works. When the teaching artist and aides have most of the participants engaged (sometimes, learning in memory care just means the participant made it to the classroom), each is given a ball of clay and asked to add texture. They are shown how to pound it and poke it with sticks to make it resemble feathers, then fold it over to resemble wings. When teaching artists were asked if things ever get out of hand with this lesson, one response was, "Oh my, yes! Holes so deep, the owl is lacy! But I'd rather have them energetic than sleeping."
Teaching artists can facilitate learning for site gatekeepers, too. Motivated by good intentions, they tend to want to over-help. A caregiver may struggle to focus on process rather than the final product. A teaching artist's job is to help reshape the caregiver's definition of successful learning so that it is emphasizes experience, atmosphere, and process.
The work NCC teaching artists do within memory care is not an exact science. And the field of memory care is challenged to keep up with growing need. One statistic states, "Every sixty-five seconds, someone in the United States develops [Alzheimer's] disease."[viii] Researchers have made progress in understanding Alzheimer's and working toward a cure, but no clear methodology has emerged for navigating an illness that affects 5.7 million people in the United States alone. Conflicting research results indicate how much science, caregivers, teaching artists, and arts organizations have yet to learn.
An increasing body of research does seem to show that kinesthetic activity can be a bridge to memories for those living with various manifestations of dementia. When people lose access to their core self, they deflocculate, to use a chemistry term: their consciousness breaks up into tiny particle and disperses. That dispersion is an opportunity for anxiety and fear to take over. When a person with memory deficits is able to tap into a memory, the experience can be grounding. Conventional wisdom in the area of memory care, in a time when science has not yet gained a means of "erasing the eraser," emphasizes the importance of gaining access to grounding experiences.
Under the heading "Doing Rather than Talking," the Social Care Institute for Excellence suggests this tactic: "Sometimes it can work well to invite a person to show you a particular skill that relates to their past."[ix] NCC teaching artists have found the part about doing is definitively successful, but it is important to note that the quote states that it can work well. Just because it can work doesn't mean it will work. As one teaching artist said about a student who had been an artist throughout her professional life, "It was hard watching her because she got so frustrated [due to] her own expectations of her abilities. Things rarely turned out the way she wanted them." On the other hand, there was the student who made a figure of Linus, from the Charlie Brown cartoons. His wife was an artist who had worked as an illustrator for Charles Schulz. The student spent most of his time in that session recalling how wonderful his wife's work was.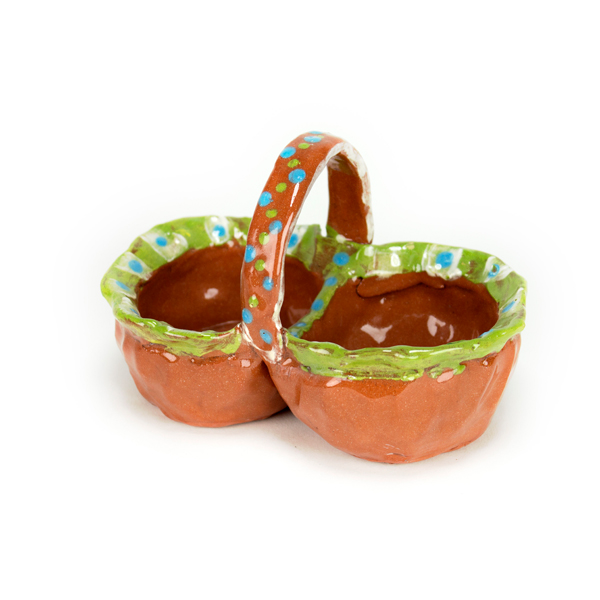 Teaching artists have learned not to present lessons that take more than an hour to complete. "Memory care is slower than other teaching assignments. Often, it's hand over hand, it's step by step, and you are dealing with frustration." They have learned not to teach during "sundowner time," that period toward evening when the person has used up all their energy getting through the day, and confusion and frustration are taking over. The teaching artists also keep groups small (under twelve participants), so each can receive proper attention.
 In thinking about how to create a learning experience in clay where the traditional model of building upon skill sets from session to session is subverted but still achieves qualitative and quantitative measures, we can consider what teaching artists and partner staff have observed and learned: "In settings where memory is an issue, I have to look deeper to find those growing skills. Most often it shows not so much as facility [with the medium], but in their comfort and confidence. Objects may not be better made, but made with less anxiety and improved dexterity."[x] The woman who spent her life as an artist never completely overcame her frustrations, but when she saw the NCC teaching artist step out of the elevator with a cart full of clay, she'd say, "Oh it's the clay lady! I love doing this!" Over the course of each class her positive attitude declined, but the teaching artist remains optimistic: "It's always heartening when they can remember that [the experience is] positive."[xi]
Teaching can be a lot like mopping up the ocean, regardless of who the student is. The task is endless, and the learning experience will vary depending on the facilitator's or teacher's approaches. Success in memory care has been achieved through programs using therapy animals, music, and other art mediums. Several places have even noted that the ritual of high tea seems to revive memories and ease anxiety. NCC's ART@HAND program and its documentation of its progress is adding to the growing database of memory care work and expanding the definition of successful learning.
---