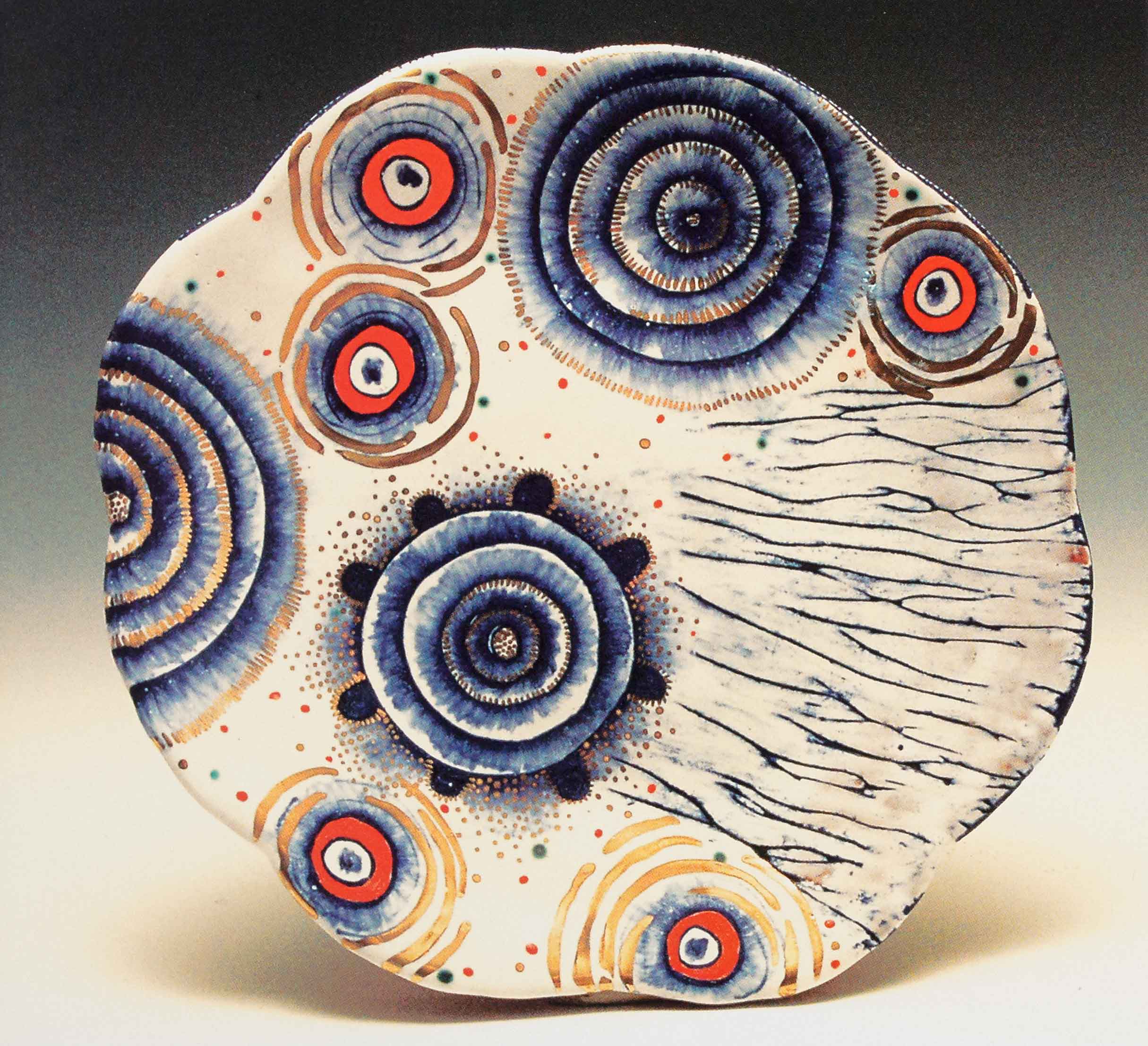 As a potter I spend many solitary hours in my studio, alone both in my head and with my hands. This abundant time allows me to interpret my immediate environment and the larger world, immersed in the intimate artistic space of the form, the brush, and a little alchemy. Sometimes I am interpreting the vital ecosystem of thorny berry bushes, wild turkeys, and astounding insects thriving on our hillside in Vermont. Sometimes I am concentrating on my personal world, rich with get-togethers around salmon baked with summer herbs or Thanksgiving feasts. As the years pass, it seems that my mind's eye finds inspiration in the many different things that enrich my life and make it unique.
Time alone has always come naturally to me, so after finishing my formal education, I found selling pottery through the wholesale markets a good fit. During the late 1980s and early '90s, I would "go public" for one week a year and sell enough work to keep very busy in the studio for the twelve to twenty-four months that followed. This was great fun; it went well and I loved running my own business.
I made many pots, glazed most of them with maiolica, and then painted the surfaces with patterns derived from historical textiles and ceramics. Approximating the great pottery of the past, I was learning to paint pottery in a traditional way. Painted folk pottery of the thirteenth through sixteenth centuries in Iran, Spain, Italy, France, Holland, and England was most inspiring to me. This was pottery made for the common people. I hand-built and painted many pieces, repeating forms and patterns that slowly changed as my hand skills evolved. The work was both mindful and meditative. Staying alert throughout the making, in order to witness and learn from the alchemy intrinsic to it, was essential.
The demand for this maiolica pottery grew, as did the pile of seconds. I made runs to the dumpster on a regular basis. Even though the hours spent making these injured pieces were essential to the development of my painting skills, that ware would bring no financial return. As the daughter of a CPA, I struggled with this because it represented a cash leak that needed to be mended. A friend who was visiting my studio suggested offering the seconds for sale at the local farmers' market. After consideration, I decided I had nothing to lose.
The first day, I brought a dozen pottery seconds and sold out in less than two hours. That day remains unforgettable! There was money in my pocket on the way home, the cost of garbage removal had been minimized, and, best of all, people were interested in learning the thought processes behind my work! I continue to thrive on this exchange today.
Over the next sixteen years, the farmers' market grew to have an important role in my well-being. The fruits and vegetables, colorful flowering plants, homemade ice cream, breads, and Irish "pasties" at this Vermont Farmers' Market looked even more beautiful next to pottery. The close proximity between food and pots inspired a greater involvement in each. At first, while people were buying my straightforward tableware, happenstance conversations about historical ceramics would lead to observations about how pottery has always been influenced by the needs and demands of the community in which it is made. Casual conversations about my pots would lead to discussion of their particular details. Patrons would then tell me their stories. This was the interaction I would look forward to most: what their imaginative minds saw in the details. Hearing about when, where, with whom, and what was served on my pots made them come to life. Market days were opportunities for personal interaction, and the community began having an impact on my work. Stories of how my pots were used brought the process full circle. I was seeing my pottery in local restaurants and on tables in homes throughout the area. It was intersecting with others' lives in ways I had never imagined.
Over time, more unusual pieces made their way to the market. These included experimental vases, butter dishes, and pouring vessels that were less traditional in form and more inspired by my longtime interests in the illusionist space and color of medieval icon painting and the vitality of the Vermont countryside. Frogs, sheep, pigs, and owls made an appearance. The people who saw my work at the market had learned to search it for details within the layers, and came to appreciate these new and curious forms.
I live in central Pennsylvania and teach ceramics in the visual arts department at Pennsylvania State University, returning to Vermont in the summer. Hence my life is spent accommodating two disparate minds. While the university supports intellectual discussion, it downplays the intersection between theories and the reality of people's everyday lives. This value system creates a gap for those of us making functional work. The kitchen sink is not commonly recognized as a focus for university research. Academia assumes that debate is more important than day-to-day life; however, the ritual of dishwashing is an activity in which people repeatedly drift off into abstract thought. If the pottery I create can weave itself into ordinary experience, it has the best chance to enlighten. Bridging this gap is the motivation for my teaching and my art.
Dizzy, our nine-year-old son, attends a Quaker elementary school in State College. The basic principles of the Quaker practice are peace, simplicity, harmony, and community. These are also the basic principles of a potter. The farmers' market has taught me these essential community values. I am fortunate to understand that community includes other artists, family, friends, food producers, farmers, and non-makers, all of whom appreciate my work and are sincerely interested in finding their own way into it.
Time passes and life changes. In the early years of the farmers' market, there was a great sense of community among the vendors. Together we were committed to breathing life into Saturday mornings on the green. Over sixteen years, those early hours evolved into an intense, almost frenetic buzz of social and economic activity. More vendors wanted to take part, but the spaces were limited. Within the bylaws of the market there was a rule stipulating that vendors had to live in the area full-time in order to participate. This had been overlooked for many years, but the pressure to abide by the rules had increased. Consistent with the mood of the greater American populace, midway through the Bush era the farmers' market participants voted to put its rules before the people. Because I was now living in Pennsylvania for the school year, I was voted out of the market. When this happened, I felt a huge sense of loss. My experience at the farmers' market had shown me that having a professional presence within this community was essential to my life as a potter. In order to maintain this connection, I have recreated my community through studio sales, and try to carry the lessons of the farmers' market out into my interactions with the public.