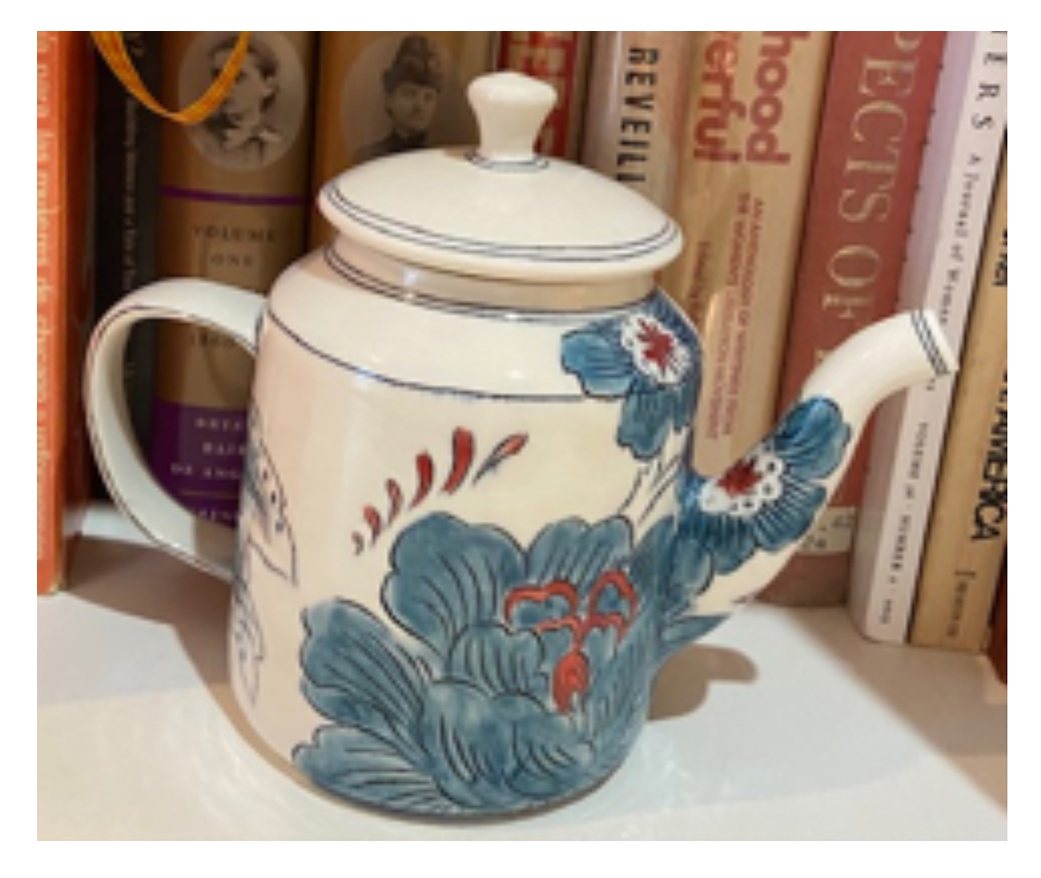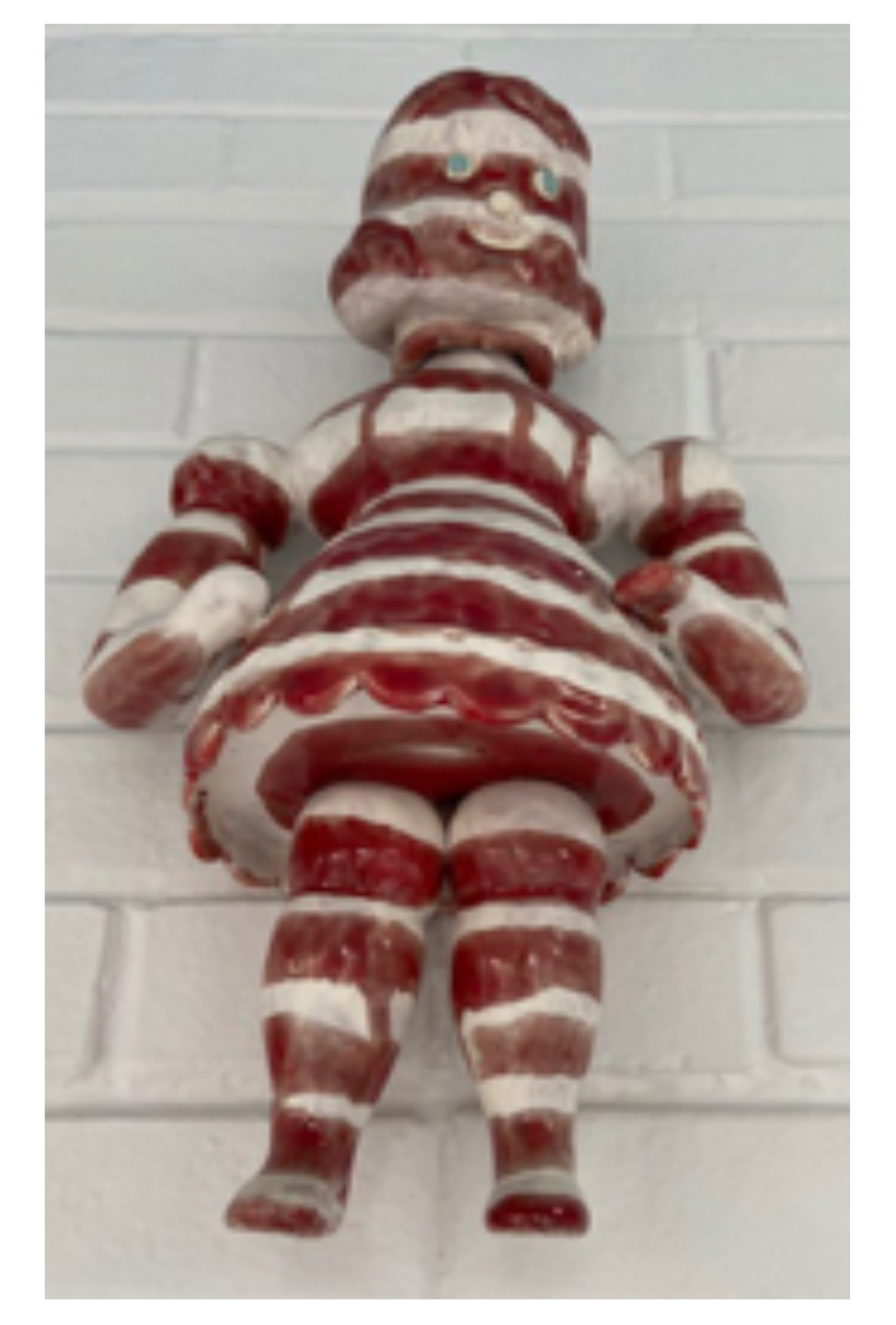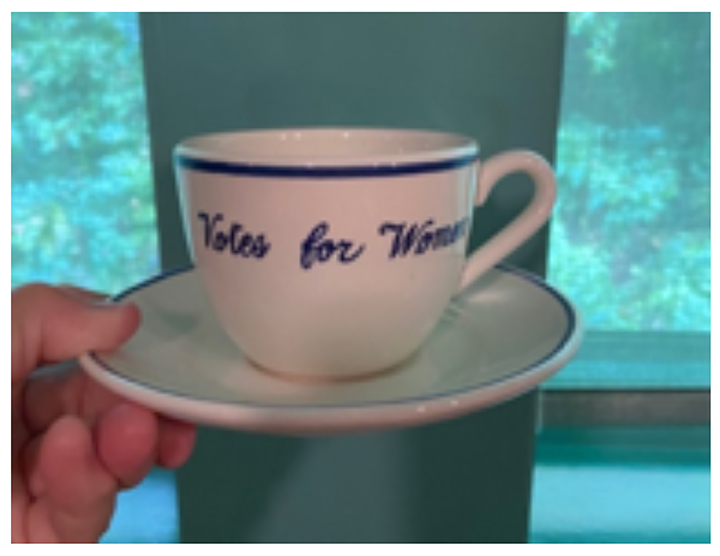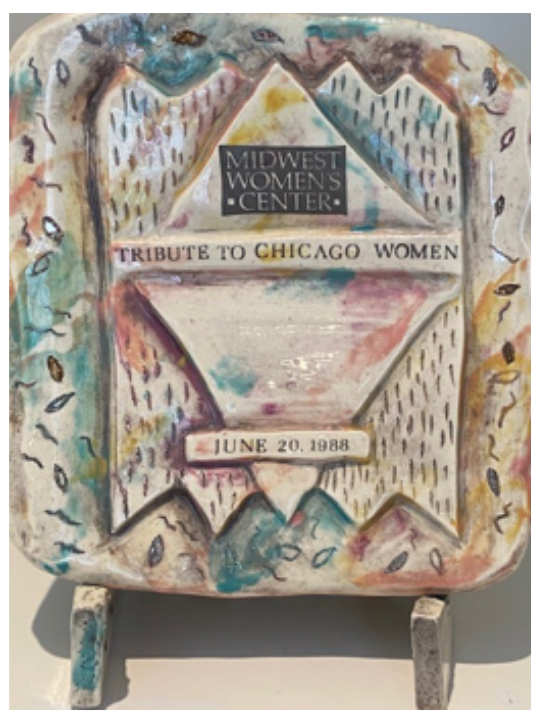 As an advocate for women's equality, and as an art collector, since the 1970s, I have collected contemporary ceramics made by women. The collection contains several hundred works, and includes some sculpture, but is mostly composed of functional work. It lives in settings in our city apartment and our country house. The collection also includes other kinds of art by other women makers. This project has been a life-renewing, feminist passion of mine ever since I read Sisterhood Is Powerful and The Dialectic of Sex while in college. These books opened my eyes to the idea – and the reality – of institutionalized, systemic sex discrimination, including that found in arts institutions.
I have always known from visiting such institutions – from a very young age – that I wasn't seeing much of the women's art I love. So, over the last several decades, I have created my own arts institution: a museum and community clay center devoted to women's ceramics. Anyone who enters it (whether in our apartment or in our house) experiences a powerful aesthetic and political lesson: women's art is as great as men's.
Period.
End-of-sentence.
In the early 1970s, I bought my first pieces of functional pottery, including Mingei work from Tokyo and Kanazawa and dinnerware handmade by local Chicago artists. A few years later, I bought my first women's ceramic object from a gallery, an Aurore Chabot cup from Esther Saks; and from a community ceramics studio and gallery, four Mary Seyfarth cups from Lillstreet Art Center. 
I was continuing to purchase ceramics from Lillstreet (along with collecting feminist art ephemera, posters, and an occasional print, textile, or handmade doll) when, in 1985, the Guerilla Girls published the manifesto pictured below. Its call-to-arms has motivated me ever since to be a public advocate for women artists, particularly for the several generations of women potters whom I've gotten to know in the decades since.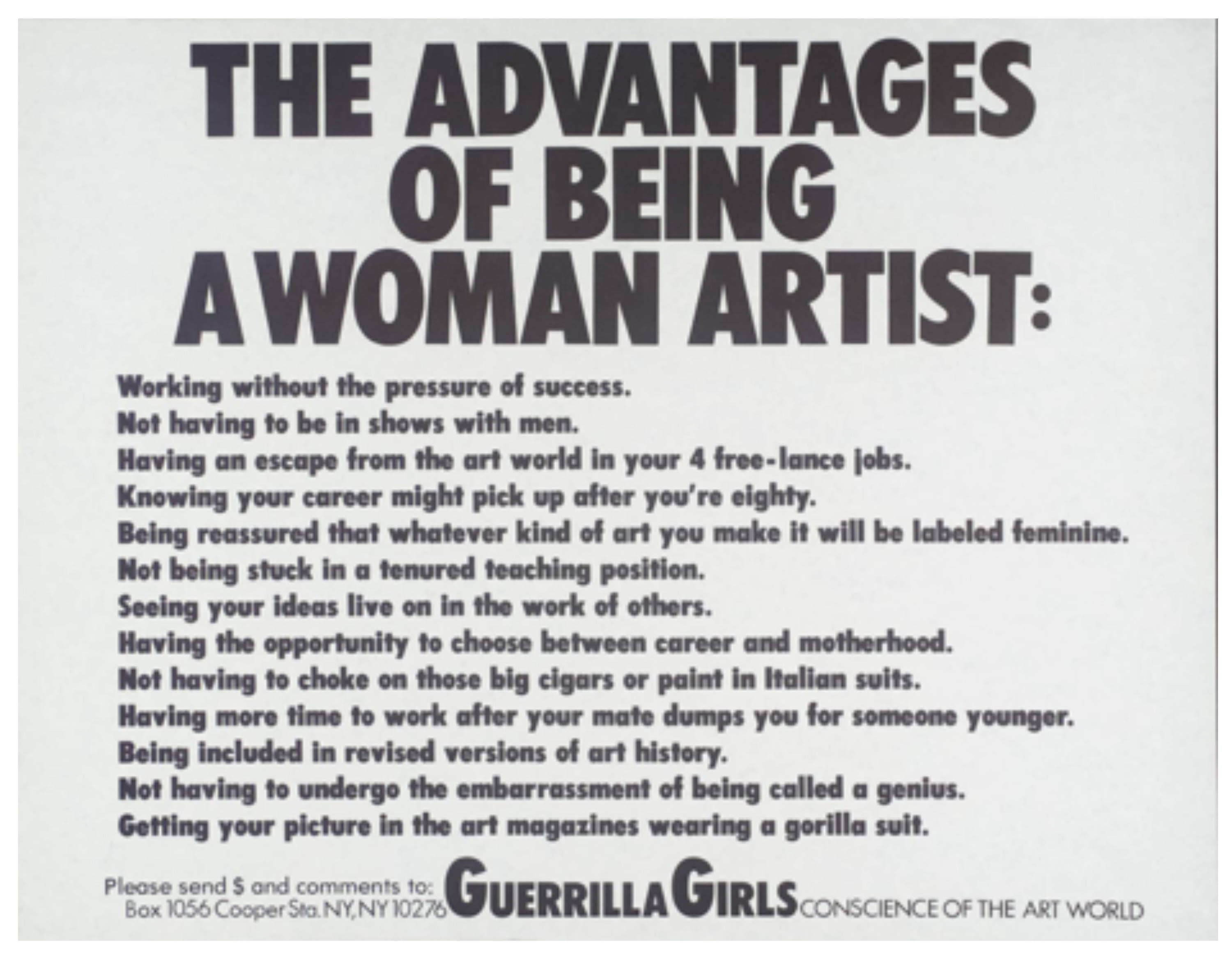 As my women's ceramics collection has grown, my voice in support of women's art has been heard in the ceramics world, both out-loud and in writing. As often as I have the opportunity, I proclaim it time to aggressively advocate for the commitment of art institutions, collectors, schools, and professional associations to support women clay artists: to buy their work, collect their work, grant them fellowships and residencies, and make appointments of them as professors and curators, and to other leadership positions. To these ends, you can learn more about my views by following the links in the sidebar column. 
Today, in this time of coronavirus and quarantine − like others fortunate enough to have the time, beyond work and family obligations, to think about life and its meanings – I've taken the time to think more deeply about my love of ceramics, this avocation cum political campaign of mine. And, particularly fruitfully so, because my husband and I have quarantined in our country house, with all the solitude that being out in these woods and fields offers. I have had the time to think about the aesthetics of these women artists, as well as the politics of their circumstance.  
Meanwhile, also like others, we have experienced a run on canning jars and other cooking supplies, lumber and home-repair tools, and even seeds and plants since so many − amateur makers as well as professional artists − are creating their own handmade art in the forms of food, home improvement and beautification projects, and gardens. We have come to realize that, as we remain home-bound, it is crucial to our mental well-being to surround ourselves with human-made beauty − without as well as within. My ("victory") garden has been the beneficiary of my attention, yielding the lessons I share with you here about the art that I love. 
Planting this metaphorical victory garden of mine; seeking hope (and, yes, solace) in nature's cathedrals; I've spent many hours of each week of the last eight months creating my art, this garden. It has become the primary context for my aesthetic expression.

As August waned, while my cantaloupes and watermelons ripened, fewer flowers bloomed. I had time to reflect on my choices of plants and the settings for them. And, for the first time in my life of owning a home (forty-four years), I had the hours in the day, and the quiet needed, (quarantining alone during the workday has some significant benefits), to identify the commonalities in the environments I create outside, in my garden, and inside, in my home. 
Are there ideas I express in the garden that resonate in this home filled with art? Yes, there are. They are found in the congruence between the garden's imagery and the ceramics collection's imagery. These common themes are:
profuse, frequently-repeated pattern and decoration; 
imagery that tells a story; 
strong delineating lines; 
an intense, if at times unorthodox, mixture of textures and shapes; 
vibrant color combinations; 
imaginings of the natural world; and 
various sorts of evocative imagery.
Below, I've described these ideas and shared views of them by juxtaposing pictures of the garden and the ceramics. Importantly, as I do so, I remain the unceasing advocate; seeking to convince you − by observing the beauty of these ceramics and the commitment to excellence of their makers − to join me in advocating for recognition of them and their work. 
---
Herewith: a discussion of these themes
and the images that illustrate them.
---
PROFUSE, FRQUENTLY REPEATED PATTERN AND DECORATION: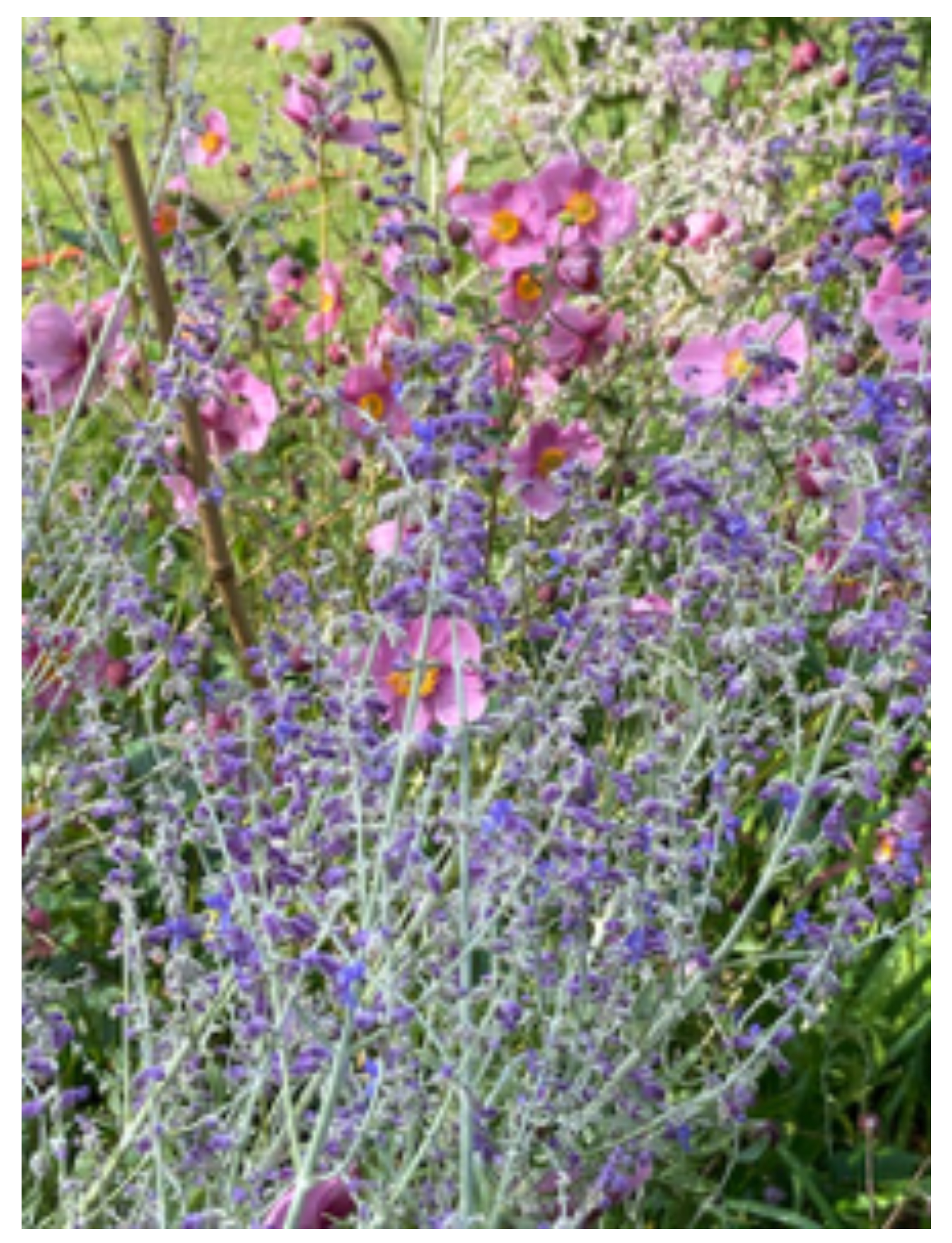 Liz Quackenbush, Sarah Jaeger, Zemer Peled Doron, Linda Sikora, and Ashley Kim.
As a young teenager, I began sewing my own clothes, for which I chose and bought the fabrics. Liberty of London was a special favorite (albeit a special splurge). Later, while in college, I learned about William Morris and his fabric designs; a few years later, I learned about Judy Chicago, Miriam Schapiro, the Pattern and Decoration movement, and the use of fabric, beads, and clay in "art"  as well as "craft." The common thread − pun intended − was the abundance, even extravagance, in the motifs.
Ceramic makers have the opportunity to emphasize such motifs through the application of glaze and the shaping of the elements of a work; for example, of a spout, a handle, or a lid. Below is the second earliest of several works by Quackenbush in my collection, all of which reflect this approach. So does the work of her friend, Jaeger, especially so in her luscious glazes. Sikora is widely admired for her use of pattern; frequently influenced by Islamic motifs of the sort in the work shown here. Peled Doron is collected worldwide; the sculpture shown here, from her resident show at the Archie Bray Foundation in Helena, Montana, evidences the spiky elements that henceforth have created the profuse patterning in her work. Kim is less well-known than these other artists, but this wine cooler of hers, covered in a lace motif, just nails the pattern and decoration idea, hearkening for me back to my sewing days.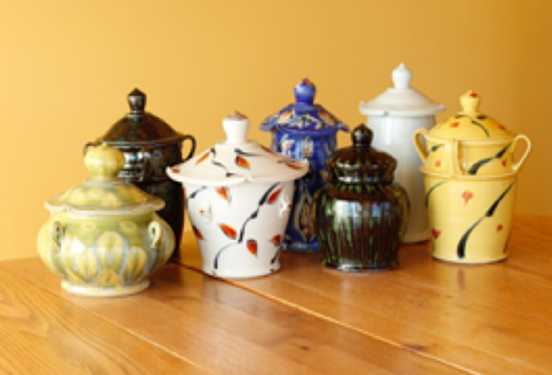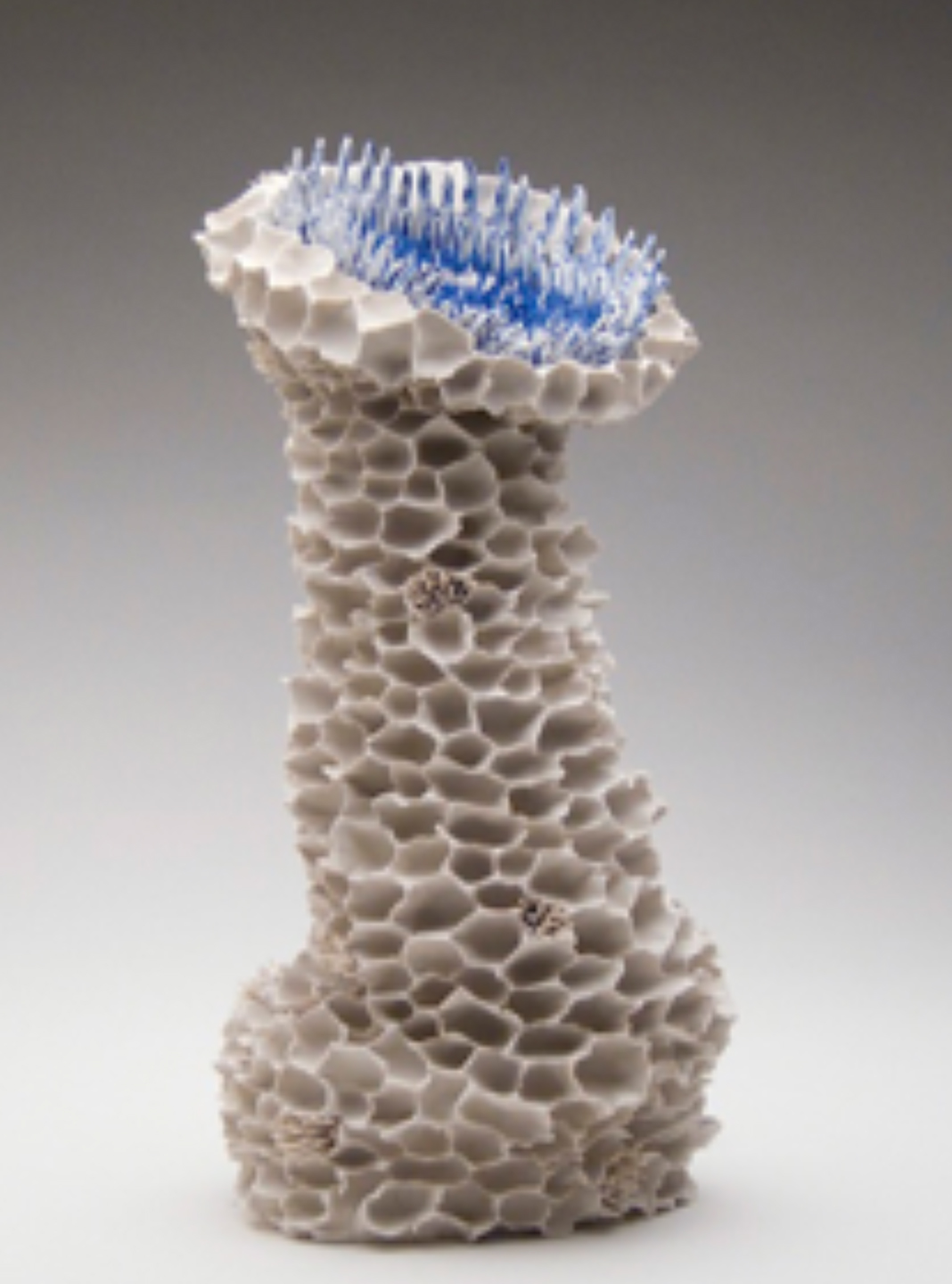 ---
IMAGERY THAT TELLS A STORY:
Deirdre Daw, Jessica Brandl, Jane Shellenbarger, Debra Fritts, and Ann Agee.
Stories can be told in ceramic work literally or figuratively. In this grouping, you'll find both. Daw suggests ideas, e.g., "submerge," written on cresting ocean waves; (that's what the clay shaping and blue glaze treatment here look like to me); while, in her second work, pictured here, she suggests ideas related to traditional blue and white pottery, coil-building, and funerary urns.
My parents owned a farm when I was a child. There were tumbledown country buildings up and down the nearby roads. These two images of Brandl's evoke that era and experience for me.
Why is a rabbit crouching on red ground? Why is a person lying across someone else's head? Looking at Shellenbarger's rabbit and Fritts' heads in a bowl, the viewer can free-associate stories while viewing literal depictions. As to the Agee work: her drawings surrounding this box tell the age-old story of Antigone.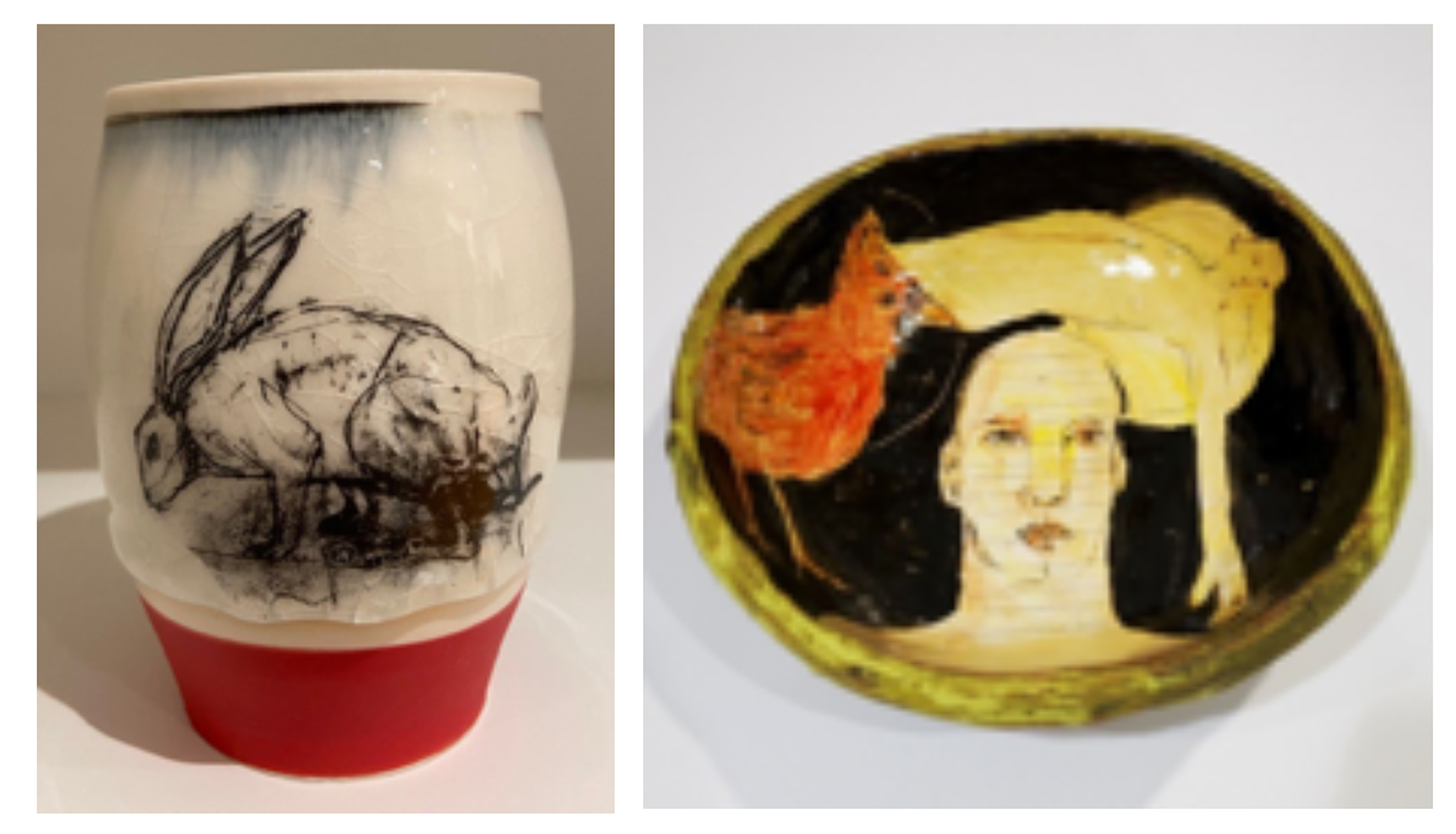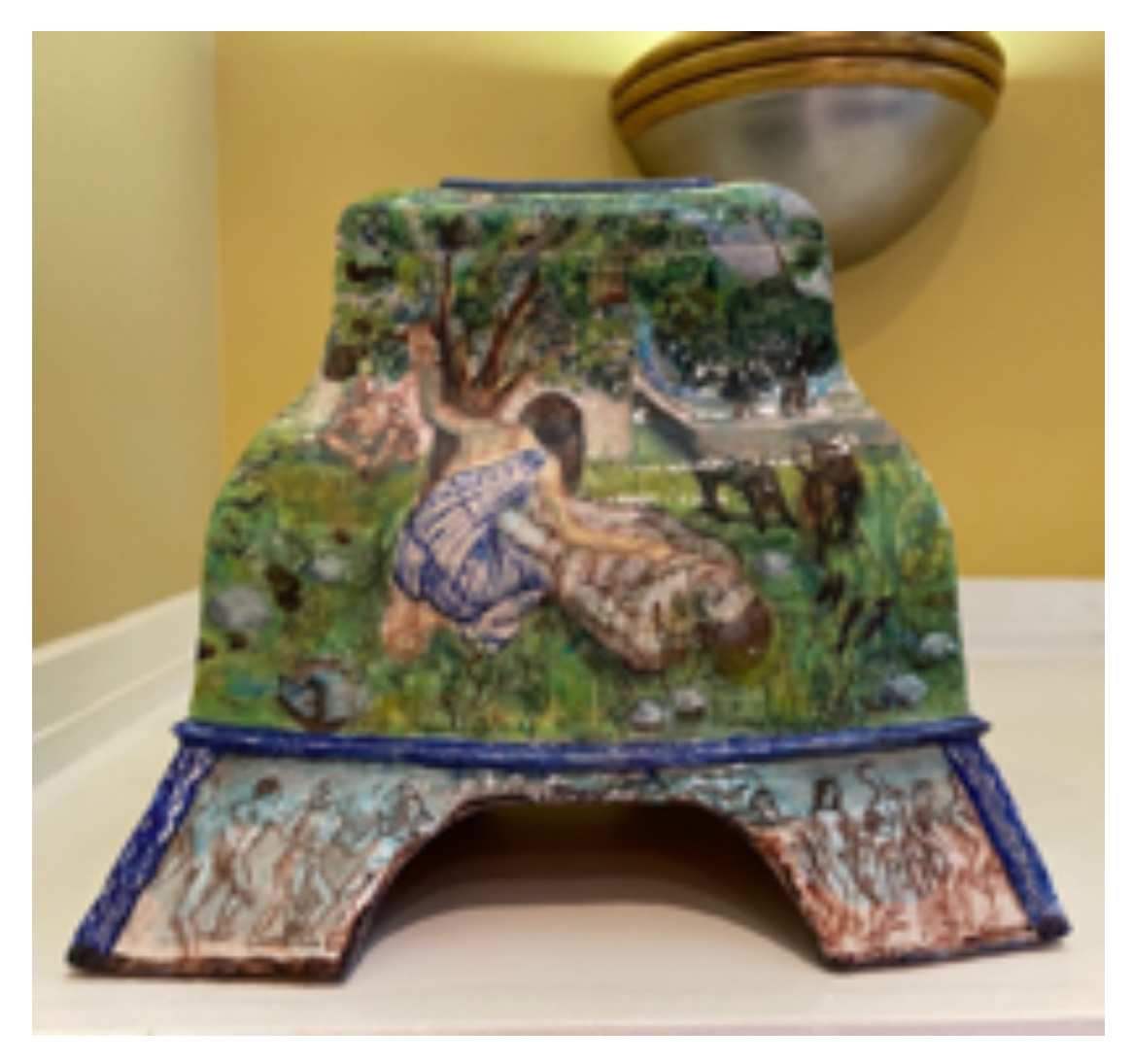 ---
STRONG DELINEATING LINES:
Aurore Chabot, Linda Christianson, Victoria Christen, Stacey Pearson, and Lorna Meaden.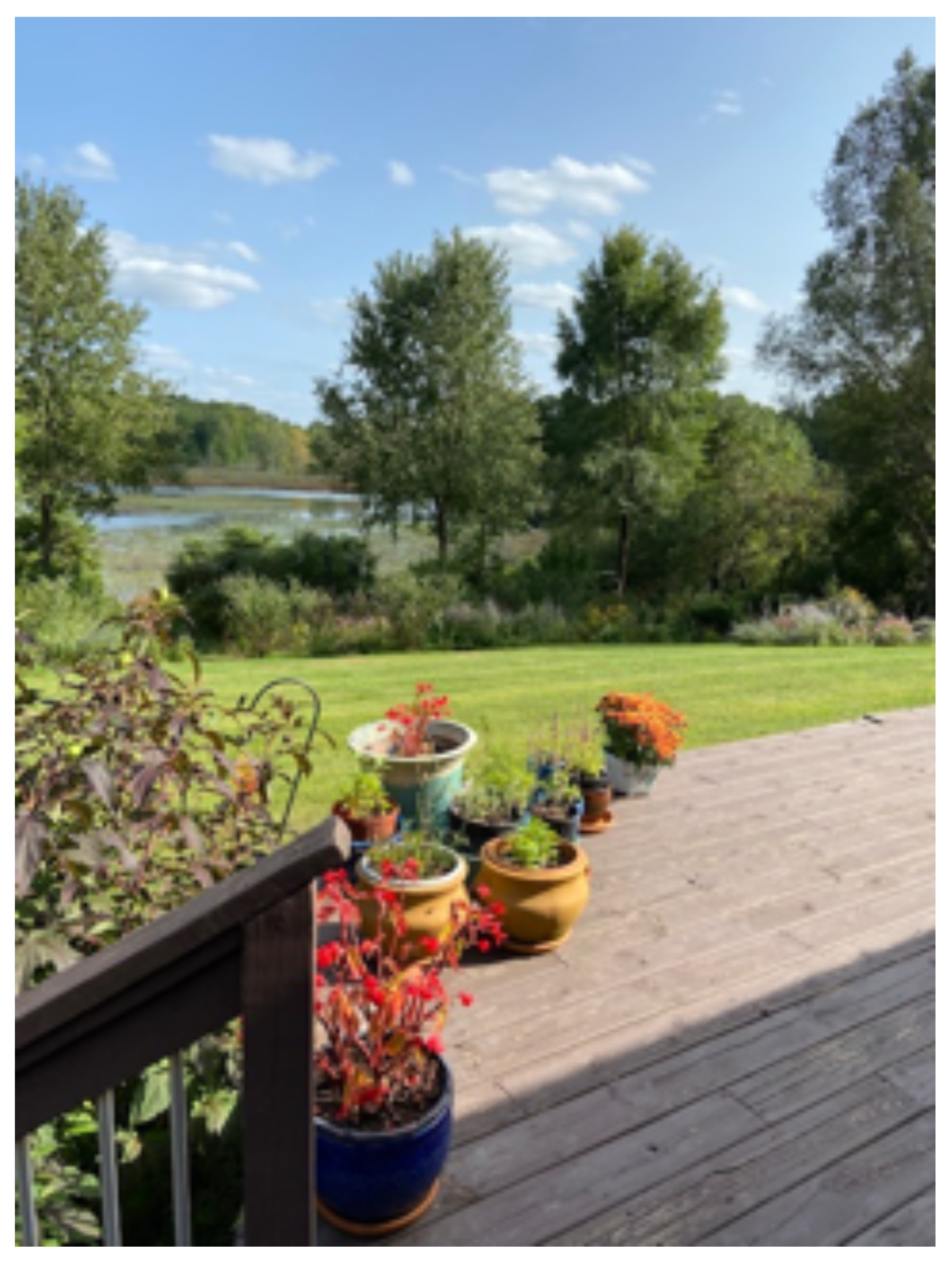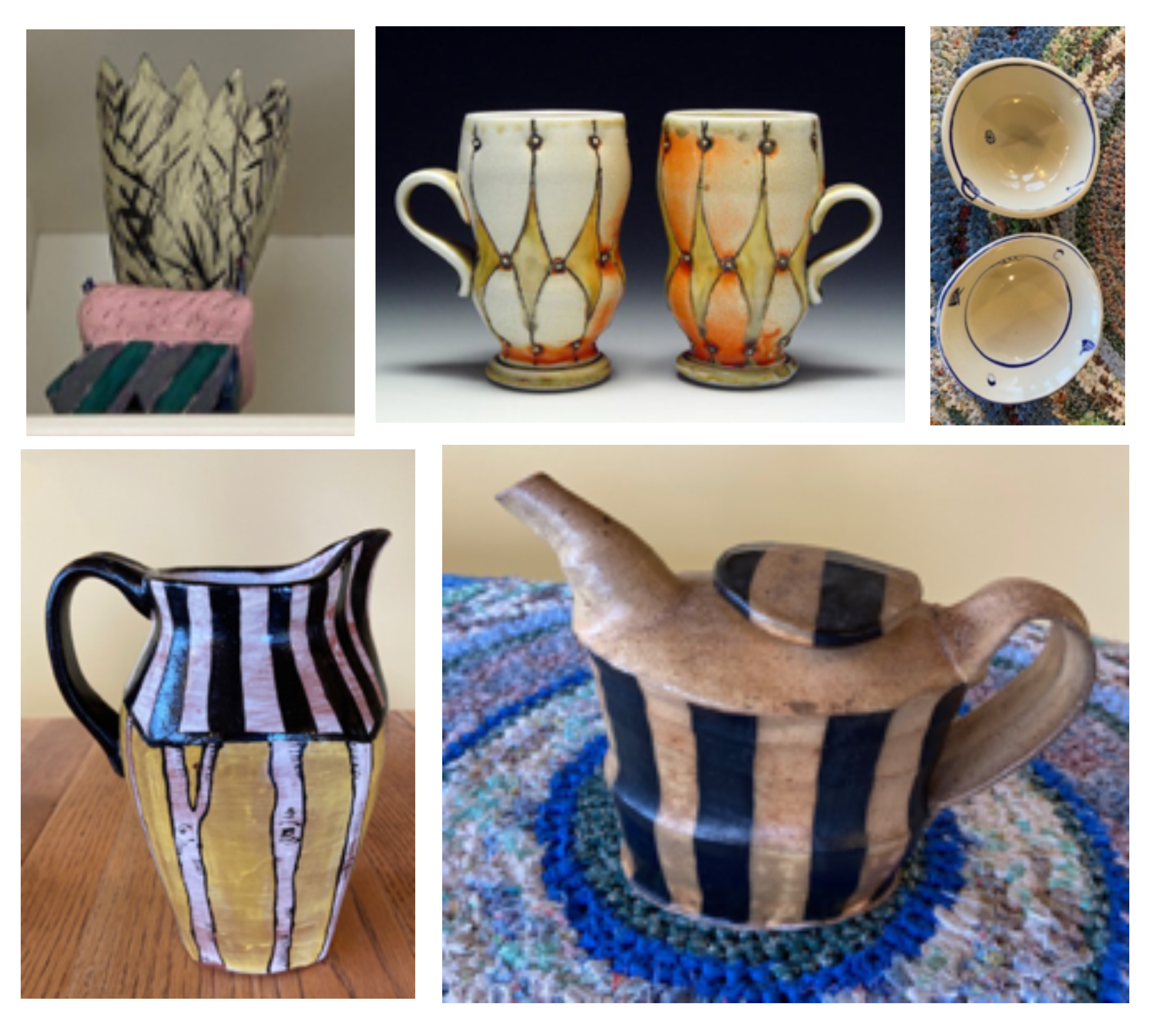 Delineating lines can be sensuous or prescriptive. That's the line that runs through all of the works pictured above. Perhaps, the lines in Pearson's pitcher are meant to evoke birch trees around her rural home. The abstraction in the other works shown here conveys what line can do to delineate space in a variety of functional ceramics.
---
  
AN INTENSE, IF AT TIMES UNORTHODOX, MIXTURE OF TEXTURES AND SHAPES: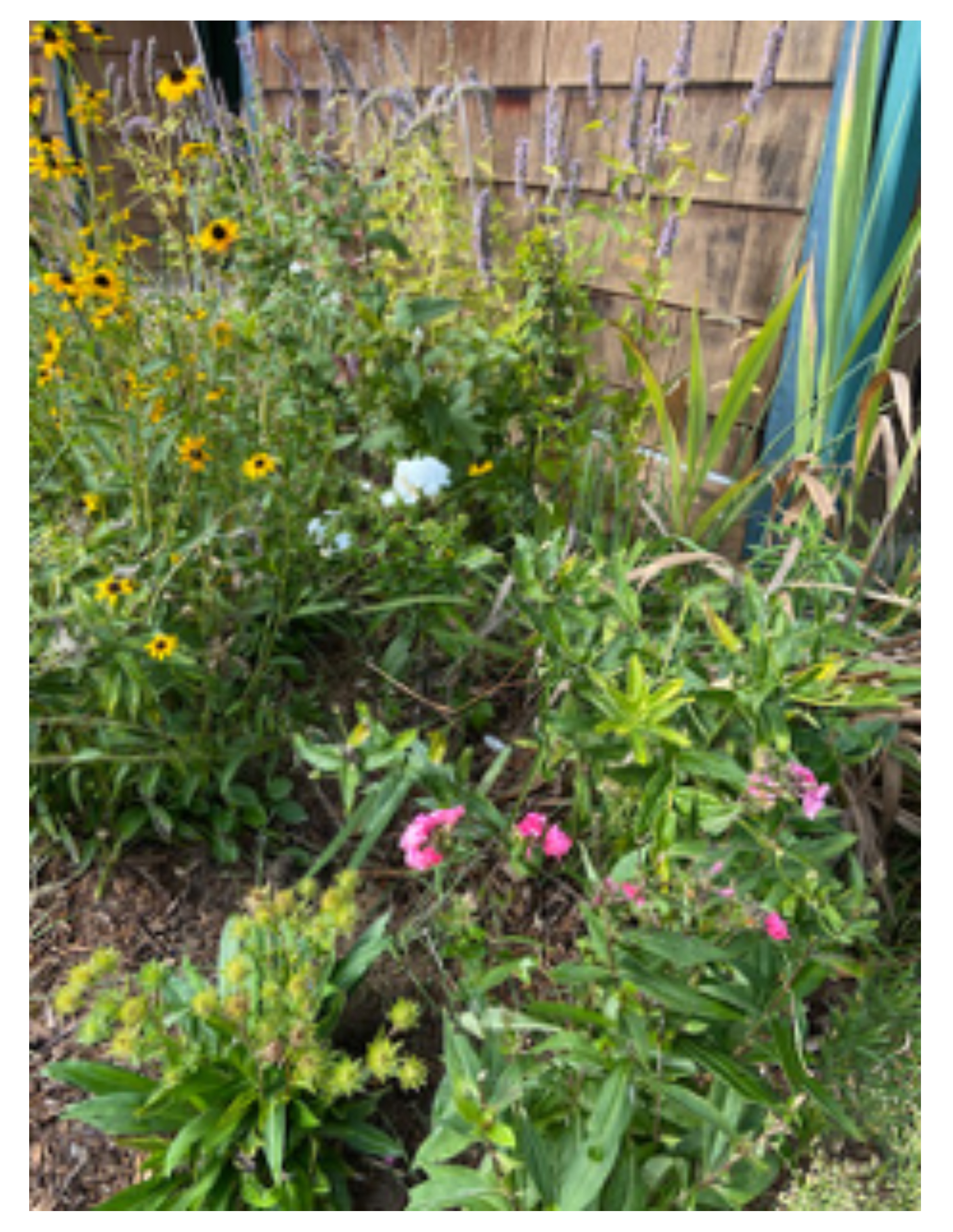 Sanam Emani, Sara Magar, Leanne McClurg Cambric, and Beth Lo.
I was drawn to this pitcher by Emani because of the corresponding, but greatly-differing, shapes of the brown leaf shapes and the brown handle. While the handle's shape appears quite conventional to me, the way the leaves float around the body of the pitcher is not. Magar's work is a fabulous mix of textured shape and glaze color. The combination of texture and shape can be sensuous, as evidenced in this early teapot by McClurg Cambric. By contrast, Lo draws and glazes in (only seemingly) ways lacking in texture or complex shape. In actuality, she creates vivid and complex human expression with little shaping or texture, giving rise to a significant sense of movement.  
---
VIBRANT COLOR COMBOS: 
Jen Allen, Ryana Lawson, Lydia Johnson, and Linda Kramer.
Muted color can be vibrant when used by a gifted ceramist like Allen. By contrast, Kramer, in this early work I bought at Lillstreet, and Johnson, whose coffee cups here are much more recently-produced, use vibrant, bright color. Lawson combines unglazed earthenware with a vibrant yellow glaze on her growler, a combination I've always liked. I'm guessing my collection includes a couple dozen works in that style.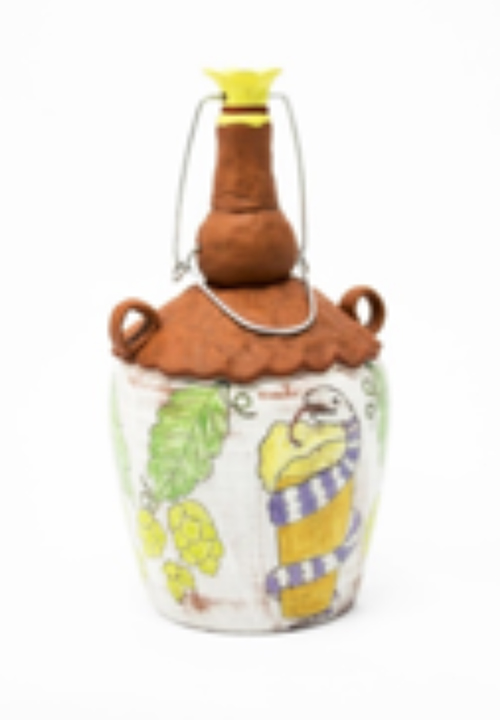 ---
IMAGININGS OF THE NATURAL WORLD: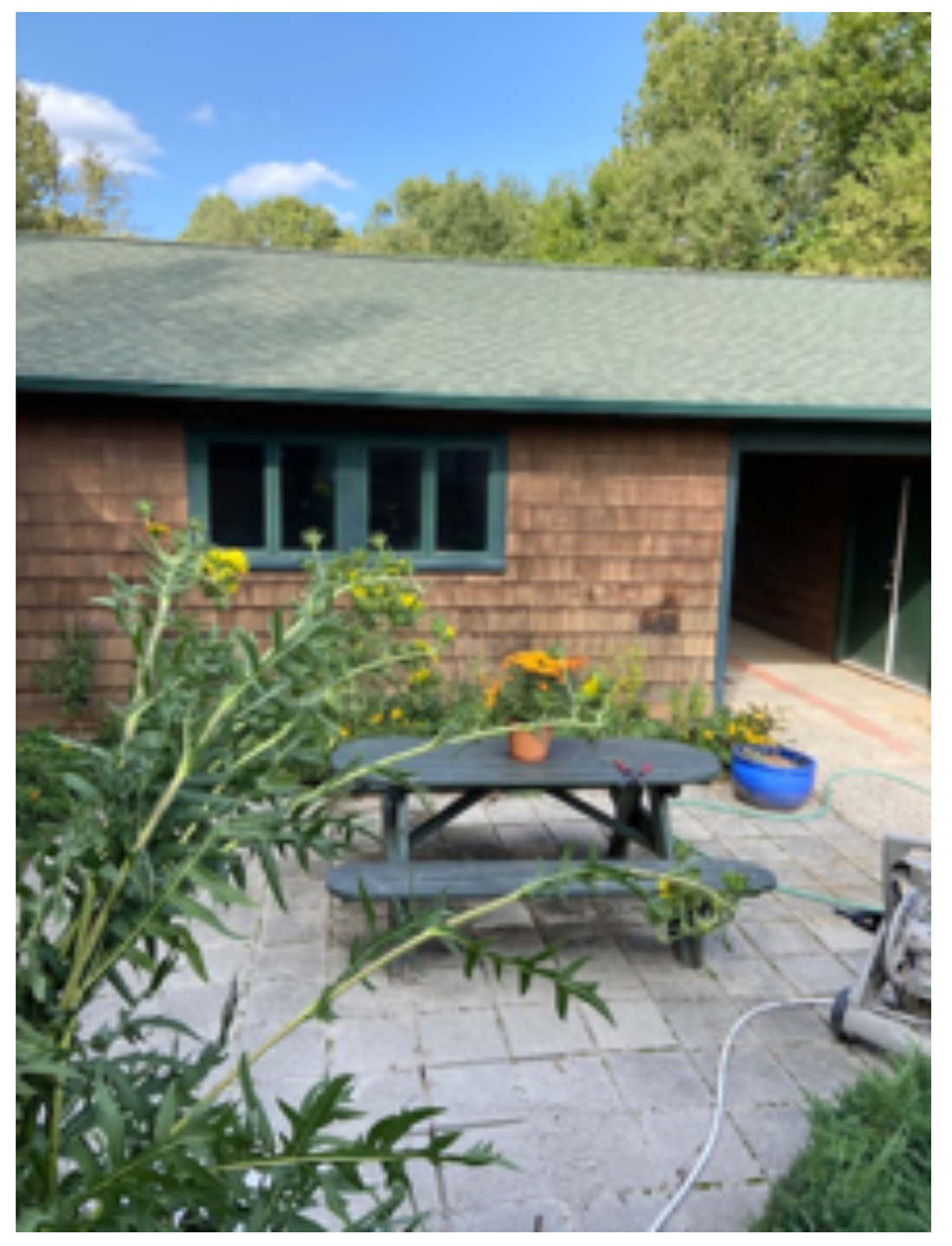 Chotsani Elaine Dean, Rebekah Bogard, Colleen McCall, Yoko Sekino-Bové, Colleen Riley, Maria Dondero, and Lynn Smiser Bowers.
The flowers pressed into clay here by Dean are from her own garden. Bogard's embracing animals reimagine an entirely new type of creature, but what kind? The other imaginings of the natural world here are more true-to-life, yet still with a dose of whimsy and difference. I find all these approaches very appealing.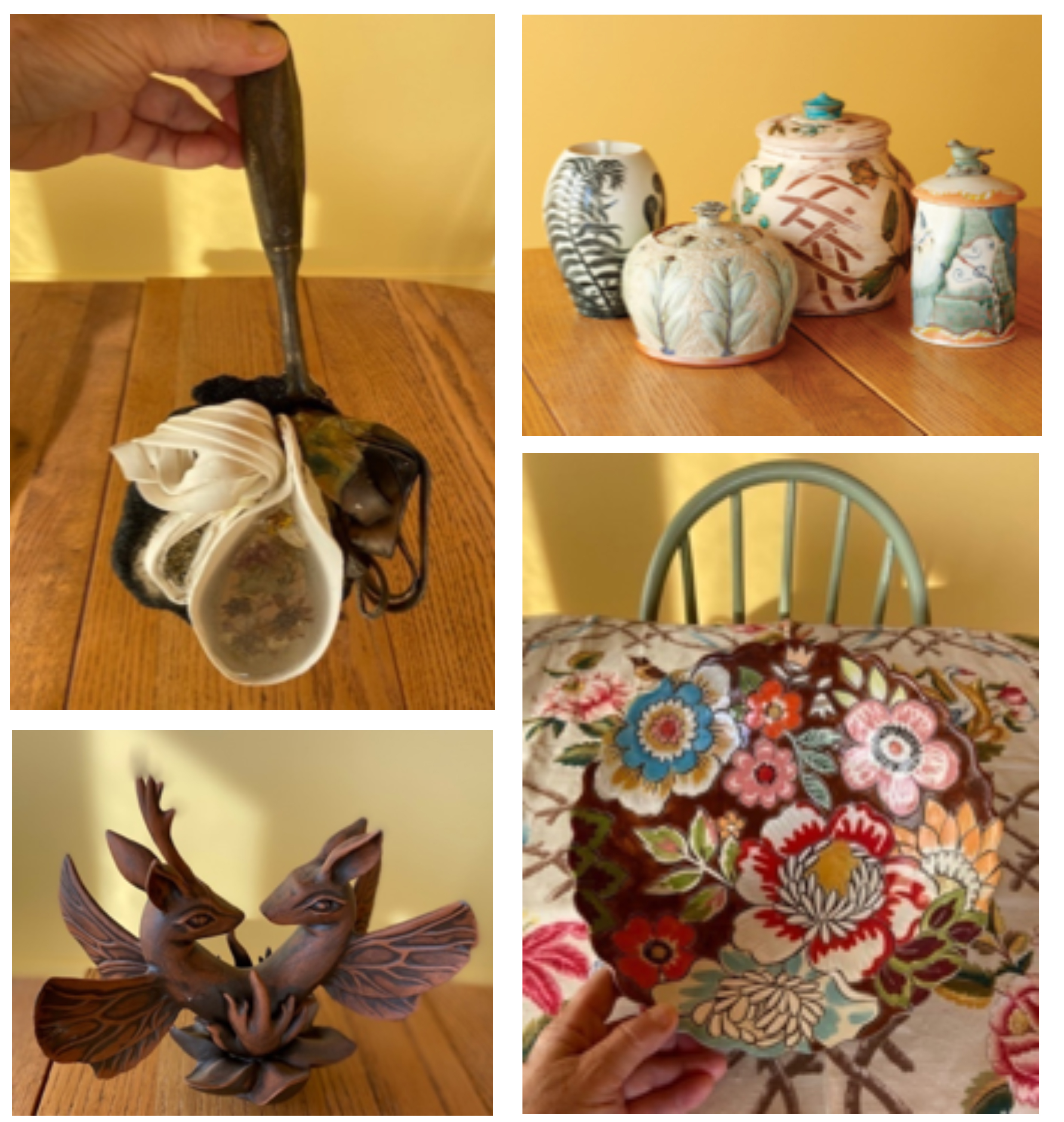 ---
EVOCATIVE IMAGERY: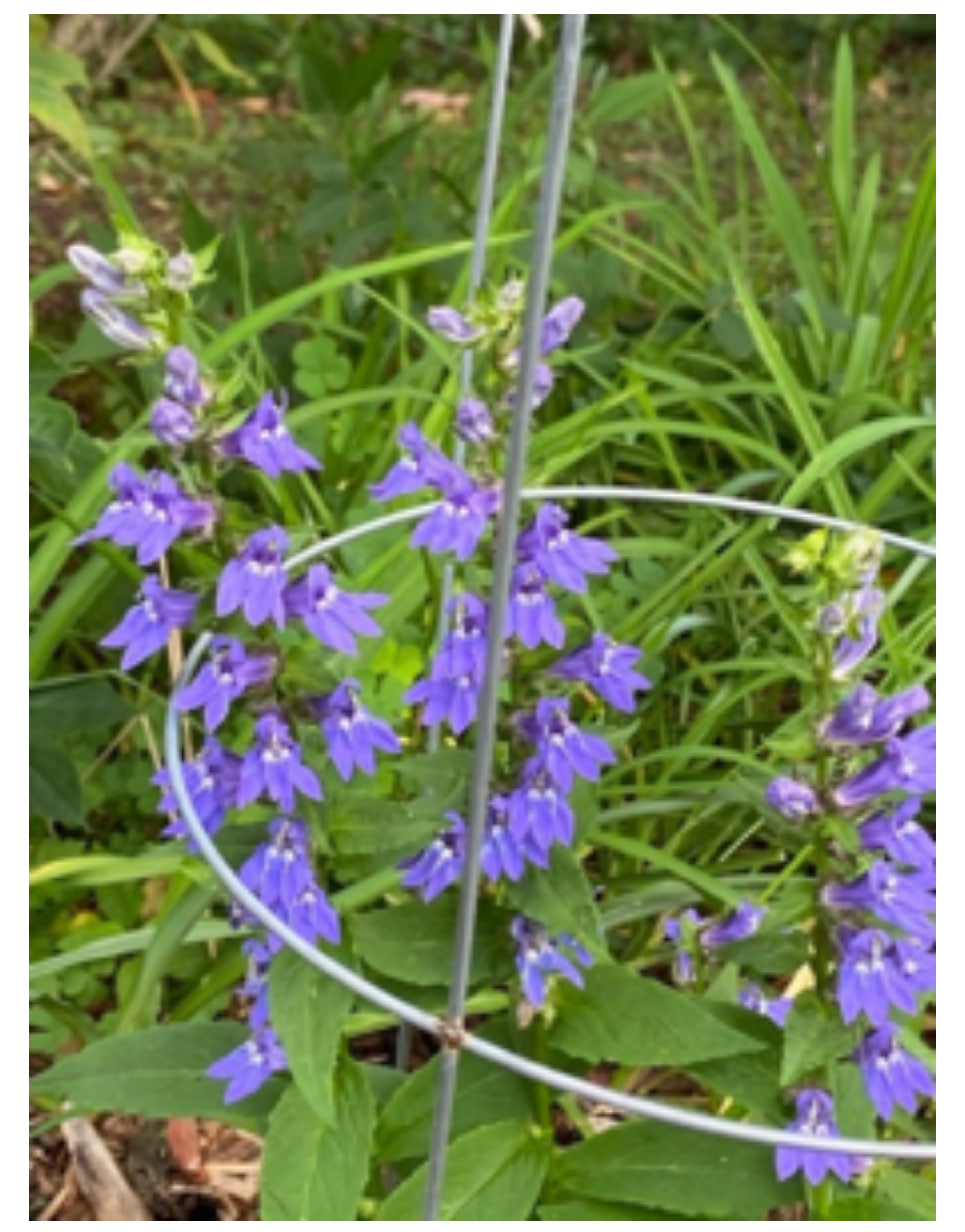 Ayumi Horie, Kathy King, Lauren Gallaspy, Debbie Kupinsky, Lisa Stinson, and Jill Oberman.
For me, one of the joys of looking at pottery is the opportunity to contemplate images of rural life. This early jar by Horie features a barn, of the sort I saw many times as a child and still see in rural Michigan. I've never seen another Horie ware like it; it's larger than her usual work, and its imagery quite different. 
Evocative can also be "in your face," as it is on this cup King made for a 2008 campaign fundraiser for the Barack Obama and Joe Biden presidential ticket. When I was drawn to the work by Kupinsky of a faceless woman with fore-shortened arms and a club foot, wearing a babushka, she told me about her parents who were Holocaust survivors. That story and the work connected for me because, of course, so many who survived the concentration camps were permanently harmed physically, as well as mentally. 
Gallaspy and Stinson have each created evocative images of the female body. By contrast, this plate by Oberman, also made for the 2008 Obama/Biden fundraiser, evokes a very different sentiment: patriotism, such an important statement when our now-POTUS, Donald Trump, was claiming that Obama wasn't born in the United States. 

---
To close, a final set of images of women's work in my collection – framed by decades. As you scroll through them, I hope you will find inspiration in this work for persistence in your own − in ceramics, and in partnership with others to create a world in which women are equal to men in every human endeavor.
---
  



---
Editor's note: Inasmuch as there is a defined parameter for Sive's collecting that aligns closely with her political convictions, I wondered what parameters guided her gardening choices. Her reply was less ideological than I might have guessed. The garden, even as it evidences unconscious aesthetic choices, is guided by that old epithet, "Form follows function." Sive's answer, "I only plant perennials, including as many Midwestern native plants as possible. The exception is marigolds and zinnias on the border of my fenced-in vegetable garden and the sea of daffodils that announce the arrival of spring. We are in the middle of woods so deer, rabbits, voles, turkeys, racoons and woodchucks are among the animals who run through (parade through, in the case of the turkeys) and taste. If, after a couple seasons, a plant can't survive the traffic or feeding onslaught, I throw it in the compost pile and replace it with one that has."