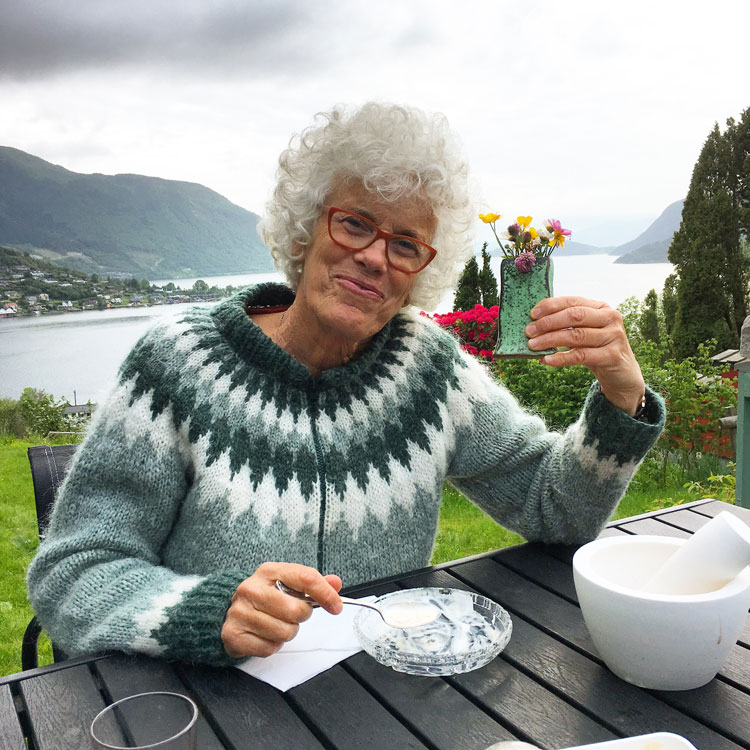 On a winter morning in 1950, I was pushed into this world at New York Hospital in Manhattan.1 Six months later, my parents moved to my father's native country. Raised in Bergen and having lived most of my life in Norway, I fully identify as Norwegian both socially and culturally, yet I see Norway through slightly different glasses than do the majority of Norwegians, probably as a result of growing up with an American mother. I am a dual citizen holding two passports, which allows me to travel to most any country in the world—a privilege I am increasingly aware of as refugees struggle to enter European countries. (Left: Elisa Helland-Hansen with vase by Jan McKeachie Johnston, photographed by Dan Anderson.)
While studying ceramics in the mid-1970s at The National College of Art and Design in Bergen, I and my fellow classmates were influenced more by the Leach-Hamada tradition and English studio pottery practices than by Norway's relatively short ceramic history.2 We had no textbooks in Norwegian. We read the English magazine Ceramic Review, had English guest teachers,3 and devoured Bernhard Leach´s A Potter's Book, Michael Cardew's Pioneer Pottery, and Danish artist Finn Lynggård´s Keramisk Håndbok. We were also acquainted with magazines like Studio Potter and Ceramic Monthly. Altogether, these were the written texts about ceramics we were exposed to at the time, and they certainly influenced my thinking and development as a potter. As opposed to many of my classmates, who after completing education gradually moved away from making utilitarian pots, I continued to practice within this philosophy of utility and self-sufficiency. I experimented with natural clays, collected wood ash, built wood-fired kilns, and mixed glazes from scratch. I devoted my time to making functional pots for daily use in the kitchen and for serving food. 
My deep fascination with the link between aesthetic qualities and utility has followed me to this day. Made early in my career, this priority was shaped more by reading Bernhard Leach´s A Potters Book than by Norwegian ceramics practices. I acknowledge, though, that the direction my work has taken over the years is also influenced by Nordic aesthetic values present in the Scandinavian design in all materials that surround me.   
...