Remembering Karen Karnes by Anne Shattuck Bailey
Editor's Note: This essay was adapted from Anne's eulogy at Karen's Celebration of Life, September 17, 2016 at The Art School at Old Church, Demarest, New Jersey.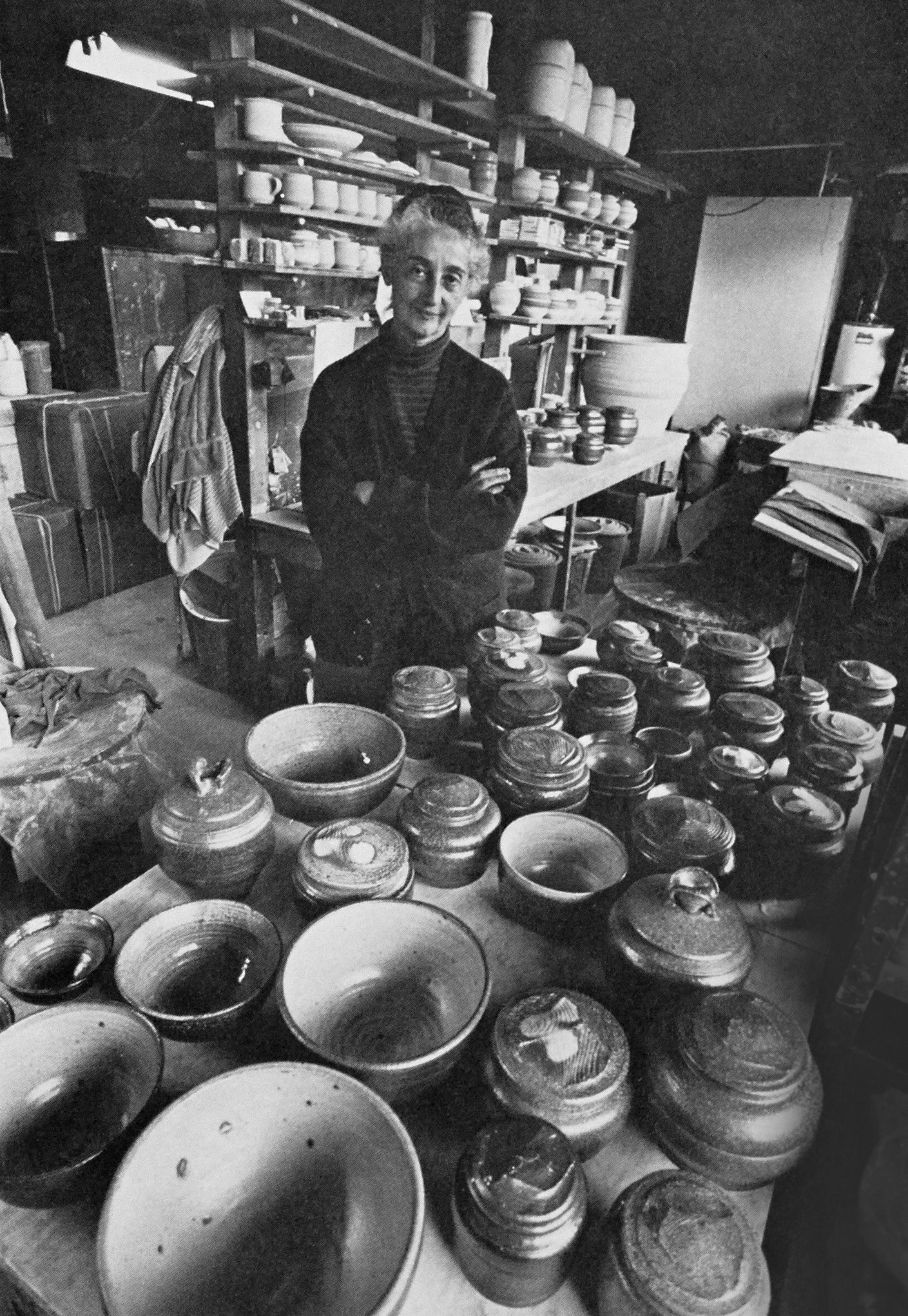 This is a very personal remembrance that I'd like to share today. To me, it is about the connectedness of all things and the power of those connections to shape lives. Yes, life is an amazing journey, and after a while there is a story to tell. Once I was very young, just like some of you, and I was a full-time potter. My name is Anne Shattuck Bailey, co-owner of Bailey Pottery Equipment (Anne Shattuck was the potter.) Karen Karnes was a very important person in my early adult life. Being asked to talk about Karen at this celebration of her life made me think back on some very happy times we shared so long ago. To this day, I live in gratitude for things she did and things she said that helped me become the person I needed and wanted to be. Her spirit lives on in so many parts of me. Her friendship, help, and inspiration shaped many things then and later.
Karen and I first crossed paths at the Rhinebeck Craft Fair in 1976. Of course, I was aware of who she was when she stopped by my craft fair display to look at my pots. I really admired her work. Like her, I was a salt-glazing potter. Unlike her, I was trying—more often than not, struggling—to make a living as a full-time potter. It was not easy, but I was optimistic, and I had been competently trained in England in the Leach tradition. And hey, it was the seventies: handmade was in! And guess what? I was an Old Yank, don't you know! Coming from farmers, sailors and merchants, I knew the value of hard work.
At Rhinebeck, Karen asked if I would be a part of her group show at Old Church. Me showing with Karen Karnes? Okay, I think I can do this. Rhinebeck was my first big craft fair, and I was beyond thrilled that she wanted to help a young potter like me. It was truly one of my life's most memorable moments: a woman whom I deeply admired, a fantastic potter and a visionary, was asking me to show my work with her. It was just what I needed at that point in my life. Yes, yes, yes, there is a pottery god! Thank you, Karen, you were it.
The following year, I was in my studio when I got a call. What! Was I hearing this right!? Me? Twelve place settings . . . luncheon party . . . White House . . . Washington, D.C.? I almost fainted. It was during the Carter administration, and Joan Mondale, the vice president's wife, was commissioning twelve potters in the United States to make twelve place settings each for the White House. All of twenty-three years old, I was amazed, dazed, and totally confused. "Will you do it?" the voice over the phone asked. Are you kidding me? You bet.
Later I found out Karen was behind my being asked. She said to me, "Oh, I don't do that sort of thing, why don't you do it!" She gave me her spot, and my career was born. Thank you, Karen, for that amazing gift of lifting up my life and making my career blossom. My gratitude to Karen for her generosity and her belief in my ability has never left me. After that day, my life became a revolving door of shows, invitations, and media events. I worked very hard to make those twelve place settings, which to this day—metaphorically speaking—belong to her. They launched my career, gave me tremendous confidence, helped me soar. Thank you, Karen, for believing in me when I hardly knew what I was doing or even who I was. That was the kind of person Karen was.
I went to the Demarest show for many years, made many friends, and sold a lot of work, too. Thank you again, Karen. We always had dinner at Mikhail [Zakin]'s house before the show. It was great fun and full of camaraderie and good feelings. I bought my third pot at Demarest. It was a beautiful piece by Karen. I think it cost me eighty-five dollars, which was a lot of money for me back then. Never a regret; it was the beginning of a fantastic collection of pottery. Sadly, many of the great potters from our early Demarest group are no longer with us. Along with our remembrance of Karen, I'd like us all to send a warm thought, to the beautiful, talented Angela Fina, exuberant potter and philosopher Malcolm Davis, and the passionate, enthusiastic Mikhail Zakin. They were all friends and great potters. Karen's ambition and dedication to Old Church brought all of us together.
In the mid-eighties, after my first child was born, Karen and Ann [Stannard] would stay with us in Kingston sometimes. Karen and I had many heartfelt conversations back in those years. My first child was severely disabled, and I had to stop making work to take care of him. I know Karen was disappointed that I had stopped making pots. She would often write and ask, "Just one or two bowls? Please, please, please, for our show?" just to keep me encouraged and make me feel missed. But over time, I know she came to understand.
In fact, Karen and Ann told me about Camphill Village, an intentional Waldorf-style community where my thirty-one-year-old son now lives and has become an amazing weaver. I'd never have known about Camphill without Karen and Ann. I volunteer a great deal of my time there now. I have even started and support a pottery program there. So Karen, and Ann, too, I thank you: You'll never know how much that simple conversation back then meant to me later in life. It saved my son's life. In this volunteer work and in the work of building community, I have found my bliss again.
Karen, please know that you are with me when I am volunteering, you are with me when I look at great pots and bring them to our Bailey collection, you are with me when I help someone else here in the community, you are with me when I look at your wonderful pots. I can see that twinkle in your eye, that Mona Lisa smile, and your determination. Your spirit of determination is alive in me. Your influence works in ways seen and unseen, like deep currents of the ocean. Your life changed my life and made possible for me the deepest kind of fulfillment and joy. At different times and for different reasons you let the light shine in on my heart. Thank you for your generosity, your friendship, and your beautiful work, which will live on forever.
---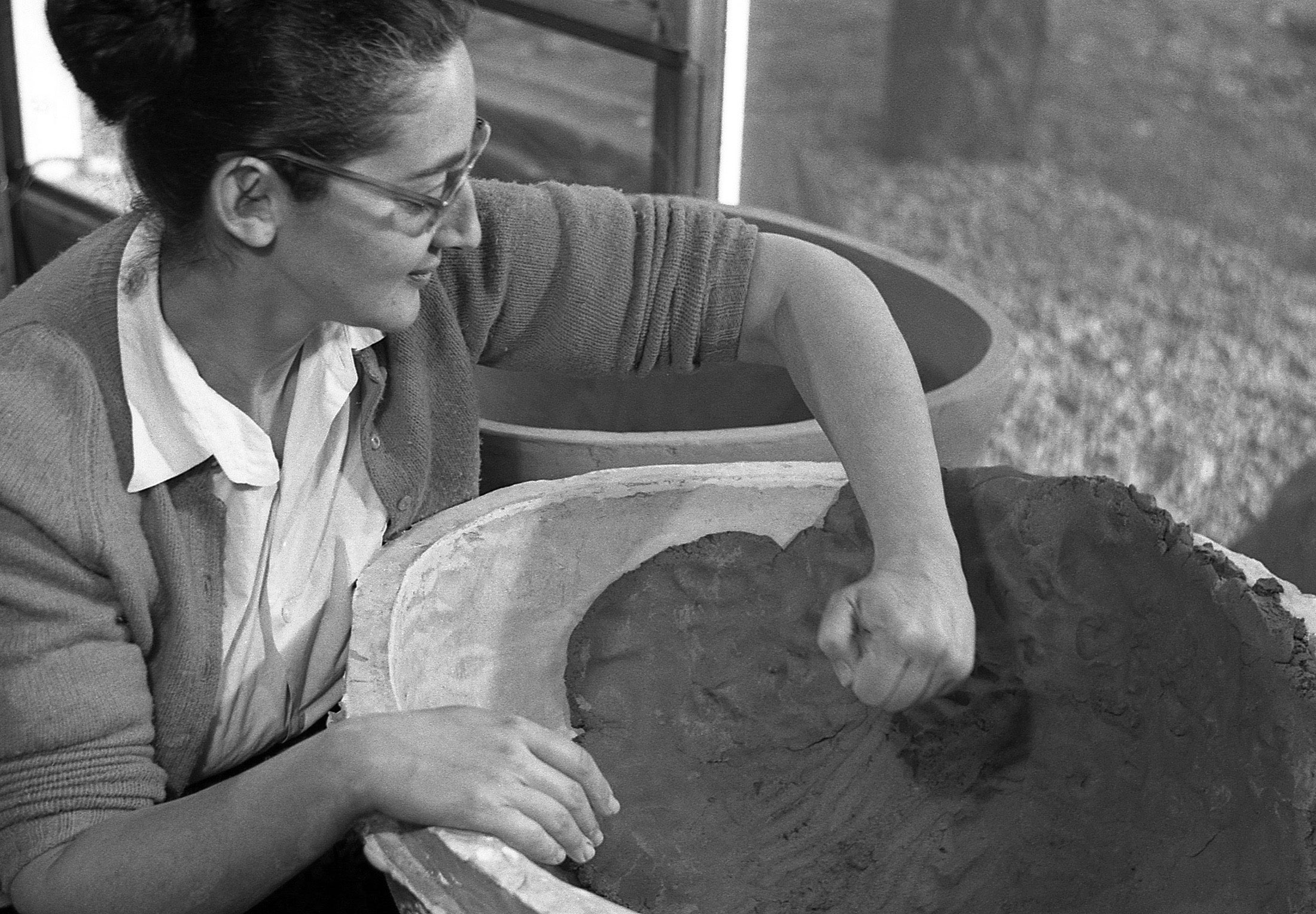 Magic: Karen Karnes, M.C. Richards, and their Remarkable Circle by Suzanne Staubach
Editor's note: This is an extended version of Staubach's essay, longer than the print edition. 
When I learned that Karen Karnes would be speaking at Wesleyan Potters, a co-operative crafts guild in Middletown, Connecticut, I immediately decided to attend, though it meant driving at night in my highly unreliable VW bug (this was the seventies). I had been admiring her pots ever since I first became entranced with clay. I never tired of studying the photographs of her work that appeared in books and magazines on ceramics: a demitasse set, a bottle with an ever-so-slightly curved rim, a platter, and, of course, the covered jars with her famous wire cut lids.
At the gathering, she was quiet, exuding serenity and calmness, her hair swept up, away from her face as in the pictures of her I'd seen, her long-fingered hands gestural. Potters clustered around her, awestruck, vying for her attention. I hovered shyly on the outskirts. The lights dimmed, and she began her slide presentation. Yes, there were her beautiful pots. But there were surprises, at least for me. During her talk, she showed us a fireplace she had made. Not a surround, but a freestanding fireplace—handbuilt—that you could actually use to burn logs; and a garden seat, with a slightly concave top for comfort and a slit so rain wouldn't puddle; plus, a wonderful kitchen counter made of her tiles. I discovered so many possibilities for clay that I had not imagined before.
I drove home dreaming of making such things myself. Shortly after, I made a grill for cooking outside, which cracked in half after its first summer in use, but eventually I made tiles for the kitchen counter and floor tiles for the solarium, inspired by that talk.
Decades later, when Maryon Attwood, then-director of the Worcester Center for Crafts, asked me if I would write and edit the catalog for the retrospective exhibit of M.C. (Mary Caroline) Richards's work, curated by Karen Karnes, I immediately said yes.
Many people were involved in the M.C. Richards exhibit. My job was to write about M.C.'s artistic journey, which included poetry and pottery and, after she turned seventy, large, colorful paintings. In her eighties and frail, M.C. was living in California, but we talked on the phone frequently, and was eager to share the details of her life. Soon I was hearing stories about the goings-on at Black Mountain College, about the drive to New York City with David Tudor and Peter Voulkos, and what it was like to work with poet Charles Olson. I went with Ann Stannard, Karen's partner, and Maryon to interview Paulus Berensohn, and listened to and recorded even more stories. Sometimes M.C. would say, "Oh, maybe you better not put that in," an hour or two after she'd told me something, but mostly she was OK with what I was including and would call back with more details.
But Karen did not think that the stories were appropriate for an exhibition catalog. She had high standards and firm beliefs about what it should be. M.C. spoke to me about the relevance of agriculture in her life and of caring for the soil. Karen made it clear to me that an exhibition catalog was not the place to be talking about compost. Or agriculture. But M.C. was not dissuaded. M.C. and Karen were lifelong friends who had sparked and encouraged each other over the course of many years. In a sense, the exhibition was a gift from Karen to M.C., a celebration. Still, there were times when M.C. and Karen didn't see eye to eye. This was one of those times.
I received a handwritten fax. M.C. had written her own poetically eloquent description of her relationship to agriculture and sent it to me for inclusion, settling the matter with grace and finality. Hers is probably the only artist's catalog in the world with a list of compost preparations!
She also wanted the word numinous in the catalog. We had long discussions about this word. In fact, Berensohn had used it, but I was not sure where I would use it. Another fax arrived from her with a handwritten "numinous" sentence. I slipped it into the text.
Sadly, M.C. died after the catalog, Imagine Inventing Yellow: The Life and Work of M. C. Richards, was completed, but before the exhibit opened. Planned as a retrospective, it became a memorial.
During the project, I became fascinated with the artistic relationships and friendships that Karen, M.C., Ann, and Mikhail Zakin had had with each other throughout their adult lives. I was in awe of how original each was, what strong, bold women they were, and the sheer number of great artists—in various fields, not just clay—with whom they interacted.
Every generation or so, it seems to me, there are convergences, friendships that spur the people involved to immense creativity. I think of the Bloomsbury group, the music scene of the sixties, the nineteenth-century Concord group—Thoreau, Hawthorne, Emerson, Alcott—Black Mountain, and I think of these four women. "Maybe that's what I can write about," I suggested to Karen later, "the four of you, your generation of artists." She demurred. She did not see what I was seeing, they were just friends—but then, how could she, she was inside. When Thoreau walked to Emerson's house for dinner, he was not thinking, "Oh what a special group we are!" No, they were just friends. But from our perspective, the friendship in Concord produced a great flowering of literature. Surely, the circle that included Karen and M.C. and Mikhail and Ann was also a flowering. Magic. A rare and special magic. Dare I say, it was numinous?
---
Karen Karnes by Jack Lenor Larsen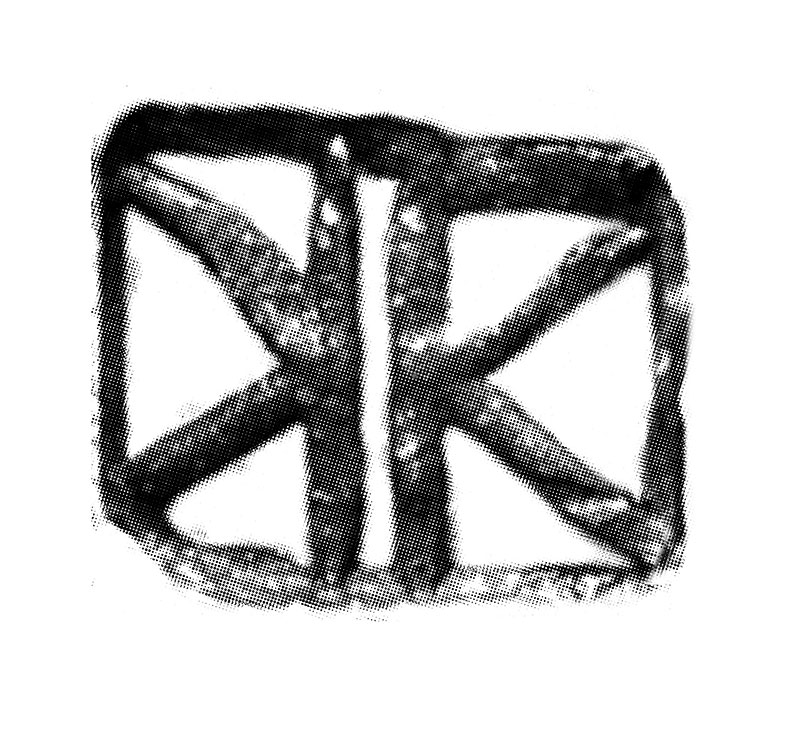 I knew Karen best during the years she was at Haverstraw (Gate Hill Co-op, Stoney Point, New York). I had originally gone to see the work of her husband, David Weinrib, but became a collector of Karen's work. I invited her to teach at Haystack for several summers in the 1950s and 1960s, and I exhibited her new flameware fireplace at the Triennale di Milano, then bought it and another for my Round House in East Hampton, New York.
When I introduced Karen's work to the third floor at George Jensen on Fifth Avenue, she had great success with her flameware casseroles. Then she began to complain of not being considered an artist, like Toshiko Takaezu. With long effort, she became one, then became comfortable making casseroles as well! What a winner!
---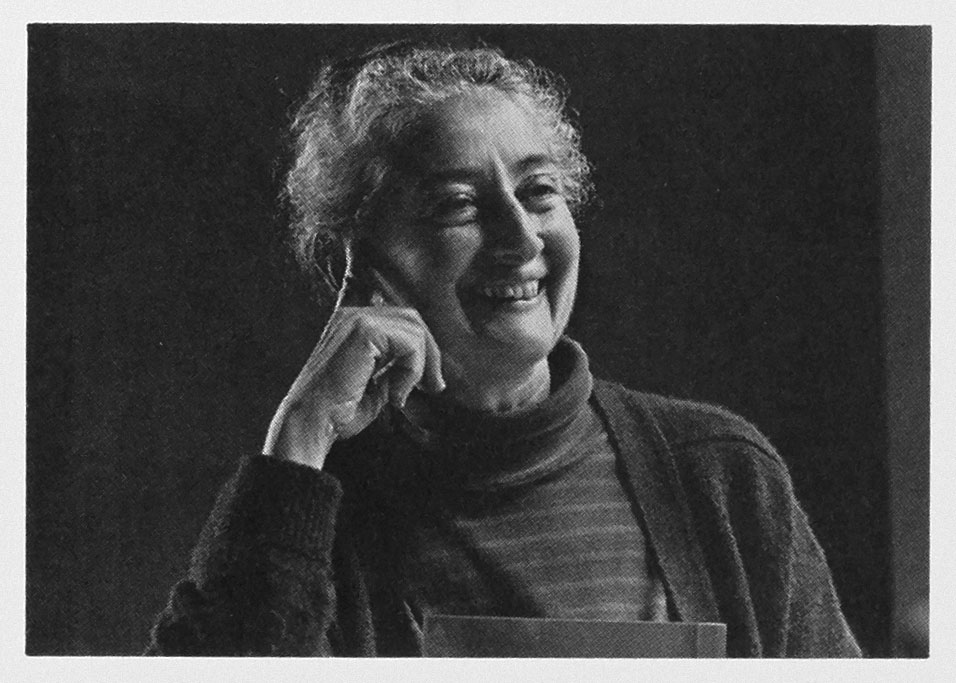 The Gift by Robbie Lobell
In the early 1990s, I had been studying and living with Mikhail Zakin for a few months when her dear friend Karen Karnes asked her to review a new body of work and write the forward to a catalog for an exhibition. Mikhail invited me to accompany her to Karen and Karen's partner Ann Stannard's homestead and studios in northeast Vermont. On the beautiful drive north, Mikhail warned me that Karen could sometimes be sharp and dismissive, "So prepare yourself that she may not be overly welcoming." OK. I readied myself for this possibility. We arrived at the farmhouse in the late afternoon. Karen ushered us into her studio, where a stunning group of pots were on display. It was the beginning, I believe, of her "Boulder" series: vessels large and strong, powerful and female, with small cavities or slits inviting my imagination to roam the fullness within them. I was totally wowed!
Mikhail asked Karen and me to leave her alone with the pots. We left the studio and moved into the kitchen to cook dinner together. There was a sense of knowingness between us as we moved around the kitchen preparing the meal. Her parents and my grandparents were socialist Jews from Eastern Europe. We recognized things we already knew about each other. In Yiddish we call this mischpoke, meaning kin or family. Karen was friendly and engaging. Mikhail's warning proved moot as Karen and I found ease in each other's company. Mikhail and I were there for two days. When it was time for us to leave, Karen put three cups on a table in her studio and asked me to choose one. I chose one that was very Karen in its full, round, and well-grounded shape. I do believe that was when we decided we would love each other.
Over the years, my partner, Maryon Attwood, and I became good friends with Karen and Ann. We traveled together, spent time in each other's homes, shared Passover and New Year's together. Mikhail was with us for many of these times. We were a family. Each year during the first week of December, Karen and I, along with several other potters, would make Mikhail's house our home for the Old Church Pottery Show.
In 2000, Karen invited me to come to Vermont to work in her studio. As far as I know, she had not invited anyone outside her family circle to work beside her. (She had worked with M.C. Richards in the Stony Point, New York, studio, where she had also lived and worked with her former husband and fellow potter, David Weinrib, and then Ann.)  Karen wanted to give me a gift of time, as I had not yet been able to work full-time in my studio. Unbeknownst to me, she also wanted me to work with her flameware. We decided on the six weeks following the 2001 Old Church Show.
I arrived mid-December and settled into a sweet cabin on their land, where I dug a path through the snow each morning on my way to the studio. We mixed and pugged flameware clay together. Karen didn't actively teach me. I watched her work, and she certainly checked in on me. We talked about the way flameware responded to the potter's touch differently from other clays, and about handles. She chided me about how much time I took to apply them to my pots, but I was at the beginning of my journey, and those handles needed my time. My ideas for and relationship to flameproof cooking pots, which I've since built my livelihood around, were being formed.
Karen gave me not only the clay and glaze recipes for her flameware, but also the time I needed to befriend it. She offered me a way to make a living as a studio potter as she had done. She gave me these gifts out of love and friendship. They have been sustainable gifts—of time and material—for which I am deeply grateful.
---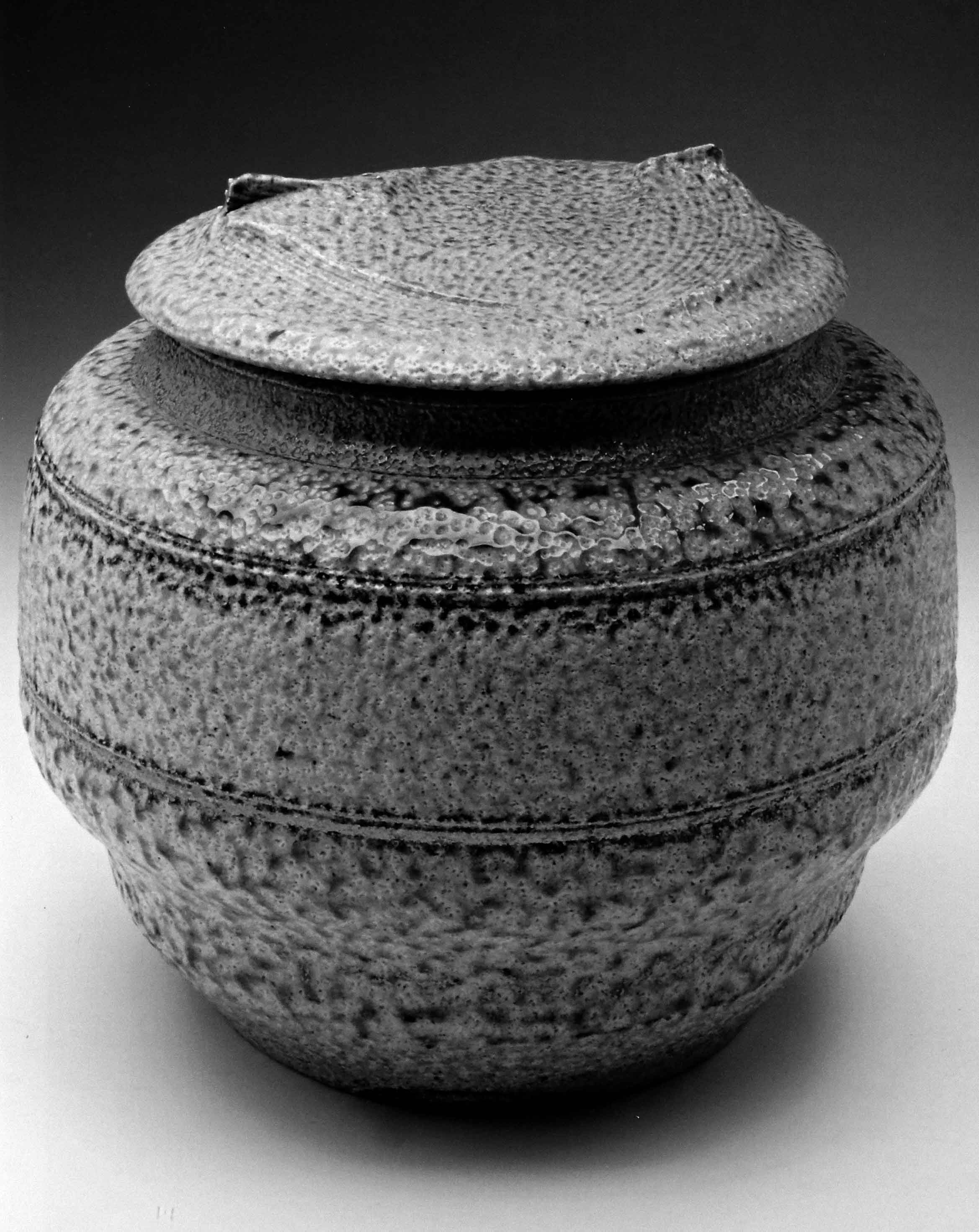 Remembering KK by Leslie Ferrin
In 1979, when I was still in college, I opened a studio and shop with two other potters, Barbara Walch and Mara Superior, in the basement of Thorne's Marketplace, a renovated department store in the not-yet-revitalized city of Northampton, Massachusetts. None of us used a potter's wheel, an act of rebellion at the time, and to further the insurrection, we named our shop Pinch Pottery. In our showroom, we sold our work and that of our friends—almost all wheel-thrown— at the Clay Art Center in Port Chester, New York, where Barbara and I had worked together.
In the early eighties, we regularly observed Karen Karnes and her partner, Ann Stannard, from a distance as they walked by our shop on their way to lunch at Paul and Elizabeth's, a natural foods restaurant, also in Thorne's.  Awestruck, we didn't dare approach the formidable couple when they stopped to browse and examine the pots we were selling. Then came the day when Karen spoke to us. She asked us about selling her casseroles and Ann's flameware.
Of course we said yes, but I remember naively asking, "You still need to sell your work?" I was incredulous that she had asked what we had hoped she would. Karen chuckled (as she subsequently often did when talking to me) and answered in her maternal and slightly defiant way, "Of course. It is how I make a living." I think I had assumed that when you were as famous as she was, you no longer need to sell your work. I guess I thought it sold itself?
And I guess we passed the test, because asking us to sell their work meant that they supported us as three women working the way we wanted: using handbuilding techniques to make functional studio pottery, organizing ourselves cooperatively, and functioning independently as self-supported artists.
Our friendship continued for many years through various business locations and shifting programs. Karen became quite fond of my business partner, Donald Clark, and befriended many of the artist-potters who worked for us, offering advice and opinions without much prompting. She would critically examine the work we were showing, asking for explanations and justifications. She was disapproving as we pushed past her comfort zone, showing work that used low-fire colorful glazes, and by artists who used slip-cast forms and, later, figural sculpture. She often strongly recommended potters to us whose work she featured at the Old Church Pottery Show and Sale, the community art school's annual fundraiser and one of the most highly respected pottery sales in the country. She had her favorites and was not afraid to make them known. Ann was a little less outwardly opinionated, but our dialogues were always lively and stimulating.
A few times a year through the nineties, the couple came by our shop, continuing to eat at their favorite restaurant and staying the night at the home of their dear friend and fellow potter Angela Fina. Our shop was halfway between their home and New York City; had it not been a useful rest stop for Karen, I doubt we would have established a relationship, although it grew even deeper after Garth Clark's gallery closed in 2008, and we took on the role of being her primary dealer.
When I had my children, she confessed that she did not think she was a good grandmother because she did not enjoy "playing." The increasingly chaotic interruptions of my family and business lives caused distance to grow between us. I was aware that while Karen did not judge me for splitting myself between work and family, she did not share my passion for the creatively messy world of children.
In 2005, Karen and I gathered all her works from the galleries that had shown them—Joann Rapp in Arizona, Garth Clark in New York—and what remained after the devastating fire in her studio. Together with friend and fellow potter Mark Shapiro, we documented the works and chose a set of pieces to present as a career survey at SOFA Chicago. The resulting sale of tall vessels, iconic winged forms, and large, sturdy jars, was rewarding to all. While she was not one to enjoy the limelight or the stress of travel, she happily reconnected with many friends, and I think it was a great moment for her. Afterward, she wrote to me:
Dear Leslie – What a wonderful day! My pieces have never looked so good – you set them up beautifully – and what an opening!  So many people out of my distant past, who were still following my work.  The day was so good, and then followed by a gala dinner – thank you, dear Leslie, for celebrating my work!
Karen continued to come and go through our lives, at the gallery and then at our new home at Project Art in Cummington, Massachusetts, near our longtime neighbors, Shapiro and his wife, Pam Thompson. As our gallery program expanded and was less focused on studio pottery, she chose to show her work at Lacoste Gallery in Concord, Massachusetts. It was a place where Karen felt a strong social and professional kinship with other studio potters, particularly those who were as devoted to their craft as she was. This change came as a relief to us both, and while our visits were fewer, it did not change how we felt about one another. She will always remain a deeply important part of my life and life's work in ceramics.
---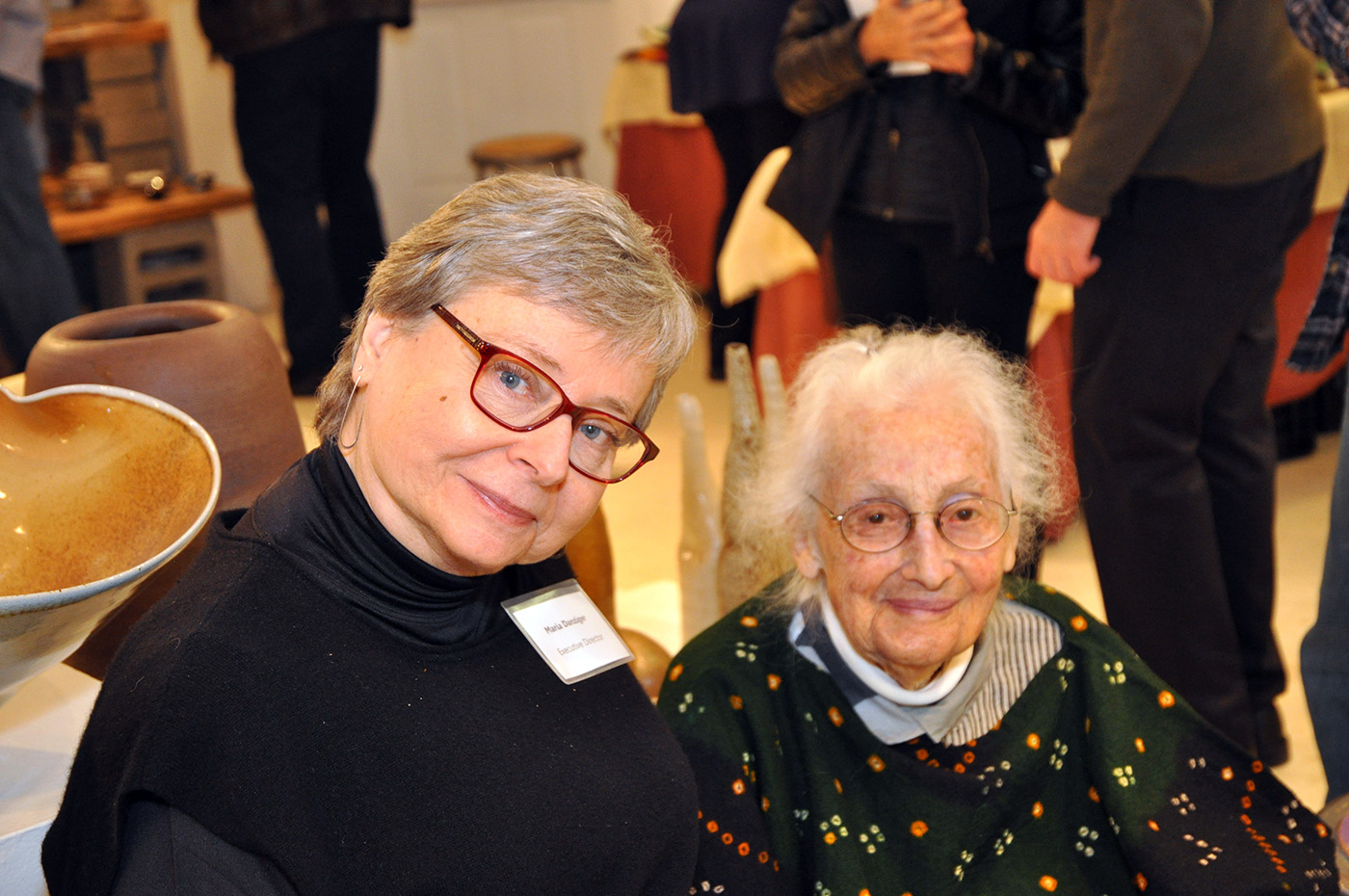 Karen Karnes: The Decisive Path by Maria Danziger
We lost a giant on July 12, 2016. Karen Karnes, pioneer, potter, friend, and mentor, peacefully died in her home in Morgan, Vermont. Karnes was a revered ceramicist, the curator of the Old Church Pottery Show and Sale, and a dear friend of Mikhail Zakin, the founder of a community arts organization located in Demarest, New Jersey.
When it was founded in 1974, the Old Church Cultural Center, now known as the Art School at Old Church, was a nonprofit art center in need of funds to support its art classes and faculty. As a loving and generous friend to Mikhail, a highly regarded potter herself, Karen offered to hold a benefit pottery sale at the school. Karen started the sale by asking nearby potters to participate in an event during the first weekend in December. And participate they did, that December and every December for decades after, lured by the promise of an exciting meeting with fellow potters, a bed for each in a volunteer's home, and a delicious potters' supper.
Through the years, potter-friends recommended new clay artists and, as a result, the fundraiser gained a reputation as a showcase of both the best emerging and established potters in the country. Thanks to Karen's keen eye for good pots and deep appreciation for their makers, the school filled with enthusiasts each year on that weekend, coming from near and far to see something that they would like to own. For more than forty years, clay-loving collectors have always had a unique experience at Old Church.
Karen had an instinct for pots, potters, and people. She was honest, respectful, and encouraging. Hard decisions seemed easy for her. Her inspiration for making pots and understanding people was always intuitive. Confident in her judgement about pots and life's events, Karen was quick to make decisions.
Her instincts were in full force after Hurricane Sandy. The Art School had been preparing for the 38th Annual Pottery Show and Sale when the storm hit New Jersey in late October 2012. Homes were damaged or destroyed, people were without electrical power, and regular daily living was put on a long pause. The Art School did not have electricity, and communication with its community of students, faculty, and staff was nearly impossible. Classes were reluctantly cancelled. Karen called to see how the school and I [the executive director] were faring.  
I knew that the school could not operate at its best and in one short month, produce the quality show that its patrons and exhibitors deserved. Without hesitation, Karen decided to cancel the show. It was not a light decision: the event was the school's biggest fundraiser. Karen very confidently said, "Not to worry; we will have an even better, stronger show next year." And Old Church did!
As her health declined in 2013, Karen and her companion, Ann Stannard, set about planning for the show to continue after Karen's death. Karen asked Chris Gustin and Bruce Dehnert to co-curate it with her for the fortieth year and beyond. Bruce is a published author, ceramicist, instructor, and head of ceramics at Peter's Valley School of Craft. Chris is one of the co-founders of Watershed Center for the Ceramic Arts, an instructor, author, and a master potter.
Bringing in co-curators was a major landmark in the show's history. It had always been Karen's voice and vision, but the move ensured a seamless transition. Together, Karen, Bruce, and Chris became a creative and inspirational force seeking out the best of the best, adding different styles, personalities, and visions. A perfect team, they collaborated on selecting artists and forged an aesthetic voice that will inspire generations of potters to come. Gustin and Dehnert will now continue this tradition with Karen in their hearts to guide them. Karen's preeminent legacy will live on.
---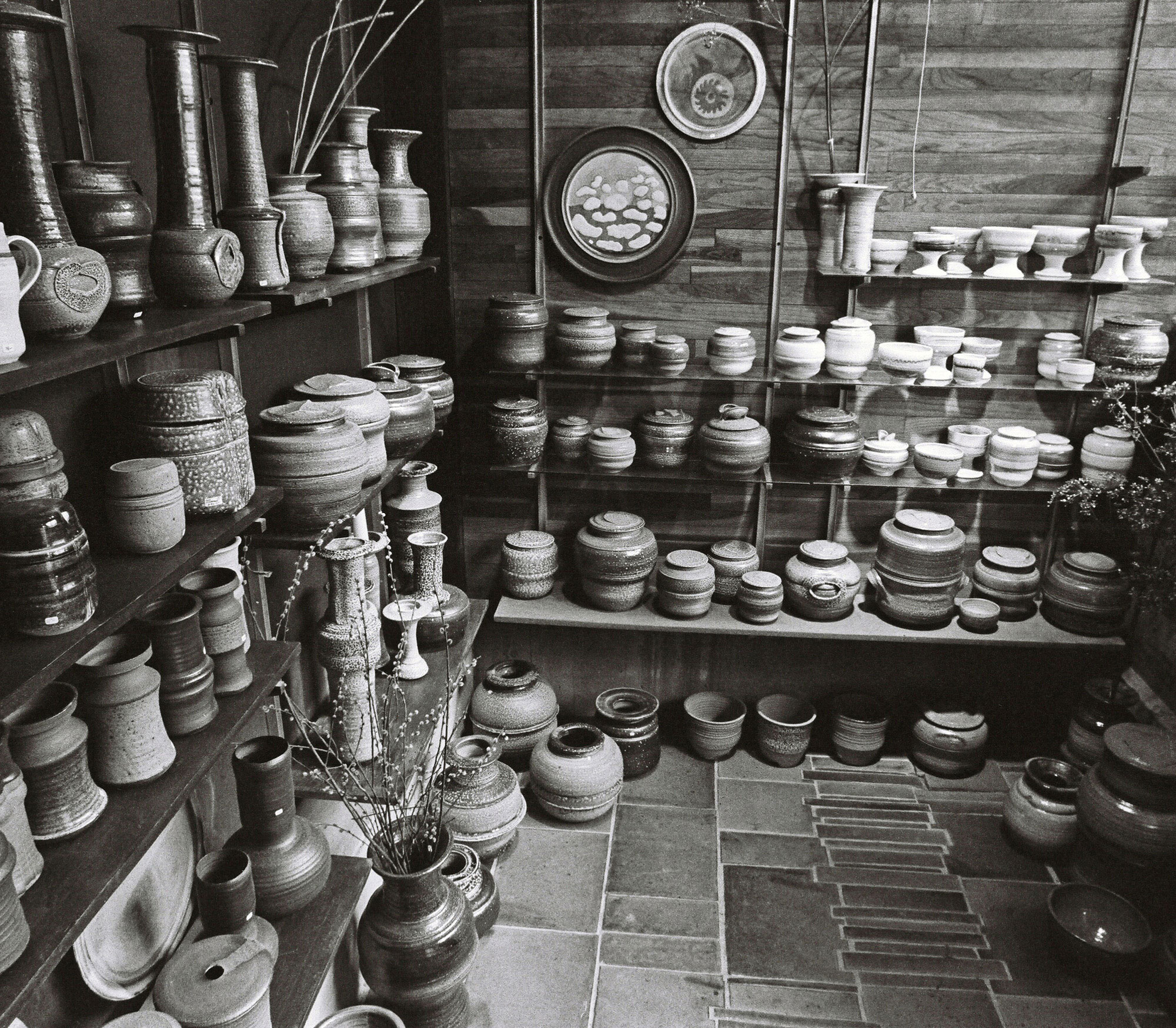 Karen Karnes by Mary Law
A single conversation with Karen Karnes is the reason I became a potter.
In 1968 I was a naïve twenty-year-old who needed some summer art credits to switch my major to art (from modern foreign languages) just before my senior year at Florida Presbyterian College, now Eckerd College. I'd never worked with clay, but I'd seen two people throw a pot in the previous year, and I wanted to learn. I'd heard Penland and Haystack were good places to learn, and my parents, who lived in Tennessee, considered Maine too distant, so Penland was it. I enrolled in three consecutive sessions, knowing nothing of the instructors: Bruno LaVerdiere, Karen Karnes, and Byron Temple.
Upon arrival I discovered I was the only beginner in the class. Brother Bruno (then a monk) focused on coil building, but most of the students threw, so I had many teachers. I built one small slab pot, but spent the rest of my time on the kickwheel. The weeks at Penland were like a language immersion program.
Karen's session began the third week I was there, and what a revelation: while we'd all been hunched over our lumps of gray clay, Karen sat upright, throwing white clay elegantly off the hump. She wore a homespun blouse and tucked a sprig of honeysuckle into her pulled-up hair. I was smitten with the whole image.
Soon she had us all making teapots. When it came time to assemble the parts, I sat next to her to learn how. As we worked, she asked me, "When you leave here, will you continue in clay?" I said yes (always trying to please my elders). Then, "Do you have a wheel?" When I replied that I didn't, she said that the Penland kickwheels were excellent and that I should copy them and build one. I said I would, while thinking that it seemed an impossible task. Then she asked if I'd be there the next session, and when she heard that I would be, she said, "Good. Byron Temple is coming, he's an excellent potter, and you should ask him if you can be his apprentice." Well, I had no idea what that meant, but I said, "OK."
A couple of weeks later Byron arrived. Within an hour of meeting him, I knew she was right: I had to ask him. It took me the entire three weeks to work up my courage, but when he was packing his car on the last day I did ask. When he said he thought I'd be a good apprentice, and to finish my last year of college and then come, I went from being a student who hadn't had a goal or a plan to someone with a post-college job and a potential career. I had also met Cynthia Bringle that summer; the examples those instructors had shown me of living a life in clay meant everything to me.
Meanwhile, during Karen's session, I'd done careful measurements and drawings of the kickwheel, gotten the lumber cut and drilled, ordered the steel parts from the local machine shop, and basically had a kickwheel kit ready to tow in a trailer when my parents picked me up at the end of Byron's session. My father and I unearthed his father's tools and assembled it in our garage in Signal Mountain, Tennessee; it worked perfectly! We hauled it to college for my final year there.
After graduating in 1969, I became an apprentice at Byron's. It was an invaluable experience, one I'd never have had without Karen's suggesting it. She had basically mapped out the next few years of my life with those encouraging words.
Decades later, Karen and Ann Stannard passed through Haystack while I was teaching there one summer. Over dinner I mentioned that seminal conversation to Karen. She had forgotten it. What had proved a life-altering exchange for me had been, perhaps, a casual conversation to her. That knowledge brought home to me the potential import of a teacher's comments, and recalling that dinner since has made me more aware of how an exchange that might seem casual to me may be received by a student in a wholly different way—a sobering thought.
---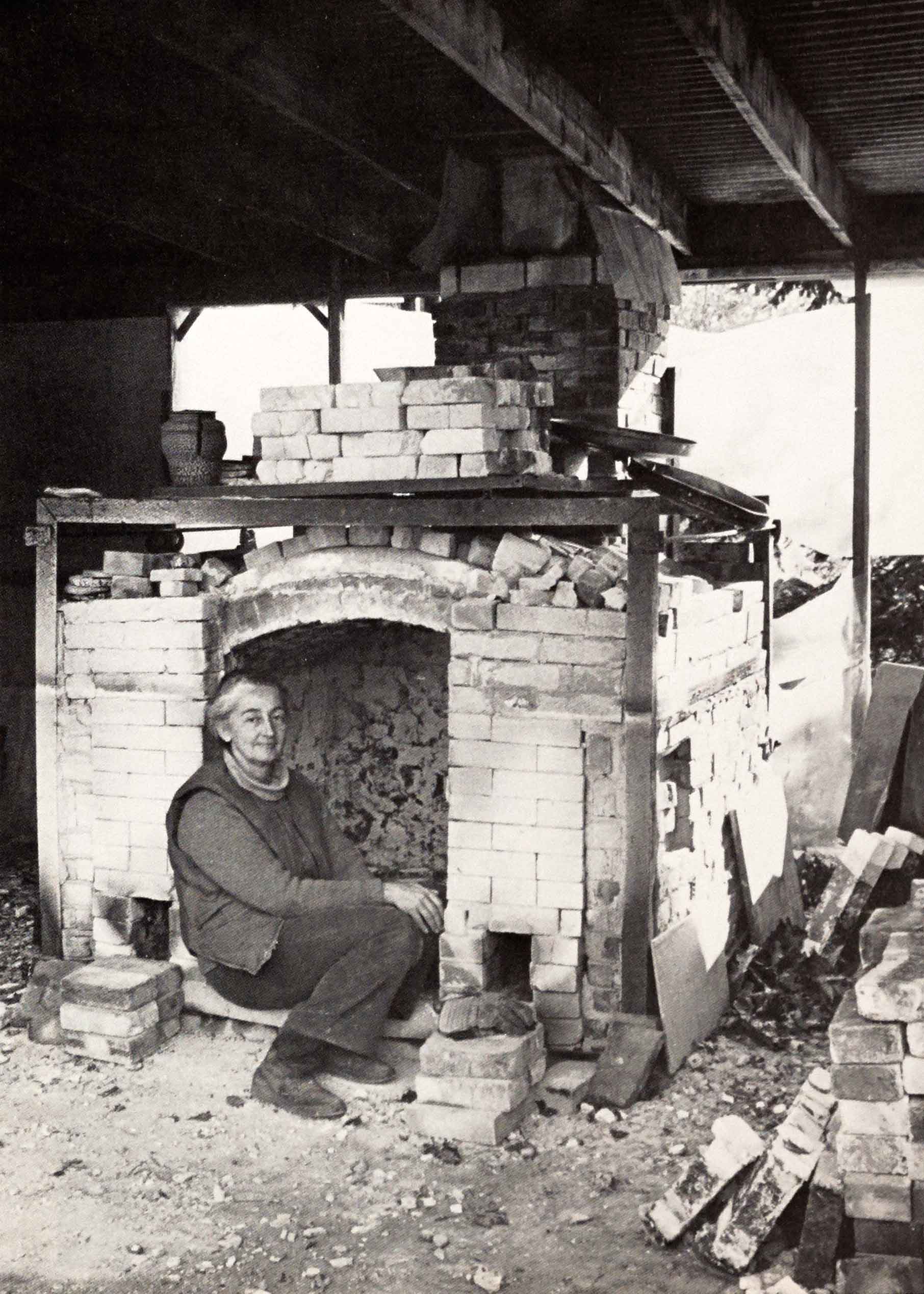 The Woman in the Doorway by Mary Barringer
Editor's note: This essay was adapted from the exhibition catalogue O Pioneers! Women Ceramic Artists 1925-1960, edited by Ezra Shales and published in 2015 by the Alfred Ceramic Art Museum at Alfred University, Alfred, NY.
It is January of 1971, and I am a student embarking on a road trip in search of contemporary American ceramics: its academic programs, its exhibitions, and the people who made the work I had seen in books and magazines. In those days you could put together an itinerary for such a trip by going to the old American Crafts Council offices in New York, next door to MoMA, and copying down the addresses and phone numbers of members, filed by medium and state. Arneson, Bacerra, Ferguson, Voulkos—all on 3 x 5 cards.
My journey began in Stony Point, New York. I drove down a long road through winter woods, and at the end found a simple wooden building with a kiln out back. In the doorway stood a woman in her forties, welcoming me, but also, it seemed, guarding her space.  Behind her were many shelves of freshly thrown pots, and next to the workspace a showroom was crammed with finished pieces, mainly casseroles and salt-glazed jars ranging from hand-sized to almost half my height.
The potter was Karen Karnes, and I had already seen and handled her work. My teacher, Stanley Rosen, had brought in a casserole and a lidded jar, and instructed us to look carefully at the firm stance, swelling volumes, and perfectly seated lids. He particularly wanted us to notice the weight of the pots. These were not thin-walled vessels; they were hefty, without seeming heavy. They felt balanced in the hand, and their weight was in perfect accord with their confident, voluptuous forms. The clay in their walls was exactly where it needed to be¾a feat of skill and intent, we knew, because we were struggling with leaden forms whose walls tapered helplessly to fluttering thinness at the rim. Thinness from bottom to top—thinness as self-mastery and as virtuosity—was what we were all aiming for; it was, we felt, synonymous with rightness. We knew of thick pots, but they were either inexpert, like ours, or made with macho bravado. Karnes's pots, on the other hand, were made with mastery, precision, and a generous amount of material. Their rightness was indisputable, and their strength and quiet self-possession conveyed a radical message—one I didn't immediately absorb, but that I never forgot. It landed in a deep place in me: an idea about femaleness as much as about pots.
The pots Karnes made in the 1940s and 1950s bear a strong family resemblance to other studio ceramics of the time. Their forms and stony surfaces connect them to the Modernist and design ideas then circulating among the new generation of what Leach called artist-potters, and although they are handsome pots, they reflect their historical moment as much as their maker. By the early 1960s, though, she had begun to make work that was unmistakably hers. In these pieces, her handling of the clay is both sensuous and rigorous, and her forms radiate a powerful self-possession. Although the profiles of her iconic casseroles undulate subtly rather than dramatically, their forms spiral strongly from base to rim. At the lid, the handle catches that spiraling lift, twists completely around, and glides back onto the curved surface, sending the pot's energy earthward again, while the walls clasp the interior volume's outward pressure. Despite its modest claim of utility, it is an object that pulses with confidence and sculptural presence.
But as much as I admired her pots, it was my encounter with Karnes herself that has stayed with me all these years. The clay world I entered in 1970 was a rowdy, testosterone-heavy place whose converts (myself included) worshiped at the altar of Leach, Cardew, and Voulkos. Prominent women tended to cluster at the helping end, pouring their energies into teaching or operating as half of an artistic couple. While I had envisioned for myself the life of a potter, I didn't actually know any women living this life. Most of the makers I was to visit on this trip were male, and although it was thrilling to meet them and see their studios, it was hard to picture myself in their place. I could not have articulated the gap between their lives and my own young woman's experiences, but when I met Karnes standing in her studio, so at home and in possession of her powers, a door opened in my mind, one that until then I hadn't realized was closed. The seed of my life as a potter took root at that moment.
I am sure I'm not the only woman potter whose young dreams were given a decisive jolt by the example of Karen Karnes. Although she was a mentor to relatively few students, her calm determination to clear her own path was as important to our sense of the possible as the more direct and formal impact of teachers. Karnes has said, simply, "I follow my own impulse. I always have,"(1) as though the voices surrounding female artists were not counseling otherwise. As though this were not an act—and a life—requiring unswerving focus, stubborn drive, and no small amount of practical skill.
Endnote: (1) Karen Karnes interview in Clay Talks: Reflections by American Ceramists, edited by Emily Galusha. Minneapolis: Northern Clay Center, 2004.
---
Tribute to Karen Karnes
 by
Maren Kloppmann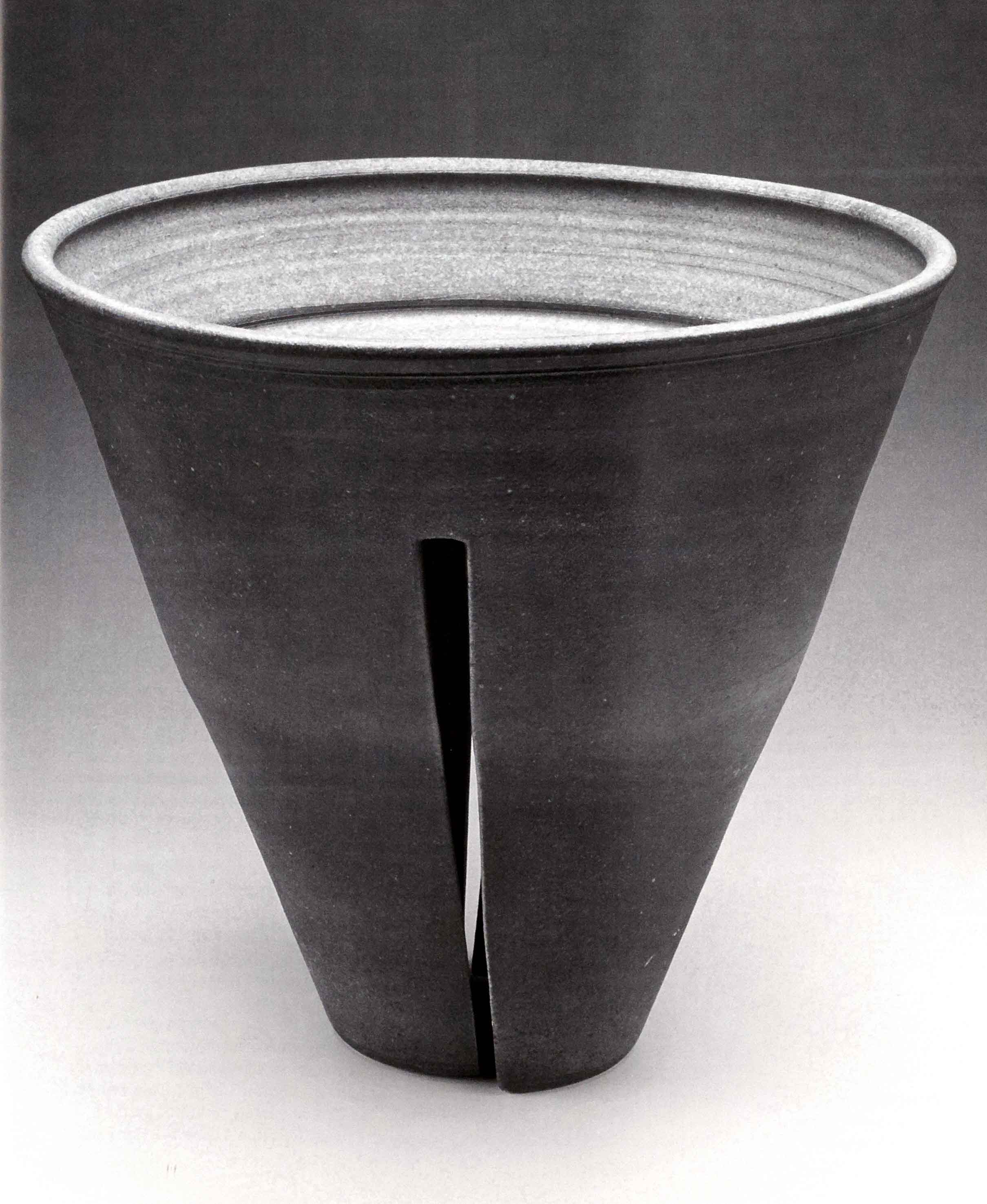 In Detroit in 1988, Karen came as a visiting artist to Pewabic Pottery, and it's then that the story of her influence on me began to unfold. Mary Roehm, Pewabic's executive and artistic director at that time, organized a small dinner with just the resident artists, potter Susan Bankert, and me. It was a thunderous evening, the perfect night to meet the Dame of Clay. During our next encounter, years later, when I was interning at Northern Clay Center (NCC), Karen remembered me. I was so grateful for that and for the opportunity a couple of years later, as NCC's exhibition director, to install a show of her work.
For many years after, she invited me to participate in the Old Church Pottery Sale. Karen was tough, with a keen eye. Getting to know her and having one's work recognized by her was the ultimate honor for me. I feel blessed to have these and many more memories of her, including my being at Old Church during my honeymoon. I am so grateful to her for accepting me into the larger community of accomplished potters and inspiring both ambition and humility at once.
A true mentor, Karen opened many doors for me during my formative years, and provided just the right spark of guidance towards a professional life in clay. Learning of her death was, for me, a moment to be still, to breathe, and to honor her awesome spirit. Karen's influence and legacy live on in my work and the work of so many others, because of her voice, her support, and the way she moved clay—like Earth, she was Mother to many and will be dearly missed.