Remembering Paula Winokur (1935-2018)
By Molly Fleiner-Etheridge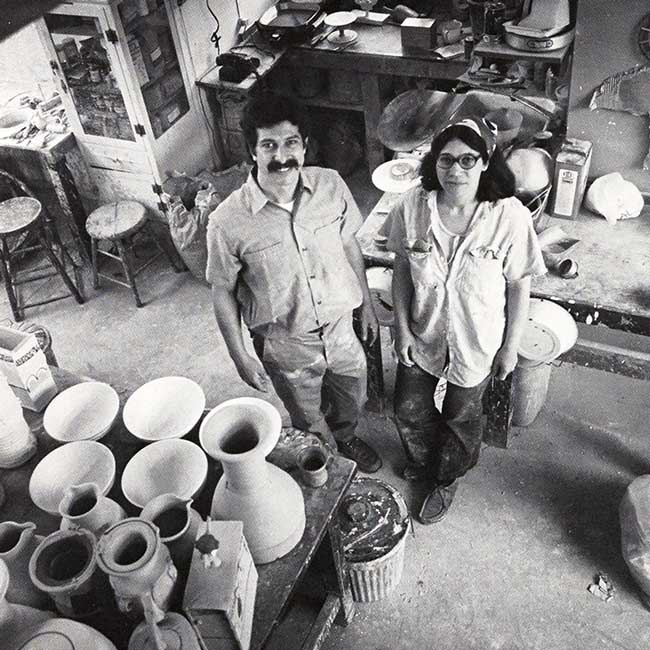 Paula Winokur died on Sunday, February 4th, 2018 at the age of 82. We, the staff and Board of SP offer our condolences to her family, friends, students, and all whose lives she touched during her long and rich career in clay.
Born in Philadelphia in 1935, Winokur studied painting and ceramics at the Tyler School of Art at Temple University. She and her husband, Robert, went on to spend two years in Ashfield, Massachusetts, working as production potters before returning to Pennsylvania in 1966. They were interviewed by Studio Potter founding editor, Gerry Williams, for "Nine Philadelphia Potters," Volume 2, Number 1, 1973.
While living and working in Norristown, Pennsylvania, Winokur transitioned from making utilitarian stoneware pots to creating decorative porcelain works. In her article, "Porcelain: the Transformations of Alice Mermaid," published in Studio Potter Volume 6, Number 2 in 1978, she writes about her switch to porcelain, which became her clay of choice from then on.
Winokur's work came to be known internationally, and is in the collection of the Philadelphia Museum of Art, the Heritage Museum of Fine Art, St. Petersburg, Russia, and the Renwick Gallery of the Smithsonian American Art Museum, among others. She was a fellow of the American Crafts Council, a recipient of multiple National Endowment for the Arts grants and fellowships, and was a board member of the Watershed Center for the Ceramic Arts. She also lead the development of the ceramics department at Arcadia University, where she taught for thirty years.
In her later work, Winokur expressed deep concern for the environment, and a strong connection to the earth through unglazed porcelain. She was influenced by her travels to Alaska, Iceland, and Greenland, where she observed the degradation of the planet's glaciers as a direct result of human activity. In "Alice Mermaid," she states,"After all when I look at the hills, I wonder what's under it all. I don't mean just the rocks, but the inside, the core, the center of the earth that keeps us all together."
Winokur will be remembered as a dedicated teacher, a compassionate environmentalist, and an accomplished ceramist. To learn more about Winokur, visit her author page on our site, and view her Smithsonian Archives of American Art oral history interview.