Pots for Membership
 We welcome August with some lovely new pots avaliable from our new Pots for Membership artists. Take a rest from the summer sunshine, grab a mug of iced tea, and take a look at the work of these talented artists in our online shop. In exchnage for the sale of their work, the artists will receive a one year membership to Studio Potter Journal.
---

Courtney Michaud
Courtney is currently the Assistant Professor of Ceramics at Western New Mexico University.  Originally from the Finger Lakes area of New York state, she obtained her Master of Fine Arts degree from Pennsylvania State University and her Bachelor of Fine Arts degree from Alfred University.  Making and teaching in the mountains of southern New Mexico, Michaud draws inspiraton from the natural environment, ceramic history, and contemporary art in her academic and studio practices.
Visit Courtney's Website, Courtneymichaud.com
See Courtney's work in our online shop.
---
Jessie Marianacci Valone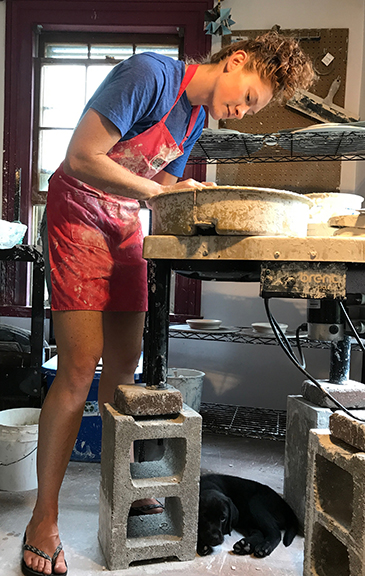 Jessie is a potter and small business owner in the Finger Lakes region of upstate New York. She states: 
I use simple glazes to accentuate generous, sturdy forms and quiet surfaces, emphasizing form without distraction. My surfaces are painterly and influenced by my graphic design background. ... Function plays an important role when I design and create forms, which I design to be pleasant to look at and to function well. I hope that even the smallest of details, such as the way the handle fits in your hand or the angle of the lip, are pleasant. I enjoy working with my hands and have an appreciation for the handmade. Bringing something new and thoughtful into the world generates sense of meaning and fulfillment.
Visit Jessie's Website, jmvceramics.com
See Jessie's work in our online shop.
---
Want to join our Pots for Membership program? Learn more here, or email membership@studiopotter.org.