In this Issue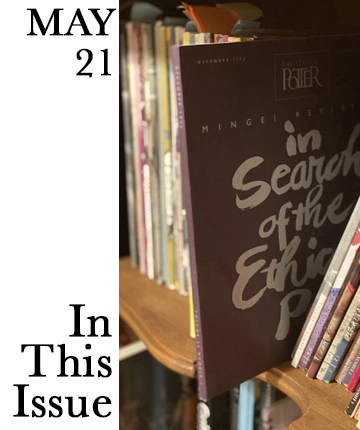 While the May issue of Studio Potter was taking shape, one idea continually broke through to the surface: the importance of hope amidst of struggle. By contrast, we must also appreciate the importance of struggling.
Last week I was breaking up the soil around a few seedlings and my sister admonished me for making their path too easy, "They need to fight through to the surface in order to be strong enough to survive." It was hard to not aggressively encourage those that were slower to germinate. Spring has been trying to push winter out of its way with a mix of false starts and eager sprouts – open the windows-close the windows, put on a cardigan-pull out the flip-flops. Giant, fluffy snowflakes fell on my strawberry flowers on April 20th in Missouri. People in Tennessee were posting pictures of creative ways to keep their already-productive gardens warm through a two-day cold snap. People in Montana were grabbing one more ski day, and one more, and one more, and one – hey isn't it time for the poppies to bloom yet? How close is the specter of climate change sitting in your mind as nature reckons with what humans have wrought on this planet, as we observe the shifting boundaries of seasonal weather? 
How do you as an individual reckon with any problem, especially a problem that seems unavoidable and out of your immediate control? What are the consequences of any action you choose to pursue? How do you keep moving forward with the optimism it takes to put a seed in the soil? 
As ceramists we often talk about how, "the material keeps you humble." It would be easy to assume everyone who chooses to work with clay is an optimist on some level, but maybe not. Although there is optimism in the work, although we are a community bound by a material, we are unique in our approaches and that means some of us take the pessimistic approach. 
Turns out, we need both. 
Some years ago I heard about a study conducted by Julie Norem and Nancy Cantor, they looked at how strategic optimists and defensive pessimists operated when achieving goals. The study challenged the assumption that the strategic optimists outperform defensive pessimists. "Ultimately, both styles are deadly at their extremes. Pessimism becomes fatalistic, and optimism becomes toxic. The key is to find the sweet spot, the more moderate ranges that combine the benefits of both approaches," reporter Adam Grant wrote in his article The Positive Power of Negative Thinking.
Whether our authors are defining themselves as or operating as pessimists or optimists is up for debate. Clues may be found in the subtext of their writings and, no doubt, there is a little of both. When I sat on a Zoom call with Serpil Taslama, who was helping me translate, the author of Touching the Soil, Elçin Telli̇, and her brother Sabri, who also aided in translation, I was full of hope. Together we bridged a language barrier in order to share Elçin's research with our English-speaking membership. As we communicated between Turkish and English, patiently listening to intention beyond the concreteness of WORDS in order to understand meaning, I marveled at the hope alive in that moment. Links to Elçin's research can be found in her article and I hope, for those of you who are interested in wild clay, that you will take the time to look more deeply at her investigations. Perhaps new friendships can be formed across the globe, even as the governments of the United States and Turkey cautiously consider the future of their relationship. 
As members of a clay nation we have opportunities to break through boundaries where leaders of governments or movements may pause. Keith Luebke wrote in, What I See from My Window, "…while it is a difficult point in our history to feel optimism, people who make things out of clay are always in community."
Regardless of how you approach the struggles you are compelled to engage, I hope you see the through line of hope in the May articles. Touching the Soil is FREE and I would encourage you to share it widely. Then dive in to these:
By Harrison Levenstein
Deeper inside the tree, a wine-dark sea of grain fading to a gentle indigo, lavender, and deep green make up the heartwood. The wide range of color in melted ash surfaces that can be seen at the unloading of a wood kiln are continually surprising. I've found myself thinking, "How can such color come from simple wood ash?" Well, it seems it had been in there all along.
By Keith Luebke
During the last decade there have been more and more concerted efforts to decolonize our notions of what working with clay means, and while it is a difficult point in our history to feel optimism, people who make things out of clay are always in community...For those seeking positive changes in our society, we must remember that there are steps backward and forward, the path is erratic and often uncertain, but the arc has been toward justice – we just don't have enough of it yet.
By Charlotte Sleeper
I found a bat with her handprint on it. It was a bit uncanny – just how perfect it was. I keep it right above my wheel, leaned on a little ledge of brick. She was and will forever be fundamental to my connection to pottery. I know my grandmother would be proud of the potter I am today.
Out of the Blue, Into the Black (Vulture)
By Hayne Bayless and Mara Lavitt
She apparently needed us, but so did we need her. She was earthbound, and, like us in our pandemic prison, unable to go far. But if she could break free, then perhaps so could we shed ourselves of this hermetic existence and return to our kettle.
Touching the Soil FREE!
By Elçin Telli
Touch – not touch as we know it, but touch defined by adding something to soil with my effort, my touch. From this point of view, I have touched the soil of Iğdır.
Be well everyone and thanks for reading,

Jill Foote-Hutton, Editor
---
1 An organization promoting mutual understanding, respect and cooperation among people of diverse faiths and cultures by creating opportunities for direct communication and meaningful shared experiences