Henry Tadaaki Takemoto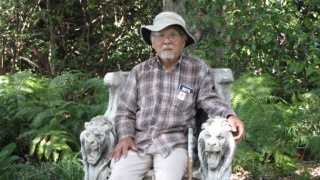 Henry Tadaaki Takemoto was born July 23, 1930, in the then Territory of Hawaii to Japanese immigrant parents. He served in the U.S. Air Force and completed his Bachelor of Fine Arts, in ceramics, at the University of Hawaii before moving to California.
After completing his Masters of Fine Arts in ceramics with Peter Voulkos at the Otis Art Institute in Los Angeles, he exhibited his work abroad. He was awarded a Silver Medal in Belgium at the 2nd International Exhibition of Contemporary Ceramics. Another of his pieces was exhibited at the 3rd International Exhibition of Contemporary Ceramics in Prague and one at the American Studio Potters Exhibit at the Victoria & Albert Museum in London.
He continued to be awarded prizes for his work in the United States, where some of his works are in public collections, including those of the Museum of Arts & Design, New York; the Fred & Estelle Marer Collection at Scripps College, Claremont, California; the Smithsonian Institute, National Museum of History, Washington, DC; and the Portland Museum of Contemporary Crafts, Portland, Oregon.
Important work remains with the private collections of the William Burgess family, Thorton Ladd, Twig Smith, Sidney & Joni Felson, Piere Voulkos, and the Takemoto family. Henry worked in the design and development department at International Pipe and Ceramics (Interpace) under the direction of Max Compton, a longtime glaze specialist with the company. He designed tile and dinnerware and worked on a machine for glazing with the research department from 1970 to 1984.
Not to be forgotten are the countless hours Henry spent with students from 1963 to1995at various colleges and universities, including the California School of Fine Arts in San Francisco, Montana State University in Missoula, Scripps College, the Otis Art Institute in Los Angeles, the California State University in Los Angeles (CSULA), and the Los Angeles High School for the Arts at CSULA. He died peacefully at his home with family June 27, 2015, in Los Angeles. In March of 2016, a memorial event at the Otis College of Art and Design brought together young students and Henry's acquaintances. ◼︎