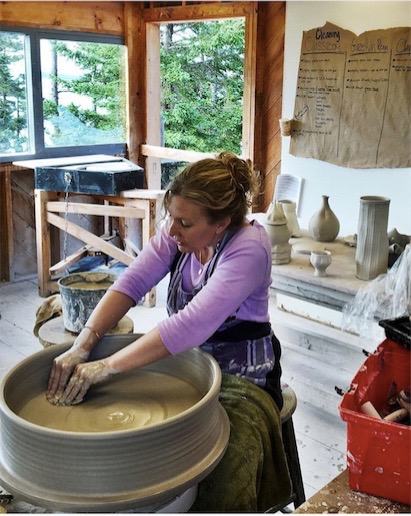 Last winter standing in my studio looking at a table full of newly fired pots, I thought, "This is it? This is my statement? This is what I want to put out into the world? These are my ideas about form, function, and clay?" This moment of overly critical thoughts seemed to crash down on me and compelled me to reflect on my last sixteen years of studio life.
My husband, Todd Wahlstrom, and I completed our master's degrees in 1995 and 2000, respectively. After I graduated, we searched for a property that would allow us to be studio potters, with manufacturing space for our other business, designing and producing throwing bats. We weren't the typical couple when it came to real estate. We did not look at schools (for future children) or even academic institutions (that might offer us teaching or academic opportunities) in the areas that we visited. That may have been naïve, but we were consumed by our desire for an affordable, beautiful, rural space to make our art and operate our business. We found it in Vermont.
After years of home and studio improvement, selling bats and pots, and teaching workshops, I found myself itching to reconnect with academia. I wasn't satisfied with the sporadic nature of my workshop schedule. Then, a visiting faculty position at Bennington College became available.
Before this opening, I'd had a good year professionally.  Being an Emerging Artist honoree of the 2005 NCECA conference had given me some national recognition, and several opportunities followed, including an offer from Bennington, where I began teaching one semester each academic year.
I felt buoyed in my work and life because of the professional support and recognition I enjoyed. Soon after I started teaching, I became pregnant. I had to learn to teach liberal arts students and to learn to be a mother and balance both of those new experiences with my existing studio practice.
Years later, now having two daughters and still teaching at Bennington College, I suddenly questioned everything about my work—the moment in my studio last winter. Balancing a creative practice with the rest of my life is not a new issue, but it felt that way because I could so clearly see how it was reflected in the pots sitting in front of me.
I loved being a student and thrived in that stimulating environment. Graduate school taught me to be fairly selfish about my career. During those four years (two at the University of Massachusetts Dartmouth and two at Alfred University), I immersed myself in my work, thinking only about what I wanted to make, why I should make it, and its cultural context. It was all about me: my ideas, my forms, my studio practice, my materials, my history, and my interests.  I looked at history and the world only in terms that could be translated into forms in my studio. I was so consumed by my studies that I cannot remember much of the time I spent socially with my then-boyfriend (now-husband) during that time.
One memory of an immersive moment in my Alfred graduate studio is particularly vivid. I was working at the wheel making the body of a large jar—about thirty pounds' worth of clay. I had textured the surface, it was soft and responsive, and my hand was on the inside of the pot pushing out. I had not pushed so far that the jar ruptured or deflated—it felt taut, pregnant.  Then an air bubble in the wall of the vessel burst, giving a perfect view of the inside wall of the clay. I was mesmerized by how the textured surface stretched around the opening. I instantly felt a symbiosis of my direction of the clay and the spontaneity of the process. It was magic.  I felt alive, creative. I felt high making that pot.
Conversations with faculty were all about me, too. I attended a casual round-table discussion that my professor Andrea Gill held over a lunch break at Alfred on the topic of women in the arts—specifically, ceramics. I was young, fascinated with Andrea, and eager to hear her lead this discussion. She was, in true Andrea fashion, candid about female students' involvement in the field, post-graduation. She said many women "disappeared," meaning that their careers were not in higher education or high-end galleries. This was difficult to hear.  It stuck with me, and I may have been trying to work against this notion. As a graduate student and for the few years after graduate school, I thought that I couldn't possibly have kids and a career at the same time. Despite the fact that some of my role models (Andrea, Ann Currier, Karen Karnes, Betty Woodman) had children, I keep hearing how difficult navigating both parenting and career would be.  That round-table conversation resonated with me and set me on a path of being an artist only; I thought there would be no time to be anything else.
When Todd and I began to discuss weaving parenthood into our lives, we thought our child would fit in with our making, selling, and all of the things that we were already doing. When I became a mother, my artist-first focus did an about-face. Family became more important and life less flexible. We had to redistribute our time, separate our business and art-making from the raising of our children. We had to slow down, and decrease the amount of time we spent in the studio. I had to find a new path forward, as more than an artist.
Occasionally, I have the opportunity to spend time with other ceramicists who are also mothers.  We share the same insecurities, worries, and doubts about our work. I always leave those conversations feeling stronger, feeling that this is hard but possible. In these women's work, I see strength and confidence; their work is personal and expressive, not full of the doubt and insecurities mothers have. I also see sometimes, when I look at the work of my peers who have recently become mothers, that they have not given it the same time or attention that it had years before. Have others seen this in my work? I have learned to be less judgmental of my work from that time.
Criticism and, in particular, self-criticism, helps me to push the boundaries of my work, to see what was not successful, make changes, keep going, and strive to make stronger work. The challenge is knowing how to be motivated, not paralyzed, by that criticism.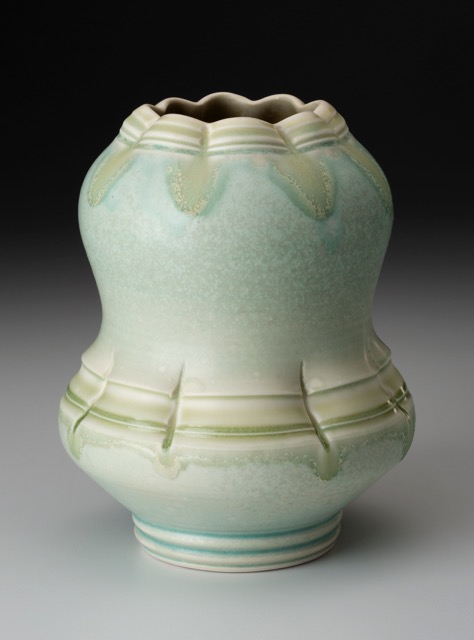 My studio time does not feel revelatory and exhilarating like it did early in my career, but it feels good, comfortable. I am grateful that I have the time and desire to be in my studio. I have experience balancing being a mother, potter, and educator, and that experience has helped me develop new perspectives on life, and particularly on criticism.
I feel alive when I walk in to my studio, breath in the scent of moldy clay, and see my pots evolving. Sitting at my wheel making marks in the surface of a freshly thrown pot, I relish the various responses of the clay's surface. Small moments like this are energizing. My sketchbooks, unfired green ware, and stacks of glaze test tiles are full of possibility; each offering small glimpses of better work yet to come.