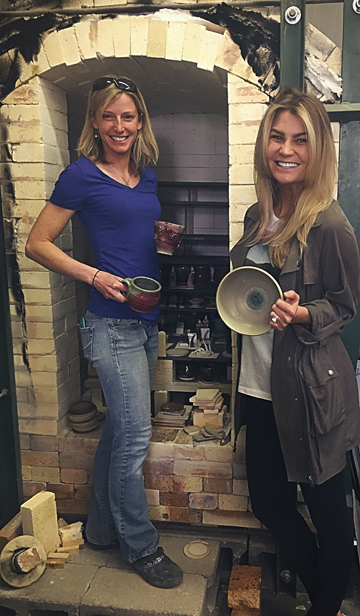 To a ceramist, the term "mud season" sounds like a dream. In Steamboat Springs, Colorado, the locals use this term to describe the periods between winter and summer outdoor activities. As the snowstorms come and go in the spring and autumn, the hiking and biking trails are sloppy wet or dotted with patches of impassable snow.  For skiers, bikers, and tourists, this is the time to leave town and head for the dry, sunny desert.  With fewer distractions outdoors, mud season is the time to work in the clay studio.
Steamboat is a community of friendly mountain folk with a passion for outdoor sports and home to the largest number of winter Olympic athletes in the country. It is a place where waiting tables at night is a dream job, leaving one plenty of time to "shred the gnar" on the ski hill during a big powder day. I paid my bills by waiting tables and working in a ceramics production studio for more than six years, tallying up nearly a hundred days on skis year after year.  In summer, I careened down winding mountain bike trails with my hands gripped to the handlebars like my life depended on it. Each night, I would show up at work half-exhausted and sometimes sporting a new bandage, evidence of the day's adventures.  Several times each night, the tourists dining at my tables would ask, "What brought you to Steamboat?" Most people were quite surprised to hear me say ceramics.
As an undergraduate student at Northland College in Ashland, Wisconsin, forest ecology was my focus; counting and identifying tiny plants on the forest floor was my specialty.  I was fascinated by the relationship of plants to their environment, particularly how the ecology changed based on the availability of water. Then, during my third year, I discovered ceramics. And like so many mud-lovers, I was instantly hooked. I spent every spare moment in the clay studio—a great escape from the intensity of my science classes. Fresh out of college with a degree in biology, I was determined to make my way to Colorado. I wanted to escape the flatlands of the Midwest and live an adventurous life in the mountains. A ceramics internship in Steamboat Springs was the perfect opportunity to head west.
Fast-forward sixteen years. I am not involved directly in the sciences, but ecology has had an influence on my sculptural clay work.  Being in nature feeds my soul. Water, plants, and chemistry are subject matter that I continue to pursue artistically. My life has changed significantly since those days of waiting tables, but skiing, biking, and backpacking are still essential to my well-being and why I chose to make Steamboat Springs my home.
From 2000 to 2004, I was part of a very active studio: Ceramic Design Group, owned by Jonathan Kaplan. Our work included producing slip-cast, pressed, and jiggered pottery for a variety of clients across the United States. I learned the ups and downs of the clay business and acquired a huge amount of technical knowledge. Students, renters, interns, and visiting artists buzzed around the studio regularly. Steamboat's modest ceramics community was centered around Jonathan's business, which was housed in two small warehouses packed with industrial ceramics equipment and pottery in various stages of production. 
While a shared studio was a great place to start off, I knew I wanted my own space to pursue ceramics professionally. I wanted a studio with plenty of space and time alone to create my work and as a means of having control over my future.  For months, I scoured the local real estate ads searching for small warehouses for sale.
In 2004, my dream became a reality when I came across two adjoining unfinished warehouse units on the west end of town, not far from Ceramic Design Group.  My husband and I were lucky to find these units at an affordable price just before the real estate boom of the mid-2000s.  We plunged into a giant remodeling project, converting the concrete warehouse into a "warehome" in which we would live and work.
Fueled by naïve ambition, I had a plan to produce custom architectural ceramics work for homeowners. I wanted to work with designers and architects to make handmade tile and sculptural installations.  After knocking on the doors of local design firms and presenting my portfolio, I landed several jobs.
I had no idea how difficult it was going to be.  At first, with beginner's luck, I pulled off a few large-scale jobs for clients across the country. But as I received more commissions, I also had more overhead. Sometimes pieces failed after I had worked on them for several weeks, and I was back to square one. The reality of my mortgage and living hand-to-mouth on ceramic design commissions set in hard. 
Then the recession of 2008 hit.  Like that of many artists at that time, my commission work slowed to a trickle.  Still self-employed, I started taking odd jobs that came my way. Being known as an artist, I was often asked to work with paint, faux finishes, and clay plaster on walls.  Over the years, as the economy improved, I worked on larger and higher-end jobs, making far more money than I had ever made with ceramics. I taught wheel-thrown pottery classes in the evenings at a local studio.  When the wall-finishing work was slow, I toiled in my studio producing sculptures. Having finally saved some money, I did not worry about whether or not my sculptures would survive a firing or sell. I just made what I loved to make at that moment—it was heaven. 
Eventually, I realized how much I enjoyed teaching and how bored I had become with my wall-finishing work. And while I still enjoyed my personal studio time, I began to recognize the importance of surrounding myself with other people who enjoy art. In Steamboat, finding a buddy for a hike or a few runs on the ski hill is very easy. Finding someone to critique your artwork or to discuss an idea for a new sculpture is a whole different story.  Those who really understood what I was doing as a ceramic artist were those who had either taken classes with me or had at some point in their lives been a student of the ceramic arts. 
I've known many artists who have come and gone from Steamboat. Perhaps they felt frustrated by the lack of education and support of the arts? As human beings, we all long to be understood; we feel bitter when we feel isolated. As artists, without the company of like-minded people, we can grow stagnant and get stuck in our minds.
One of my favorite sayings is Mahatma Gandhi's "Be the change you wish to see in the world." So when the clay studio where I was teaching closed its doors, I decided it was time to "be the change" by starting a business venture. My wall-finishing business funded new studio equipment, and I began to foster a fresh ceramics community.  I needed to make space in the warehouse unit I shared with my husband, so I gave away rainbows of wall paint in the form of sample quarts and pints that I had accumulated over the years. I built rolling carts for stacking the six new potter's wheels I'd purchased, and installed casters on every worktable. My "portable pottery school" could be moved back into a corner, out of the way of our other work. 
To my surprise, classes filled quickly. The need for more space became apparent.  The next year, our neighbors decided to sell their warehouse unit, which was ideal for a classroom and gallery.  We purchased the adjacent space, and began another construction project.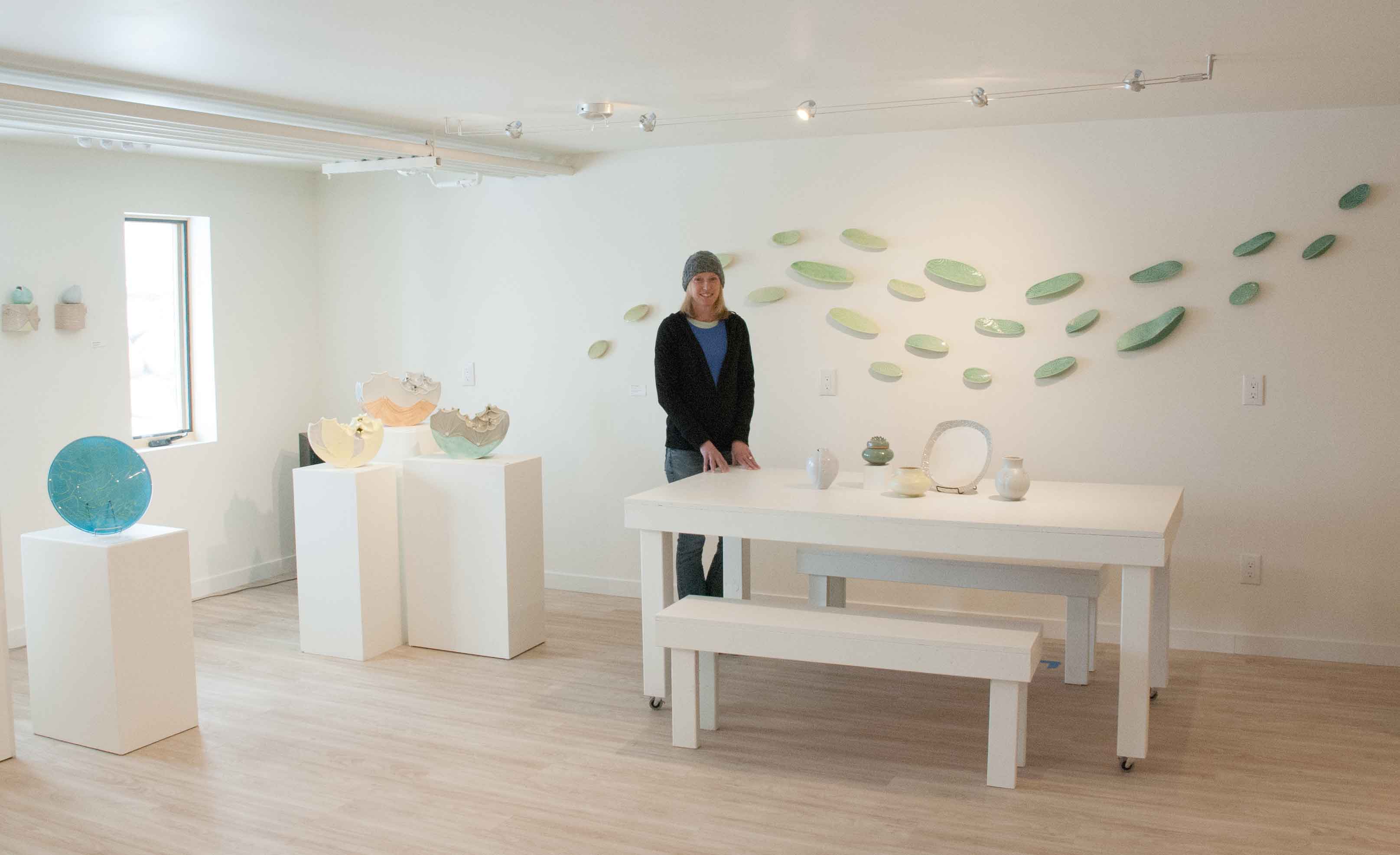 In August 2016, the local paper ran a story on the new teaching facility. As a result, we welcomed nearly a hundred local supporters and friends to the official grand opening. I was delighted at the community's show of support. Today, mud season has a whole new meaning at Warehome Studios: It's the busiest time of year for ceramics classes.  Several of my former students have become my closest friends. I also stay in touch with former assistants, who tell me how their time in my studio influenced their lives. It brings me great joy to see how far the studio has come. My plan is to continue to build the clay community in Steamboat Springs and in doing so, foster my own art practice.