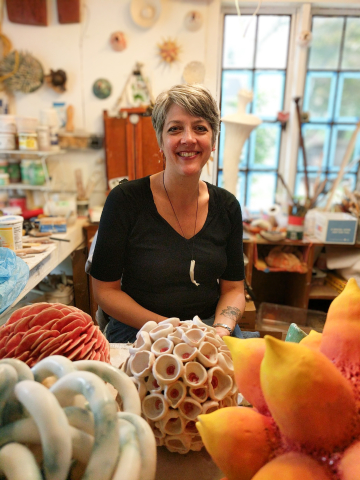 Author Profile
Leigh Taylor Mickelson
Leigh Taylor Mickelson is an artist, writer, curator, and independent consultant working with arts businesses and nonprofits to help them develop and grow. Visit her websites at www.ltmartsconsulting.com and www.leightaylormickelson.com to learn more.  
Leigh Taylor Mickelson, a resident of Ossining, New York, is an artist and independent consultant with twenty-four years of experience in nonprofit arts management and program development. From 2012 to 2019 she served as executive director at Clay Art Center in Port Chester, New York, and was formerly on staff as the program director. In 2006, Mickelson moved to New York from Baltimore, Maryland, where she was the exhibitions director for Baltimore Clayworks for nine years. In her twenty-two-year career as an arts administrator and curator, she has curated and organized dozens of ceramic exhibitions for galleries and organizations across the United States, and from 2013 to 2018 served on the board of the National Council on Education for the Ceramic Arts (NCECA) board as their exhibitions director.
Mickelson has a Bachelor of Arts in Studio Art and English Literature from Hamilton College, where she graduated Summa Cum Laude and Phi Beta Kappa. In 1995, she earned her Master of Fine Arts, Ceramic Sculpture from Rochester Institute of Technology's School for American Crafts. In addition, she is a 2012 graduate of Leadership Westchester.
Mickelson has published several articles in various publications and catalogs, teaches ceramics and workshops across the east coast, and exhibits her work widely across the nation. She received a 2003 Maryland State Arts Council Individual Artist Award for her abstract organic sculpture, her work was showcased in an article in the March 2005 issue of Ceramics Monthly, and in 2010 she presented her work at NCECA in Philadelphia.