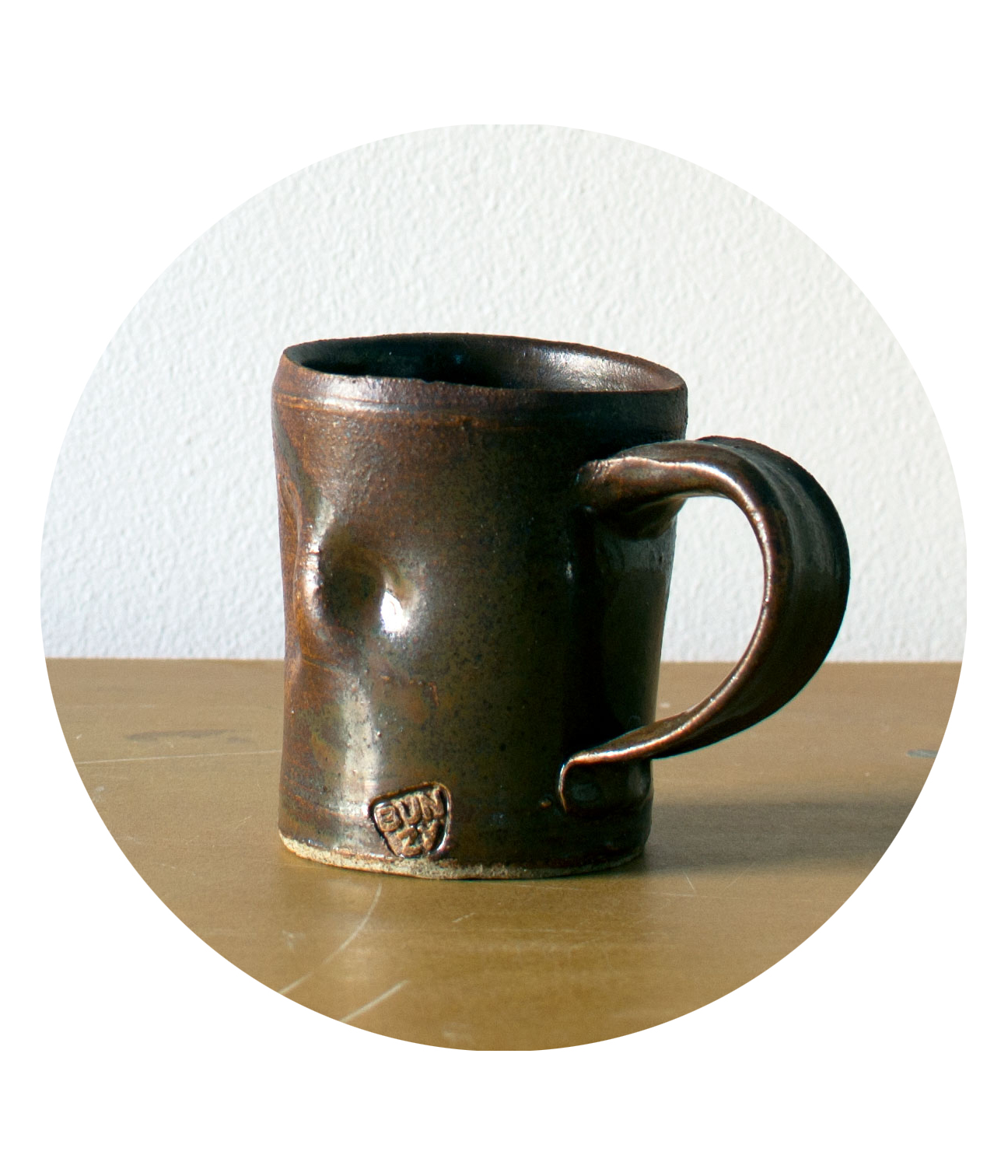 I'm drinking out of a mug made by the ninety-three-year-old Bunzy Sherman, who has said with finality that she is not an artist but just a potter. After spending two weeks with Bunzy at Haystack Mountain School of Crafts, my suspicion is that this acute woman has been making these kinds of peremptory statements her entire life, though perhaps now in her tenth decade, she can speak this way without challenge from anyone. And there is seldom need to argue or object when Bunzy speaks. She's often right and, barring a hearing aid malfunction, she misses nothing. Did I mention how charming she is? And the irresistibility of her laugh?
In describing herself as just a potter, Bunzy means, I think, that her pots are made directly and simply, without any fuss or rigorous engagement with notions intrinsic to the discourse of ceramics—they are forms that are utterly utilitarian. She said that in a workshop with Warren MacKenzie, the famous potter mused over "the sheer inadequacy" of one of her pots. The "inadequacy" that she claims Warren observed could also be the mere adequacy that Bunzy describes in her work.
I asked Bunzy if I could buy one of her mugs as they were coming out of the kiln, and she was incredulous. "Why would you want one of my mugs?" she asked. I disappeared and returned, waving a twenty-dollar bill in front of her, demonstrating my seriousness. This deceptively simple object, which I ended up purchasing for fifteen dollars, is a cylinder, taller than it is wide, with the proportions of a small soup can, a lean, smooth clay wall with an undulating rim. When we first met, she told me that she made only a few forms, but that she had developed one design and was currently working on another.
My mug feels very much designed. With the end of a wooden knife, Bunzy makes a single shallow mark in the soft, wet clay that rises deliberately from the foot to the rim, creating two gentle lobes that remind me of muskmelons or some Song Dynasty ewers. On the opposite side of the cylinder is the handle, and halfway between the handle and the groove on each side is a deep dimple. The marks have an unhesitant quality and this, together with their organization, suggests a formulaic and perfunctory sequence: Throw a cylinder, cut the skirt, shape the rim, now the groove, then the dimple, turn the pot around, dimple again, leave that side for the handle, done for now. Maybe made mechanically at this point, but only from long practice, these unnecessary marks and pinches contradict Bunzy's limiting assessment of herself as just a potter and reveal a few artistic impulses, even if they are meager.
The cup definitely evinces the decades Bunzy has spent with her material. There is a freshness and clarity that comes from efficient throwing, and equally charming is just how little time Bunzy must have spent on this particular pot. It's certainly not fashionable or trendy work. It's not porcelain—strike one. It's been dipped into a single glaze—strike two. That glaze is brown. Strike three! The iron-rich glaze is thin on the body, and the resulting rust brown is even unfashionable within the world of brown glazes. Her cup is neither very historical (although the dimples immediately evoke George Ohr) or very innovative, but it is personal. The body lacks the sculptural complexity and the extreme specificity that has become de rigueur in academic and studio ceramics today. In its formation and attachment, the handle lacks the surgical precision and meticulousness of the handles of most studio pots, but it is one of the most dynamic and expressive parts of the cup. Uneven, straplike, and surprisingly comfortable, the handle in places has a soft, scatological appearance. It's enthralling: I forgot clay can do that. The glaze is just thick enough to make the lean muscle of the handle appear permanently wet and alive. As if trying to lick its own chin, the tonguelike handle extends off the pot and attenuates as it arches back toward the base of the pot.
The tone of Bunzy's declaration is the amusing and significant thing: she doesn't speak about her work in a self-deprecating way (and she's certainly not apologizing). I sense that she is distancing her work from that of "ceramic artists," diplomatically avoiding association more than comparison. Her claim and her work, when understood this way, become polemical. Her work is more an antidote than a cheap or crude alternative to the refined porcelain cups with articulated forms, time-intensive decoration, and diamond-polished feet.
When I placed Bunzy's mug on the shelf, I immediately saw my formally diverse collection of pots as strikingly homogenous, all overwhelmingly resolved, technically virtuosic and complete; all objects that yearn for Art status. In fact, these pots ended up on the wall because, even or perhaps especially when out of use, they are visual delights. They are "closed" pots that when empty are full. They are best kept on that shelf (unless one has a complete dinner service of them), for in use, they compete for attention with the food and drink.
Looking at a recent yunomi invitational show, I felt as if I were looking at birds of paradise frozen in stone. I know (from owning many yunomi) that they can compete in sexual desperation with other closed pots, impeding every attempt to create a unified and harmonious visual statement on the table. I'm done collecting studio pottery—I'm tired of trying to make these individual pots play nicely with others. I'm tired of begging them to share the space at the table so that the salad and my guests might share their stories undistracted by these absurd mating dances I have collected over the last five years. And I'm tired of staring at these beautiful symbols of functions that I know serve best when out of service.
So I rest in the visual incompleteness of Bunzy's cup. Its single, brown, metallic glaze negates the new form created by her gestures; it flattens and diminishes them and consequently opens up the form. Had Bunzy glazed the pot in a way that further defined or drew attention to the new form created by the marks and pinches, there could have been one shared quality between Bunzy's work and much of current studio pottery: an impulse to integrate form and glaze with perceivable and comprehensible order or pattern.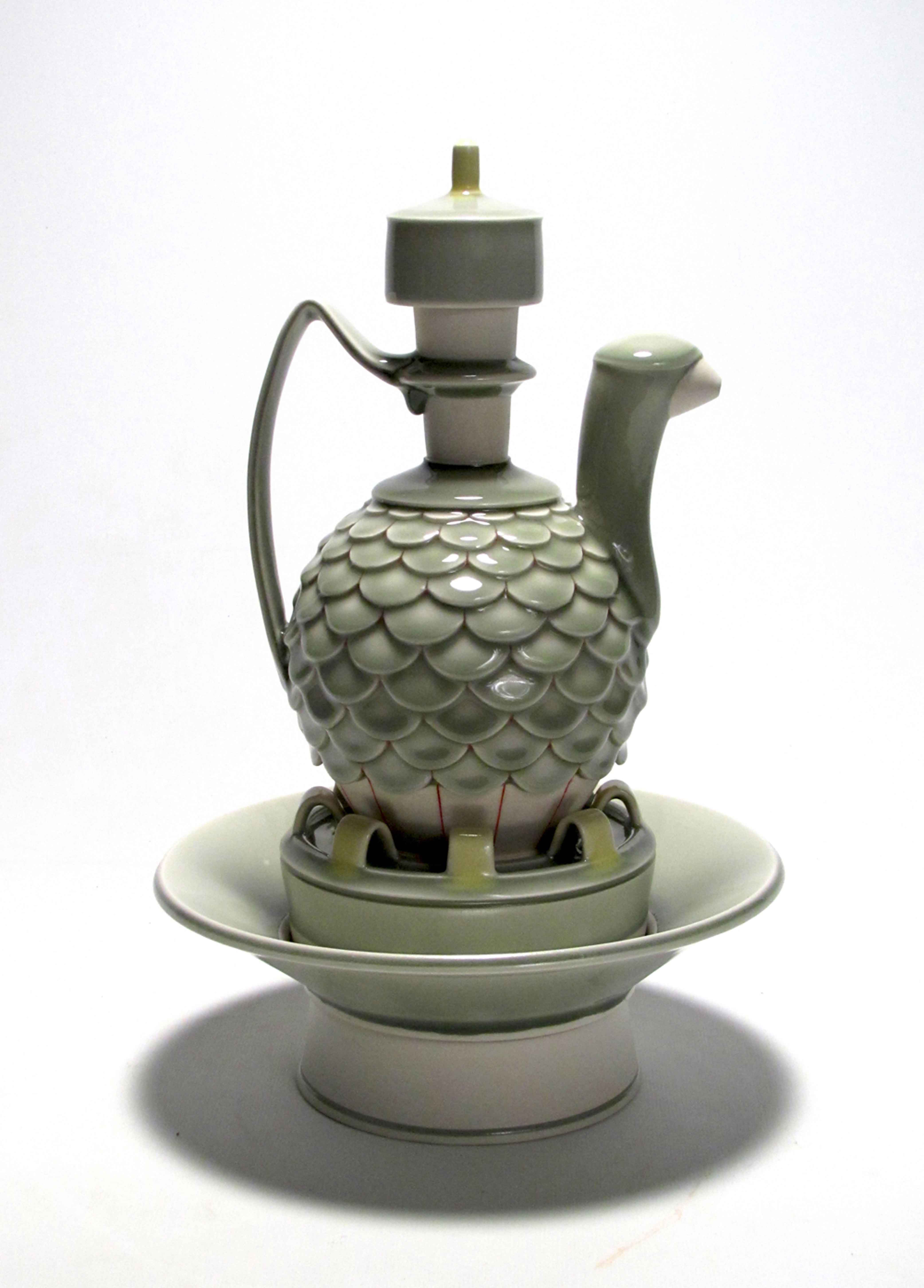 A Shawn Spangler ewer and the repaired cracks found in the Japanese kintsugi tradition illustrate the difference between a perceivable and comprehensible form-pattern and work that contains pattern that is incomprehensible and perceived as random or mysterious. The kintsugi pots describe the limit of our ability to perceive (much less orchestrate) the overdetermined causes of a crack's particular shape. Many studio pots display patterns which are completely intelligible, thus fail to sustain my attention for long.  
"Open" pottery is, for the most part, absent in major galleries and monthly periodicals. It's not photogenic or sexy.  Even contemporary wood-fire potters diminish that process's complex and incomprehensible natural patterns by manipulating wadding to create graphic, wholly intelligible visual patterns (e.g., Simon Levin's Cheerio bowls). Who is making pots with a heuristic quality, pots that are objectifications of questions or investigations? Who's making compelling pottery but constantly changing and working at the edges of knowledge and skill, resisting a recognizable style? Unfortunately, the only ceramic work that comes close is being made by artists in New York and Los Angeles who have too many questions, mostly elementary ones. Their conceptual and material investigations might become more complex and less superficial if the artists spent more time not only with the material but also with the long history of clay. Typically, the trending contemporary clay art contains too much material ignorance to sustain the attention of anyone inside the academic ceramic or studio pottery community.
The L.A.-based Shio Kusaka, whose work was included in the last Whitney Biennial, illustrates the point. Seen in person, the pots left me speechless. I stood, mouth agape, wondering if these objects were really here representing contemporary pots? Despite the art-speak of gallery press releases and artist statements, Kusaka is incontrovertibly making pottery, but her work fails to reveal the conceptual depth and formal complexity possible with clay, slip, and glaze. Those who have encountered classical Greek pots (which her dinosaur pots immediately evoke and fall short of), or early Persian, or any number of other types of historical pottery, will be disappointed by the vapid surfaces. At the same time, Kusaka's failure to make pots that are materially and technically engaging is probably as strategic as the language she uses to describe them. The art world might impugn her credibility if she were to display an interest in notions intrinsic to the craft of pottery making.
The inclusion of Kusaka's work struck me, sadly, as merely a curatorial tactic: Michelle Grabner's symbolic abrogation of twentieth-century art-craft hierarchies and a nod to the heterogeneity fashionable in contemporary art. Grabner's curatorial vision might actually have seemed progressive, and her affection for craft and material more genuine, if she had included a maker such as Michael Frimkess, whose smart work celebrates both the material and history of ceramics in a highly individual and contemporary way.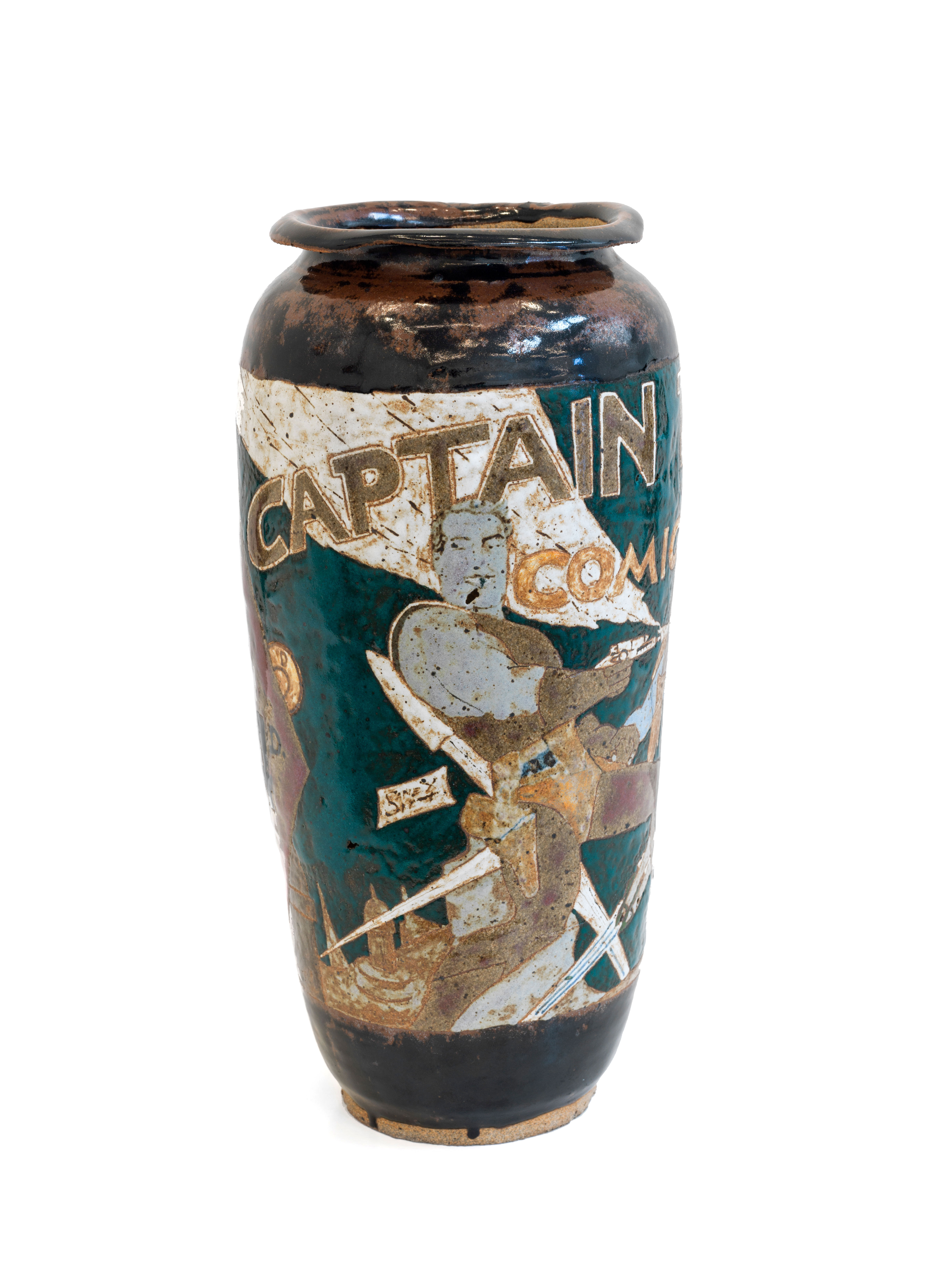 It may seem to the reader that the only redeeming quality in this mug of Bunzy's is its meanness, but this is only because I have so far contrasted her work with the kind of pots that dominate the academic and studio pottery worlds. The scant artistic impulse in Bunzy's mug, together with the cup's sharp edges and general roughcast and homely character, resists associations with craft-pottery. I'm talking about pots made by potters who earn a living primarily through selling their work to a local and regional audience, these pots are products shaped solely by such economic realities as cost, efficiency, demand, and salability.
Craft pots, just like studio pottery, are characterized by a homogeneity that, in one sense, is a result of American culture's indifference to ceramics and incapacity to discern the good from the bad or to demand more. (Chigusa and the Art of Tea, a 2014 exhibition at the Arthur M. Sackler Gallery, part of the Smithsonian Museum, centered around one brown storage jar that has been admired and contemplated for more than seven hundred years.) The American public (at least the small percentage who want handmade pots) have impoverished expectations for pottery. If studio pots are birds of paradise performing for the field, craft-world pots seem to be performing for the lowest aesthetic common denominator. Obsequious and self-abnegating (and as desperate as studio pots), they abandon self-expression in an attempt to please everyone. Buy me! I'll play nice with everything! Craft pots are empty even when full. The personal vision and personality of the maker are obscured by generic formal decisions and obedience to technical requirements (uniformly thin walls, rounded rims) that in the beginning helped ensure success and to marketing and business rules that help sell pots to those who've never heard of Warren MacKenzie or the Schaller Gallery.
Craft-pottery tends to be homogenous, too, in their parsimoniousness of form (I could make another mug out of a rim that thick!) and general flashiness of surface. Excessive dipping and overlapping of opaque and fluid, glossy glazes ensure the user will uncover the Eye of Sauron at the bottom of every bowl of cereal. Electric firing dominates, and the dead, reduction-stoneware glazes of the mid-twentieth century are exactly that, though I have seen them revivified in the gestural and expressive art brut sculptures of contemporary art world ceramicists like William J. O'Brien. Many inside the clay community find O'Brien's ceramic work irreverent, ugly, and poorly crafted.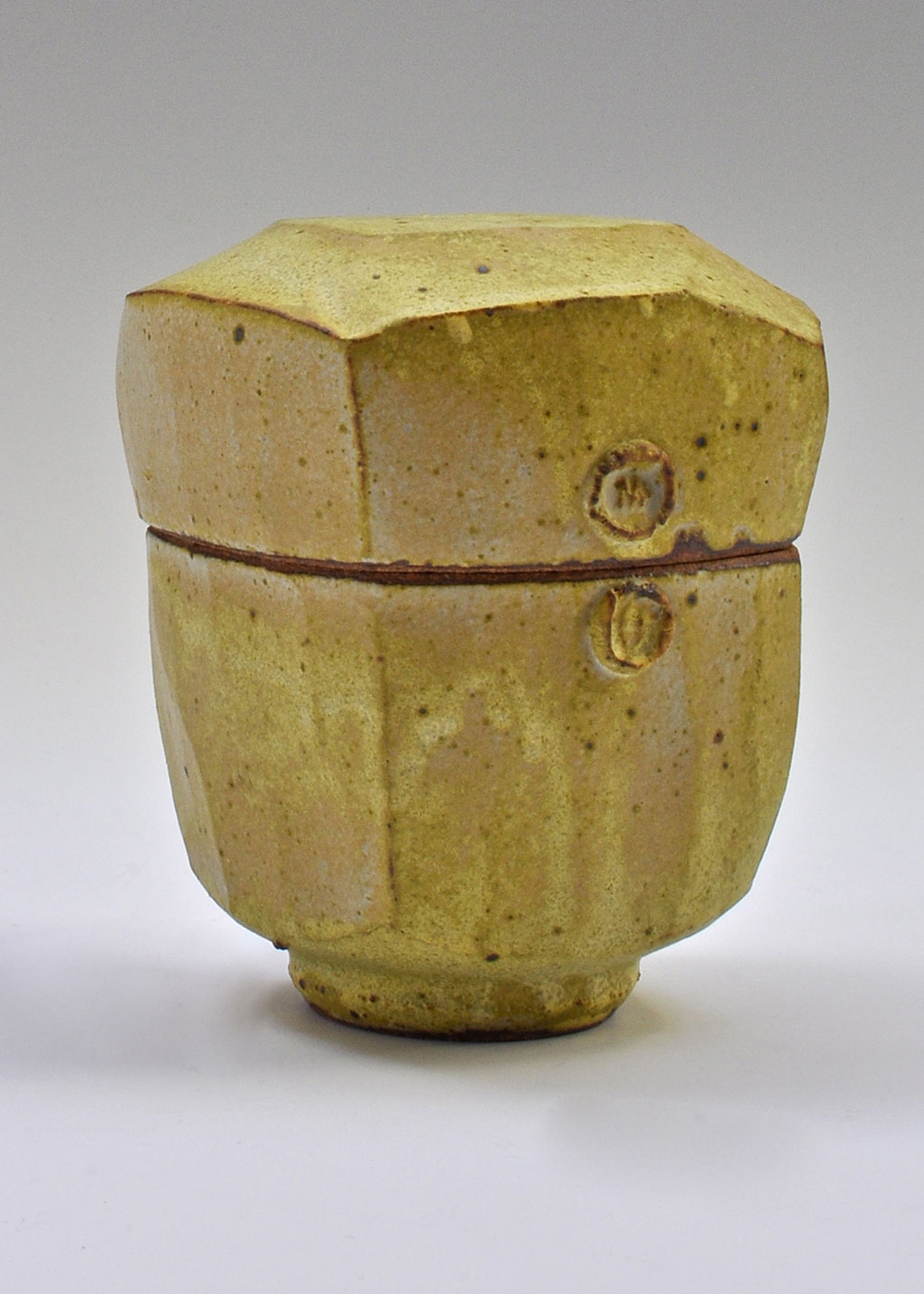 I think that Warren's and Bunzy's work have a lot in common. Warren's pots, I dare say, would not receive the Warren MacKenzie Advancement Award if he were twenty-eight and applying today. Most of his pots are good; occasionally one is great. Their work is simple, but each has left space in their work for food and conversation at the table. But Bunzy and Warren are both in their nineties, and in Warren's case, his age and achievements permit him to keep alive an early moment from the short history of American studio pottery.  Younger potters, such as Michael Ashley of Tupelo, Mississippi, cultivating the same qualities that are beloved in Warren's work, will struggle to advance in the field and find academic teaching jobs.
Today, the field of ceramics values technical virtuosity, individuality, something new, and discursive relevancy (probably in that order). Making open, useful pottery like Bunzy's (or Warren's) is irrelevant. So, where does useful, open pottery belong, if not as a part of the field?
Where it always has.
The sum of my ten-year observation is that the work must find an audience within larger, transdisciplinary communities, such as design, architecture, art, or gastronomy—spaces and communities that existed long before Strictly Functional or the MFA. Pottery that is not engineered solely for the purposes of performing mating dances for the field will attract wider, larger audiences: home cooks, restaurateurs, interior designers, art collectors. These communities do not value some or any of the highly specific and limited qualifications I mentioned above and, though the heterodoxies of these communities are decried as poor taste or ignorance by academic and studio potters, collaboration with them and the resulting mutual appreciation can be stimulating and satisfying.
But, occasionally, someone in the fringes of the field will inevitably see the value of a cup made by Bunzy Sherman.