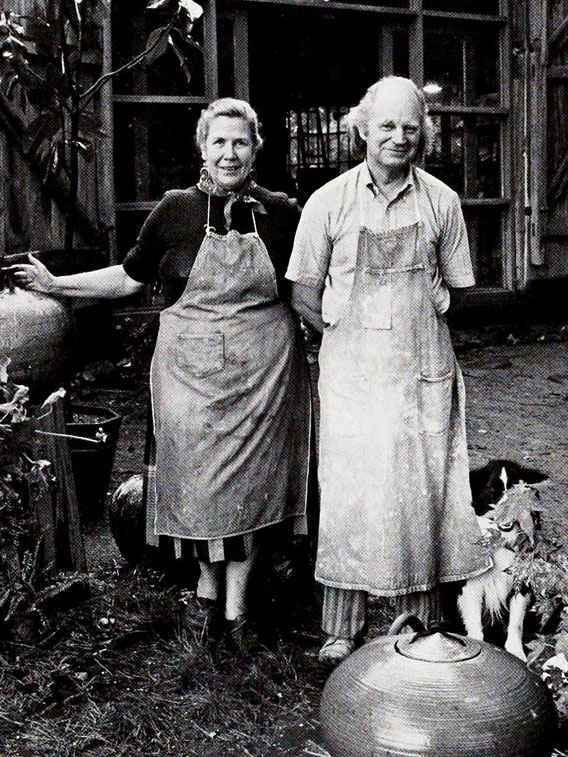 Vivika and Otto Heino
Hopkinton, N. H.
Husband and wife team. Studio potters since the nineteen­ forties. Production throwing and slab-making in stoneware, porcelain, and saltglaze. Studio in an old barn. 100 cu. ft. catenary gas kiln, plus salt kiln. Currently two apprentices, nine sheep, twelve lambs. Long active participants in the League of N. H. Craftsmen. Otto: if you can lift it, you can throw it.
Jack and Eric O'Leary
Meriden, N. H.
Father and son. A vigorous family workshop at a country crossroads below Dartmouth. Primarily producers of utilitarian stoneware and porcelain. Consistent style unaffected by current trends. 3 ton trough clay mixer. 100 cu. ft. sprung-arch gas kiln. They like the simplification of single-fire and wood ash. Inventors of Tariki, the rhythm method in clay.
Robert and Dorothy Morgan
N. Sandwich, N. H.
Country potters on a by-road in the White Mountains. Producers of functional redware and stoneware. Throwing on eight wheels in the house, firings in back shed with Denver and catenary gas kilns. An occasional apprentice. Wrap-around front porch of house sells most of their pots. Rainy days are best.
Lauren and Nancy Libow, Wayne Matthews
Harrisville, N. H.
Studio and home in a funky old schoolhouse in the middle of historic mill community. A partnership. Self-taught production potters. Specilaize in once-fire c/ 1 3 flameware. Two large sprung-arch gas kilns with B8 Ransome burners. Philosophically evolving a pottery commune. Pots delivered by Citroen
Dave and Cathy Robinson
Henniker, N. H.
From Harvard Square to a New Hampshire mountain. Self­ taught production potters. An organic pottery alive with apprentices and children and underground houses. Electric and gas kilns. Heading towards a craft community. Dave is a baroque baby.
...