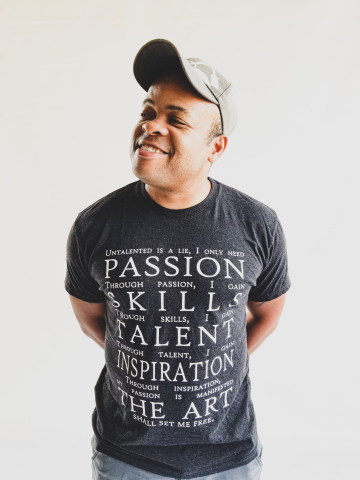 Author Profile
Delvin Goode
Delvin Goode was born in 1978 in Riverside, California. His father was a United States Air Force member, which provided Goode with valuable experiences as a child in both America and Europe.
During his undergrad studies at Florida State University, Goode explored painting and drawing but chose graphic design as his major. In 2002, Goode joined the United States Army as a UH-60 Black Hawk helicopter mechanic. As a soldier, he shifted his artistic expression towards unit branding through graphic design, woodworking, and painting murals while deployed in the Middle East. Goode's biggest achievement was designing a walkthrough monument honoring fallen soldiers that was installed in May 2005 at Fort Hood, Texas. In 2005, he graduated from Officer Candidate School, where he was commissioned as a Second Lieutenant. He then completed a yearlong assignment at the Army's Initial Entry Rotary Wing Course, where he became a qualified UH-60 Black Hawk Pilot in September 2006. In 2015, while attending the Army's Command and General Staff College in Leavenworth, Kansas, Goode concurrently started a master's degree program in fine arts at Fort Hays State University and began a focused exploration of ceramics.
Currently, he executes a delicate dance between life as a soldier and the ever-present desires of an aspiring artist. It is that steadfast dedication that has allowed him to persevere against the odds in two opposing professions. However, for him, both disciplines are intertwined and are invariably affixed.