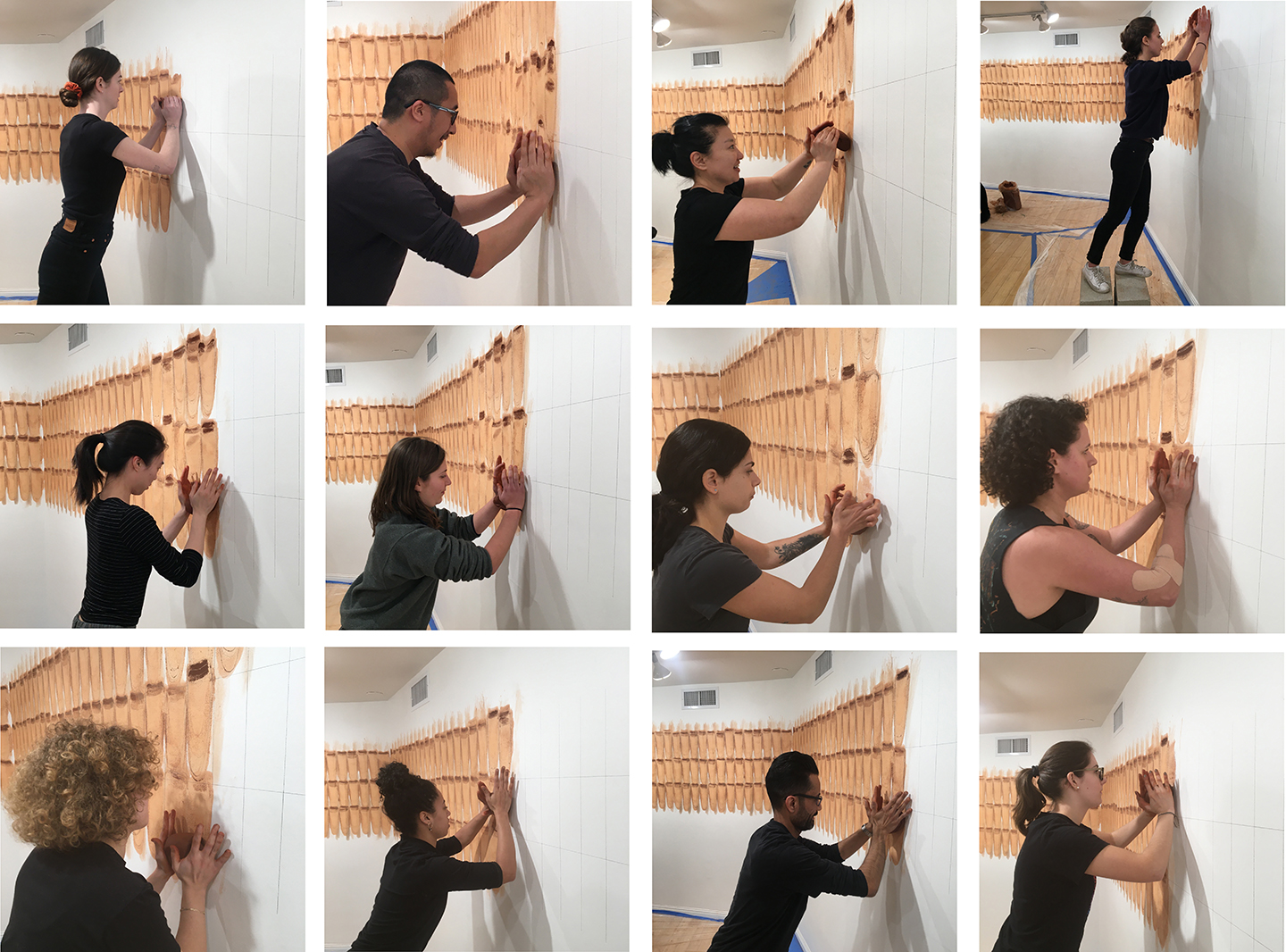 I first encountered Nicole Seisler's exhibition titled Preparing at the Minneapolis National Council on Education for the Ceramic Arts in 2019. In this body of work, Seisler repeatedly wedges clay on a wall, leaving behind a pattern, a form, a trace – nudging us to think about materiality, tactility, and the mark we leave behind. Last year, during the pandemic, she invited several participants via Zoom, from the United States, the United Kingdom, and Norway for five minutes of collective wedging and material connection across digital space. Preparing Together, as Seisler calls it, "is a silent symphony of our overlapping rhythms, techniques, geographies, and generational knowledge." Bringing the clay community together, in fact, is what Seisler does effortlessly through her practice.
For this reason, Seisler's A-B Projects feels like a natural extension of her own studio practice. Seisler started A-B Projects as a space for exhibitions and critical dialogue around ceramics. In a relatively short span of seven years, this project space has hosted more than thirty exhibitions. A-B Projects also hosts the State of Ceramics series, where various ceramics artists are invited to raise unanswered questions in an online forum. These sessions are free to the ceramics community and encourage conversations and dialogue. In spring 2020, Seisler worked on a book, Recipes for Conceptual Clay (in the time of COVID-19), with drawings by Georgie Flood. This interesting, curious, and experimental book presents conceptual and material exercises around clay. And like culinary recipes, these clay-focused recipes allow for individuals to tweak them if necessary. Seisler is always seeking an alternate way of looking, of problem-solving. While the entire universe is undergoing an unprecedented time, how can one expect ceramics education not to change? In February 2021, Seisler added another dimension to A-B Projects, Studio Sessions, where artists working in clay gather (online) under the guidance of a lead artist, collectively brainstorming ideas and practices.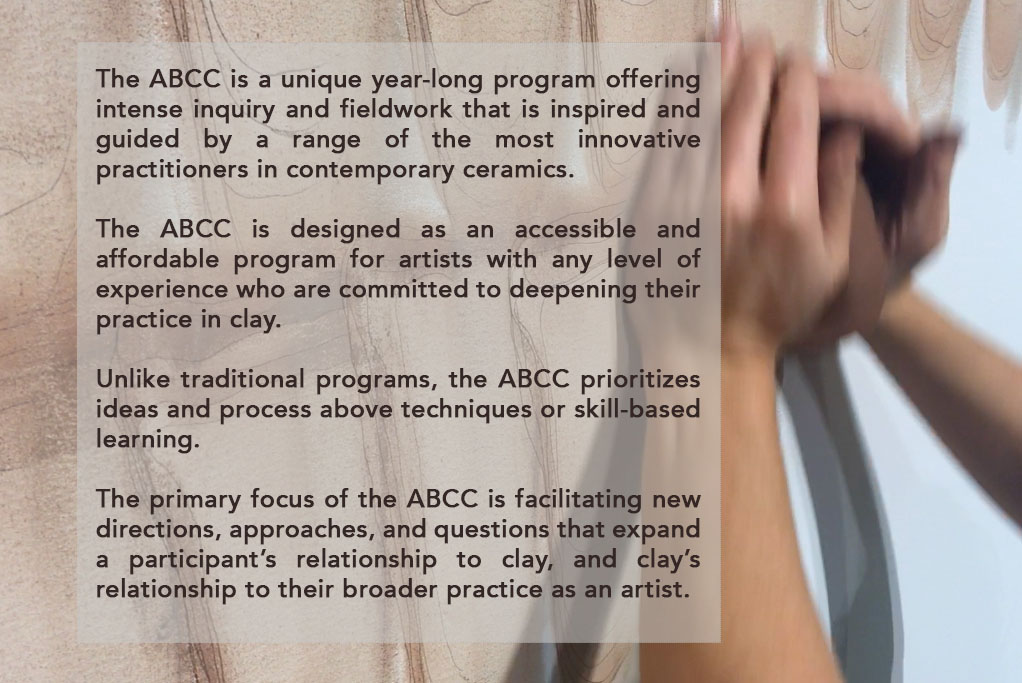 I see all of Seisler's works (whether it's her artwork or the programming she creates for A-B Projects) as a way of exploring the language of clay, investigating our personal relationship to this material, and its ability to connect us to others in the community. A-B Projects has recently launched a new program, the A-B Projects Ceramics Certificate (ABCC). I sat down with Seisler to talk about this new and exciting program and about ceramics education in general.
—Ashwini Bhat, for Studio Potter
---
AB: During the pandemic, I participated in both State of Ceramics and Studio Sessions. And now, this exciting new program has been added to the list! I almost feel like you have been inching towards this unique program in slow increments. Would you like to tell our readers how the ABCC program came to be and what it's all about?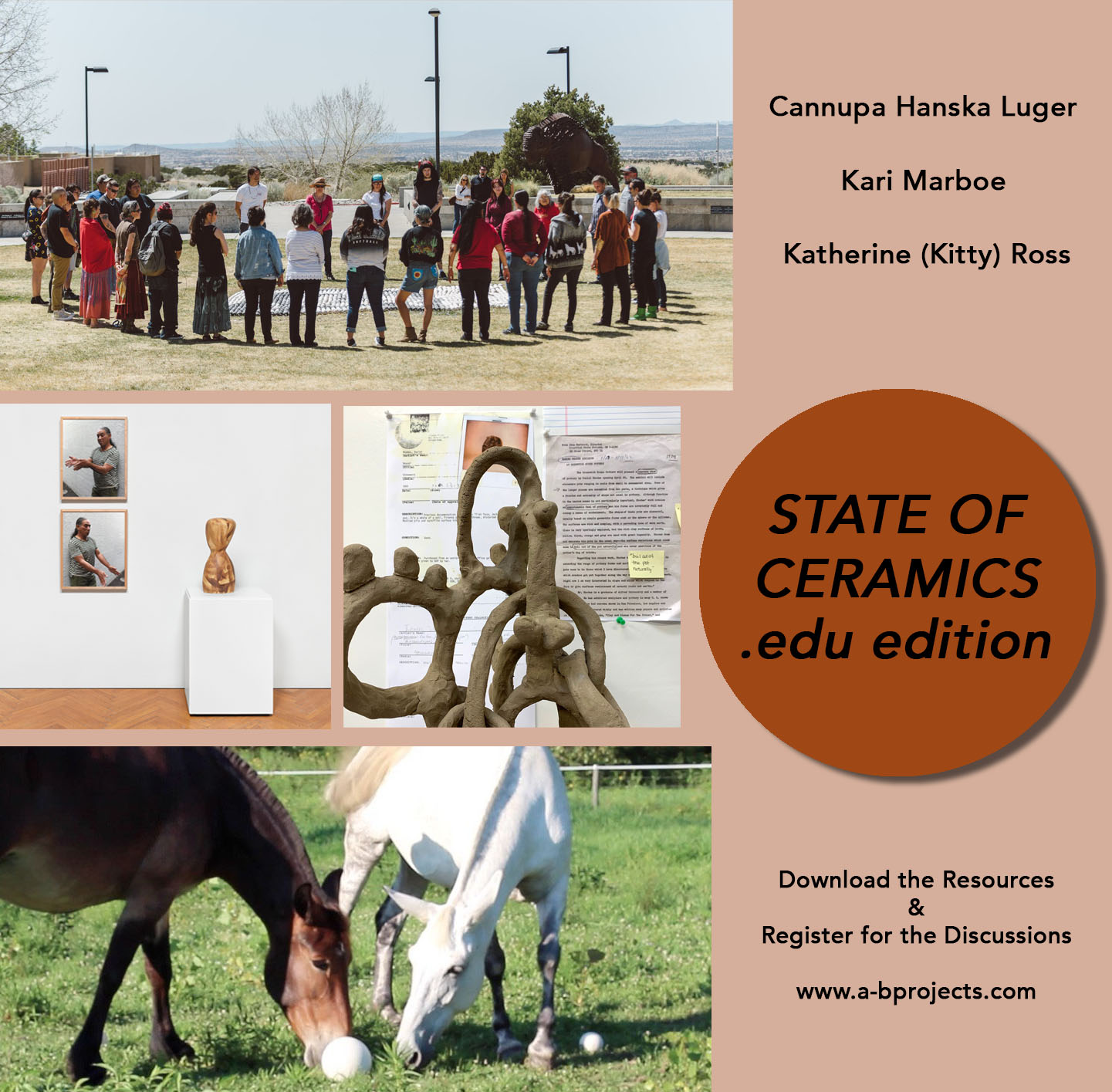 Nicole Seisler: Slow increments is definitely accurate. From exhibitions to State of Ceramics to Studio Sessions and now the ABCC; over seven years A-B Projects has become a platform that is increasingly difficult to succinctly explain or encapsulate in a few short sentences. I'm the kind of person who works step-by-step. I envision a program, enact it, observe it, the vision for the program evolves, I enact that, observe that, the vision evolves … and rinse and repeat. Suddenly, I've launched a year-long ceramics certificate program that offers the rigor and criticality of university education at a small fraction of a university price, with a far broader cohort of ceramic artists than any one university offers. 
ABCC developed out of a confluence of factors. The pandemic has certainly been a catalyst. I have taught ceramics for ten years at as many universities. Some of my teaching positions have been full-time, many have been adjunct, and all of it has been destabilized by the pandemic. When we first went into lockdown and educators started freaking out about how to teach online – particularly, how to teach such a tactile medium online – I actually felt hopeful about ceramics education. I have always been a proponent of teaching concept and technique in a 50:50 ratio (and more often in a 60:40 or even 70:30 ratio) and finally, I thought, ceramics teachers would have no choice but to deprioritize technique and bring conceptual strategies to the forefront. To my dismay, most ceramics teachers invested in cameras, they invested in lighting, and they recorded demos: they doubled down on teaching technique! Meanwhile, I had shifted to teaching my Pasadena City College students 100 percent conceptual approaches, which ultimately resulted in the publication of Recipes for Conceptual Ceramics (in the time of COVID-19).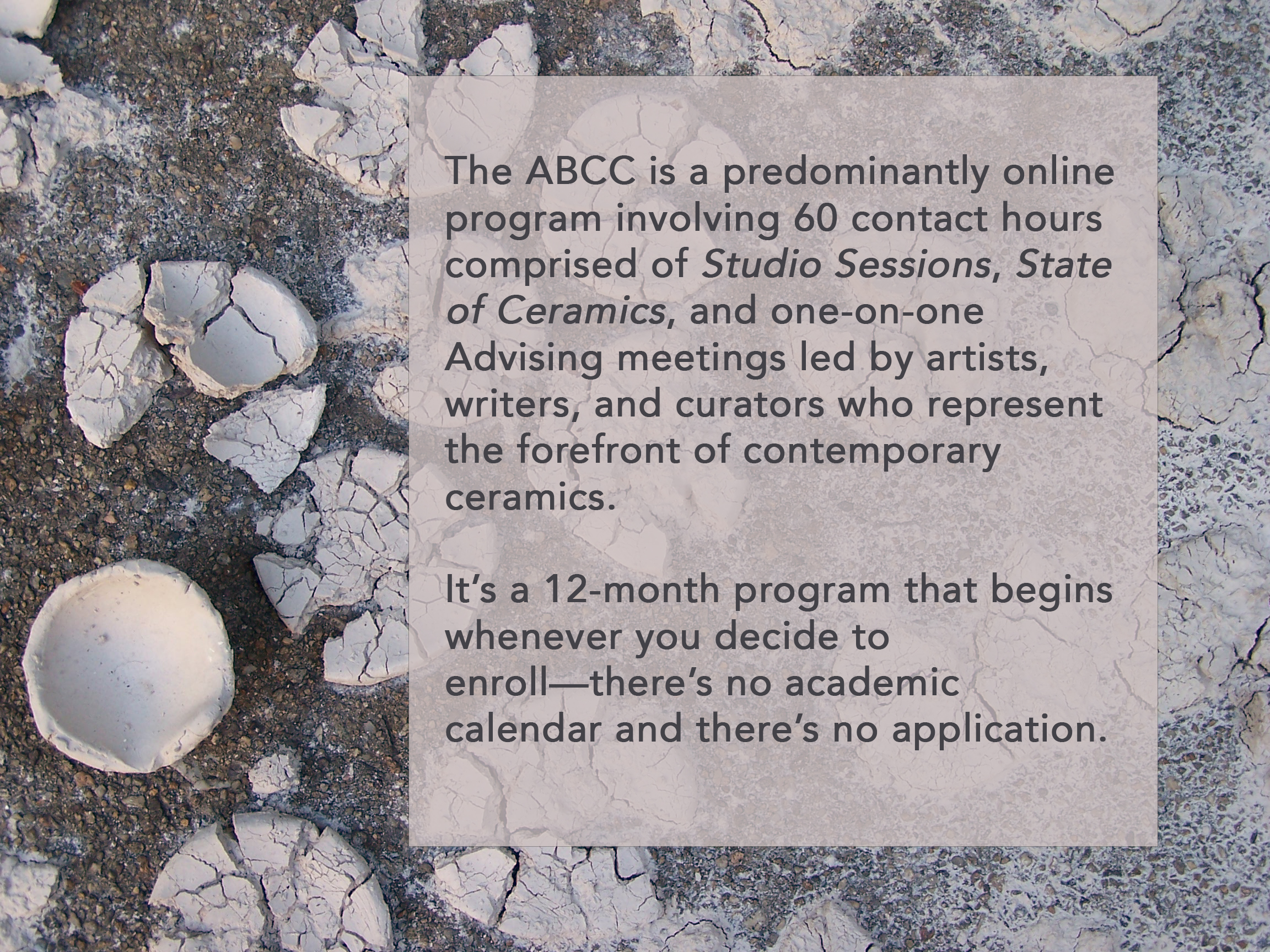 The time is ripe for changes in education. None of the systemic problems of higher education are new, but the pandemic increased our awareness of them and the urgency with which we must confront them. The ABCC is one answer to how ceramics education can shift. 
The ABCC is a year-long program with sixty contact hours that accumulate dependent upon the participant's schedule. There's no academic calendar and there's no application. Anyone who is dedicated to deepening their relationship with clay is eligible for the ABCC. It is not a replacement for a university degree, but it is an alternative. The ABCC uses a lateral approach to education, where leaders are also participants, and we all learn from each other. State of Ceramics, Studio Sessions, and one-on-one mentorship meetings are the building blocks of the ABCC. This program is an accessible and affordable education in contemporary, conceptual ceramics.
AB: When I first encountered State of Ceramics, I felt this is what I was waiting for, my whole ceramics-life, a true democratic conversation about this material we love, but also pushing against the conventional ideas of what this material is supposed to be! I admire the way you have designed these sessions to be interactive, even in a somewhat impersonal digital space. I'm curious to know more about your focus on the "unanswered" and the "unconventional."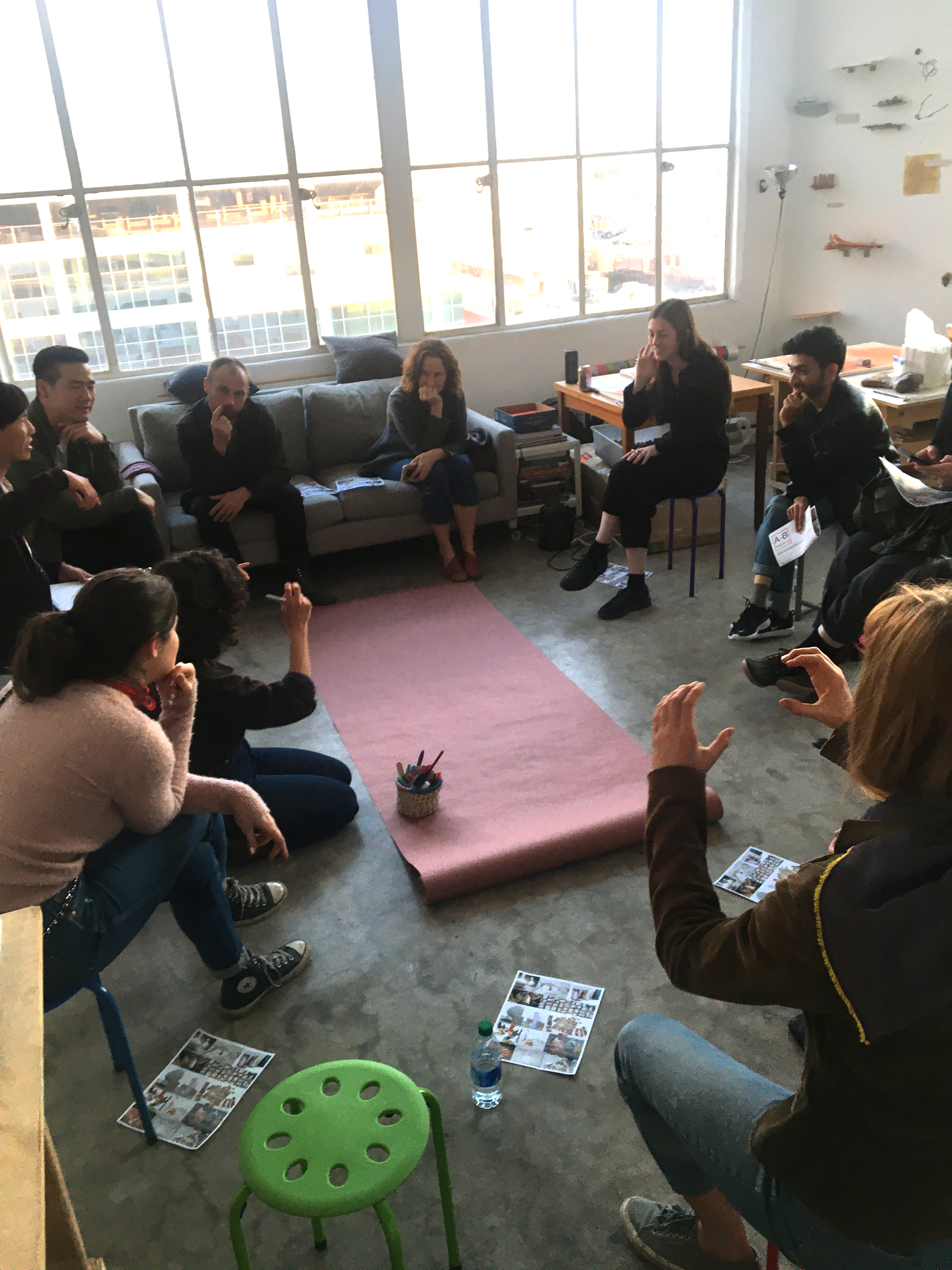 NS: Initially, State of Ceramics was very much a response to the void and desire you're describing. I found that there were a lot of people (some long-time ceramic artists, others new clay dabblers) who wanted to have academic and critical conversations about ceramics, but who didn't have access to the spaces where those conversations typically take place. It felt logical to me to extend the material conversation happening in A-B Projects exhibitions into a verbal dialogue amongst the community. The first State of Ceramics conversations were led by artists exhibiting at A-B, and they would take place in the gallery, amidst the artist's exhibition (or, if there wasn't enough space for everyone, we'd move to my studio behind the gallery). It has always been important to me that this be a welcoming, safe space that puts equality and curiosity at the forefront. This means that the conversations must be as non-hierarchical as possible – it doesn't matter if you're a tenured professor for the past thirty years or someone who fell in love with clay three months ago, we're all equal in this space. Moving into the digital realm has been, perhaps, even more leveling. It turns out that it is possible to have a truly participatory conversation in an online video format, even when (or perhaps especially when) thirty to seventy people show up from around the globe. 
In order for these collective conversations to also be productive and critical, I believe it's necessary to have a structured focus. Without this, we might forever get stuck in the age-old 'art vs. craft' bubble of a debate that literally leads nowhere – again. To generate new insight, to evaluate the contemporary state of ceramics, and to carve new paths and approaches, we need to collectively address the unanswered questions that practitioners have about the field of ceramics. We need to address what we don't know. State of Ceramics is not a lecture series or a panel discussion, it's not about a small set of individuals teaching something to a larger set of individuals; State of Ceramics is a democratic conversation about where we are and where we want to be. The 'unconventional' that you mention, that's where I want to be. I want the edges, the periphery of ceramics to become its center.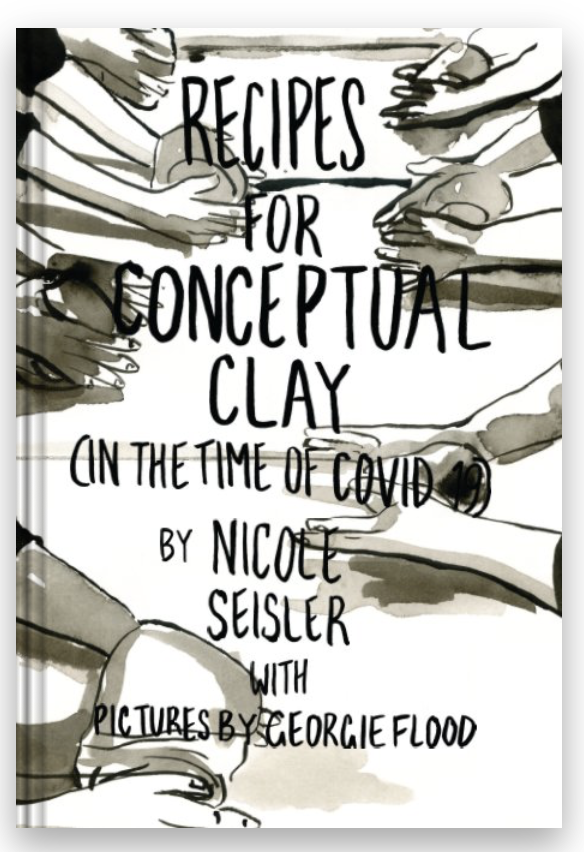 AB: And Studio Sessions, much like your book, Recipes for Conceptual Clay (in the time of COVID-19) are a product of or response to the pandemic, right? I feel so grateful to have had the privilege to lead a Studio Session. Out of that experience, one of the things I came to favor about the program is how it not only redefines what ceramics practice is, but also reconceives the role of a "tutor." And your book too (in my opinion) nudges the ceramics educators and practitioners to reevaluate their methods of teaching. Is this your way of urging each one of us to take responsibility for how we want to shape the field of ceramics?
NS:
 I loved your 
Studio Session 
Ashwini, and how seamlessly you moved from ideas of 'home' in the first session meeting to the 'coil' in the final meeting. I remember one participant remarking how amazing it was that we basically spent two hours talking about coils and not once did we touch upon how to make or use a coil. All 
Studio Sessions
 are topic driven and the products are generative conversation, material experimentation, new ideas, momentum in one's practice, and community. These are all things that I felt particularly hungry for during the height of the pandemic. When I suspected that other makers might be feeling similarly, 
Studio Sessions
were born.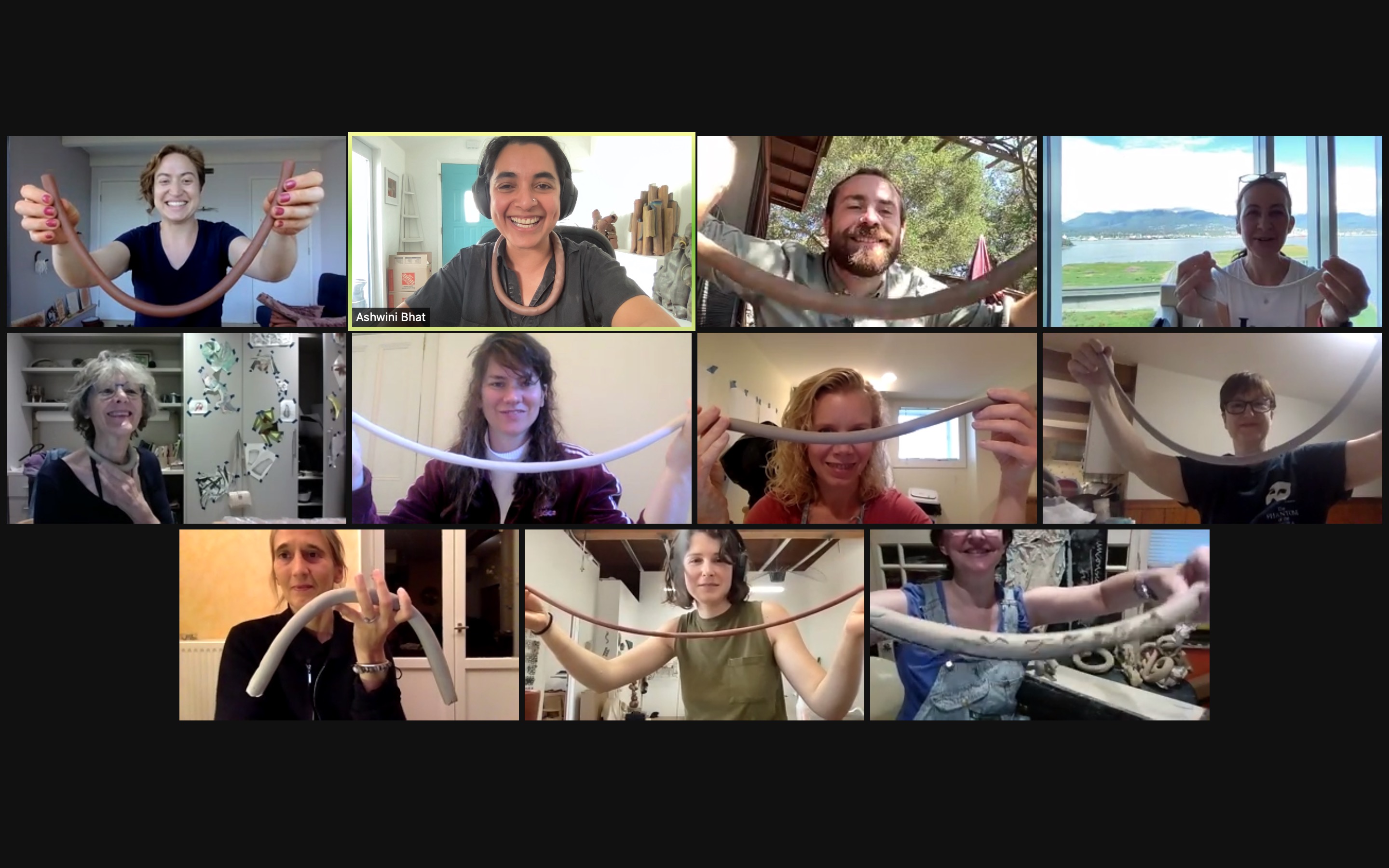 My goal for Studio Sessions is that they are material, practice-based, and collaborative conversations. The dialogue that takes place in virtual space is extended and physically connected by the materiality of clay in each participant's hand. You're right: the artists who lead Studio Sessions are not 'tutors' or 'teachers' – they are guides who are simultaneously participants. The participants are not 'students' and these are not 'classes.' Cathy Lu may have said it best when she told participants at the start of her session, Between Objects and Bodies, "I'm not here because of my expertise, I'm here because of my confusion." I try to be very clear with the artists I invite to lead these sessions that they are not responsible for teaching anything to anyone; they are here to share their knowledge, to pose their research questions to the group, and to create space for experimentation. It's a simple but surprisingly difficult idea to absorb.
Nearly everyone who has led a session is also an educator, but I think that Studio Sessions have, in a sense, been a respite from teaching because they are such a different model. Instead of being a class or workshop, a Studio Session is a conversation. I think that the best conversations are generative, not definitive, and I hope the same is true for the exercises in Recipes for Conceptual Clay (in the time of COVID-19). The book is geared towards educators and solo studio practitioners alike, and I am moved that so many university professors taught from the book in their Spring 2021 online classes.  I'm proposing that within and beyond the classroom there are broader ways to think through clay. I believe that it is our job – as educators and as makers – to continue expanding those methods. 
AB: 
Egalitarian approaches, along with issues of diversity, equity, transparency, and accountability have been foundational to A-B Projects. Many ceramics organizations and educational institutions are only now waking up to address these much-needed issues. Would you like share some of the challenges in running an independent projects space, that is outside of any institutional support? 
NS:
 There are a lot of beneficial aspects to being an untethered entity, but the biggest challenge is, unsurprisingly, fiscal. When I first began A-B Projects I funded the endeavor with a faculty research grant. When that funding was no longer available, I reluctantly turned to Kickstarter. I don't like asking my community, which consists predominantly of hard-working and under-paid artists, for money. Without other options, however, I decided to approach that 2018 crowdsourcing campaign as an artistic project: I offered my own handmade functional ceramics as the rewards for contributions to this space for conceptual ceramics. I wanted the fundraiser to be as generous of an exchange as possible, which is the ethos that I carry into all programming at A-B.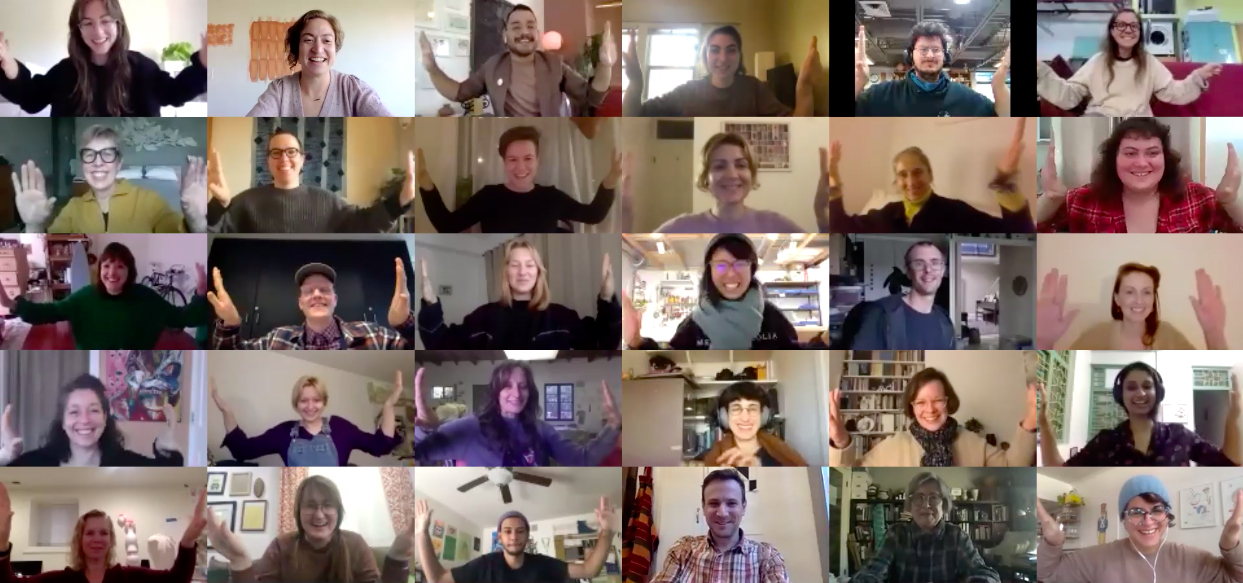 State of Ceramics is and always will be free to access; Studio Sessions are priced as low as possible, and proceeds are split 50/50 with the lead artists; exhibiting artists and program leaders are offered an honorarium (even if it is but a small gesture). The ABCC, built upon this foundation of free and low-cost programming, aims to be as generous as possible with participants while equitably supporting its leaders. While tuition for the A-B Projects Ceramics Certificate is 80-90 percent less expensive than many university certificate programs, I realize that it's still prohibitively expensive for too many individuals.
Operating outside of institutions means that, on the one hand, I have ultimate agency and never need approval from staff to execute my ideas. On the other hand, it means that I can't afford to regularly employ staff to help execute those ideas. For that matter, I can't even afford to hire myself. A-B Projects is my full-time unpaid labor of love. The matter of how to extend that love equitably and sustainably is constantly on my mind.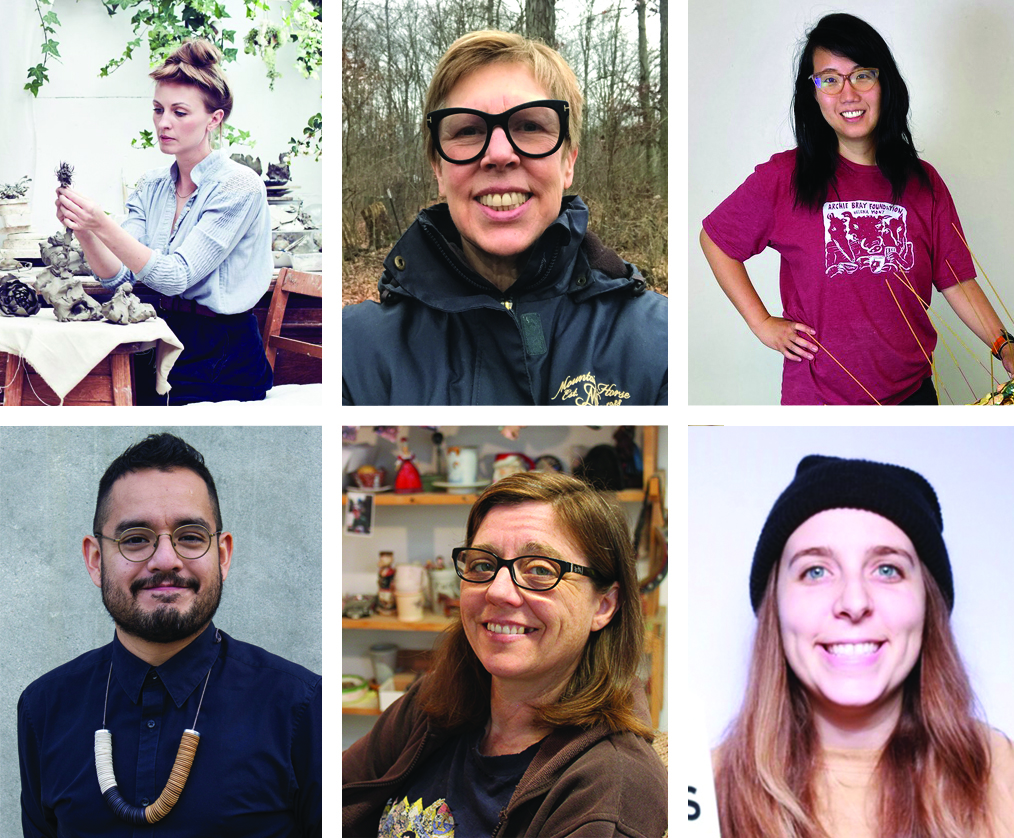 Logistical hurdles abound: First and foremost, how can I offer scholarships, or find funding to offer scholarships, for the ABCC? I want to pay lead artists more for their time and expertise, and I need assistance with marketing and development. How do I expand my budget for such things without relying on financial support from the very same community I am supporting? We started this conversation by talking about slow increments, and I believe in the process of a slow build toward all of these things, nevertheless I ask, how does A-B Projects obtain more immediate and global visibility to aid that process?
I'm ending my answers to your questions by asking more questions. I suppose that seems fitting since I believe that a project is only complete when there are no new questions. A-B Projects is constantly generating new lines of inquiry for me, and I truly appreciate the ones that you have presented, Ashwini.
---