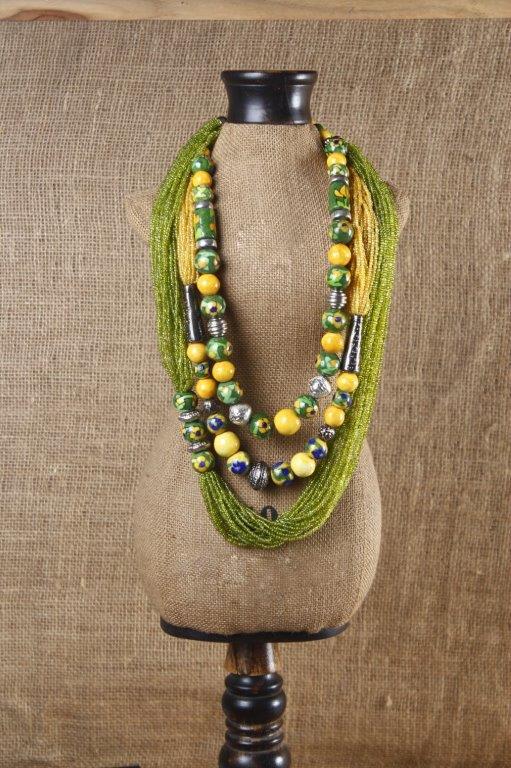 The city of Jaipur, India, has a long tradition of making a specific style of blue-glazed pottery. It is known as "Jaipur blue pottery,"  and has earned a geographical indication certificate as a traditional craft of Jaipur. It traces its roots to Turko-Persian culture (beginning in the ninth and tenth centuries), pervasive in the regions that are present-day Iran, Uzbekistan, Turkmenistan, Tajikistan, Afghanistan, and minor parts of Kyrgyzstan and Kazakhstan. Although Jaipur has been the prominent center, other areas where this style of pottery is practiced include the villages of Neota and Kotjewar near Jaipur and in the communities of Kumhar, Muslim, Natt, Rajput, and Regar.
In this article, I'll discuss the traditional understanding of Jaipur blue pottery and the roles of women in this craft. By describing the historical development of this pottery tradition, and the women who have made contributions to it, I hope to provide a context for understanding the contemporary changes that women are bringing to this pottery technique. I'll conclude by highlighting the work of two female artists, Chetna Arora and myself, who have chosen to use the traditional craft techniques of Jaipur blue pottery as a medium of self-expression.
History
Blue pottery of Jaipur was initially produced in the form of tiles for covering the domes of mosques and royal tombs of kings in Jaipur. The craft was in decline until the nineteenth century, when it was revived briefly under the reign of Maharaja Sawai Ram Singh (1835–1880). Yet even during its revival, production techniques remained closely guarded secrets, and it is largely believed that because they were not popularized, the original blue pottery techniques were lost.
During the post-Independence era of the 1950s and beyond, the pottery tradition was again revived, with success this time, by two women. The social reformer and freedom fighter Ms.Kamaladevi Chattopadhyay assigned the task of researching and developing this pottery technique to a prominent artist, Mr. Kripal Singh Shekhawat. Princess Gayatri Devi of the Jaipur royal family, who was a pioneer of women's education, founded the Maharani Gayatri Devi (MGD) girls' school in Jaipur in 1943. MGD girls' school was the first educational institute to support the teaching of the Jaipur pottery techniques by creating a proper pottery studio with a kiln.
Currently, there are many export companies in Jaipur and elsewhere. One of them is Neerja International, which was founded in 1978 by Ms. Leela Bordia. A craft enthusiast and promoter, she encouraged experimentation with the products created in the blue pottery tradition and effectively raised its status, bringing the products into luxury markets and emphasising their decorative and utilitarian qualities. Neerja International has also been working closely with and supporting artisan families who make their living through this craft. Like Bordia, Ms. Kusum Natha has been running one of the oldest Jaipur blue pottery production centres in Jaipur, and through it, she educates many young students in the blue pottery craft.
Thanks to these women's efforts, Jaipur blue pottery has become a well-established and recognised craft, both nationally and internationally.
The Craft of Jaipur Blue Pottery
Jaipur blue pottery's base clay is a mixture of quartz, powdered glass, fuller's earth (bentonite), borax, katira  gum (tragacanth locally sourced), and water. The clay is then mould-pressed, thinly coated with a bright-white engobe, and sanded to create the smooth surfaces that allow for detailed hand-painting of narrative and figurative themes, as well as minute, stylised floral patterns. Finally, a transparent glaze is layered on the surface to strengthen the body and provide protection to the painted surface. The pottery is fired in an oxidation atmosphere 800-850 degrees Celsius.
Traditional decorative motifs include themes of gods and goddesses along with portraits of famous rulers as well as floral and geometric patterns. Examples can be found in the collections of the Albert Hall Museum in Jaipur, which houses a vast collection of Jaipur blue pottery from the eighteenth century onward. Narrative depiction was further exploited by Mr. Kripal Singh Shekhawat, who incorporated themes from eighteenth-century miniature paintings.
Jaipur pottery themes are created with a restricted color palette. Traditionally, only cobalt oxide and copper oxide were used to create shades of blue on the white clay body, left unpainted. Recently, artisans have developed and experimented with green from chrome oxide, bright yellow from cadmium oxide, and other ferro (manufactured) colors.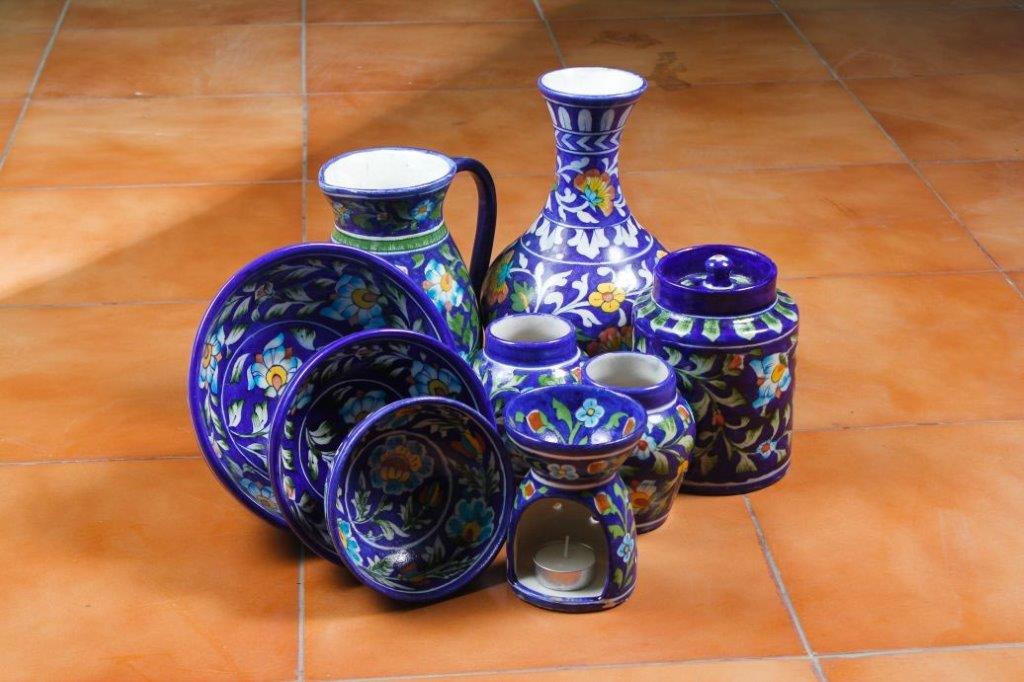 Role of Women
Jaipur blue pottery is known more for its surface decoration, less for its utilitarian purposes, but each step of creating the pottery—the shape, decoration, glazing, and firing—is significant to the craft overall. Traditionally, women were not involved in these processes and were generally required to do supportive and menial work, such as grinding pigments, preparing  clay, and cleaning moulds. Women were given these roles because they were considered to be ones that did not require refined skills or intellect. ,Therefore the women were also paid less. Men, on the other hand, were employed to form, decorate, and glaze the products because these tasks required more time, training, expertise; these tasks gave visible identity to the craft.
This division of labor is slightly different from that of other kinds of terra-cotta and pottery production in Jaipur. These pots are used for the storage of water and food articles, so men still handle the main task of creating the shape and form, but women decorate them. Because these pots' primary function is food storage, shaping the vessel is most important; that is still a man's work. Decoration is considered a minor edition—women's work.
Over the years, with the decline of skilled labor and the migration of men to other fields of employment, such as masonry, more and more women have been encouraged to take up all tasks in the craft of Jaipur blue pottery. Women now play an equally important role in both the production and sales of Jaipur blue pottery.
As mentioned earlier, both Ms. Leela Bordia, owner of Neerja International, and Ms. Kusum Natha, the current owner of NathaArts Jaipur, are remarkable examples of women who are carrying forward the legacy of Jaipur blue pottery. These women employ other craftswomen, providing them a livelihood through the craft. Craftswomen are assigned important tasks such as painting and glazing, and at times, they help men in firing the products. Another woman important to the present-day production of Jaipur blue pottery is Ms. Nathi Bai. She was the craftswoman who taught Mr. Kripal Singh Shekhavat when Ms. Chattopadhyay asked him to research it in the late Sixties. Nathi Bai's legacy has been mentioned time and again by many experts in the field of Jaipur blue pottery.
Contemporary Artists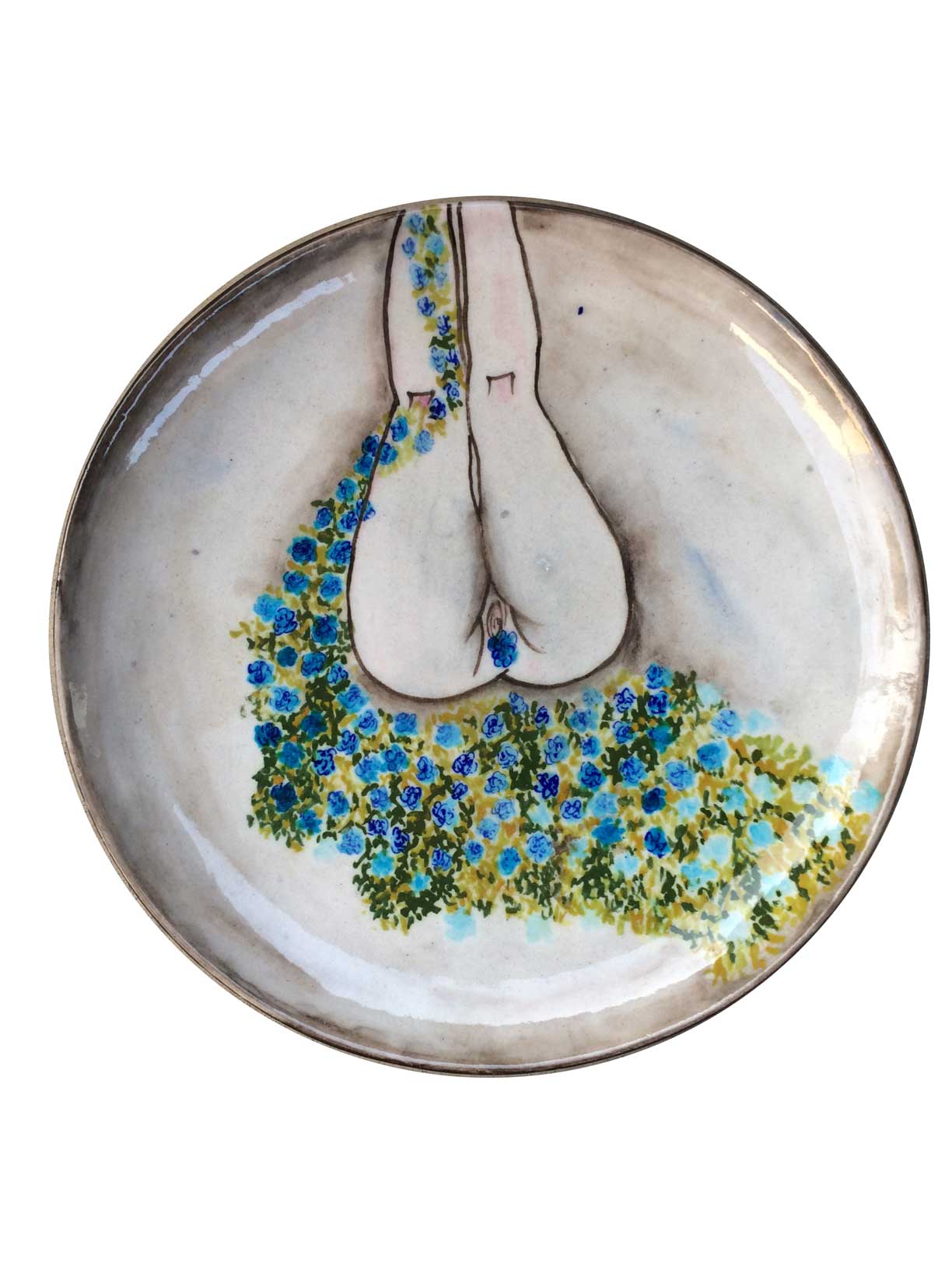 More recently, many women, some of whom are students, from urban areas are becoming interested in practicing Jaipur blue pottery. Chetna Arora is one example of a contemporary female artist who is using the craft to express her artistic style.
Arora is a self-taught artist who creates narrative, theme-based works relating to her experience as a female. Her body is the overall, recurring theme in the pottery she produces. As geometric and floral patterns are a commonly used motif in Jaipur blue pottery, Arora employs motifs based on the flowers in her neighborhood but excludes geometry. She also explores personal narratives: A girl playing with a tree or a female sexual organ camouflaged with flowers are images in her work that highlight her following the feminist tradition of exploring the self and questioning taboos in society. Chetna continues the Jaipur blue pottery tradition through painting the surface of her pottery with narrative themes, and the feminist aspects of the work are underscored through such common shapes as plates, bowls, and coasters.
I am a Jaipur-based artist, whose first venture in ceramics was creating terracotta murals. When I moved to Jaipur, I was struggling to find studio space where I could create pottery; unable to do so, I began to dabble with this craft in a factory space. Although I started by creating works with patterns and motifs of popular products, I soon diverged from the traditional style to explore how the blue pottery craft could be used as a vehicle for my creativity.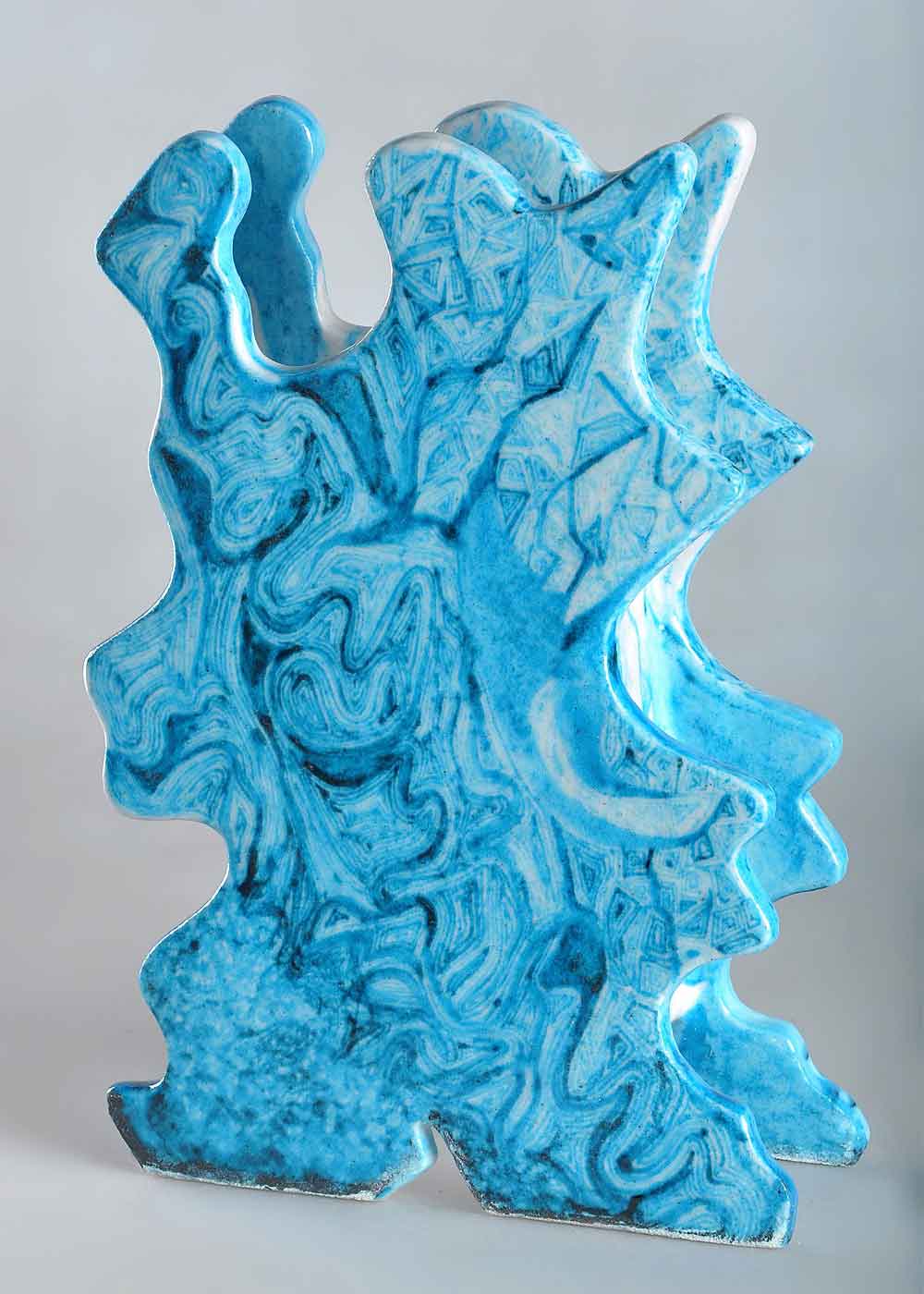 Blue pottery production mostly uses moulds to form basic, symmetrical shapes such as bowls, plates, or vases, with surfaces that are characteristically plain and smooth, typically decorated with floral motifs. I challenged this tradition by creating irregular shapes with slab-building and pinching techniques, and carving into the surface of my forms, adding texture. To maintain the identity of the blue pottery craft technique, I kept to the colors of blue and white, but I experimented with the technique of smoke-firing to give some pieces a dark tinge on the surface. I aim to make a strong, individual design statement through breaking with the traditional patterns and shapes found in Jaipur Blue Pottery but embracing aspects of its recognizable style, such as the blue and white color palette.
For both Chetna and me, using the Jaipur blue pottery factory as a studio for our creative production has encouraged us to explore the possibilities of this traditional craft beyond industrial production. Working in the Jaipur blue pottery craft technique has motivated us to bend its purpose and identity, and to use it as a medium for expressing our individual, artistic voices.
---
Acknowledgments:
This article is based field research and interviews of master artisans and experts working in the field of Jaipur blue pottery, conducted by the author for the Rajasthan government under the Languishing Craft Project. She was assisted by students from the Indian Institute of Crafts and Design (IICD) The project was commissioned by the IICD, Jaipur, and by the government of Rajasthan, India.
Master Craftperson:
Mr. Gopal Saini, Ramgopal Blue Art Pottery,Plot no.81 , Tonk road vishnu garden , Tonk Road, JAIPUR - 302015, Opposite Sanganer Airport, Ph– 988745582
Industry Experts:
Ms. Leela Bordia, Neerja International Inc.,  info@neerjainternational.com 
Ms. Kusum Natha, Natha Arts, Jaipur.
Artist: Chetna Arora (Studio Lyla) https://www.etsy.com/in-en/shop/StudioLyla
Student Assistants: Ayushi Vijay
References & Links:
"About Blue Pottery,"  Kripal Kumbh. kripalkumbh.com/about_blue_pottery.html
"Kripal Singh Shekhawat," Modern Indian Painters, Free Encyclopaedia To Paintings. ethnicpaintings.com/contemporary_artists/kripal-singh-shekhawat.html
"Inject the Pride of Jaipur Into the Heart of Your Business," Blue Pottery Jaipur. Neerja International. neerjainternational.com
"Design Resource – Blue Pottery-Jaipur – Introduction." Design Resource. dsource.in/resource/blue-pottery-jaipur
"About Shiv Kripa Blue Art Pottery." Shiv Kripa Blue Art Pottery.  indiamart.com/shivkripa-blue-pottery/
"Blue Pottery of Jaipur, Rajasthan." Blue Pottery of Jaipur, Rajasthan.  craftandartisans.com/blue-pottery-of-jaipur-rajasthan.html
"Ram Gopal Blue Pottery in Tonk Road, Jaipur." Askme.com (website is no longer accessible).
"Making Process of Blue Pottery." Radhika Art & Potteries. rapjaipurblue.com/Making_process.html.
en.wikipedia.org/wiki/Blue_Pottery_of_Jaipur
nid.edu
pinkcity.com/2013/09/18/blue-pottery/
aiacaonline.org/
designclinicsmsme.org
en.wikipedia.org/wiki/List_of_Geographical_Indications_in_India