"Just make some pottery."
A grey squirrel sits in a determined crouch at the corner of my back yard gathering leaves to its chest. With what would seem to be an overwhelming load, it runs up the fence, jumps to a utility pole, then a tree, and defies physics while moving along a net of the tiniest branches with its burden. The earnestness of the squirrel's actions relents, only a bit, as the branches widen and the threat of failure slowly retreats. Finally, it reaches the nest under construction, nestled in the crook of a tree. Its eyes have been somehow vacant, yet calculating, throughout the entire process. It is a calming countenance, perhaps born of the determined focus found when one has an inevitable process and goal.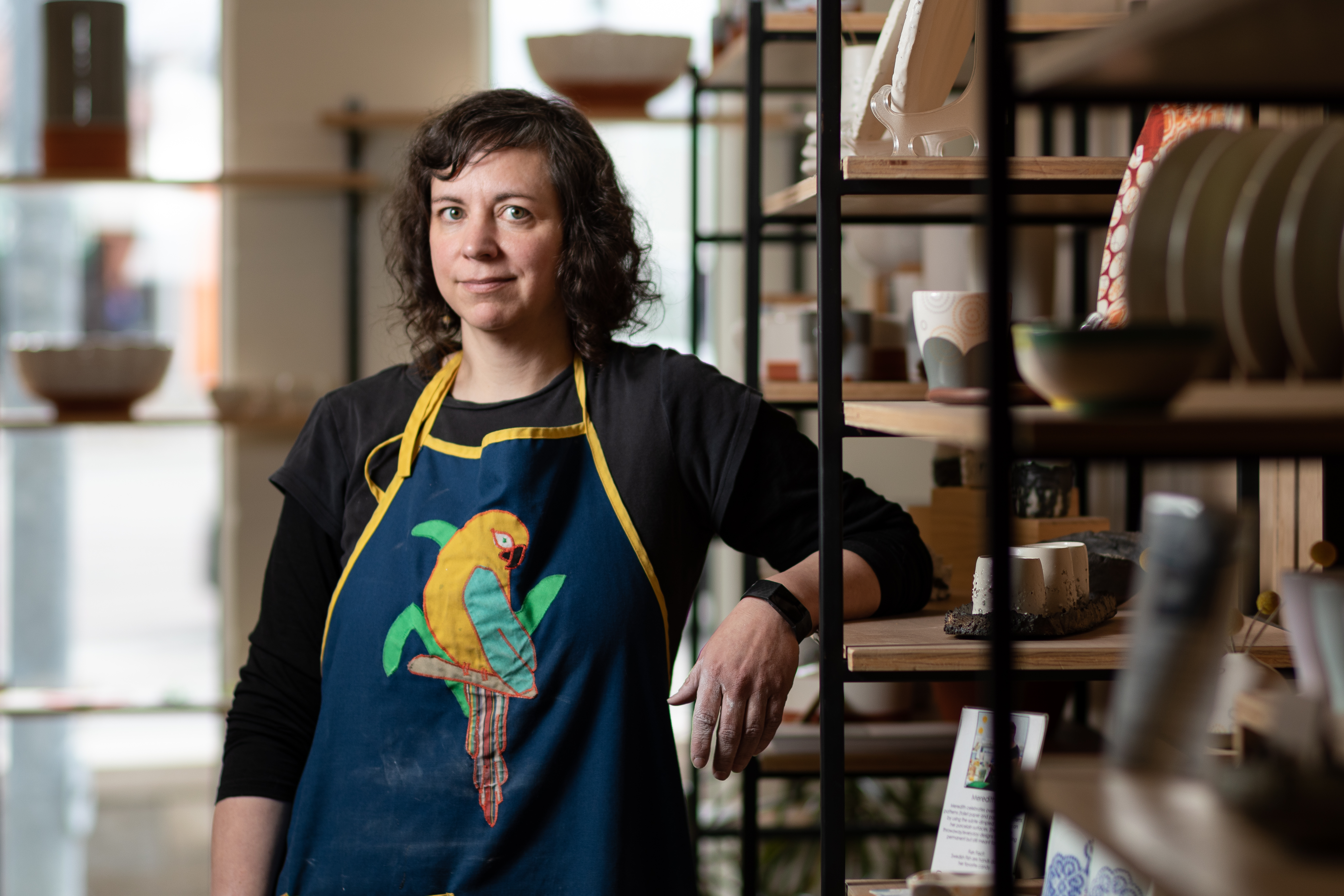 Chandra DeBuse, one could say, has a similar countenance. She doesn't want to keep rehashing the same questions in her studio practice. She does not want the inevitability of her work to become rote. She pushes herself with assignments and unanswerable questions, "I want to remain relevant to the conversation."
And yet, there is a calm confidence as she moves through her studio. It is a calm that pervades all interactions with Chandra. Although, if you are paying attention, you can see the mechanism of her intuition. How does intuition become deliberate, as it seems to in Chandra? Perhaps it is years of conscious determination that create an air of inherent intuition. She is perpetually scanning, gathering data, letting it absorb, and then all of the data presents itself as intuition.
Quite the opposite of the familiar duck metaphor, all calm on the surface whilst paddling furiously below. We see the labor, the busy-ness of the squirrel. So busy, in fact, that it could be dismissed as mindless or automatic. Instead of looking below, we need only look into the squirrel's eyes to recognize the activity of methodical calculation, so intense with vibration it almost appears still. We must look around, at the physical evidence of production, and then we know the squirrel is anything but mindless.
The physical evidence of the inevitable abounds in Chandra's studio, upon the surfaces of shelves, table tops, and the crowded, colorful pages of sketchbooks. It would befuddle the mind, taking in so much physical evidence of a creative consciousness, if not for the pervasive calm brought on by the perpetual inevitability and purposefulness of it all.

"Just make some pottery," was the advice given to Chandra by her graduate instructors Linda Arbuckle and Nan Smith when she was consumed by the need to create meaning, to make a significant statement, with her thesis exhibit. Many have been similarly waylaid. She was reaching into her past life experiences – not a bad starting point. However, a good starting point presents many paths, and only wisdom can guide us toward the right ones. With a background in behavioral psychology, which led to working the overnight shift as a crisis advocate in a women's shelter, it was natural she felt compelled to revisit a comparable purpose and weight in her developing concepts. Her advisors were likely familiar with the consequences of fear and earnestness. They threw up a cautionary wall to thwart a forced and literal concept. They encouraged her to see beyond fear and earnestness. In its place, an elegant humor bloomed – do not mistake, in this reference, blooming for planting. What was within emerged and continues to emerge.

We can't know if Chandra exuded the same combination of calm and labor then. To hear the tale, one might imagine her earnest intentions may have translated into more of a crazed busy-ness. No. Likely, she always has had something of the demeanor she bears now. It issues forth, earned, as one might expect from a soul who chooses to study psychology and human behavior. Her demeanor evidences with a predilection for observing and listening with the intent to resolve a problem. Now, her resources, gathered over the course of more than twenty years, manifest in her studio, not as leaves; but as
distinctive pots known for elegant curves and pillowy volumes
repurposed kitchen tools, modified to yield a consistent inventory of forms
broken clay tools, now upcycled as ingenious multiple-line tools for engraving
colorful foam templates, soft and sturdy, which render the aforementioned pillowy volumes
a plethora of scissors, a compulsive gathering habit she indulges without question
a small stack of inspirational, well-worn books, leading us to know her objects as a combination of Victorian majolica with the balanced division of Mimbres wares, wrapped in the patterned history of textiles
an impressive collection of color palettes distilled from sources as varied as a Lawrence Welk set and a cowboy shirt, stored on her iPad Pro for endless, low-consequence exploration
With all of the above and more stored away, she reminds herself, "The minute you think it's leading somewhere, is the minute you limit yourself."

This is a maker who sees the beauty and purpose in what we too often deem "nuisance animals." She sees the parallels of their behaviors in human nature and has a generous interpretation with both species. A squirrel hoards nuts, a proactive plan to combat scarcity. Sometimes, even with careful organizing, a squirrel can lose track of its hoard, but a misplaced cache can grow into a mighty oak. Here the parallel between artist and her muse diverges, for Chandra never seems to hoard her resources, accidentally contributing to the ecosystem of contemporary craft as a by-product of a method gone wrong. The bounty yielded from all she has gathered in her formative years as a maker and beyond, she distributes to the field in plenty. "It takes a long time to unpack the ideas from an incubation period."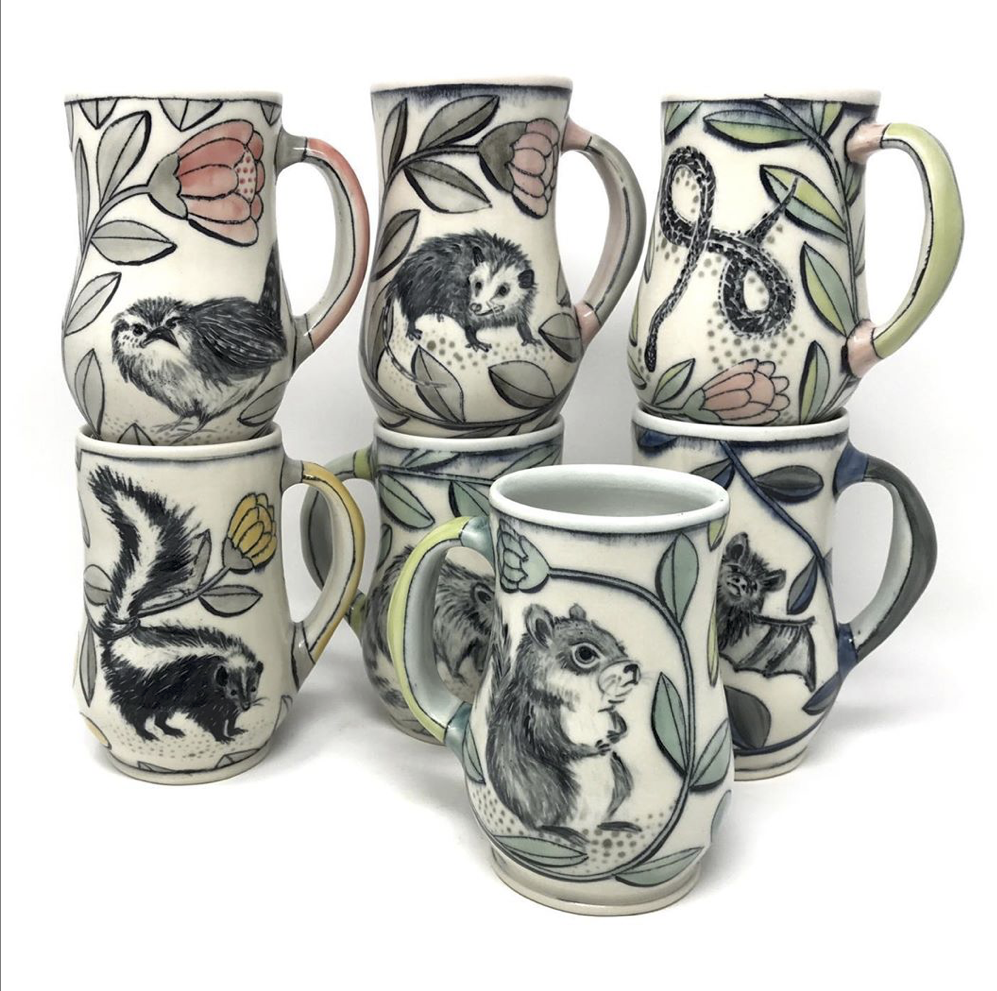 However, very much like her favorite muse, she holds a reserve for herself. Although, it is quickly obvious, any reserve withheld is guarded only with a friendly boundary. As her audience, we must respect the boundary, especially when the yield is so rich in object and character. Leaving her studio, my ears recalled Chandra's abundant laugh. It was the laugh of a settled mind. Not evidence that she has acquiesced, but rather that she has arrived at the conscious comfort found in the pattern of her practice.
But oh, how that squirrel in her mind keeps gathering.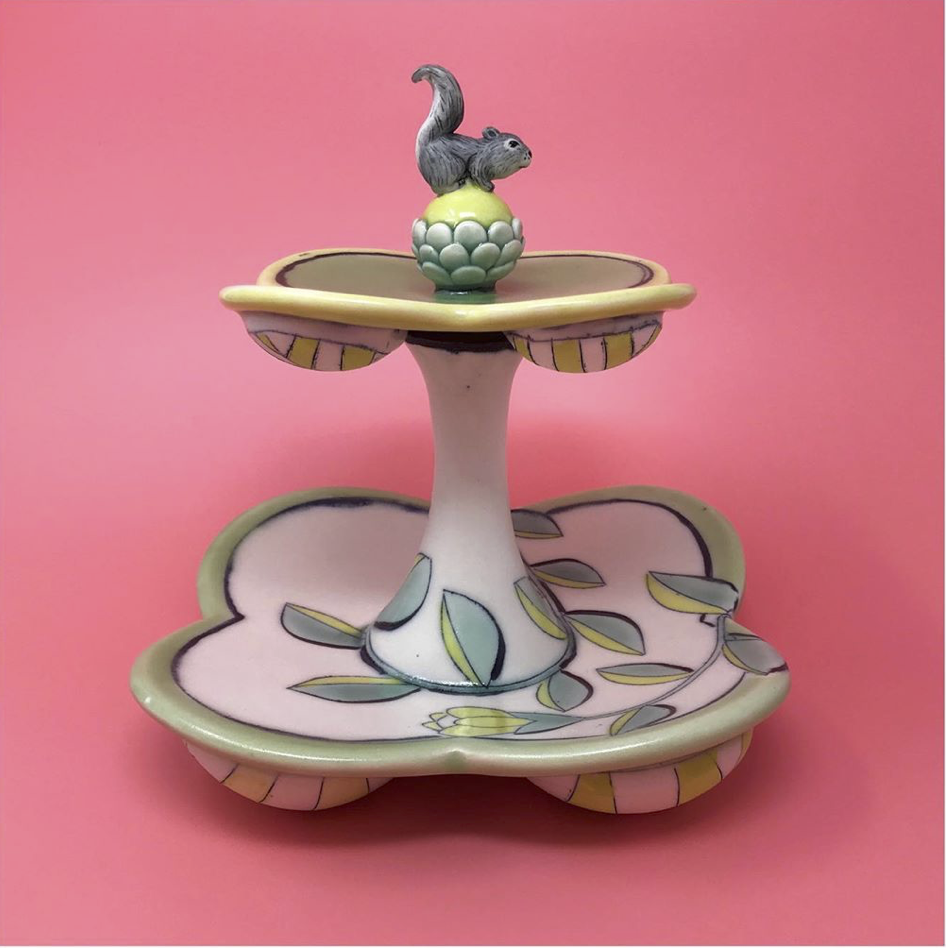 ---
Want to know more? 
KANSAS CITY URBAN POTTERS is a collective of full-time studio artists making functional pottery with a high standard of craftsmanship. Located in the heart of an already-strong clay community, the collective looks to expand visibility of contemporary studio pottery to local and regional audiences through invitational exhibitions, public lectures, and community-based events. Through joining forces and partnering with other local organizations, makers can accomplish far more than what would be individually possible.
Visit Chandra's WEBSITE to be up-to-date on her workshop schedule, and be sure to follow her on INSTAGRAM.