In Part II last month, Diana Kersey had completed her first public art commission, artwork for the Mulberry and Millrace bridges in San Antonio, Texas. Significant historical research supported her concept and imagery. In Part III we see her take on increasingly larger scale commissions establishing solid footing in the field of public art.
More Bridges to Cross
Other public art awards followed the Catalpa-Pershing bridge project that Kersey completed in 2011. The process of creating artwork for the new Houston Street Bridge, which, at 330 feet long by sixty-five and a half feet wide was more than four times the scale of either the Mulberry or Millrace bridges, would occupy Kersey from April of 2012 to its completion in February of 2015. Once again, place-making for Kersey entailed researching the cultural and natural history of San Antonio's Eastside (East of the San Antonio River), a predominantly African American neighborhood where the new bridge would be built to traverse the Salado Creek Trail. Abundant imagery recording the area's history, plants, and animals for the sixty-four ceramic panels that Kersey would incorporate into the guardrails was shaped by survey questions posed to the local community.1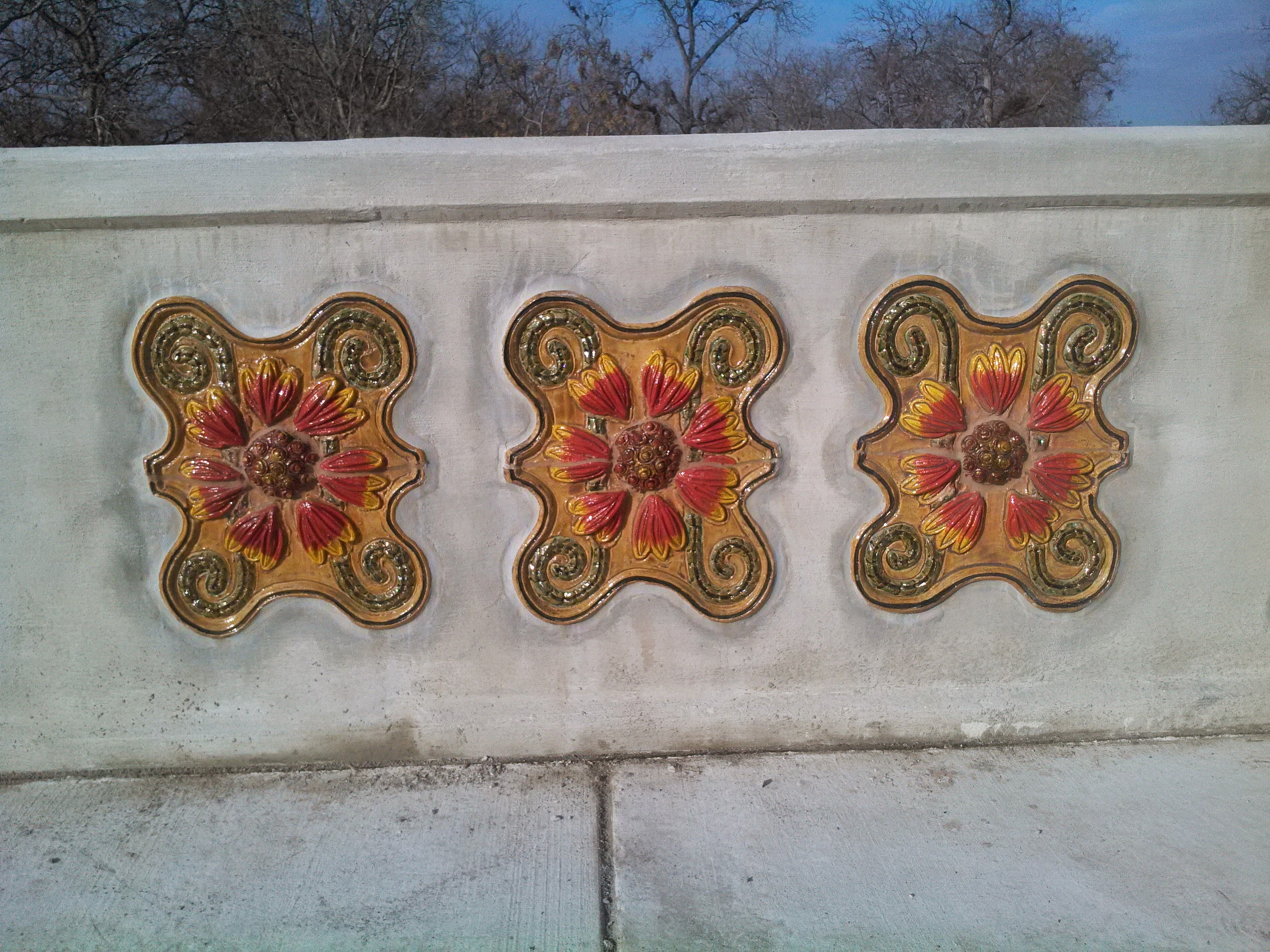 Kersey chose the Indian blanket wildflower (Gaillardia pulchella) as the iconic motif to brand the bridge with thirty-six vertical panels, like the toad and the golfer in her previous bridge artwork; she joined three different petals in random ways so that no two panels would be alike. Kersey feels that it is subtle differences that give her work the energy that can be missing from public art when it appears fabricated or manufactured.
West African Adrinka symbols informed Kersey's design for the extended rectangular frames holding oval medallion, narrative panels. She zeroed in on the Adrinka dwennimmen or "ram's horns" motif, representing humility and strength.   She interpreted its design in clay, over which she centered the Indian blanket flower. Her chosen palette of red, yellow, green, and black for the ceramic panels was symbolic of "colors traditionally associated with West Africa."2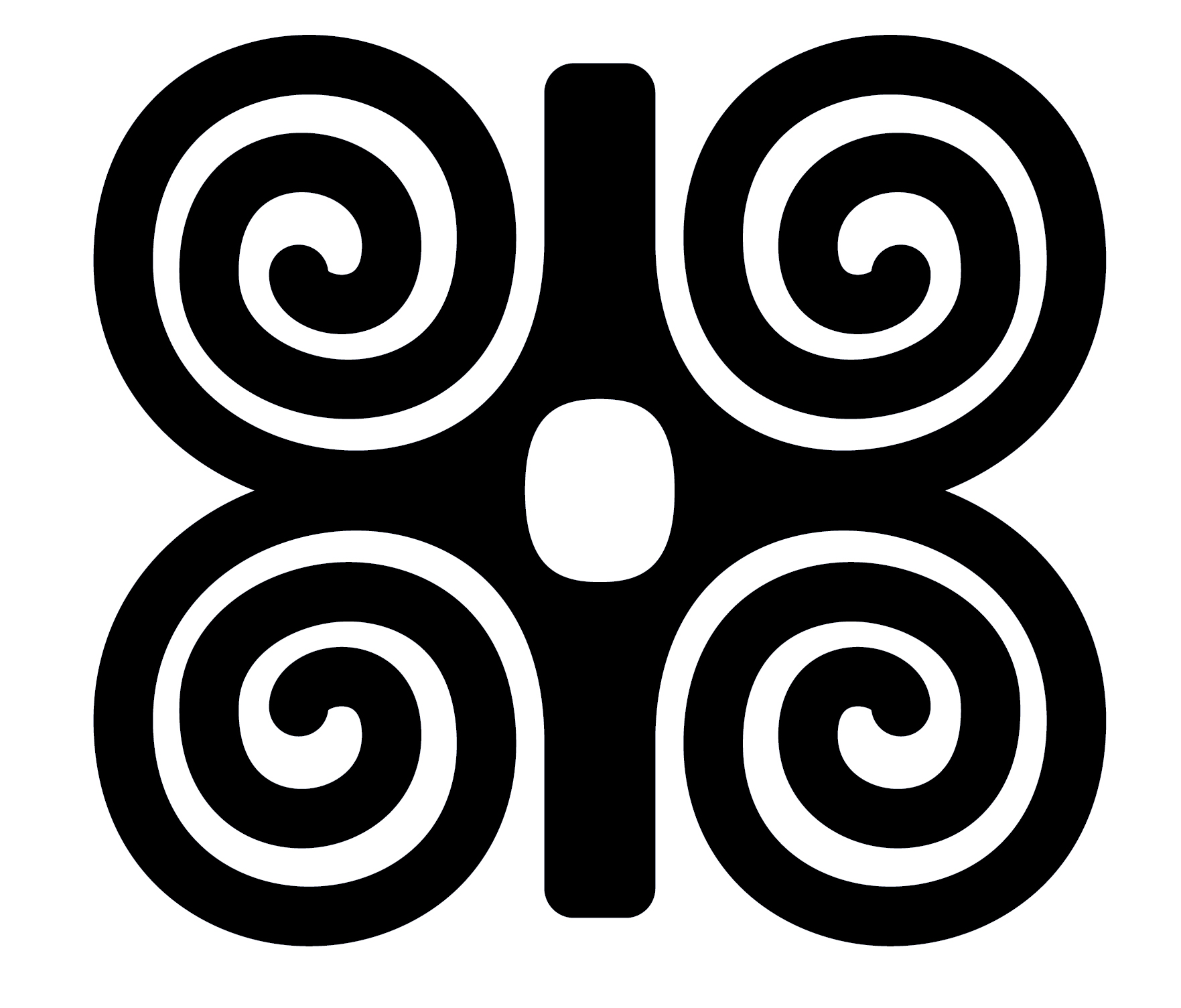 The artist memorialized, in clay, institutions significant to the local Black community, such as the Good Samaritan Hospital, the Eastwood Country Club, and the Carver Community Cultural Center. Additional historical landmarks of the area included the Joe and Harry Freeman Coliseum, St. Phillips College, a map of the Jefferson Heights Cultural Heritage District, the San Antonio Stock Show and Rodeo, the Cameo Theatre, and Inman's Barber Shop, home to John F. Inman, former president of the San Antonio chapter of the NAACP. Portraits of the armadillo (Texas' state mammal), the red-bellied lizard, the Texas spiny softshell turtle, the Rio Grande leopard frog, the Mexican free-tailed bat, the cicada, and crested caracara further populated the bridge narrative, along with milk thistle and the pecan tree (Texas' official state tree).
If a public art project lacks an immediate audience to study its details and take in its message, is it a failed project?  The Mulberry and Millrace bridges are in areas heavily trafficked by golfers, pedestrians, and automobiles moving at a slow pace where viewers can stop to experience and consider the presence of Kersey's art within its urban, outdoor setting. THE MULBERRY BRIDGE is wide with two fifteen-foot lanes with eight-foot sidewalks making close viewing of the artwork comfortable (MILLRACE is two twelve-foot lanes with six-foot sidewalks). In contrast, Houston Street has four sixteen-foot lanes and four-foot sidewalks. Cars driving down the Houston Street Bridge toward and away from the nearby AT&T Center do so at thirty-to-forty miles per hour – too fast to register the artwork's imagery – while pedestrian traffic on the bridge is thin. Kersey addressed the former challenges through color and the continuous repetition of two long panels followed by three short panels, to set up a visual pattern and rhythm that would capture viewers and alter their daily experience. Kersey knows her audience: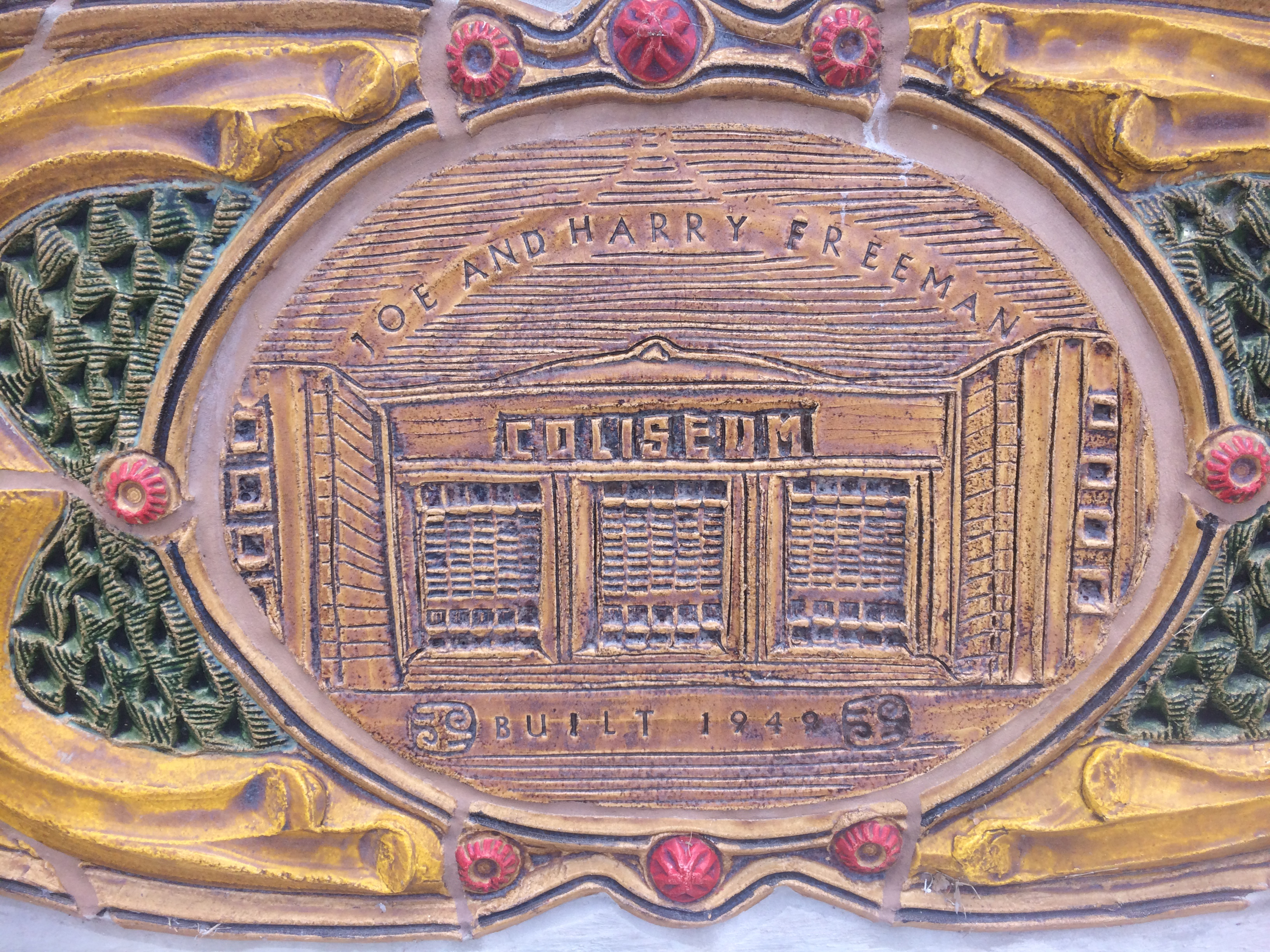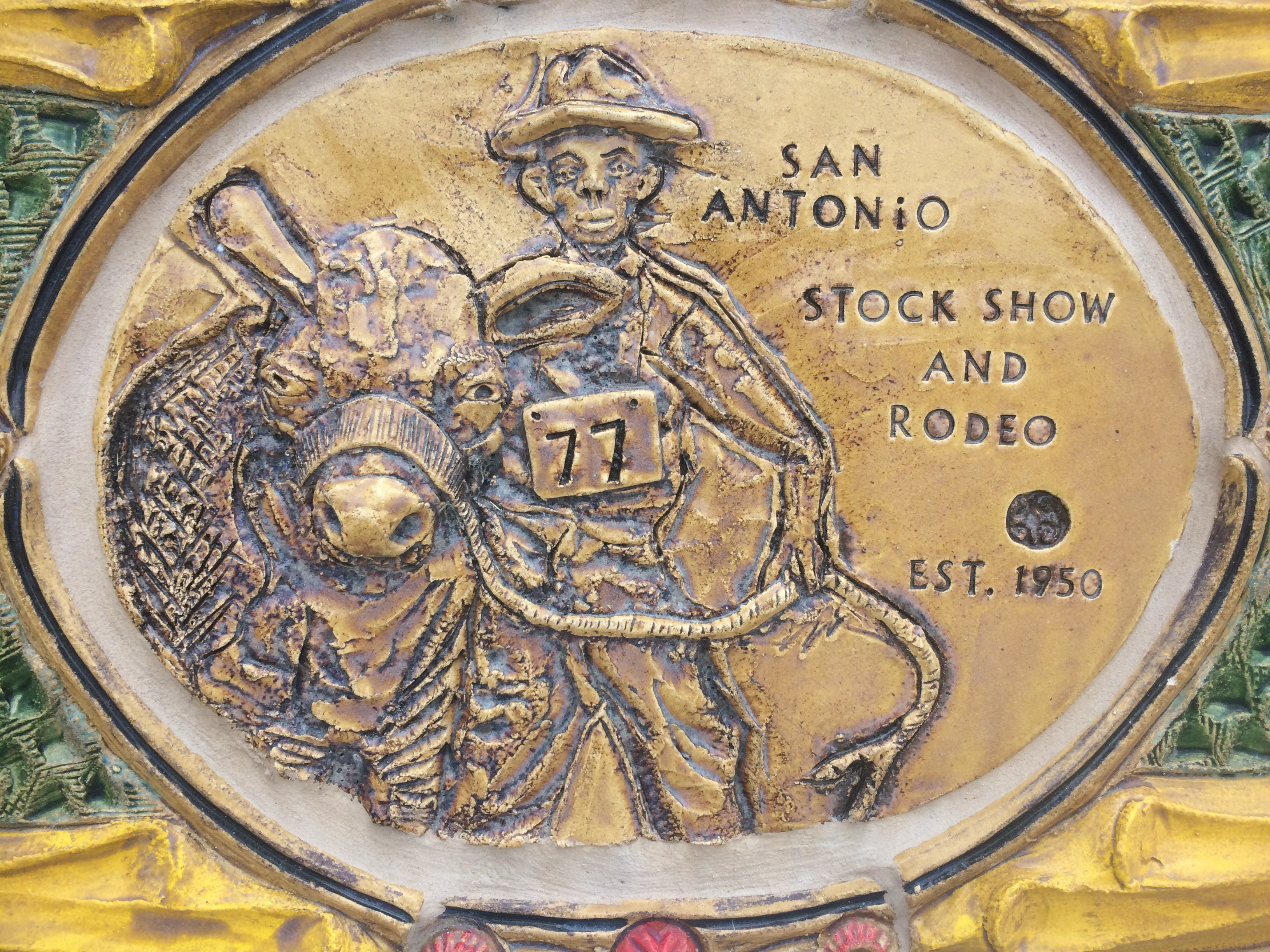 "The people who are going to use this bridge walking, I have seen them. They will be pushing a baby stroller. They are not going to be high on the economic ladder. This will be a daily trudge that they will make across this busy street all of the time. I care about those people, and I want them to have a good experience. I am trying to open up a world of what is the history of this area. If the people driving in cars never see that, that is ok. Probably my audience is really the person struggling on their day-to-day, and it is 110 degrees out, and each time they see something a little different."3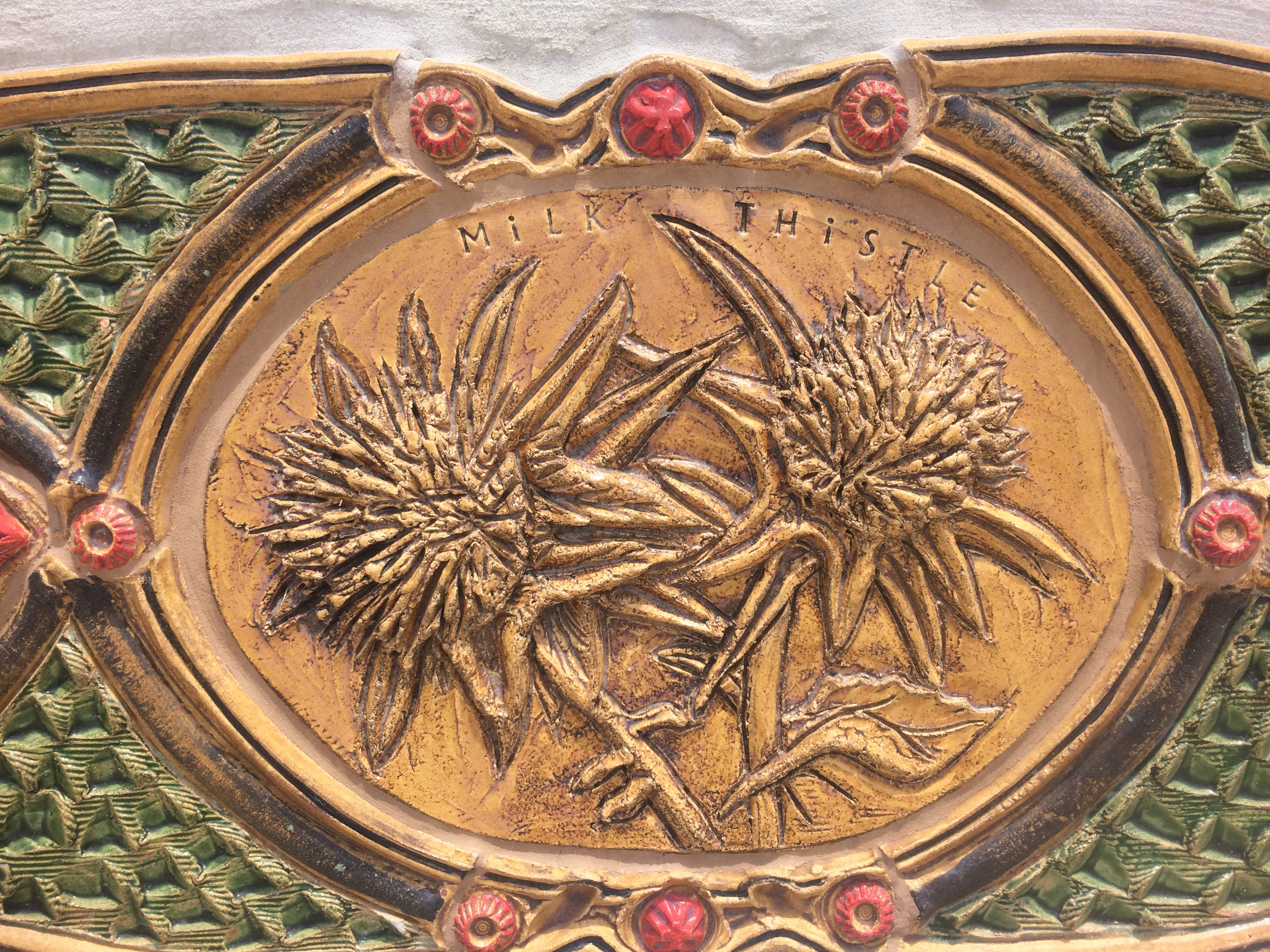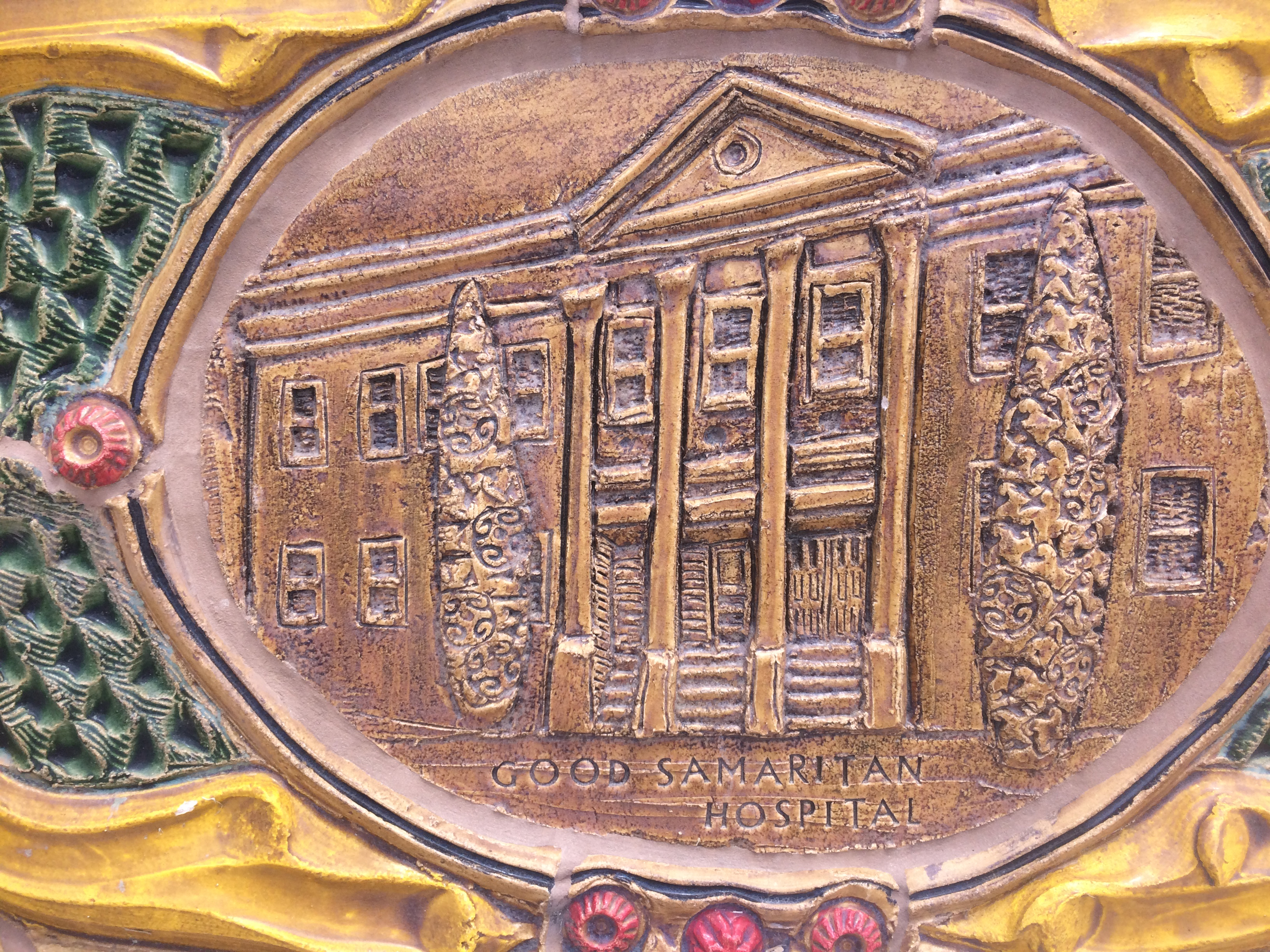 With an overall budget of $103,000 and 388 square feet of ceramic art, the Houston Street Bridge was Kersey's largest public art project to date, preparing her for the monumental Oxbow project. However, first, she would get her foot in the door with the city's VIA Metropolitan Transportation.

The Guardians
In August of 2015, Kersey answered a Request for Proposals (RFP) from VIA for public art to be integrated at the Five Points transfer area bus stop, a derelict site where Fredericksburg Road intersects Laurel Street leaving a triangular space, a vacant lot, between North Flores and La Harpe Streets. For its first Art in Transit Program initiative, VIA selected Kersey to create an iconic artwork there, a "street visible landmark" that, in tandem with the work of the landscape architects, would transform a stark crossroads into a dynamic, welcoming "urban oasis."4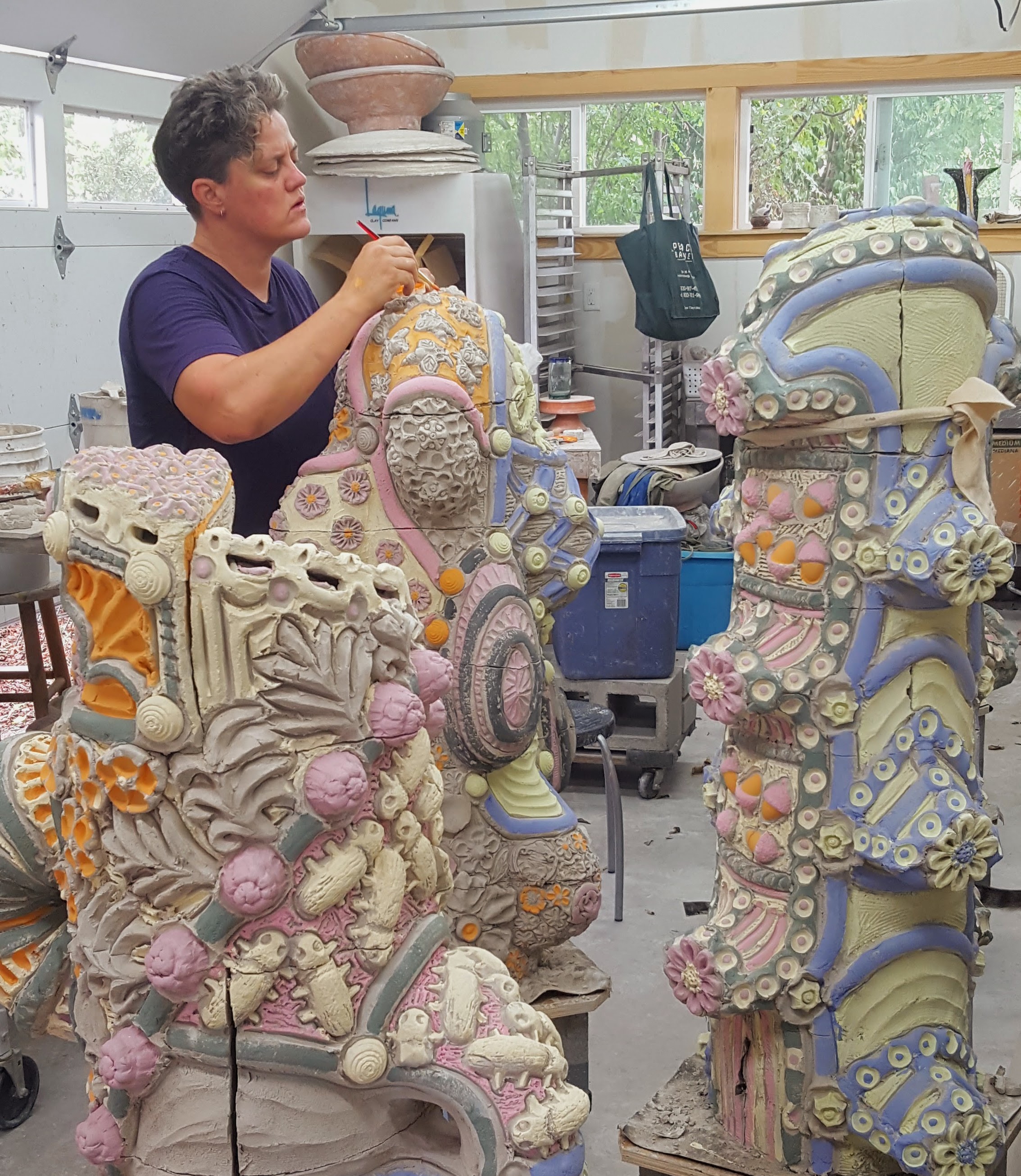 Her first time conceiving a public art project in three-dimensions as sculptural objects, rather than two-dimensional relief, Kersey built five totemic columns fifteen inches in diameter and varying in height from four and a half to six feet tall. She constructed her sculptures neither with coils nor from wheel-thrown vessels, but with extruded hollow bricks from her pugmill. Standing the pliable hollow brick upright on its two-inch-thick edge, she would press it around a cylindrical container to "form it directly into the column shapes stacking it wet, and when firm, carve, draw, add texture and glaze to the works."5 Having studied Alexandre Spelt's 1959 tome The Styles of Ornament, containing 3,765 illustrations of ancient to modern ornamentation, Kersey added tubular and knobby protrusions to the vertically assembled columns, abundantly texturizing them with her handmade sprigged forms (beetles, flowers, reptiles, ferns) to achieve a deliciously tactile, energized visual experience – a dance of organic lines and staccato rhythm.
After cutting her five columns into puzzle pieces, she applies underglaze and then glazes them in her signature palette, labeled them, and loaded and fired the kiln at 1950°F. Kersey took all of the pieces totaling twenty linear feet of column, or 166 square feet, to the site, and with a carefully engineered construction plan, she reassembled them centered on five eighteen-inch high cylindrical pedestals. From the pedestals emerged four vertical lengths of rebar. Over each column Kersey threaded horizontal, semi-circular bricks that had been bisqued and glazed. When viewing the cluster from a distance, these horizontal lines produce a visual effect of stratification. Employing the same method as that of her two-dimensional public art, Kersey cemented each piece of the sculpture into a unified whole, the visible grout lines adding dynamic complexity to her compositions. Kersey filled the empty centers of the sculptures around the rebar with Quikrete mortar and sand topping mix, securing immobility and longevity. Small openings in the sculptures allow light to filter through the silhouettes, and purposefully invite living insects and reptiles to nest. The Guardians of Five Points stand in a semi-circle spaced so that pedestrians can walk fully around each totem. Kersey envisioned that with time, the surrounding vegetation would grow, and the sculptures would become fully integrated into their natural surroundings. To surprise curious children and further marry her work with the surrounding environment, Kersey embedded additional sprigged ceramic figures into the oasis area's limestone block seating. Placed at an urban intersection, The Guardians, with its vibrant palette of turquoise, green, and amber, reflect nature; its abstracted, organic, compelling forms evoke rock formations and the majestic saguaro cacti of the Southwest desert. "In this very urban, busy corner, I wanted to introduce this idea of calm and peace and give people a respite from a busy day,"6 reflects Kersey. Certainly, through her integrated public artwork, she transformed the environment for the VIA traveler from that of an uncomfortable wait in a vacant lot, to an aesthetic experience.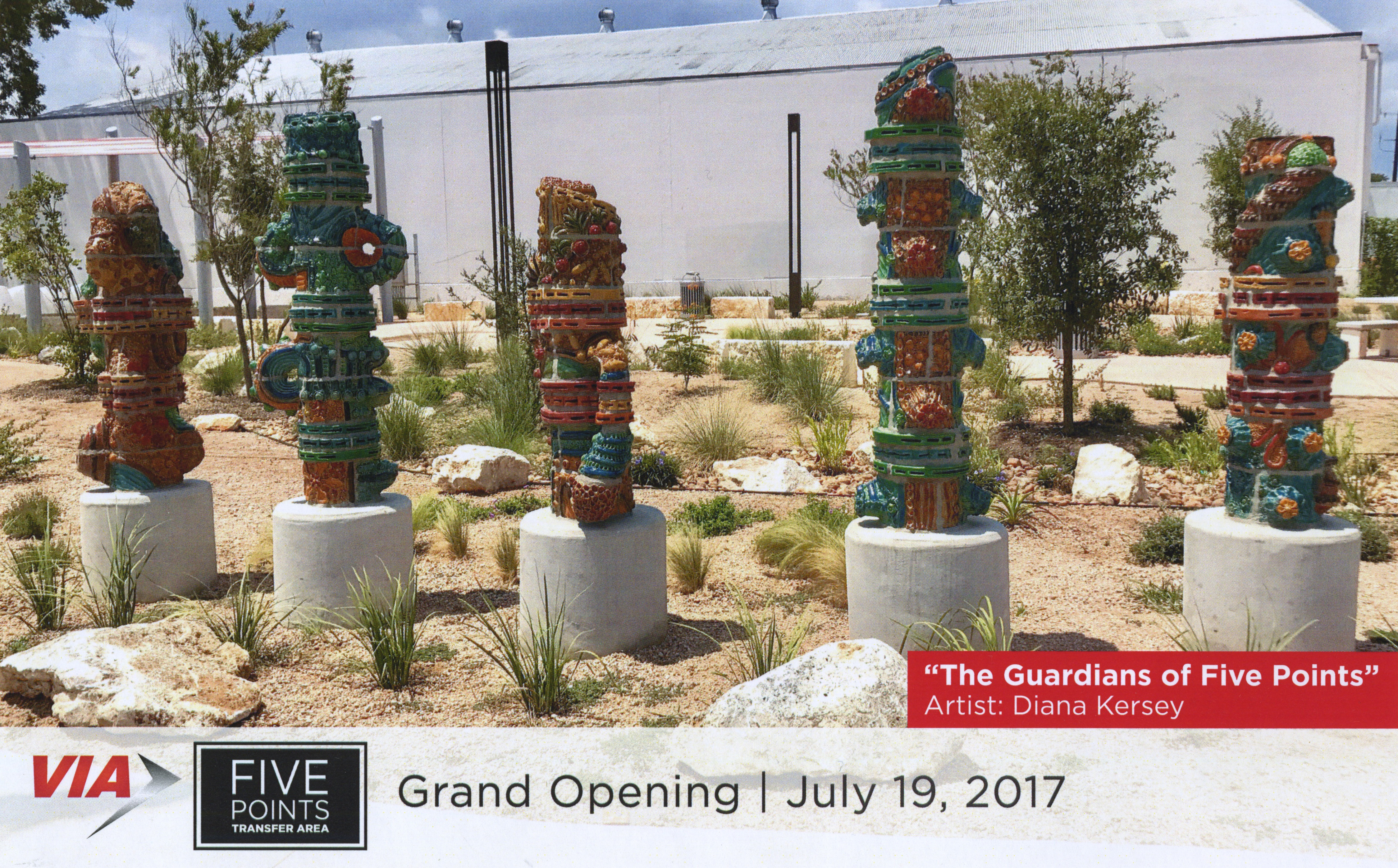 Kersey's Catalpa-Pershing Channel, Houston Street, and Five Points projects succeeded in fulfilling placemaking's goal to "transform our view of environments that were previously anonymous or forlorn by populating the mind with images of the community – its history, characters, geography –often with a decorative richness, whimsy, even humor," helping the viewer to "regain a feeling of belonging" creating a "resonance with place."7 Kersey recalls that in 2009, after completing her first public art project, she discovered the book Environmental Ceramics: Stan Bitters on a shelf in Half Priced Books on Broadway Street in San Antonio. A California-based architectural ceramist who "was never afraid of taking on anything of any scale, using massive amounts of clay and labor,"8 Bitters' accomplishments would inspire Kersey in her subsequent commission for VIA to move towards even larger scale, arriving at the epic The Riparian Edge.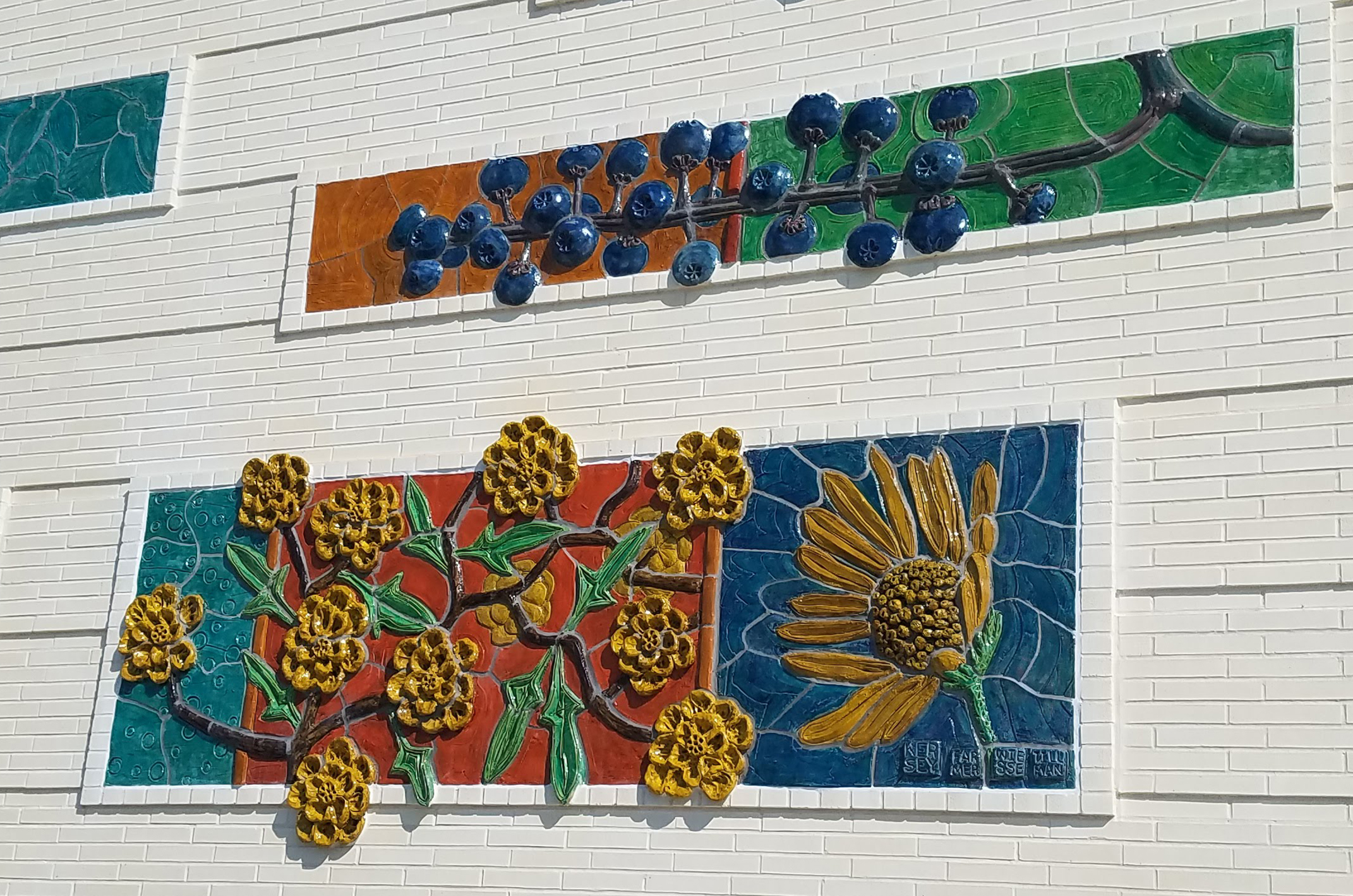 Sustenance
If Kersey were a lawyer, The Guardians would have been pro-bono work. With an allotted $20,000 budget, the artist produced a public artwork whose budget should realistically have been closer to $60,000. Kersey realized that, as the first VIA public art project, over-delivery would result in a "billboard" for her art and possibly open doors to future projects. Two month prior to the grand opening of Five Points on July 19, 2017, Kersey had answered another of VIA's RFPs, securing the commission of a ceramic mural to cover the brick façade of the Brooks Transit Center at the Air Force Base in southeast San Antonio. With a $49,000 budget, Kersey would produce 240 square feet of artwork in sections for a fifty-eight by twenty-eight-foot exterior wall. She created eleven horizontal panels spaced in an asymmetrical composition, arranged like petals around a floral disk similar to a "concrete poem."9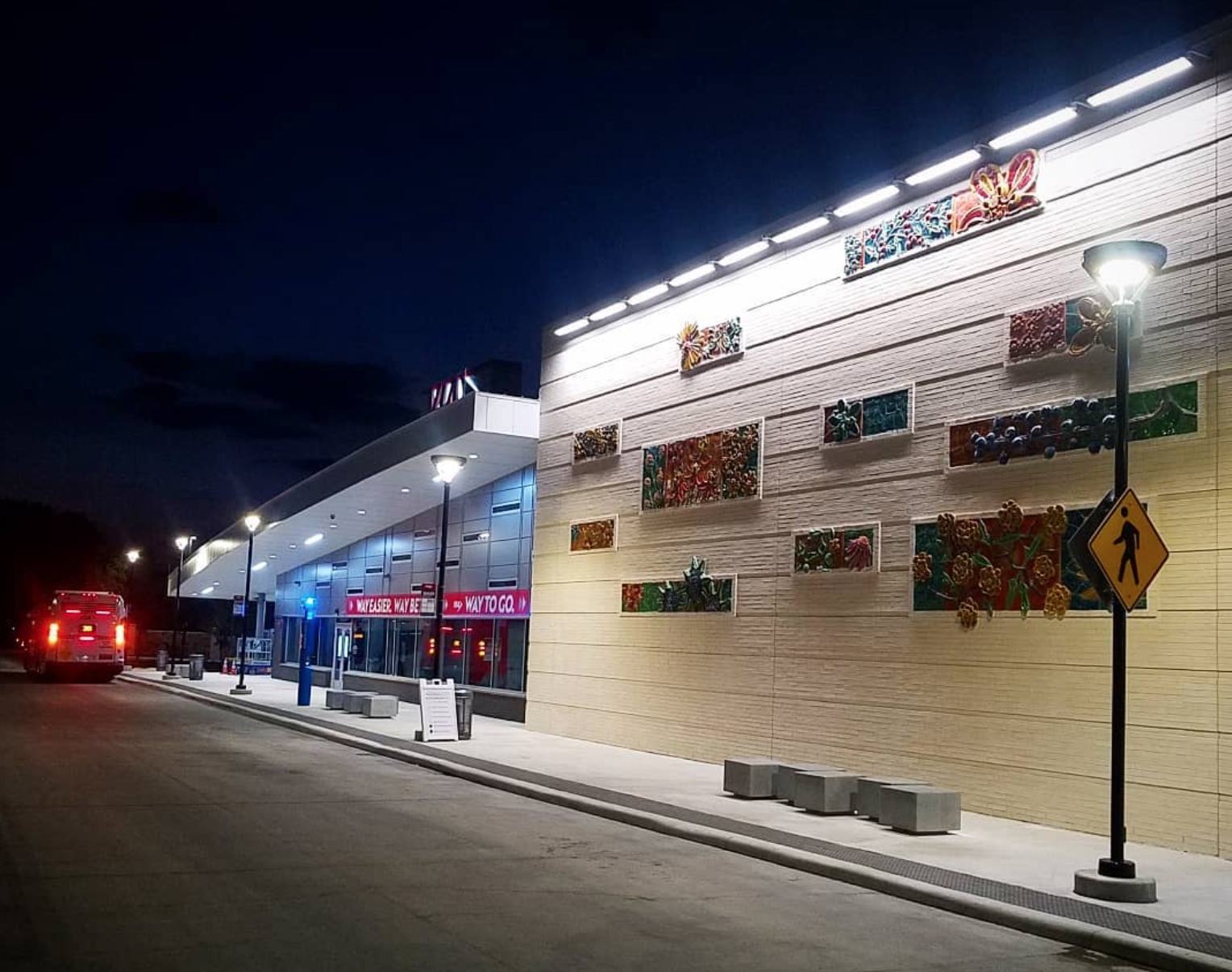 The finished artwork Sustenance "metaphorically complements the dynamic evolution happening at Brooks, a holistic, symbiotic, vibrant, and sustainable community changing the face of the former Air Force Base and surrounding area."10 Kersey once again developed her concept and imagery through a placemaking process. Just as concepts for her public art to date had been shaped in dialogue with the community, at an April 2018 meeting, stakeholders' feedback on art for the Brooks Transit Center led her to abandon the "overdone" concept of aviation imagery based on the fundamentals of flight.11 Instead, she proposed building up a variety of forms representing Texas native flowering plants (agarita, milkweed, plains coreopsis, chili pequin, thistle, Englemann daisy, lamb's quarters, buffalo gourd, coneflower, pokeweed, and sunflower) that, through their brilliant color, attract pollinators, like bees and butterflies, as a means of survival, but that also have been used by pre-Hispanic native peoples and settlers for their medicinal properties. These would be "portrayed in an immersive, explosive, and intricate composition."12 Bricks framed each of the panels, but some of the most visually successful broke out of the framed, rectangular composition. The viewer's experience of the artwork is not "immersive" or interactive in the way that The Guardians are at street-level. The height of the artwork creates a distance with viewers and likely provokes in them a longing to touch that which is tactile, exuding physicality, but is placed physically out of reach.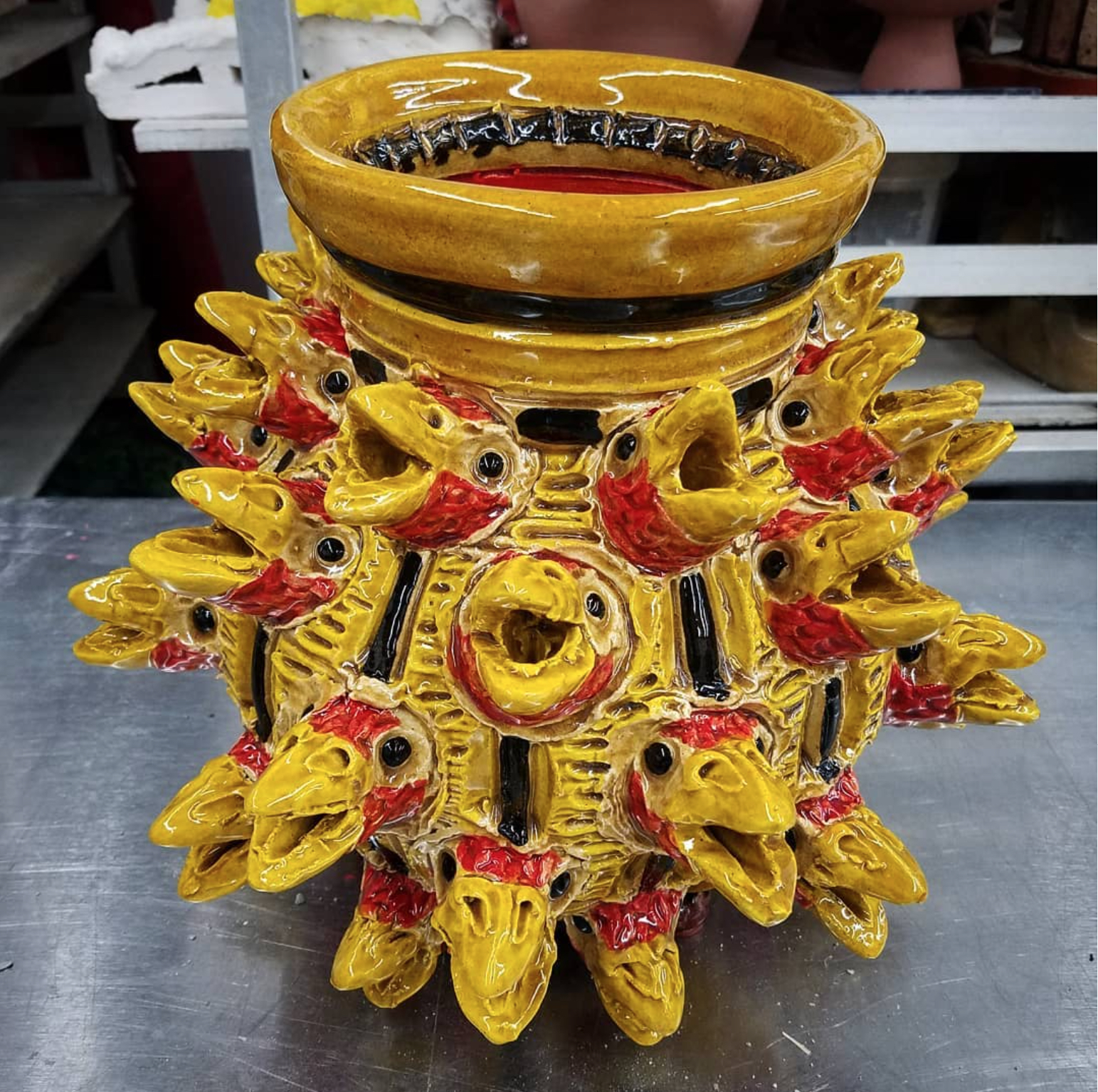 Epic Scale
On September 15, 2016, when Kersey was still working on The Guardians in her studio, she received a cohort of visitors from the Don B. McDonald architectural firm who arrived to select ceramic platters for the lobby of the Cellars Residential complex at The Pearl on the San Antonio River. They left with six, a Bird Barrel vessel, and the idea of incorporating Kersey's art into a major project. The architecture firm would be constructing the eight-story Oxbow Building at 1803 Broadway Street at Grayson (a Silver Ventures project13), adjacent to the Pearl Brewery. The 110,096 square feet of commercial space would house the Pearl Offices, be the first commercial structure in the city to use geothermal power for heating and cooling,14 and serve as the gateway to the Pearl District. Participating in efforts to revitalize the city center business district, Oxbow was "created to encourage human interaction and plaza-making. The premier offices will be situated among light-filled public spaces with storefronts, café patios, and tree-lined courtyards that blur the line between the time to work and time to linger."15 As critic and urban planner Ronald Lee Fleming explains, "Every place has a story to tell … Even brand new developments on bare ground have their stories, which may be rooted in the ground, in the archaeology or the geology of the site, or in the flora and fauna that characterize it."16 Kersey would tell that story through her place-specific art; with a $197,000 budget, she would create two monumental ceramic murals on the façade of Oxbow.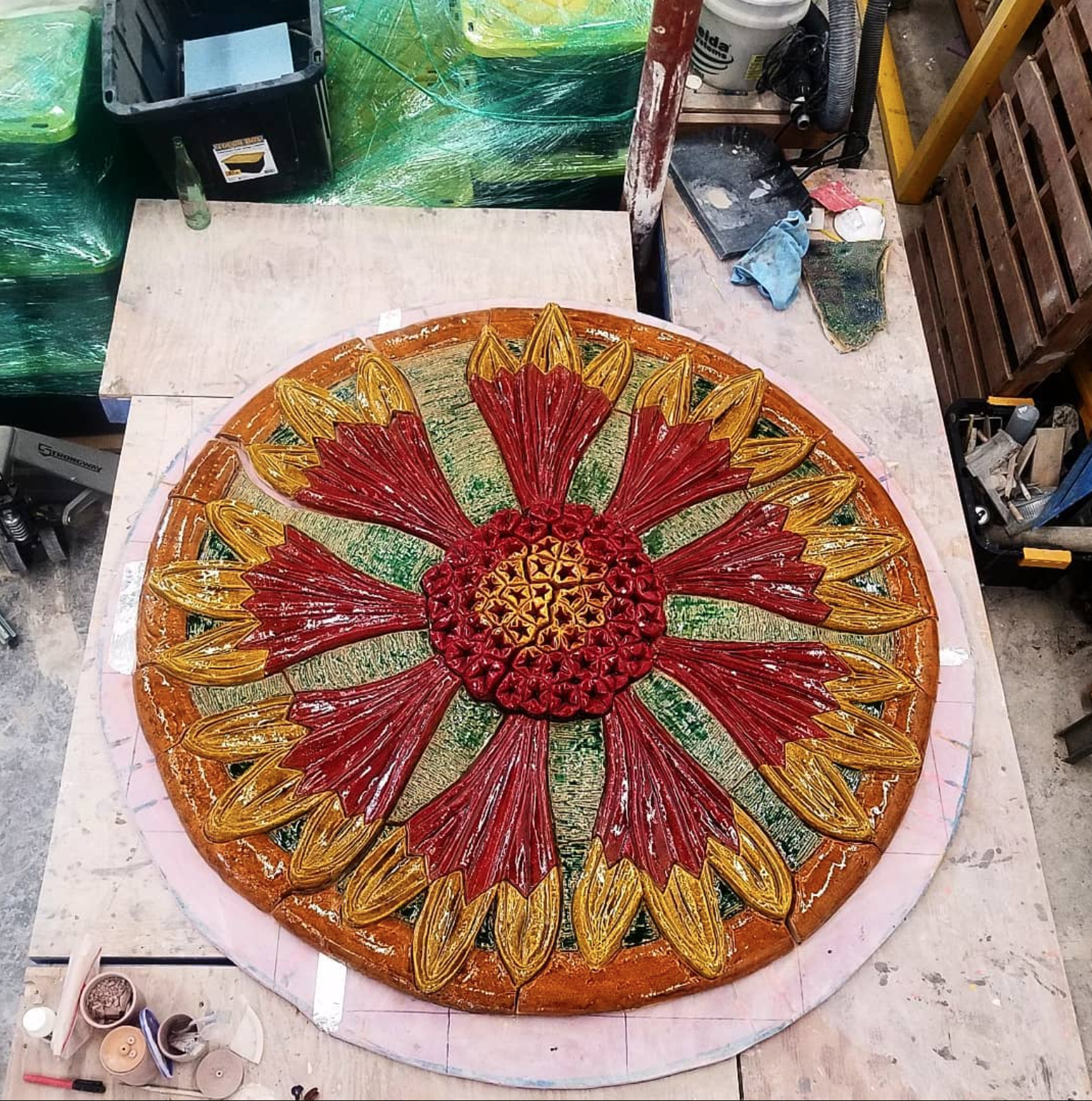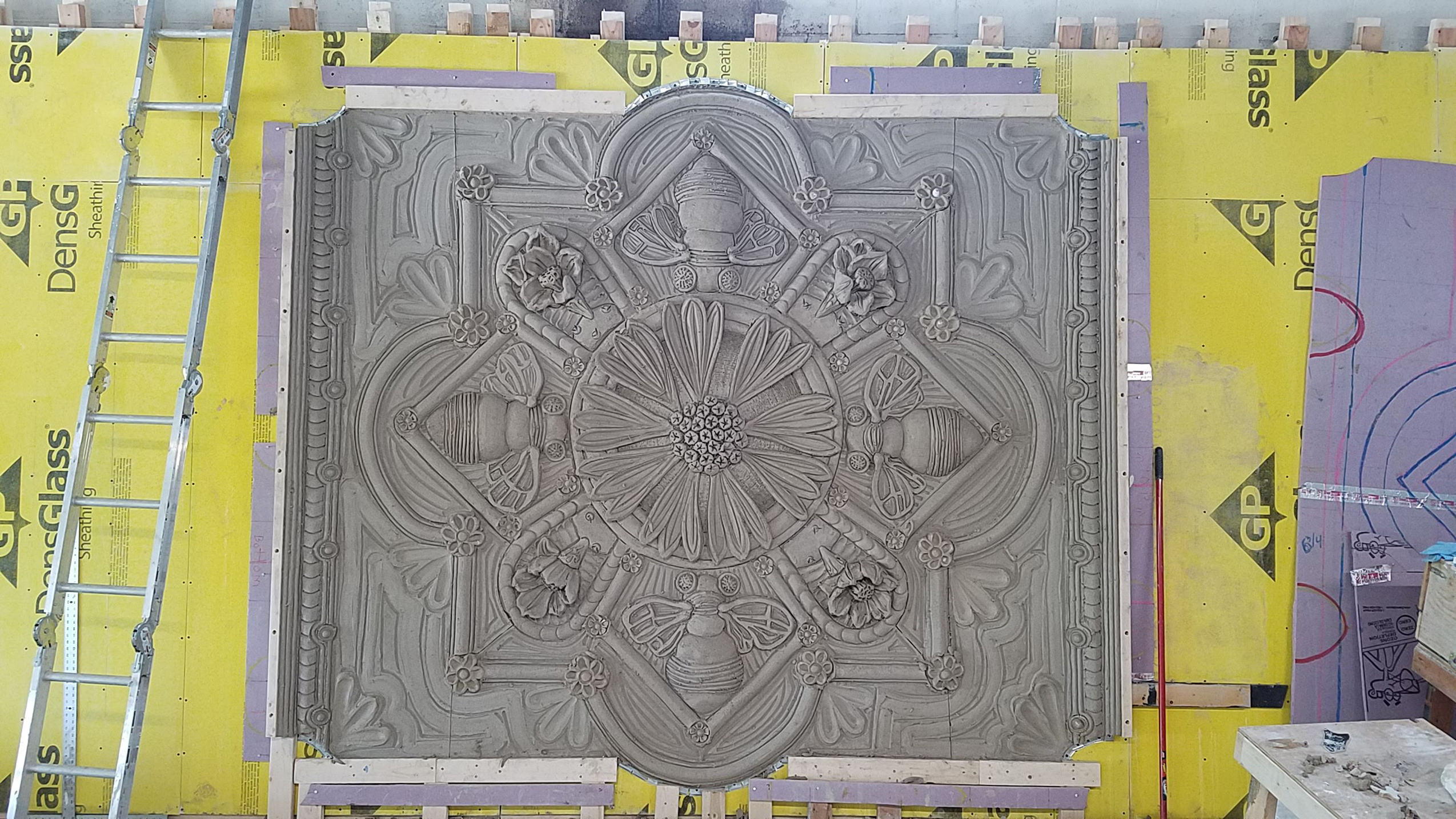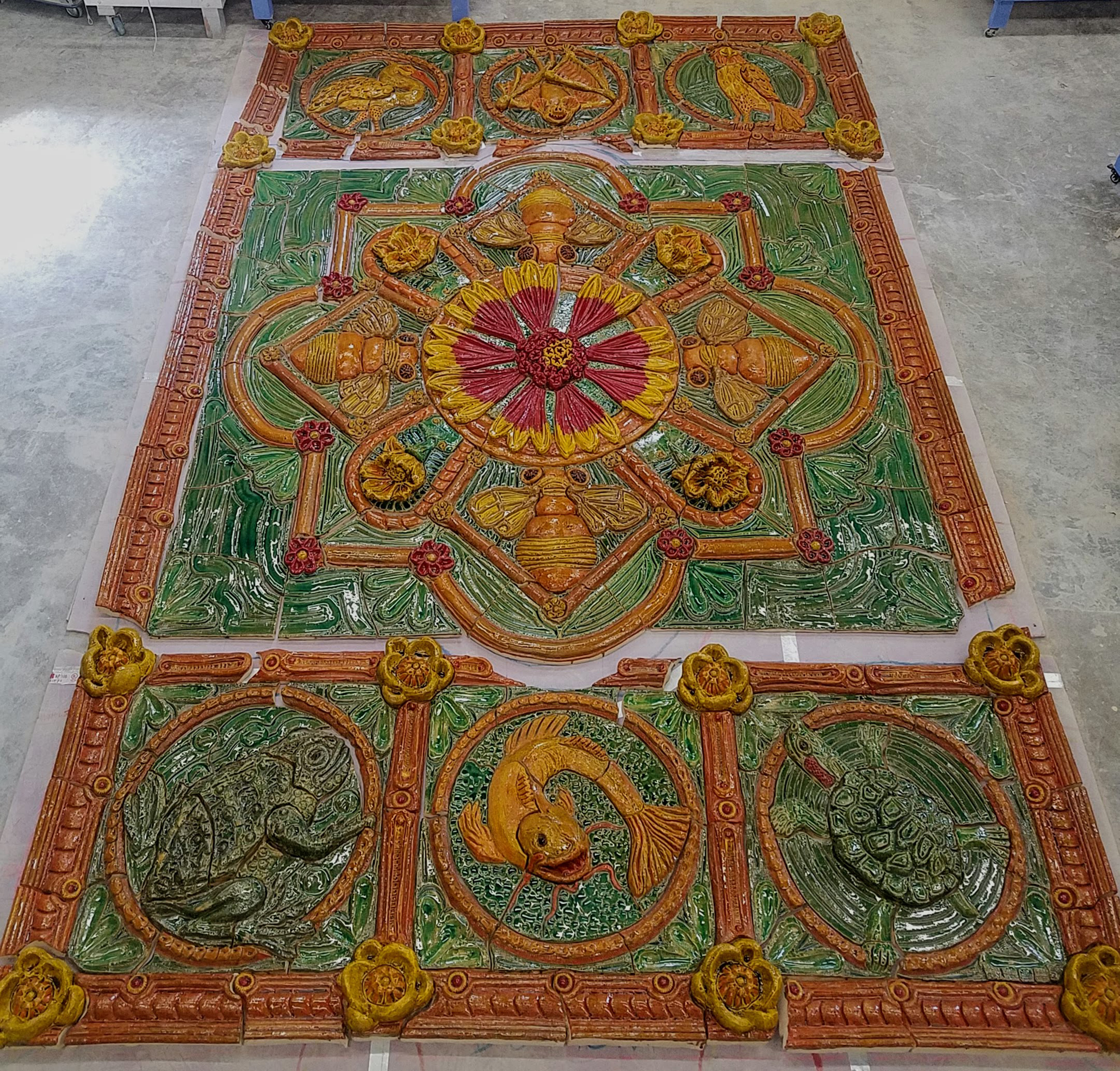 Renting a warehouse gave her sufficient space to build the twenty-nine by twenty-five-foot mural for the Broadway Street entrance of the north tower, and the fifteen by ten-foot mural for the east façade. Consistent in her focus on the intersection between community, nature, and place, Kersey would address the interface between the adjacent San Antonio River and the surrounding land, an area called "The Riparian Edge," the concept to which the mural's title refers. Kersey proposed to "weave a visual allegory of fish, reptiles, mammals, birds, and plants native to the San Antonio watershed, with architectural elements inherent in the building's design (Quatrefoils, Cornices, Ornamental trim, etc.)" celebrating "this special 'zone of life' for both the natural world and the human-driven infrastructure being created."17 Once again, Kersey employed meaningful geometric design to showcase significant local flora and fauna featuring the Indian blanket as the central axis of both murals with bees and cicadas immediately surrounding this flower so prevalent in the San Antonio River basin. Framing the central design on the East-side mural, circles contain the great blue heron, animated Mexican free-tailed bats, the red-tailed hawk, a reappearance of the GULF COAST TOAD, a yellow belly catfish, and a red-eared slider turtle. The arched mural for the North-side entrance additionally features the yellow prickly pear cactus flower, also widely present in South Texas. These relief figures are imbued with character, activated through pattern, and crafted with Kersey's insistent physicality.18  Having shaped the city's public face during a ten-year trajectory in public art, Kersey successfully arrives at monumentality with the scheduled installation in the spring of 2020 of The Riparian Edge murals.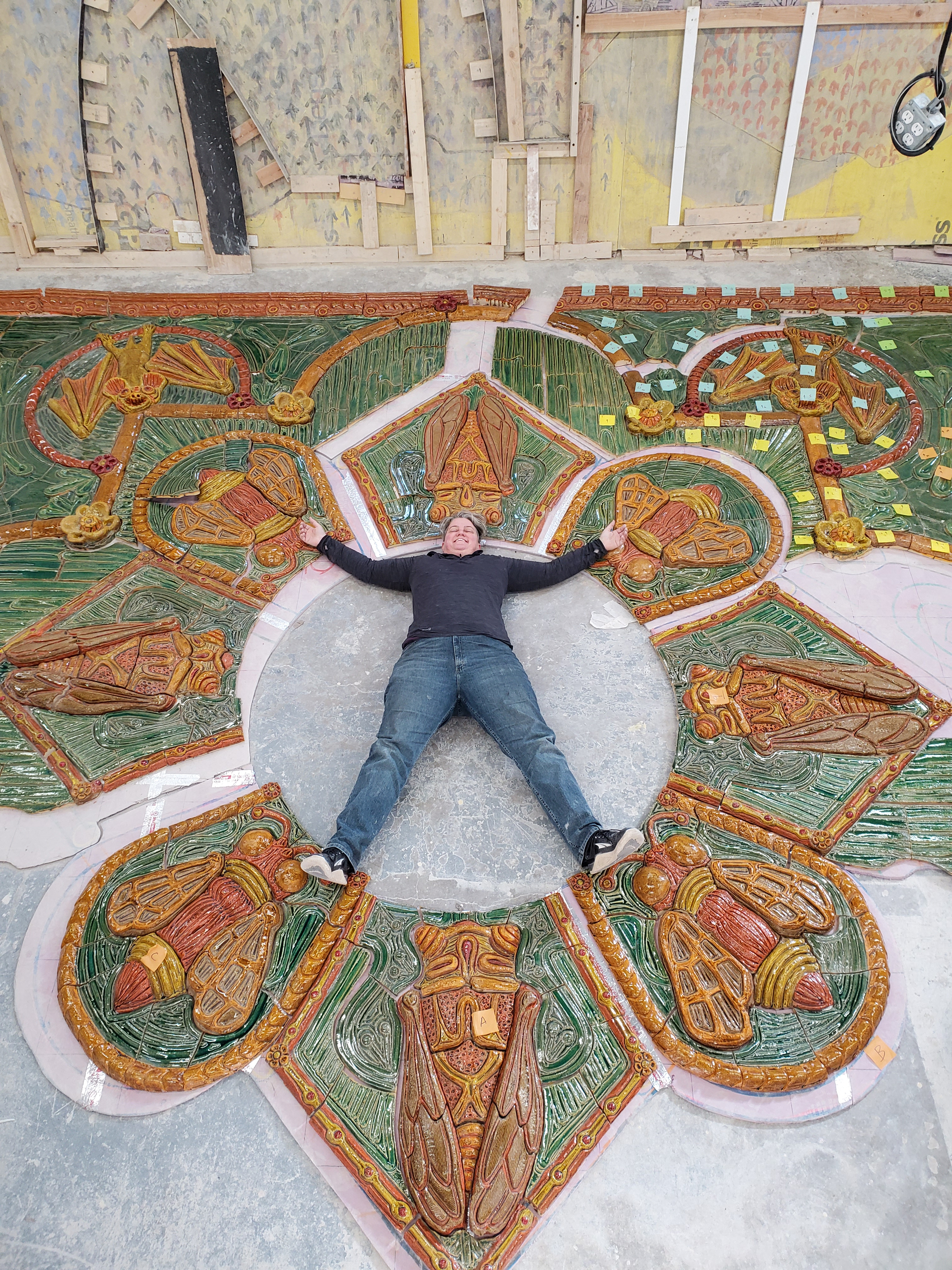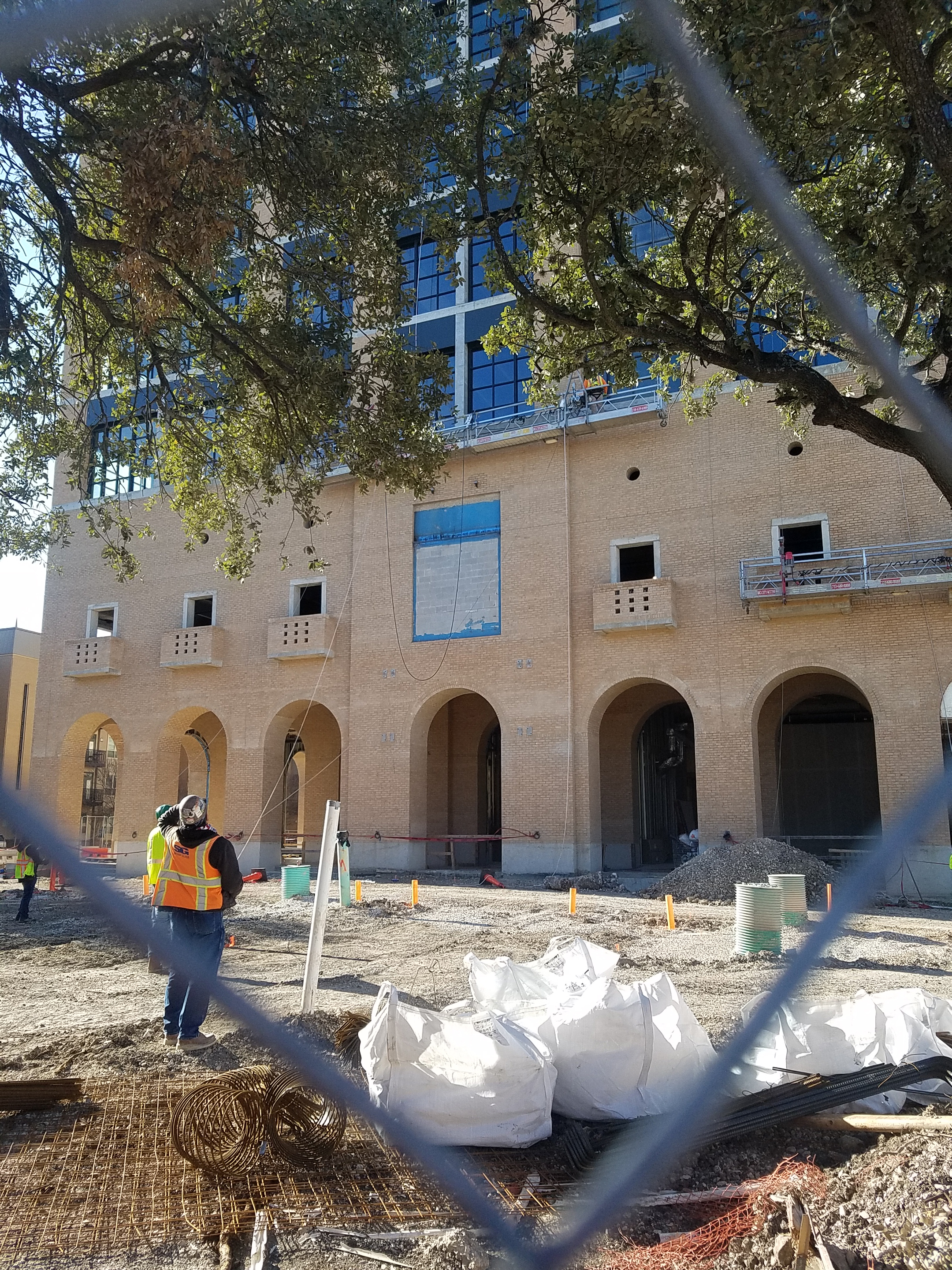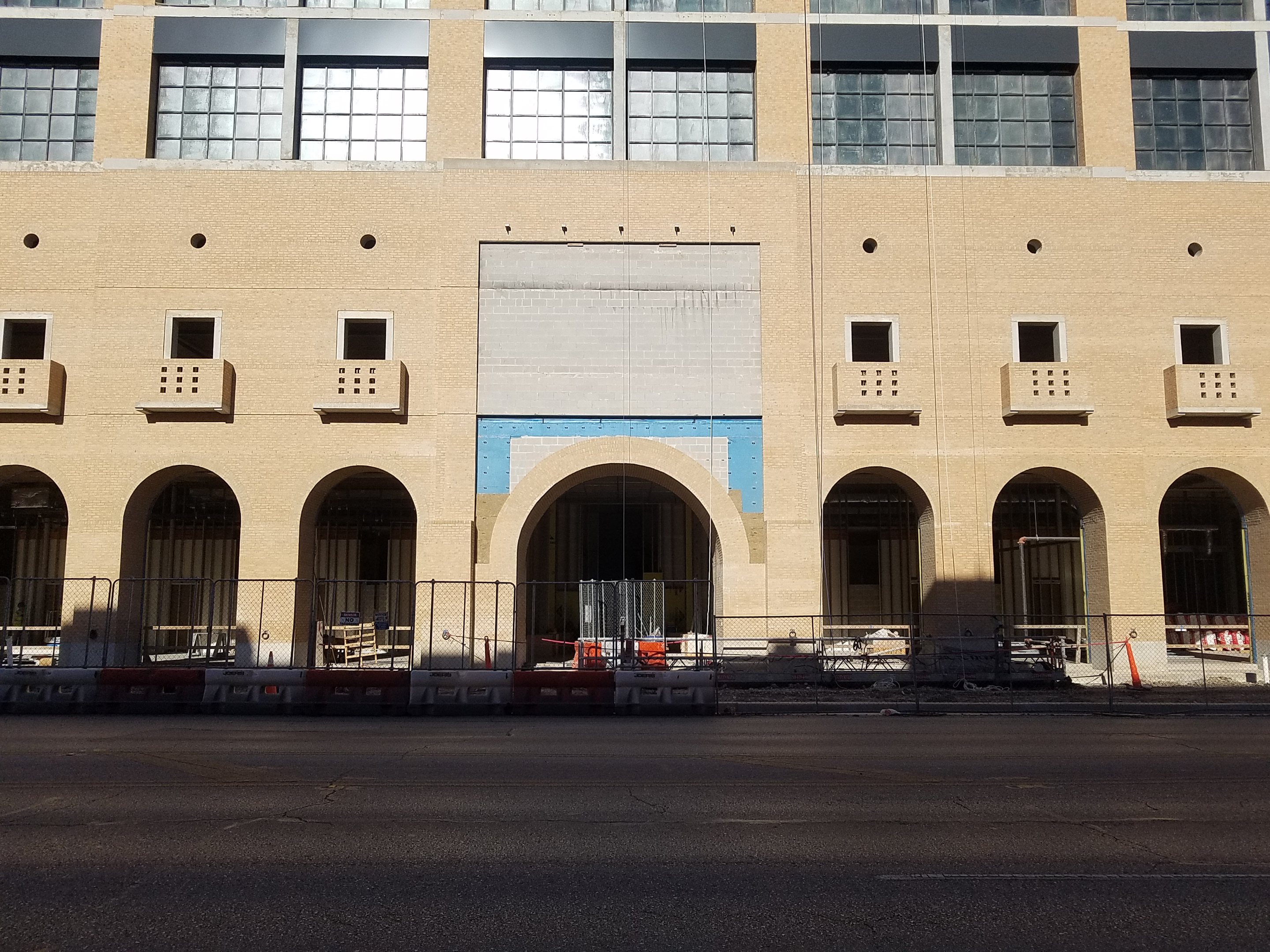 Making Her Mark
The stamp that Kersey has placed on public art in San Antonio is so much more than the final act of pressing her name into wet clay. Her approach to art is a blend of humility mixed with skill, wisdom, and perseverance: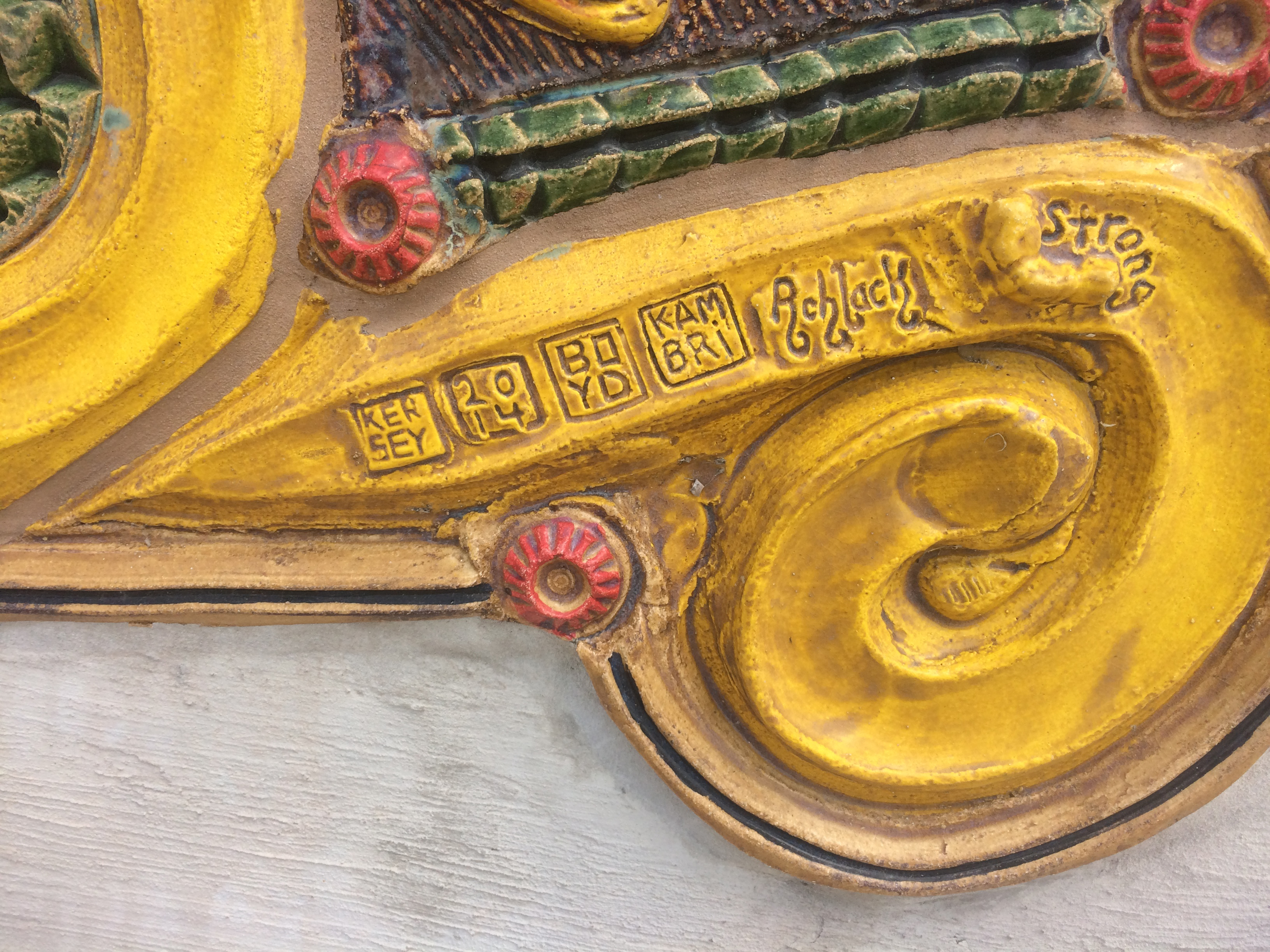 "I have been a student of the possibilities of the materials. The repetitious rhythm of making pots lends itself to experimentation. I hardly ever make the same pot twice, always trying different designs, glaze combinations, etc. It is through making, rather than thinking, that I have developed as an artist. I suppose that making art this way is like playing a game of pickup basketball back in the day. So many variables, so many decisions to make, and so many opportunities to make them. You learn failure is a part of success. Just like not every play will work as drawn out on paper, not every pot will make it through the process as desired, but each time you learn something that feeds into the next attempt. You are playing the law of averages. If you keep at it, something will start to work out."19 
In this series we have followed Kersey from athlete to studio potter, to public artist and full-time professor. She has kept her relationship with her community in the foreground. "It is a humbling thing to be asked and paid to do something for your city and community that is going to outlive you. In public art, I really do work for the public."20 She affirms that creating for the public is an opportunity to have uplifting, aesthetic experiences in daily life. Kersey has repeatedly shown her commitment to craft and the mark of her hand over fabrication, homogenization, or standardization. Prioritizing historical research as a means to interpreting place, she has achieved with her artwork what is so fundamental to placemaking, the "capacity of a tangible physical environment to live on in the mind"21 of the public. By creating place-based public art, Kersey has consistently engaged memory and re-established identity. Her artwork is a powerful reminder of the coexistence between humans, the built environment, and the natural world.
1. The survey included the questions: 1. What do you like best and least about public art? 2. Are you a resident of the area, business owner, commuter, or represent an organization that has an interest in the project? 3. Do you have any stories, known history, or information about the area surrounding the bridge that could help us with this project? 4. What would you like or not like the artwork on the bridge to represent? And 5. Who else should we reach out to and why?
2. Kersey quoted in Kay Richter, "Public Art Depicts Culture, History on Eastside Bridge," The Rivard Report, February 22, 2015, therivardreport.com/public-art-depicts-culture-history-eastside-bridge/.
3. Author recorded presentation by Marcus Connolly and Erin Peters with Diana Kersey to students enrolled in AHC 4333.1FB/5813.1FB on-site at the Houston Street Bridge, San Antonio, Texas, June 26, 2015.
4. James Courtney, "Public Works: VIA Taps Local Ceramics Master Diana Kersey for New Five Points Installation," SA Current (December 7-13, 2016): 29.
5. Diana Kersey, "Cost Proposal-Public Art-Five Points Transfer Area." Diana Kersey Digital Archives (hereafter DKDA).
6. Merrit Chilton, Violet Davis, and Tetra Jacquez recorded interview with Diana Kersey in the artist's studio, November 18, 2018.
7. Ronald Lee Fleming and Renata von Tscharner, Place Makers: Creating Public Art that Tells You Where You Are (Boston: Harcourt Brace Jovanovich, 1987), 3.
8. Diana Kersey, e-mail to the author, November 16, 2019.
9. A key element of concrete poetry is its pictorial expression; letters, words, or symbols are arranged to produce a geometric or graphic, pattern or image to help convey meaning.
10. The placard is on the lower façade of the Brooks Transit Center building.
11.The second of 22 bullet points in Kersey's notes from the stakeholder meeting held April 3, 2018 states "No more planes/Air Force stuff. OVERDONE." Folder "Concept-Description VIA Brooks," Diana Kersey Archive (hereafter DKA).
12. Diana Kersey, "Concept-Description VIA Brooks." DKA.
13. Silver Ventures is a San Antonio-based private equity investment firm active in the food industry and real estate.
14. Madison Iszler, "Silver Ventures Releases Details of 8-Story Office Building Near Pearl," www.mysanantonio.com/real-estate/article/Silver-Ventures-releases-details-of-8-story-14431360.php.
15. Adolfo Pesquera, "San Antonio Silver Ventures Unveils Features of the Oxbow on Broadway" Virtual Builders Exchange, September 11, 2019, www.virtualbx.com/industry-news/san-antonio-silver-ventures-unveils-features-of-the-oxbow-on-broadway/.
16. Ronald Lee Fleming, The Art of Placemaking: Interpreting Community through Public Art and Urban Design (London and New York: Merrell Publishers Limited, 2007), 16.
17. Diana Kersey, "2 Preliminary Silver Ventures Concepts-Riparian Zone and Edge Effect," January 14, 2019, DKDA.
18. Assisting Kersey on the Oxbow project were Ali Wiesse and Allysha Farmer for the entire process; additional assistants were Callie Luhrman, John Shearer, and Jaime Wade.
19. Diana Kersey e-mail to the author, November 16, 2019.
20. Author recorded presentation by Kallie Pfeiffer and Yanette Rodriguez with Diana Kersey to students enrolled in AHC 4333/5813.01F on site at Mulberry Street Bridge, June 25, 2014.
21. Ronald Lee Fleming, The Art of Placemaking: Interpreting Community through Public Art and Urban Design (London and New York: Merrell Publishers Limited, 2007), 17.