INTRODUCTION
The National Council on Education for the Ceramic Arts (NCECA) is an organization whose purpose is to stimulate, promote, and improve ceramic education and the ceramic arts.
In May of 1994, a proposal to hold a symposium on ceramic criticism was made to the NCECA Board of Directors at their annual conference planning meeting. The idea, put forth by Emily Galusha, director of the Northern Clay Center in Minneapolis, Minnesota, was to organize a symposium around three "conversations," each between a ceramic artist a critic and a moderator, with audience participation.
The 1995 NCECA conference Borderline Clay was held in Minneapolis, and provided an ideal opportunity to collaborate on such an event. The first "conversation" between Adrian Saxe and Ed Lebow, moderated by Stephen Carpenter, was held during the conference program. The other two sessions occured following the adjournment of the conference, one with Betty Woodman and Janet Koplos, moderated by Cliff Garten, and the other with Mark Hewitt and Janet Mansfield, moderated by Emily Galusha. There was a final lecture, presented by Gary Kornblau, incorporating highlights of the previous discussions.

One of my personal goals as NCECA Publications Director is to promote critical dialogue and writing. This signature Edition of Studio Potter magazine, a collaboration amongst three organizations, has provided a vehicle in which to reach an expanded audience. It is our hope through efforts such as these that the critical discussions which occurred will be enjoyed by many more people and stimulate further dialogue.
By Robert W. Harrison
(Original Editor's Note: The following is an edited version of the verbatim transcription of the symposium held in conjunction with the annual conference of the National Council on Education for the Ceramic Arts in Minneapolis, Minnesota, March 24, 1995, and co-sponsored by NCECA, the Northern Clay Center, the University of Minnesota and the McKnight Foundation.)
THE FIRST CONVERSATIONAL SESSION
Adrian Saxe and Ed Lebow, with Stephen Carpenter, Moderator
Carpenter: About nine months ago, Emily Galusha, Cliff Garten and I started discussing how we might best bring together artists and critics with an audience for a series of discussions on ceram­ics criticism. We didn't want a typical panel discussion. We want­ed the audience to be a part of the discussion because these are the issues that will affect it or that it has direct ideas about.
[Today] we would like to focus on six topics: 1. Making and Thinking, 2. Artifice and Meaning, 3. Marketing and Academia, 4. Borrowing and Originality, 5. Boredom and the Exotic, and 6. Nurturing Intuition.
When [thinking] about criticism and interpretation, I like to use both terms together. At Penn State, where I teach undergraduate elementary education majors, I've found that if you take works of art and put them at the center of instruction, you can branch off to all sorts of ideas. You can branch off to history, you can go to technology, geography or science. When you start with works of art, you can get there in ways that you might not be able to: looking at other things at the center. So if you think of criticism as evaluating or judging in terms of good and bad, or "this works and this doesn't," well, that's fine. That works for some people. But we also might think of interpretation, where we're constructing meaning and dealing with ideas, [what] things mean. 
When [talking] to my students, I say criticism is like asking the Jimmy Olson questions: who, what, why, where, when and how is this. You get a response, and you can make a direct connection. But when you start asking: who, what, why, where, when and how does this mean, than you start to get into issues of history and sociology and politics and economics and other juicy issues that Ed and Adrian like to talk about. Today we might think about those ideas, about meaning and how meaning is created. 
Saxe: I always wanted to make sculpture and do something other than pottery when I was a student. This was not a response to teachers and painting, [but] always wondering what was cooking down in the clay shop. Early on I was interested in tying imagery and form to ideas in language, and having language be the key to unlocking meaning. 
Another thing I was particularly interested in was 18th-century porcelain from Sevres. These pieces are from the early phase of the Sevres factory under Louis XV. This imaginative, very bizarre and original developmental form was something that I didn't understand. There's no tradition for that beforehand. It was excit­ing and interesting work. 
I went to Sevres in the early '80s and saw that all the pieces were quite small and that their bases and mounts extended the pieces into a greater space and with greater presence. Those were the biggest pieces they could make at the time, and [even then] they had to do them in sections to pull it off—and they're [still] full of cracks. It's interesting how presence is constructed and how affect and communication of affect works. 
I started doing jars with antelopes and other animals in 1973. This was my first insight after intuiting a number of things and mimicking European traditions that I'd seen. I started to put it together and construct meaning in my pieces with the opposition of natural versus culturally mediated forms, where intelligence and refinement [created) an economi­cally complex situation and the technology to do it. 
In 1986, I started working with text. I had a perception while driving down the freeway that text could inexorably tie these elements together, whereas what was done in the 18th century and earlier was to tie the exotic nature [of the pieces] to the environments they were put into. 
I've always looked for and been interested in trying to figure out an appropriate craft-based response to our soci­ety. Being able to assemble experiences in a way that is meaningful to me is something that I'm happy about 
being able to do now. [My new works are] represen­tative of the things that I still don't understand but am trying to sort out. I'm trying to construct histories and memory and poetry by assembling references that are meaningful in different ways to different people. But to me they are very spe­cific. I've been looking at things in popular culture that are intriguing, borrowing titles and building pieces around them or finding titles that reveal something about the work. 
Lebow: On the face of it, criticism sounds like such an inhumane thing. So I will make a few comments about my own criteria and how I perform this vicious act. 
One of the assumptions I make is that the artworks I review are themselves a form of criticism, coming from a long, sometimes ongoing process of reflection, revision, mistaken directions, cor­rections and refinements. This criticism isn't imposed by critics or other interested bystanders but by artists themselves as a natural part of refining, improving and strengthening the character of the things they make. This critical faculty is a fundamental part of cre­ative thought. It has helped and haunted artists for years. 
For instance Cezanne, close to the end of his life, wrote a mov­ing and telling letter to his friend the painter Emile Bernard, saying that he didn't know whether his "frail reason" as a painter would hold up, whether he would ever achieve what he hoped and envi­sioned for his work. He was talking, of course, about the most intimate form of success: the success of his own work in his own eyes, measured against his own private sense of how his paintings should look, what they should say, and perhaps even how he wanted them to make him feel. He said something to the effect that he was always studying after nature and seemed to be making slow progress. Which makes me wonder if he was making slow progress and his work was little more than a compendium of mistakes which he spent his lifetime correcting, then where did the rest of us go wrong? Have we been using the wrong criteria? Criteria that misses the heart of his effort? Or have we simply been using a different set of standards? The standards established by the work itself? 
I mention this not only because it indicates why artists aren't necessarily the best judges of their own efforts but also because it points out the crossed purposes of artists and critics. Artists tend to think their next work is the best one. Critics aren't privy to what­ever crystal ball makes artists think that. All we have to go by is the finished work itself. Yet if the work is any good, it exerts its own criteria on what and how we see and, ultimately, how we begin to think about what we see. It directs our thinking in a way that leads us to under­stand or feel something about its artistic purpose, its meaning. 
I'd like to talk more about th is process of looking, because it's obviously a large part of what I do. The first step is getting an impression—getting the hang of the work. There's a fine literary critic and editor named Ted Solotaroff who wrote somewhere that it is important to distin­guish between making an impression and having one. There's a certain entertainment value in making an impression, and I'm certainly guilty of attempting that from time to time. But the real work, the real challenge and pleasure of criticism, is being open and empathetic enough to have an impression, to spend the time you need, without a press release in hand or an artist's statement in mind, to let the work convey what it has to convey. This is an important point, and it explains why artists rarely make good critics. 
Artists too often view work with a kind of felonious intent, always thinking, "How can I steal this idea and make it my own?" Or their imaginations are so preoccupied with their own sensibili­ties that there simply isn't room in their minds for anyone else's. The decisions they make, about their own work and the work of other artists, reflect this preoccupation with extending their own ideas and making them more effective. 
Adrian, for instance, talked about his use of language to bind or bridge the disparate elements in his recent pottery—to give the work greater meaning, more power. This is fairly easy to see in his work. Yet what I find interesting about these creative choices is that they don't come from some abstract theory about how the artwork ought to look. They're usually derived from the specific context of the work; the boundaries the work establishes for itself and how the artist wants it to function visually. You constantly hear people talking about the great freedom of art work, as if any decision or gesture is pos­sible or suitable in a given work. But I think this sort of talk comes from people who don't understand art or the process of making it. There's very little free­dom attached to good work. It is focused, defined and articulate about itself in a way that excludes the arbitrary. It says what it says in a very specific way. The American com­poser Roger Sessions made this point beau­tifully in his book Questions About Music. In it he talks about the work of compos­ing. And he describes the framework that confines a composer's choices to those things that are useful to the work at hand. He says that each move exerts itself on all subsequent moves, almost to the point where the work leads him, rather than the other way around. His point—and I think it applies to all creative thinking—is that a composer in the thick of it doesn't ask himself whether a particular note is good or beautiful or interesting, but whether it is the right note in relation to the notes that preceded it and to the musical ideas the composer wants to achieve. 
This implies a certain degree of trust in the process, a convic­tion that with the proper focus and intensity, an artist's imagina­tion can divulge or lead her to the true content of a work. The same applies to the work of critics and other viewers. We have to trust the process of looking. And especially trust that this process will yield impressions about a work that will first allow us to feel something about it, and then to reach a useful conclusion about it. 
These impressions guide me. They enable me to make the work part of my experience, or—as sometimes occurs—to extend my own experience into the realm of the work. I say extend because criticism, good criticism, is an act of imagination which takes the form of a discussion with the work, a give-and-take that allows you to fit what you're viewing into a frame of reference that means something to you. This frame of reference is a variable thing. Good critics draw upon an extraordinarily broad range of experiences. These might include knowing something about the artist's previous work, similar work by other artists, or perhaps historical sources or precedents for the work. Above all, it means being attentive, being able to focus on the work and giving its particular reality the chance to sink in. 
I should stress that criticism is just an opinion. Some opinions are more informed than others and, like all critics, I like to think that mine is one of the informed ones. But needless to say, I have my own values, interests, preferences, prejudices; in other words, my own point of view. Every critic has one. That's the wonderful flaw and value of good criticism. It lacks objectivity. It defines art­work from a specific vantage point. 
My point here is that you do the field and yourself an injustice by wholeheartedly believing what critics say. A critic's opinion or vantage point is just one part of a larger discussion held by people who are interested in this sort of thing, a discussion which gains breadth and—let's hope—depth as it meets other opinions in groups such as this, or in the wider world of publications and journals. But it still remains one opinion. 
Having said that, when you read good critics like V. S. Pritchett, for example, you can't help but be struck by the fact that their opinions seem weightier, more authoritative and more encompassing than the remarks of a lone voice. This seems to be true of Pritchett's views about literature because they are so singular, lucid and subjective. They suggest a rare talent for understanding and seeing, a talent as rare, individual and valuable in its own way as is a great artist's ability to make images worth seeing and comprehending. Instead of churning out academic tenure­-driven gobbledygook which dissects artworks into blood­less chunks, a superb critic Iike Pritchett shows you how he has let his imagination run with the work, meet it half­way, play with it and turn it around in his head. His criticism is on a par with his fiction because, like his fiction, it reveals how he has made the work part of his experience, how he has person­alized it; in other words, how he has closed the circuit of commu­nication that began with an artist's attempt to say something. 
I've always been encouraged by this sort of process, this effort to personalize someone else's work, because it suggests that if one person can see or hear or understand what an artist has tried to convey, then perhaps someone else can muster a similar response and experience the range of emotions and insights that good criti­cism describes and great artworks convey. 
Saxe: As an artist, as a potter, or as a working person, that dichotomy has always been one of the things that's helped me to establish criteria for my own work. I've always been curious about doing meaningful work, and how that meaning is commu­nicated. Early on I had a lot of ambivalence about whether I could sustain my own interests and curiosity [while] making repetitive forms in a folk tradition of limited hand production. But I did that, and I did it largely out of curiosity and a necessity to pay my way in order to fool around with all these other ideas. But I didn't understand much. So I had to set problems and try to identify my own interests, and then they could be informed by other experi­ences of looking at other work or reading or getting feedback. 
One of my primary criteria is to get people to look at my work without getting into any of the art/craft controversies that existed in the '60s-and still do [because] there's still a lot of heavy prej­udice against material-based and media-based art making. Twenty-five years ago one way to get people to stay engaged was to really piss them off, to get them upset enough that there was something worthwhile for them to experience. And they kept looking even though they wanted to break off the engagement. I loved to have work that people loved to hate or hated to love.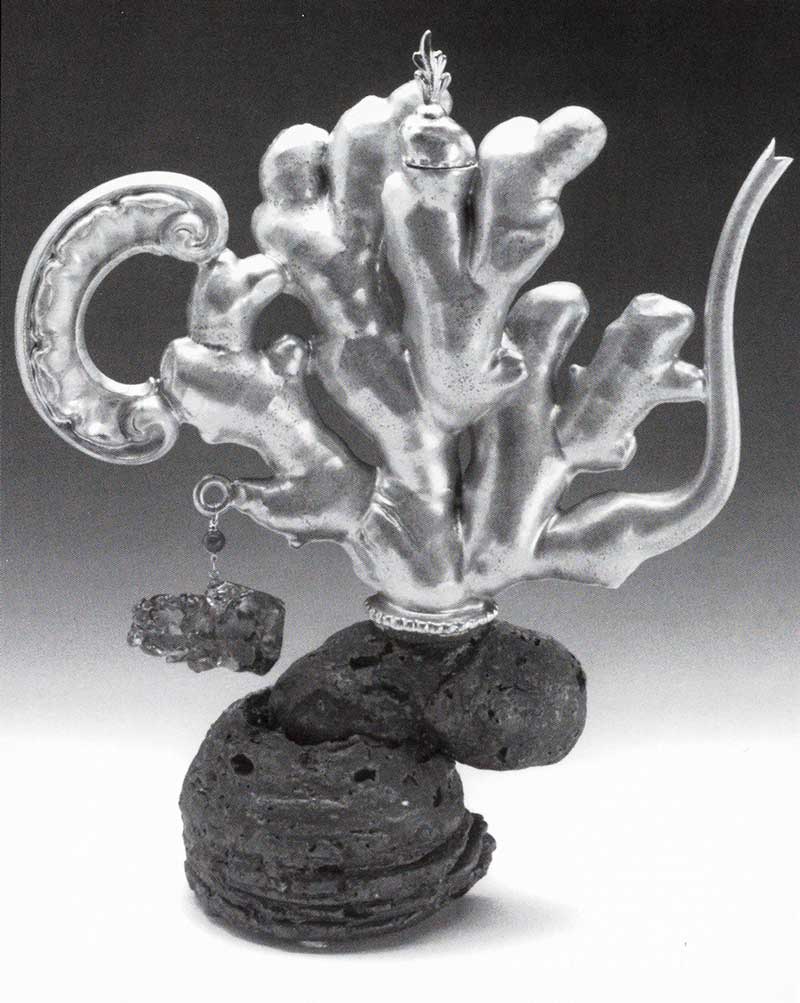 I was curious also about materials and about the history and traditions of what I was working with. I never really came into any kind of confrontation with the social history of pottery until I start­ed selling work. That brought up another kind of criterion: as to how the public life of the work develops, how it gets into the dis­course, how it gets into the hands of people and takes on a life of its own. I have very little work, so it was important to be able to have that work go out so that it continues to have a life and con­tinues to create responses. 
It was important at one point to have work that people could unravel by looking at it—the long look that is something denied in the quick view in the gallery. [While] looking at and unraveling the decisions taken by the artist, viewers are examining their own response. Those are the kinds of criteria that I've been engaged in as an artist variously over the years. 
For the last several years, I've been trying to move into some­thing that is not driven by any specific criteria. I want to free-float somehow. And it is that curiosity and intuited sense of something that has driven me to look for criteria and to articulate what to do about it in the process. If I knew what it was going to look like, if I knew what it meant, I wouldn't have to make it. All of that is laid out in the work and I hope if people know the language and the background they will have a more complete understanding. At some level, I've always wanted my work to be accessible to everybody in passing. I want to grab, engage people through my work and keep them looking until somehow, maybe, I can have a dialogue with them through the work. 
[I lost interest in provocation] very recently, actually within the last five years. I suppose I'm operating on expectations that my work is more known now. So there's a history and a familiari­ty that I can assume without building it into every piece. I don't have to have that provocative edge in the work. And there's a cri­tique in the work. It's not that my work comments on the social history of patronage or prestige or borrowed value and prestige. It's more intended to put those things on the table so people could think about their own responses to those issues. 
You are probably aware that I was covering whole surfaces of vessels in the early '80s with gold, large amounts of gold, whole 100-gram bottles of gold luster on one piece. That's a big commit­ment, especially when it wasn't supported other than just to see what it was going to look like. It confused the issue of where value lay. It was clear that in the gold pieces there was no attempt to fool the eye into thinking they looked like metal. This brought up questions [having to do with] value and prestige: why is a working-class artist, who can barely afford to make these things, doing stuff like that? Who are [its] consumers? By 1990, painting and sculpture galleries in New York were having gold shows, so that kind of thing was better understood. But for some people the work is stil I provocative. 
Lebow: This idea of meaning in art is an elusive one. There is a certain degree of truth to Robert C. McClure's aphorism, "My art is like butter. He who clarifies it removes all substance." There is a point where, if you are not careful, the effort to understand and analyze art reduces itself into a transparent layer of talk, talk, talk. The wonderful thing about Adrian's work, and good work by any artist, is the physical substance and reality of it. There is a physical intelligence to it which conveys all sorts of tactile and other meanings that are very difficult to summarize in words. That's an important point. There are often aspects of visual works that don't easily accommodate discussion, aspects that are an essential part of a work's content but cannot be reduced to any discursive meaning. That's why I think discussions of meaning are mislead­ing. Judging by all the gallery rhetoric and artist statements I see, bad work has as much—perhaps more—literal meaning than good work does. For the simple reason that you can go on ad nauseam about why it isn't up to snuff. The wonderful work, hav­ing already spoken in the language it was meant to speak, tends to leave you speechless. But that doesn't keep us from trying to say something useful about it.
Audience Question: [I wonder] what happens when the critic becomes a curator, and whether that change of roles compromis­es the critical function. 
Lebow: There's a difference between writing criticism and curat­ing. When you curate you become an advocate for the artist and the work. You select works for the show. This obviougly isn't the case when you're writing criticism. 
Saxe: There is an aspect of selecting, though. You can choose just a selected part of that presentation. 
Lebow: Or choose not to select it. 
Saxe: I think artists [are always choosing a selected] part of what work they put on view, or hold back, or destroy. You have to have some sort of criteria [regarding) what you want to accom­plish with that body of work. 
We use these modes of critique and critical analysis in our teaching all the time. In school, your mentors and faculty have an obligation to engage in that kind of dialogue. It has all kinds of social and political implications, [however,] when you have those kinds of conversations with other artists and with critics. But it's possible and really important. I've gotten all kinds of ideas about why I'm doing things. 
Lebow: Do I contextualize criticism? Do I consider other issues that might be extraneous to the work—where the work is shown, who has curated it, etcetera—in reaching an opinion? Not really. By that I mean it all depends. There are different kinds of shows in an artist's career. There are the snapshot exhibitions that occur year in and year out. There may be theme shows that include an artist's work. And if the artist is lucky enough to have had what people think is a significant career, there are retrospectives, ones that summarize careers or particular periods of an artist's life. These different settings might alter the angle I take in writing about someone's work. But the work is the work. And, ultimately, I have to let my imagination meet it on its own terms. 
Have you ever gone to an artist's studio and seen the pursuit of 'experimental' work, and then gone to the gallery and seen less experimental work? In a case like that, what do you write? There's that E. M. Forster line that artists act before they think and writers think before they act. So it often takes artists a bit of time to digest what they've done; they keep it around until they resolve it or understand how to extend it beyond the experiment. It's really up to the artist to decide when she or he is ready to show the results of recent experiments. So I prefer to wait. 
THE SECOND CONVERSATIONAL SESSION
Betty Woodman and Janet Koplos, with Cliff Garten, Moderator
Garten: The idea of imagination is an interesting entry into any work of art. It is interesting particularly as an entry into Betty Woodman's work, both in terms of its problems and its opportunities. 
In his sorrowful memoir, the western author Bill Kitteridge recounts the loss of his innocence while growing up on his father's ranch in eastern Oregon. He compares the destruction of the land and the loss of the natural environment to the losses he experienced growing into a man. He says something that I always remember about imagination: "The failure of the imagin­ation is the betrayal of the self." I'd like to offer this idea about imagination, particularly the use of imagination in Betty Woodman's work, as a preface to our discussion. 
It has always seemed to me that we gather to celebrate [at NCECA] the imaginative possibilities of the material—clay—as much as to honor the things people make with it. There is a unique relationship between clay as a material and pottery. And within that relationship there is a vocabulary of repetitive solu­tions for serving human needs. I define human needs quite broad­ly here (i.e. where space is sectioned off, pitchers that pour, jars that contain) and these needs are addressed with similar but var­ied solutions through the histories of world culture. 
[There is,] however, another part of the pottery tradition which is equally ubiquitous. This is how the vessel image persists in human consciousness, or should I say subconsciousness. We anthropomorphize it through our naming: lips, shoulder, belly, body, foot. It truly is an archetypal image. Let's face it, we all know from birth how a vessel contains, and it's no big conceptual step to understand our bodies as vessels. In its volume the vessel contains all, as the feminine contains the masculine. 
Many years ago, Betty Woodman made functional pottery. If you ask her now she will still speak with great excitement about how being able to make something which someone uses and which enters into their everyday experience is really wonderful. What I'd like to discuss is how we enter the experience of using her work and how the use of her work necessarily involves the use of imagination. Though a criticism of her work can move down many avenues, it must deal with the power of the vessel image to provoke our imagination. At a cer­tain point in her career Betty might have chosen another kind of imagery yet she chose to stay close to the vessel. I hope that she'll share some of her reasons for that choice. In the evolution of her long career of making art, it is not only interesting to see how Betty's work has evolved but what I hope we can discuss is how her thinking about the work evolved, and how the presence of the vessel image has persisted in it. 
I would argue that when Betty was making functional pottery there was still more in operation than beautifully serving a single purpose. Beyond their many historical and decorative references, these pots have their own imaginative purpose, which urges a bending and triggering of the user's imagination. The real act of engagement both in their use and their making may be about using these pots to set up an imaginary situation within the artist's studio or a domestic context. 
If you visit any of the Woodmans' three residences, her studio is adjacent. There is a flow of objects from the domestic space to the studio where the objects are made. The objects move from the studio to the home. The sense of imagination has extended itself to pieces like artichoke servers which are three feet long, pillow pitchers that are too ungainly for table use. This is not to be mis­understood as merely a domestic activity, but as an activity which transforms domestic space through a tough and deliberately calculated encounter with an object. Betty is continually interested in this transformation of space and so of ourselves. Her voracious pursuit of a particular kind of investigation of pottery form has always had a great playfulness and an absolute seriousness about it. 
Now, one could say that everything I've just said of Betty's work is equally true of all good pottery—containing, serving, engaging. But there is a distinction that I'd like to talk about: that is, how the vessel is given a special status in her work, the vessel existing as an image or motif upon which the work is based. It is a picture—and I would emphasize the word picture—into her and our imagination. You don't need to be a scholar to understand the power and accessibility of the vessel to our conscious or subcon­scious. It is the very availability of this image which is part of the act of engaging our imagination with her work. It is partly why people respond that her work makes them feel good. 
Koplos: At one point when we were [preparing for this] meeting, we discussed the question: "If you could show your work with one other person, who would it be?" 
Woodman: I thought, "Wow, what do I do with that?" First you may think about your favorite artist, and then you think, "I don't want to show my work with that person because their work might overpower my work. I really like their work but I'm not sure if I want to look at my work with their work." That's the first thought. Then you think, "I'll choose somebody dead so I'm not in competition with them." So you choose Matisse or maybe Picasso and then think, "No way! Am I really going to set myself up there with Picasso?" Then I thought, "I'll choose Donald Judd—he can sort of be there as a pedestal for what I'm doing." Then I ended up with: "I really would like to show my work with Roman painting because I think the work I'm doing today has a great connection to Roman painting. But then, of course, how in the world am I going to do that or where am I going to do that?" Essentially I think the answer is that I make it impossible, therefore I don't have to show my work with anyone else. I can just show it all by itself. This is an example of the artist's ego. 
I know you've said you're not a curator, Janet, but I'd like to turn that question to you. 
Koplos: The easy answer would be to pair your work with some­body from the Pattern and Decoration painting in the '70s, which was an imagery that drew from a craft tradition or craft history and connected it to what was happening in the art world then. And your work does play something of that same kind of role. But if I were really going to have to do this, I wouldn't want to make that pairing, because I think the Pattern and Decoration people have gone on to something else, and that would be tying your work to the '70s, which is not reasonable to do because you've continued to grow and change. It's not as if you're stuck in some particular time frame. 
Garten: You said something really interesting the other clay, Betty, which was, "I don't see something and make a work about it. But I see the references to other things in that work that I make." 
Woodman: That's an important point as far as I'm concerned, because I think that my work is very referential. But I would say that I have never seen something and then gone home and suc­cessfully replicated it in my studio. I don't work that way. I think that I work from some kind of visual memory. I have a great deal of experience looking at works and experiencing works of art. I have been fortunate in having a rich visual life. I usually do some­thing from a not very specific idea, and that reminds me of some­thing else, and then I may go off and search for that something else. So, in a sense, my own work triggers something. 
I am usually happier dealing with an image than I am with making it reality. But I had the chance to do a work of art for the Denver airport, so I said to the architect, "Well, how about a balustrade?" He said, "Oh, that sounds great! I have just the place you can do it." So I ended up, with help, making these thirty vases. When I finished I thought, "I'll never make another vase in my life." People say that it's too bad the balustrade didn't go all the way around. I say, "No, it isn't, it's just fine." 
Koplos: Did you look at a finished vase and see it in terms of a balustrade? 
Woodman: Yes, I did. I was making vases in pairs or in triptyches and was interested in the relationship of one form to another. Actually, the triptych idea came from a little drawing by Picasso of the three Graces as three pots. From that one sees balustrades where there is a series of vase forms. Or not just vase forms but the shapes in between the vases that are vase forms. And I became involved with the shapes in between the vases. It was a long time before I actually made that connection to the balustrade and started playing with the vase shape in between—the memory of the vase rather than the actual vase. 
Koplos: What is the actual history? How did you first use the imagery of the balustrade idea and when did it first come into your work? 
Woodman: The actual word "balustrade" didn't come into it with those triptych vases or diptych ones. Let me go back a bit. With the triptych vases I was interested in taking three pieces and trying to make one piece of them. So that by the changes in the pieces you saw each individually. If you put two things that are exactly the same next to each other they're just the same. But if you make them just a little different then they make you stop and look at what the differences are. There was that in the triptyches. 
In a sense, it was something that grew out of the history of being a production potter. At the end of the clay you have your ware boards with one pitcher after another, [but] when I was doing this they were not the same. They were the same in a sense but each one was different. That sight was my view and my plea­sure, but it was never anybody else's [because] no one else would go home with a board full of pitchers. 
Years and years ago, I started attaching them together, physical­ly, those wet pieces, in horizontal groups. And then they came to be about nuances of difference. And then the nuances got to be more exaggerated. But it was really about looking, my looking, and trying to have something somebody else would look at and see, the difference of a gesture, the emotional difference brought out. This is the way I work. One thing leads to another.
The word balustrade actually came about with these wall pieces. It wasn't about the actual vases at all, but about the wall pieces that were essentially images of architecture for me. And that led back to what I had to say about Roman painting, the painting with images of architecture. It's about decoration in interiors of houses, about images of space, memories of other things. Certainly, architecture by painting is what I would call it. And of course it always has in it images of pots. In a sense, the balustrade started for me with this kind of image, and somehow like that kind of painting, like an image of architecture. I think it's amusing because something seems to penetrate my head, not in a totally intelligent or intellectual way. I'm in my studio talking to myself, making a series of vases, and I think it would be fun if I could just keep going like a chorus line. 
Koplos: When you said you're happier dealing with an image than a reality, what did you mean? 
Woodman: In this case, I am interested in the idea of a balustrade. But I'm really not interested in making five hundred of these things to go around the airport. 
I remember the problem of the casserole that would hold two chickens so you could have enough for dinner for a lot of people. This is what I come from: I was concerned with that casserole holding the two chickens. I'm interested in function and love to include it and bring it back into the piece. I might want it to be an actual vase, but it's almost more of a political interest. I really want what I'm doing to make you think of something, not to actually be that. 
I'm not really interested in making architecture. I'm interested in making a work of art that makes you think about architecture, that makes you remember something you've seen, or makes me remember something I've seen. I'm not interested in making deco­ration. I'm really interested in making something that reminds you, for instance, of 17th-century decoration, in something that alludes to it. 
Garten: There is something else about the idea of painting. That is, in your later work there is an evolution toward a total pictorial­ism, a pictorial image of things moving across and hanging on the wall. This is a single image made of many smaller fragments. That image is very different from painting a pot. Both are in operation [because] the objects are painted, but together, as an assembly of fragments, they create another trigger for our memory. They are pictorial. The reference these pieces make to Pompeii is part of Pompeii's mystery. In Pompeii you walk around and pick up frag­ments because those are what is left. It is the pieces which refer to what Pompeii might have been. 
Koplos: When I look at the wall pieces and see all those frag­ments, it seems very contemporary to me because that is the way we receive information now. [ln] the visual chaos surrounding us you catch a glimpse of this and that, and somehow it coheres in your head as the environment that surrounds you. But there are gaps. You're not literally seeing everything around you because there is too much to compete with. So to look at a wall arrange­ment and see those parts, I have to project into it and complete it myself. Which is very much like the ordinary experience of being out on the street. That's what visual culture has become today. We have a flash of images on MTV or in the movies that speeds up the pace as one picture moves along and dissolves in overlaps and multiple images.
Woodman: The fragmentation of my pieces was, as things often are for me, much more physically involved in the making. That refers to the other question you asked, Janet, about not doing it all but just doing it with my eyes. It seems that if one wants to deal with scale in ceramics, the way to do it is by making small parts and putting them together: bricks, etcetera. With such fragments, I could suddenly deal with large pieces, but in small parts which were totally within my ability. My work is never a wild technical stretch—it's an imaginative stretch, not a physical one. It's not about a big person making huge things.
Koplos: What makes your work good is the fact that it can have multi­ple readings, that there's not just one way to understand it. You don't "get it" and then you're finished because that's all there is to get. That's what makes any work good. 
Betty [has said] that people like her work because it gives them pleasure. She said she didn't think that was something the art world quite accepts because work is not supposed to give plea­sure, it's supposed to be challenging and difficult. So to console her I say, "In fact, I find it difficult every time I go into your studio to see new work. I feel like I'm standing on the brink. You're always ahead of me and I don't know what to make of it. It takes me longer to get used to it." The difficulty engages me and yet I believe emphatically that [not] all work has to be difficult. I don't think difficulty equates with a profound idea. Sometimes acade­mics have the idea that if you state something in a difficult way, that proves its worth. But it's not so. Sometimes very profound ideas can be simply expressed. 
So I think the idea of difficulty being a measure of goodness in the art world is too simple. It is not an eternal value. More important is complexity, multiple reading, being more than a single thing. And that's not necessarily difficult, [although] it can be, but there is not a direct [connection]. 
Woodman: What I was talking about was pleasure and pain, which isn't really about difficulty. What people say often is, "Your work makes me feel good." That isn't really about easy, but it's equated with easy. It seems that most work talked about in con­temporary art dialogues must make you feel bad, not good. It's supposed to make you feel guilty. Curators [tell me] that the fact that my work can make people feel good removes it from being serious art. My goal is not to make everybody feel happy. That's not such a bad goal, but it's not my goal. 
Koplos: Why do you think they respond that way? What is it about the work that creates that feeling? [I think] it's the exuberance, the feeling of freedom. You've got all those edges, shapes, boundaries, and there goes the color—Whooshh—right across it, breaking barriers. I think that's what feels good. 
Woodman: One of the questions [asked] was how my work relates to the world right now. Why do I do this sort of work in the late 20th century? It's great for me to have you able to articulate that the fragmentation is about the fragmentation of our lives. [That] doesn't occur to me. I hope it relates to the 20th century, but I'm just there doing my stuff. 
[But] I am interested in how it relates to others. In some ways, the feeling good part of the work is something that will draw some­one into it so they stay long enough to start to look at it, that instead of repelling them, initially, they might be attracted and enjoy it. This isn't something I necessarily have a lot of choice about. 
Garten: I want to go back to the idea of the vessel as a motif in your work. What do you think the vessel image has to do with the accessibility of your work, its openness? Earlier you talked about the balustrade and that there was a little Picasso in which the three graces were rendered as vessels. You began making pottery, but the decision to retain that image in the work didn't have to do with making pottery but with that reciprocal reference thing, how you would see things outside as an appropriate image. 
Woodman: [The pot] is such a universal form—it's there, it's architecture. I came from making tens of thousands of pots and loving them, and have a passionate interest and enthusiasm and awareness of these things. I think my work grew away from this, not for any value—not in thinking I'm going to do something better—but because it just evolved. It was normal for me not to let go of this [connection] but to continue to use what I knew, 
what I couldn't get away from, what I have a love for. It's there as part of me. It's really me. But in many ways my work is more related to painting than it is to sculpture. I feel more of an affinity to painting, more passion. It gives me more. And yet, by maintain­ing the vessel in my form, no matter how flat it is as the actual vessel, it's a rich addition. You can't do that with painting. 
It's not just the memory of function but also the actual function that is the political thing. You're not supposed to be able to use a work of art. In that sense, it's a provocative statement on my part. The pieces at the Museum of Modern Art [in New York] are provocative. 
Any artist would like to be considered seriously. I take myself seriously. I work—I have to. I think it's an important thing to do. Here we are talking about me and my work, and I've never had this kind of experience in my life. It certainly is heady, and proba­bly I will be disgusting and impossible after this is over. [Laughter] 
NCECA is about ceramic educators, but my ambition isn't to get ahead at the University of Colorado but to get ahead in this world of which I am a part. When we moved to New York it was at a moment when the titillating thing was to have clay in an art gallery. I was asked to join a gallery, so I fell into that. [But] it wasn't really to get ahead [that way] but to be considered seriously and be part of the dialogue. [There might be] something that interests me, let's say, about Elizabeth Murray's paintings, and [I see a con­nection with] what I'm doing. I think it's nice if she knows what I'm doing and I know what she's doing. I think that's real, don't you?
Audience question: When you conceived the wall work, did you conceive it in parts and then assemble them on the wall, or did you have a thought of how the whole thing worked together? 
Woodman: When I make something like this, I [tend] to have too much organization so that when I actually put it on the wall I make the piece. I need time to take it apart and give it structure. When I look at something on the floor it seems I always need much more. But when I get it on the wall, I eliminate and remove parts of it, to see how far away from something I can go and still have the idea there. In stating it, I'm half remembering it. It isn't there [but] sort of there. I can't work in a totally abstract way, so I have to have enough reality there to see the picture or the spout. 
Audience question: Can ceramic work that does not come out of the tradition of vessels be taken seriously as ceramic art? 
Woodman: Certainly it fits in with the ceramic world. Clay has always been used throughout history for making images and things which are not vessels. I don't think anyone in the ceramic world has a problem with the fact that clay is a material with which one makes sculpture. The art world has a problem with ceramic sculpture in that it's out there competing with all other sculpture. 
My idea of sculpture is somewhat outdated and comes from having lived in Florence and thinking of sculpture as what hap­pened in the Renaissance. Don't get me wrong, I like being some­what controversial, but the vessel is someplace where I really am not competing with anything else in the art world. This is taking something that hasn't been looked at and asserting it. If you're making sculpture out of clay, you're one of many, many sculptors. 
THE THIRD CONVERSATIONAL SESSION
Mark Hewitt and Janet Mansfield, with Emily Galusha, Moderator
Hewitt: Given our location [at the NCECA conference], the adjec­tive used best to describe the critical sensitivity toward functional pottery these days might be "woebegone." Woebegone, however, is anyone who really thinks this; it is far from the truth. A mug, for instance, need not be mundane or ordinary; it can be eloquent, lyrical, engaging, poised, intense, complex, happy and easy, capa­ble of engaging a person's sensibilities over years of frequent, ordinary, actual use. Not ritualized use, nor ceremonial use, but the bleary-eyed-­early-morning-automatic-reach-for-a-mug use. The type of familiar use that requires a pot to move, to be active, not passive. In that sense, I think of pots as kinetic art.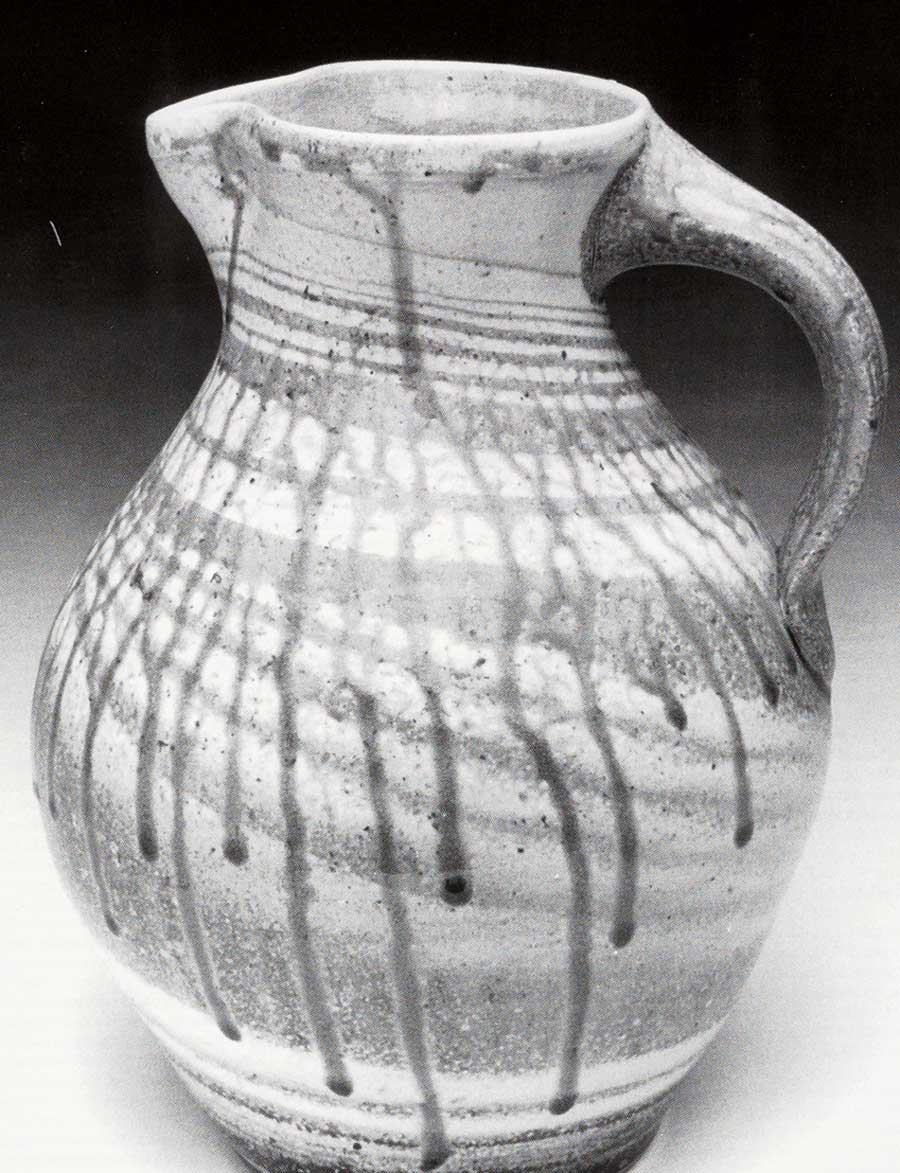 There are many ways of interpreting simple pots. The mug [in Figure 1] could be thought of as having visual imagery concerning water and sky, but when making it I was thinking about musical rhythms and structures, a complex polyrythmic foundation beneath a John Coltrane scream of blue. 
Useful pots can be sophisticated and nuanced enough to give an emotional rush each time you go to your refrigerator, open the door, see a pitcher and pick it up. I am engaged as much in that context as when I am in a concert hall listening to a Beethoven sym­phony. That's why I'm a potter. I try to make matter matter. 
I also know that mattering about matter matters as much as matter matters. After all, the model I have for being a potter is Michael Cardew, with whom I apprenticed and who wrote quite brilliantly. I recognize that in contemporary society words about pots are almost more powerful than the pots themselves—not to mention their images. I don't know how many people have Cardew or Leach pots at home (and of those, how many actually use them), but probably most of us have their books and refer to them frequently. 
While I cling to some of the ideas and observations expressed by Cardew and Leach, a lot has altered inevitably over time. The Mingei Movement I have translated into "mingled, mangled, Mingei." [Laughter] I'm not folk, and yet it is folk pots that I partic­ularly enjoy. Those are the ones that inspire me more than any others, and because of the age that we live in and the multiple images that are available to us, I can mingle all these cultures and mangle them to fit my own taste. 
Mansfield: Is [their appeal] because of their spontaneity, because they were made quickly, easily, skillfully, and for use? They were made without all the criticism and contemporary thinking of pots today. 
Hewitt: It has much to do with the actual quality of the substance of folk pots. For instance, their color. There is a sumptuousness and lushness and complexity in the depth and substance of the color of folk pots. I have a visceral response to pots that have been made by potters who have gathered materials from their local area. The quality is different and, to my eye, better. 
And I love the formal qualities that come out of skillful produc­tion pots for ordinary use. I value skill very highly in what I do, and make fine distinctions in the skills of folk potters. For 
instance, in Korean kimchi jar villages, many of the pots are bor­ing and made under awful conditions. But there will be one or two potters who are able to make their pots shine and achieve a sort of classicism. That's the level of skill I particularly value. 
Mansfield: That's the craft side rather than the art side. Would you make that distinction? 
Hewitt: No, they are indistinguishable. A fantastically made object that is in daily use is not denied the same formal and poetic potential of a work of art. The level of skill only increases the emotive and expressive capability of the object made. 
Coming from a rebellious, anti-industrial, socialistic pottery movement, I expect pots to somehow transform the world into a better place. Mark Rothko had the same sense: he wanted people to go into a room filled with his paintings and, having sat with them, to go out enlightened. It may be messianic, but that's what I want to do. It is what I try to do. It is my intention. A high level of skill doesn't hurt the attempt. 
Mansfield: Should people get pleasure from your work or should they be chal­lenged? 
Hewitt: Both. I expect people to go home with my pots and despite the fact that they are wonderful pots and that I have a "name," use the pots. I have to be cunning. I don't want to make mugs that are challenging in the sense that they can't be used (a cup and saucer made of fur, for instance). Nor do I want to make a cloyingly sweet Bambi mug that is pure saccharined pleasure. But there is room for reflective, improvisational, oblique chal­lenges within the pleasures of using a mug. 
In reference to Paul Mathieu's lecture on "Pottery and Eroticism" [during the NCECA conference], there is a difference to me between a pot that you just look at in a rather pornographic way and that you are distanced from, and pots that you touch, pick up and use, which is more like making love. Using a mug is more like a having "normal" sexual relationship with one person over the course of a lifetime. It need not be devoid of eroticism- after all, you can lick their rims and do exotic things to them. But I see use as the consummation of the relationship. 
Mansfield: [Is there] any conflict between your ideology, philoso­phy and aesthetics as a potter and your success economically? 
Hewitt: Again, it relates back to the school of potters that I come from, Cardew and Harry Davis being the classic examples. It could be argued that as soon as they achieved any success and notoriety, they couldn't deal with it (after all, they were fighting such bourgeois notions as success) and ran off to exotic places to escape. 
But I am living here and now. I have to look success in the eye and not blink. I don't intend to run away. I like to be encouraged, and it's much easier than being criticized. I am able to be acknowl­edged. It is perfectly acceptable to be successful at making pots and not be compromised by it. 
Mansfield: With your traditional background, do you feel anachro­nistic in this part of the 20th-century? 
Hewitt: No, I don't. Despite antiquated systems for clay prepara­tion and firing a wood kiln, my pots are products of these times. Technology isn't necessarily age-specific. It doesn't matter how or when a pot is made so much as whether its any good.
Mansfield: Let's look at your appren­ticeship with Cardew. One of my best friends in Australia was Ivan McMeekin, one of Cardew's first apprentices. You were one of the last. McMeekin kept up a correspondence with Cardew all his life. McMeekin felt that Cardew had a set of forms based on his histor­ical knowledge, experience and posi­tion, and that there were no better forms. This was the form of a pot; there was only one way, only one form for a cup, teapot or jar. He never altered the forms. It seems almost like brainwashing. 
Hewitt: There are certainly several issues here that need to be teased out and separated. First, it is interest­ing to note that McMeekin's book, Notes for Potters in Australia, was published before Cardew's Pioneer Pottery. Without Harry Davis and McMeekin, I doubt Cardew would ever have written Pioneer Pottery. They helped each other. They may have compet­ed with each other but they also cooperated, and good things came from their shared knowledge. 
Secondly, to say it was brainwashing is a little strong. After all, who was influencing whom? It's all too easy to say, without look­ing at the work, that one artist "never broke away" from another, that one artist is therefore "better" than another artist. I have a lit­tle tumbler made by McMeekin a few months before he died, a simple but dark stoneware covered with a brilliant, glossy tenmoku. It has been formulated and fired so that when you ping it, it rings like Ming. Which shows a particular intelligence and understanding of materials that warms the cockles of my heart. McMeekin was an engineer with a particular material sensibility that very few people get close to. His students Gwyn Hanssen Pigott and Col Levy are continuing and expanding upon his work. The point is not to obliterate your past but to build upon it. Other­wise, you have to start at the beginning as if the past had never happened. 
Thirdly, so what if Cardew and McMeekin made similar pots? Potting isn't a competition to see who can be the most original, or who has the biggest mouth. They both made pots that are deeply intelligent, separately idiosyncratic (if you take the trouble to examine them closely), expressive and useful. Surely that's enough. It's better to praise what someone does rather than chas­tise them for what they don't do. 
The criticism implies that each artist is expected to somehow dream up a whole new meaning of life itself, and if they don't, or if they have any psychic, social or aesthetic flaw, they are thrown out onto the dungheap of worthlessness. 
Mansfield: In your writings you have said "a pot is a portrait of its maker." How do you reconcile that with these thoughts? 
Hewitt: Every pot is different and deserves to be paid attention to. The same applies to people. We have more in common with each other than we admit. It comes down to how we treat each other. If we start afresh each time we meet people, without the confusion of prejudice that surrounds gender, race, class, sexual orientation and age, then we might begin to see each other more benignly. After that we might be able to look at pots without the blindness of criticism, which all too frequently becomes condemnation. 
It is possible to deconstruct a simple mug into its various com­ponents in order to analyze the person who made it. 
Mansfield: For example, your North Devon handle [Figure 2] is not like the ones Cardew made. 
Hewitt: Exactly. There is the story of Leach taking on Cardew as an apprentice partly because Cardew knew how to pull North Devon handles. Unfortunately, it is a myth that Cardew actually knew how to do that. If you look at North Devon harvest jugs, you will notice that their handles were made by sticking a stub of clay onto the top of the neck and pulling a roundish handle from it. Cardew pulled an almost complete handle, flattish in cross-sec­tion, which he then attached halfway down the neck. They are very different. Svend Bayer worked up in North Devon at an earthenware factory, and it was through him that I learned how to pull handles. Needless to say, if you're interested in these lineages and developments, you will notice that mine are different from his. Within our small context there are, to me, fascinating differ­ences in our perception of handles, and our attitudes toward them are a reflection of each of our histories and personalities. 
Mansfield: There is a definite tradition that you are working in. Your work is similar to Svend Bayer, Robert Barron, Mark Skudlarek and Todd Piker. Can you name that style? 
Hewitt: I have referred to it as Functional Minimalism. Actually, Svend fits that category best, making the same plain pots over and over. They have a purity about them, rather like Donald Judd's sculptures. My work is not the same as Svend's or Michael's. I'm going my own way. How about postmodern functional romanticism? 
I always look for [idealism] in other people's work. I asked Adrian Saxe a question concerning corruption and decadence and the nature of late 20th-century American society, and whether an artist has any obligations to work or comment about it. I like to think that I am a political activist in my work and can somehow make things better. I can't shake the notion that there is something corrupt about industry. As Balzac said, "Behind every great fortune there is a crime." Even if I'm not making a huge difference to the world, at least I'm not making bombs, destroying acres of rainfor­est or engaging in fraudulent financial transactions on Wall Street. 
Mansfield: Has it got something to do with lifestyle? 
Hewitt: No, that's a bogus argument. I don't know of anyone whose life doesn't have some sort of style. Using that argument would be like suggesting that the important thing about Gandhi was not his ideas but that he didn't wear a suit. Or that Hamada made pots only so that he could live in a beautiful compound. It's putting the cart before the horse. 
It's confusing to suggest that what I do, everyone else should do. Idealism and art are fragile and suffer at the hands of critics, politicians, the military industrial complex and money. But there are many progressive people who continue to try and change things, if only in small ways. That's the idealism I'm talking about—not the idealism of a megalomaniac. If you are not an idealist what are you? 
Mansfield: A cynic. Did you choose to live in North Carolina because of the ceramic tradition there? 
Hewitt: Yes. I spent a winter researching clay deposits in different states. I wanted my own clays. There are sub­stantive differences between locally available materials and commercial ones. It's easy to become addicted to the convenience of com­mercial materials. 
Mansfield: How would you explain the difference? 
Hewitt: There is an earthy, natural analogy. In old Japanese pots, for instance, the clay talks to you in a particular way. There is a tactile and visual complexity that comes from carefully considered and prepared local materials. You see it in the quality of imperial Chinese porcelains, and even in comparing contempo­rary industrial work to 19th-century industrial work, where the earlier pots are wonderful—a little off-white, the odd pinhole, thicker, crazed glazes. 
In Adrian Saxe's book there's a reference to the quality of Sevre's soft-paste porcelain that's different from the soft-paste porcelain you can buy these day—a different weight, a different feel. 
Mansfield: Do you think this has to do with your Cardew appren­ticeship? Whereas, if you went to an art school it would have been different, more conceptual? 
Hewitt: Obviously. In his keynote address at the Kansas City NCECA, Cardew described art schools as really being art hospi­tals, commenting that it is sad that culture has reached the point that art has to be confined to an institution, unlike other places and times where art was a regular part of daily life. Cardew was being kind. You might think of art schools as being more like art prisons, where adolescents are incarcerated and taught things that in no way relate to normal life. The more bizarre the activity, the more likely they are to be recidivists and end up with a life sen­tence (or tenure). 
In her book Homo Aestheticus, Ellen Dissanayake suggests that art is a normal human activity. In the same way that we are wise (homo sapiens), so, too, we are innately artistic and creative. You don't have to go to art school to be an artist. 
Apprenticeships exist. I was lucky to work for somebody like Cardew, and of course I've been influenced by him. It seems nor­mal to me. If you were a physicist in the early 20th century, got your Ph.D. in Vienna, and wanted to study further with someone in Munich, you walked there and said, "Here I am, I want you to teach me, what do I do next?" 
Adrian Saxe, Audience question: I understand that you aren't pre­senting your work in galleries, that you sell only at your studio. I have a question about how your work is received in your culture, through the way that it is presented in context. I've been thinking about what you've done and how you've arrived there. You didn't grow up making pickle crocks in the boondocks. You've had a highly informed upbringing, and what you do is a choice and a construction. You leave in some aspects about the tradition and practice that are interesting to you, and you exclude a lot of other things. I'm thinking that you really are like a performance artist. Taken together, the assumptions you make about your work and your persona result in a performance. Even the presentation of your work is your engagement with your audience. This would be one way to provide some access to analyze your practice. 
Hewitt: I like the notion that I'm a performance artist. After all, I like being on stage. It's a much more satisfying way of looking at what I do than thinking that I'm just another maker of brown pots. 
But I'm not sure how accurate the label is. To be sure, my Kiln Openings are like tightly choreographed performances, and there are ritualized sequences of movements that I repeat in my work­shop while making pots, and in the kiln when loading. There is a dance. 
But if I think of contemporary performance artists, such as Leigh Bowery, Bob Flanagan, Ron Athey or Rachel Rosenthal, the paradigm doesn't seem to fit so well. Nor does it when I compare what potters do with what traditional performance artists do. Musicians, ballet dancers and actors engage in performances that may linger in the mind but there is no concrete three-dimensional permanence after their performances (videos and CDs, granted, go part way). But pots have a presence beyond performance. Performances tend to be grandiose and fleeting; functional pots tend to be unannounced and constant. While the constructions and persona behind a pot may be a performance, the pot isn't. The pot stands alone, engaging its audience or user in its own pri­vate performance, with an identity beyond its making and selling. 
Audience question: What thought process do you have in the cycle of your work, given that the forms come from tradition? 
Hewitt: Sometimes I'm not thinking at all. There isn't time. I'm successful because I'm quick, proficient and organized, and I just get on with it, just do it. For instance, I make mugs only three days a year, one day each cycle. Sometimes I'm in such a rush, I can't think much about them. I just have to make them. I lead a busy life with young children and all the nitty-gritty bureaucratic details of running a small business. I simply have a lump of clay and a mug to make. It requires me to be spontaneous. Mugs become crystallized moments of creativity. Borrowing Philip Rawson's notion, I have a memory trace of a mug in my mind and a clay memory in my fingers and hands, and that takes me from where I've been to where I'm going. I give each mug different nuances and interpretations that day. I like to treat each of the 200 mugs 
I make that day as an improvisation. I don't have measurer or pointer. There are an infinite number of curves between the bottom of a pot and the top of a pot—some good, some bad. Sometimes I blot it. But without technical proficiency and profes­sionalism, I'd be doomed in this very unforgiving economy. 
The best traditions are fluid; the worst implode. The Leach/Cardew traditions are flexible. Looking broadly at 20th­ century western ceramics, I think that Leach, Cardew, Hamada and Yanagi correspond in importance to the early Japanese Tea Masters like Rikyu and Enshu. We're still in the early stages of what you might call the "Food Ceremony." We don't have any­thing like the Tea Ceremony, but we do have debates going back and forth that are similar in some ways to the debates between Tea Masters in 15th- and 16-century Japan where one might call another's taste in clay "lukewarm," and foster a particular style over another. I like that degree of sophistication and connoisseurship. 
Mansfield: Do you consider yourself a traditional potter? 
Hewitt: No, I don't think I am. I don't think Leach, Cardew and Hamada were, either, although I respond to traditions in the same way they do. I think of them as sophisticated modernist artists. 
I sometimes describe Cardew as being like a combination of four people. In the way he restructured folk idiom with great mod­ern intellectual vigor, he was like Bela Bartok. In the way he went off to make his art in an exotic place, he was like Gauguin. In the way he was a craft missionary "doing good," he was like Albert Schweitzer. And in the way he used alternative technology, he was like E. F. Schumacher. Not a bad combination. 
I live in North Carolina, surrounded by its tradition, and while I admire it greatly and am inspired by it, it would be foolish and deceitful for me to think of myself as a traditional potter. 
Audience question: How do you feel about the non-functional vessel? 
Hewitt: I have a real problem with non-functional vessels. They seem to be a metaphor for cultures that don't work. Imagine going to get into a beautiful car and trying to open the door but you can't because it's been designed only to "make a point" about open­ings. It may be interesting or witty for a minute, but then it seems pointless. Being purely decorative is a limited and vain function. 
Jeff Shapiro, Audience question: Has there been an evolution in your thinking recently? 
Hewitt: Yes. I have been thinking that what I make is "high-status functional entertainment." By entertainment I mean the engage­ment of the senses, a way of holding your attention. A pot engages your sensibilities in a different way from a piece of music or a sculpture. The type of engagement is specific to the medium. 
I'm also reconciling myself to the fact that my work is high-sta­tus. I can't deny it (I think Davis and Cardew did). I know the sort of people that buy my work and the prices I get for it. But I am accustomed to thinking that what I do can't be elevated to be legitimate or good (the moral legacy of Leach, Cardew and Davis). 
If crude, funky, wonderfully organic Japanese teabowls are revered as high-status objects, then I don't see why my mugs shouldn't be as well. 
THE CONTEMPORARY POT'S IDENTITY CRISIS
By Gary Kornblau
In the ceramics world, as has been repeatedly urged during the course of this conference, pots and other craft objects are of value because they are "just like art"—meaning art of an Idealist kind, with an intrinsic value independent of the marketplace. As a cata­logue essay written on the occasion of Betty Woodman's recent exhibition at the Wadsworth Athenaeum argues, Woodman has "moved beyond the traditional domain of craft. Her ambitious experimentation has produced a series of innovations that are conceptually daring and aesthetically bold." This is supposed to be a defense of Woodman's work—it's supposed to be good that Woodman's works "have moved beyond craft." Janet Koplos, in her gregarious conversation with Betty Woodman at this sympo­sium, apparently shares this sympathy. By connecting Woodman's work to the Pattern & Decoration school of painting, and suggest­ing that the fragmentation of Woodman's walI works are a metaphor for contemporary visual experience in a fast-moving world, Koplos, too, thinks of Woodman's work as "beyond craft" —and [being] the better for it.
This kind of defense is pejorative. It assumes that there would be lesser value to Woodman's work should it remain classified as "mere craft," and not moved beyond it. Woodman's critics and fans have gone so far as to define ceramics as "painted sculptures" or "sculpted paintings." I'm thinking specifically of a work of Woodman's which in fact looks like an eccentric painting, hang­ing on the wall with each of its parts (spout, handle, lid, base) spread out flat. As an art critic, I would consider this very uninter­esting painting, derivative of early 20th-century Cubism, where objects in the round were flattened out onto easel-sized canvases and hung on the wall.
But it's a mistake to judge Woodman's work as one would judge a painting. On the contrary, it is precisely because it so rad­ically engages with a craft tradition—not a painting tradition—that Woodman's work is of interest. In ceramics, the decorative and functional aspects of a pot have traditionally formed a har­monious whole. In Woodman's work, the decorative and the functional are split wide apart. You can't use a Woodman piece to pour tea or hold soup. But it still reminds us of a functional pot; as Woodman has stated, "The vessel remains—it is always there." But now the functional and decorative aspects of the pot can be seen independently, while each reminds us of the other. Woodman plays with the expectations inherent within the history of ceramics and does not move "beyond craft" at all. In fact, only by being fundamentally engaged with a craft tradition does her work gain its power. And it's on its own terms that it should be judged.
We can discover a more dramatic example of the schizophrenic relationship craft critics have to their subject by looking at one of the hallmarks of ceramics this century—the work known as Otis Clay, produced in Los Angeles in the late 1950s and early '60s. It's become a cliche in both the fine art and craft worlds to argue that the value of Otis Clay is clue to the influence on it of contempo­rary painting. Indeed, Otis Clay is still often referred to as "Abstract Expressionist ceramics," and works like those of Ken Price and Peter Voulkos are exhibited and sold in contemporary art galleries, and treated by art critics as works of fine sculpture. But while it's clear that Price was influenced by the fine art of his time, it's foolish to think that the Otis "revolution" was due to the mere fact that some artists incorporated the techniques and styles of painters in decorating their vessels. After all, artists and crafts­people regularly appropriate elements and techniques from a vari­ety of sources to produce their work.
To understand the Otis Revolution, we shouldn't look to fine art at all. To understand the remarkable work of the group, we should look within the ceramics tradition itself. As I've mentioned, it has been the practice in ceramics that the surface and form of a vessel should be in harmony. But in the work of Otis Clay, the painted surface of the vessel was played off against its form: A messy, expressionistic surface would be laid over a smooth, func­tional form. In ceramics terminology, form and surface were "rup­tured." And so, as in Betty Woodman's work, the Otis Revolution has much more to do with liberating ceramics from its own self-­imposed strictures than in ceramics becoming "high" art. Nevertheless, the myth remains that ceramics must somehow compete with high art on art's terms—when ceramics is more than able to handle innovation and attain value on its own.
The kind of conceptual mistake I am pointing out is partly due to a fundamental distinction between ceramics criticism and art criticism. Ceramics criticism usually contents itself with the formal analysis of a work. Little discussion is made of the role contempo­rary ceramics play in the culture at large—to its current status as luxury items, or its original functional purposes. Art criticism, on the other hand, is obsessed with social context, to the extent that art reviews often make little mention of the actual artworks involved, and instead carry on about the context in which the art object has been placed by the artist, dealer, or institution. Oftentimes, ceramics critics strive to better the position of their craft—as is the case with critics who defend Otis Clay as "being just like art," or who laud Betty Woodman for having "moved beyond craft." It's as if the ceramics critic treats pots as having an identity crisis: They are of value because of their engagement with a ceramics tradition, but that engagement is overlooked in an attempt to pretend they are something else entirely—namely, paintings or sculptures that just happen to be made of clay.
But art's identity crisis is just the opposite of craft's: Fine art now strives to have the utilitarian function that craft used to have. In the art world, we hear mandates for art to heal people, to help solve social ills - to have a practical use in everyday culture. The City of Los Angeles Cultural Affairs Department has gone so far as to allow only social services to be funded by its visual arts pro­gram, rejecting out of hand any painter or sculptor—or potter for that matter—applying for a grant to create art. In art's place, funding is secured only for projects that further a social service bureaucracy. Both governmental and art institutions, it seems, are nowadays suspicious of fine art unless it plays a polemical role in daily political battles.
This call to social utility is a very American phenomenon. Americans, in my experience, generally do not like art, and want to transform it into something useful. We can, in fact, call America a "therapeutic culture," in which art is valuable only to the extent that it helps solve social ills. This impulse has come out quite clearly in Mark Hewitt's discussion of his work. Mark com­pared a non-functional pot, like those you might find in a contem­porary ceramics show, to a beautiful car whose doors are perma­nently sealed. He tells us pots ought to function, or else they have no value at all. His socialist, workingman's ethic is certainly admirable, but in what way does making pots in his traditional, hands-on manner contribute to that ethic? I find it hard to believe that a handmade mug contributes to making the world a better place—especially given the cost of handmade utensils in an industrialized society. Unlike Mark, I do not think that his mugs need to make the world a better place. I certainly appreciate his mugs on a purely formal level; they are a joy to hold, and, I imag­ine, to drink out of. Nonetheless, his work plays into today's ther­apeutic culture, as was clear when the few samples he brought for display were quickly snatched up after his talk. Perhaps the high­light of this entire symposium was Adrian Saxe's insightful ques­tion following Mark's time on stage, asking if maybe he were real­ly a performance artist, to which I might add, maybe his pots are props in a peculiarly American game of Social Realist magic.
Notwithstanding Mark Hewitt's work, one could almost say that fine art and craft have switched places. It is now mandated that art serve a political bureaucracy and attain social utility to have value, while ceramics must attain formal elegance to have value. And as is often the case when one blindly follows man­dates, both fine art and craft lose any real value in the process.
So what's going on here? How did we get to the point that ceramics critics treat pots as formally elegant objects to admire, while art critics demand of art that it no longer just sit around and be looked at?
To begin to address this question, we have to do a bit of histori­cal digging, to try and determine when the distinction between fine art and craft first arose. In Medieval times, fine artists worked in guilds, much like ironworkers and tailors. The attribution of art­works was not generally made to individuals but rather to the guilds, or to the locales in which they worked. The cult of the great individual artist simply did not exist. All this rapidly changed in Renaissance Italy, of course, but it may be more enlightening to look at the studio and practice of Rembrandt in the 17th century. For it was in the Netherlands—where the art object was still admired for its great craftsmanship—that a new kind of value was canonized, one whose influence is as strong as ever.
We must remember the word "craft" is a verb as well as a noun: to craft an object as opposed to merely "making" it is to take great care in its creation—to make it with skill, after much practice and many failures. Painting and the fine arts retained an intimate connection with craft well into the 17th century, espe­cially in Northern Europe.
Rembrandt's painting of that time emphasize the sense of touch over the sense of sight, as in his 1653 Aristotle Contemplating the Bust of Homer. Here, the content of the work proposes that it is through touch that knowledge is gained: Aristotle was blind in his old age, and his relationship to the great sage Homer is here achieved only through his hands. In Rembrandt's The Return of the Prodigal Son, hands are again prominent and lavish­ly rendered, conveying the emotion between the subjects of the painting. In Rembrandt's famously "rough" handling of paint, gobs of pigment pile up on the canvas in a playful, messy manner. This is opposed to the smooth surfaces of many of his contempo­raries, most notably Vermeer. (In Vermeer's The Art of Painting, it's the sense of sight which is paramount. Indeed, the very subject of this painting—the artist and his model—proposes that vision is the primary mode of attaining knowledge.)
A great example of Rembrandt's conscious effort to emphasize the tactile qualities of a painting over its visual qualities is his 1632 Anatomy Lesson of Dr. Tulp. Here, Dr. Tulp examines not the cadaver's heart or brain, but its arms. He displays for his stu­dents in the painting, and for us outside the painting, that the painter's art is not just one of the artist's eye in relation to his or her subject matter, but one of the artist's hands in relation to his or her medium. Dr. Tulp's lesson, we imagine, includes an explana­tion of how human arm muscles work, and by extension, how paintings are made.
Throughout Rembrandt's works, we are drawn to the tactile qualities of the paint, much as we are drawn to the surfaces of objects made by a master goldsmith or potter. Rembrandt clearly crafts his paintings—and does so dramatically, so that we are aware that the artist intends to make the claim that a painting is first and foremost a crafted object, before being a picture or any­thing else.
Rembrandt also, however, signified a profound break with the craft tradition. Colloquial speech today often uses the term "a Rembrandt" as paradigmatic of artistic genius or great value. New York's Stanhope Hotel illustrates a Rembrandt self-portrait in its advertisements, and it's been said that Farrah Fawcett's features are as perfect as a Rembrandt." These crass claims signify what a bizarre place fine art has come to play in our culture—as some­thing of extraordinary, even obscene value. But if what I am say­ing is true, it should appear strange that Rembrandt is considered, in the popular imagination, to transcend craft and epitomize great genius—an accolade never given to craftspeople.
How is this so? As art historian Svetlana Alpers has written, it is because Rembrandt invented the artist's studio as a place of busi­ness—as a place where life is staged, theatrically, with models and props. In his picture called The Jewish Bride, Rembrandt masks the economic and social basis of the transaction between artist and model. Did Rembrandt pay models to sit for the paint­ing? Or was the painting a commission from a wealthy patron, who paid Rembrandt to paint his portrait? There is no way to tell simply by looking. By putting his models in theatrical dress and, again, with his rough handling of paint, Rembrandt obscured their actual historical role: He treated his poor models and wealthy patrons (once included in the painting) the same. He painted them as individuals—not as members of any particular social class. Rembrandt gave value to individuals through his painting of them, and consequently caused his paintings to attain the value that individuals give to themselves. People would pay the artist to give them the value he bestowed. In one fell swoop, Rembrandt gave cultural, social and economic value to his works—a kind of value never before attained by crafted objects. Thus fine art was born in Rembrandt's work, by his exploitation of craft to a degree never before attempted in Western culture.
The moral of this story is that an object attains value only if it invents its own kind of value. There is nothing absolute or meta­physical about the distinction between fine art and craft. It's an historical fact, but that doesn't mean it can't change. Indeed, the relationship between fine art and craft is again in flux today, much as it was in 17th-century Holland.
The truth is that value is inherent in objects, but artists make it so. Value is a historical phenomenon, changing with taste and time; but it's nonetheless not simply a matter of uneducated opin­ion, and so is not entirely relative. Artists and craftspeople can give an object great value—but once they do so, we as specta­tors must follow their lead.