All portrait photographs by Robert George
We would like to thank Jim and Nan McKinnell, Carl and Jeanne Judson, and Bill Alexander for their advice and assistance in prepar­ing this article.
COLORADO IS THE HAM IN AMERICA'S POTTERY SANDWICH
Until recently (by recently I mean the past 10 years) the American pottery scene has been thought of as mainly a matter of East or Far West. Like the Gold Rush era of the late 1840's the population of potters in the 50's and 60's expanded rapidly from the East to the western coastal states. During these times, Colorado's popula­tion was sufficient to support only a few craftsmen.
Except for the brief rise to national prominence of the Van Briggle Pottery (due entirely to the work of Artus Van Briggle during the first decade of this century) very little attention was gained by Colorado potters in the first half bf the 1900's. Potting activity in Colorado was limited mainly in the 30's, and Eric Hellman (sort of a "Buckeye" potter that catered to the early-day tourist with ware "glazed" by floating oil-base colors on water and dipping his pots into this concoction) and Irene Musick were early craftsmen in the Colorado Springs area. Irene was a very warm personality who may be remembered by only a few potters that were around in this area during the 50's and 60's. She did much to stimulate interest in potting during the "early days". Both of these potters are now deceased, but provided a base of knowledge and assistance for other potters soon to follow.
The early years of the 60's saw the real birth of the contemporary pottery scene in Colorado. Markets for the potter's works were expanded through the early efforts of the Denver Jewish Community Center's "Art Mart", and the Denver Art Museum's "Own Your Own" exhib­its that exposed large numbers of people to the craft scene. The Gilpin County Art Association in Central City also increased the dimension of public exposure to Colorado potters during the 60's.
More recently the Pueblo "Own Your Own" has pro­vided excellent patronage for the works of craftsmen in the southern part of the state. Summer "art fairs" and "street fairs" have also provided exposure for the pot­ter's work. Each year that passes seems to add to the number of possibilities the studio potter has for selling his wares. Unfortunately, craftsmen in Colorado were ignored for many years by the national crafts or­ganization intent on the ceramic sensationalism oc­curring at either end of our country. Most Colorado potters have established their markets and professional reputations through hard work and excellent crafts­manship without assistance from outside sources.
The advent of this decade saw a surge in production of ceramic objects representing a wide variety of approaches to the clay medium. The Chalk Creek Pottery located near the ghost town of Saint Elmo, high in the Collegiate Range of the Rockies proved that a living could be made by young craftsmen that had the necessary potting and business skills. Today, young potters like Laverne and Harlan Mosher in Grand Junction, Bix Littell's studio near Se­dalia, Dave Boronda in Creede and John Russell just out­side Greeley typify the activity of recently established potting ventures. All areas of the state are now populated with potters possessing a variety of skills. Dick Luster, pottery instructor at the University of Northern Colorado, has emerged as one of the most skilled young craftsmen in America in the porcelain medium. Roger Lang, Lake­wood, Colorado, recently received recognition in the very fine "Crafts of the Americas Exhibition" held on the campus of Colorado State University in Fort Collins. The numerous other fine potters pictured in this issue are fur­ther evidence of the involvement with clay in a variety of approaches that one can find throughout Colorado.
Several guilds in Colorado, namely the Colorado Potter's Guild in Denver and the Boulder Potter's Guild provide facilities for the occasional as well as the budding professional outside the usual private studio and academic ceramic situations.
Outstanding craft galleries have also aided the Colorado potter. Notably the original Rocky Mountain Spectrum Gallery in Estes Park which, through the generous efforts of Glenna Dannels, has given many new Colorado potters a fine showcase for their wares. The Spectrum is the place to visit if a traveler wishes to see an excellent cross-section of Colorado potters assembled under one roof. Other galleries supporting Colorado craftsmen are the Gryption Gallery, Denver; Albatross Boulder; Whickerbill, Colorado Springs; A Place on Earth, Vail; and other shops too numerous to mention.
Why has the craft picture in Colorado changed for the better? Some reasons have already been mentioned, but the new group of very fine young craftsmen-nucleus of "oldtimers" have a feeling of belonging to the rugged Colorado mountains that provide myriad recreational opportunities, magnificent vistas, quiet glades for contemplation, good markets for their wares and some esoteric glaze materials left by early miners in their que for riches after leaving the western coastal states when that dream ended. The midsection of our country is fas becoming a showcase for potters for all ages and skills. Colorado happens to provide an environment for a select group of individual studio potters seeking a degree of independence from various social maladies (such as wall-to-wall people). So perhaps like the ham sandwich, the best part is in the middle of America.
Herb Schumacher has been active in both the studio production of pottery and the teaching of ceramics at all levels in Colorado for the past 18 years. His summer studio, the Chalk Creek Pottery, was established in 1969. He lives in Greeley, Colorado.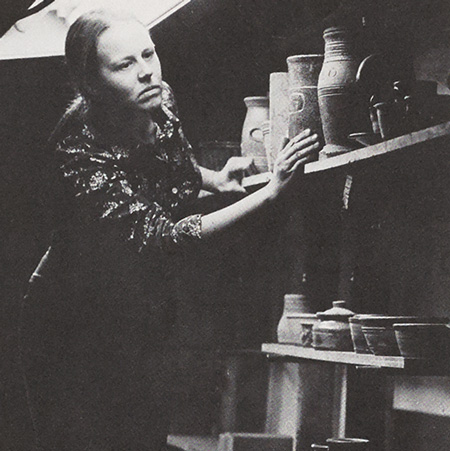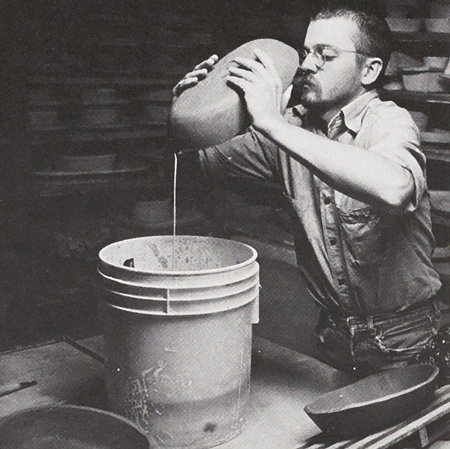 Carl and Jeanne Judson, 100 Gregory Rd., Fort Collins, Co. 80521
Extraordinary potters, farmers and equipment manufacturers. They make functional pottery and clay mixers under the "Bluebird" mark. Large production of both thrown and slab pots, most single-fired. Four cavernous kilns fired with wood and gas. Their pottery, machine shop and living quarters are in an old Charles Adams-type canning factory. Early English and American production ware a strong influence.
Jeanne: "We follow the route that makes the most economic sense–economics becomes for us the major factor in determining form of pots."
Carl: "Today technology leads to over-manipulation of materials. The potter in Sung Dynasty China still had to work very politely with his material. But the Ford Motor Company can get away with murder."
Prolific masters of pottery, a team since 1948.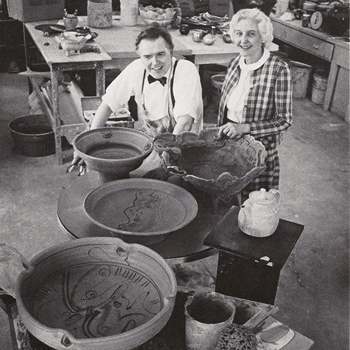 Jim and Nan McKinnell, Box 704, Loretto Station, Denver, CO. 80236
Originally out of the Northwest, they are wide-ranging and gypsy-like. Early years at the Archie Bray Foundation, then Washington state, Iowa, New Hampshire, France, England, Scotland, Japan. Jim, currently teaching at Loretto Heights College, is an unparalleled clay technician. Nan likes to use nature's forms, colors and textures in porcelain, and frequently gives workshops. Early pioneers with loose brick kiln design. Rocky Mountains start at studio door. They have a famous address book.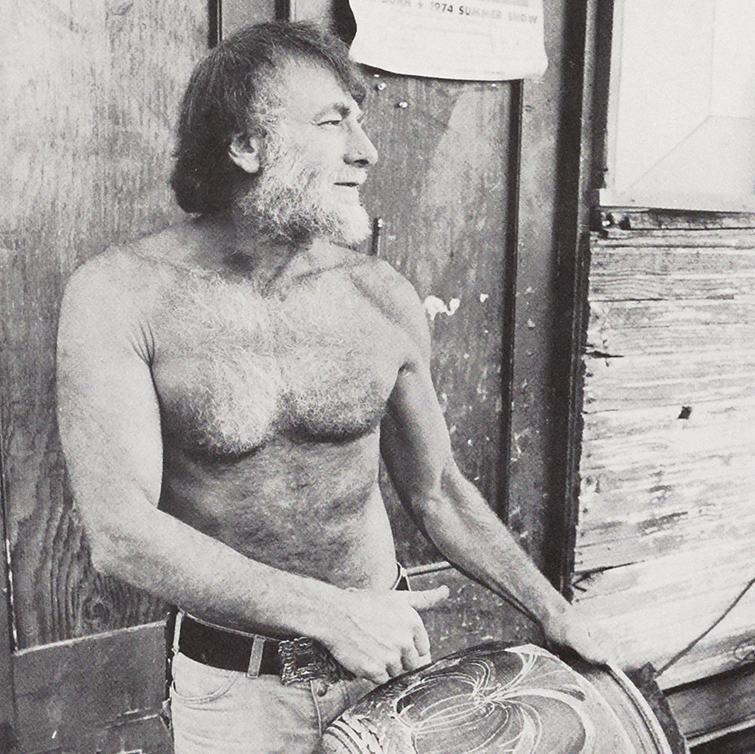 John Dunn, Sunshine Canyon, Boulder, CO. 80302
Production potter, teacher and muralist. Born and educated in England. Started career as a painter, turned to low-relief sculpture, then clay panels and finally wheel-thrown pots. Considers an art background essential. ''I'm drawing from anatomical studies I did in Liverpool 30 years ago." Bought a gold mine claim high in the foothills in 1968. Plans to mine it some day, but for the present "miner's shacks make excellent studios."
"I'm deeply concerned with making a record. What goes onto the pots now is a synthesis of ideas that have been refined over the past 20 years."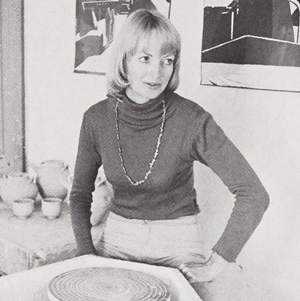 Nancy Beckner, 1030 South Franklin, Denver, CO. 80209
Functional potter working in porcelain and white stoneware. Makes "quiet" pots. Influenced by oriental folk pottery: Yi (Chosun) Korean pottery is the ultimate. Studio on the second floor of old factory-turned-crafts-cooperative, in the inner city. 60 cu. ft. down-draft kiln, inches away from a railroad line.
"As I mature as a potter I hope eventually my forms become simpler and stronger and more folk-like."
"My plates need food; my tea bowls need tea .... "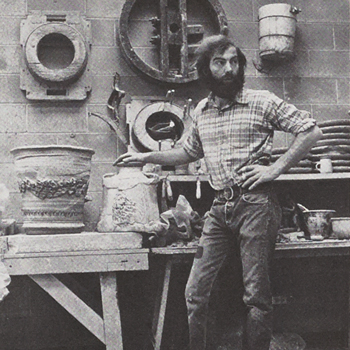 Ken Williams, 210 N. Sante Fe St., Pueblo, CO. 81330
"I'd like to say that I'm here in Pueblo being a potter-sculptor-teacher. I make my living at it, but not by filling mountain gift shops with pots for tourists.
When I was a kid I guess I was just waiting to grow up and squeeze clay and look in the hole after the clay is opened and be a potter.
I really enjoy making animals with riders, from teaching children pottery at the Art Center. I didn't know how or what to teach so in the summer of 1974 the Art Center and I organized this workshop carving 12'' sewer pipe at the A. P. Green brickyard in Pueblo. We worked inside the beehive kiln and the work was fired there. I liked working with Tom and Ed and Lyle and Nick, and being there.
I have a commission for 70 large planters. Having the order forces me to learn how to make bigger pots. That's why I look so grim. have 18 finished.
John Su hay and I like working with rocks and plants for fun. We try to build gardens and let nature be comfortable. And let the rocks reflect what we know about geology and everything."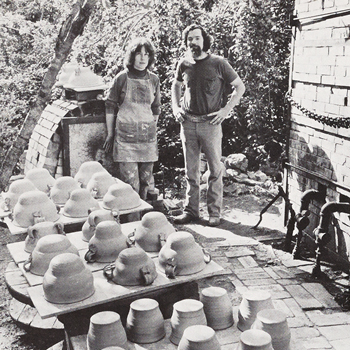 Steve and Ruth Briggs, 1121 16th, Golden, CO. 80401
Production potters specializing in stoneware and raku. Ruth is into tableware, Steve into planters. They use some local clays and glaze materials, and Steve gives workshops on refining raw materials. "Golden is just sitting on one huge clay mine." They have a 35 cu. ft. sprung arch kiln, a small catenary wood and gas-fired raku kiln, and a barrel kiln fired with dung. Kilns surrounded by plum trees. Basement workshop is a short distance from Coors porcelain factory and its dump.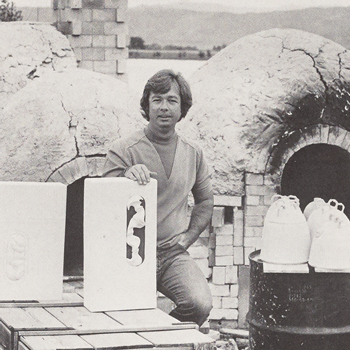 Bill Alexander, Box 82 M, Fort Collins, CO. 80521
Wide-ranging potter and teacher. Formerly a pre-med student, shucked it all for Alfred. In the past, manager of his father-in-law's pottery in Switzerland. Now teaches at Colorado State University. Works in porcelain and stoneware, mostly one-of-a-kind. Has a 60 cu. ft. domed two-chambered wood kiln, recently converted to natural gas. Uses it to bake great pizza.
"Most of my work is directed towards form rather than surface embellishment–I draw very poorly."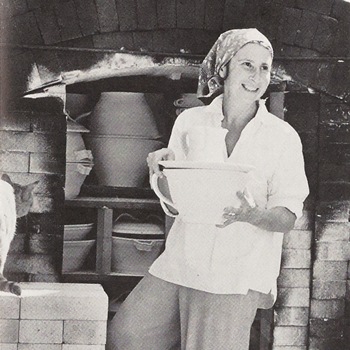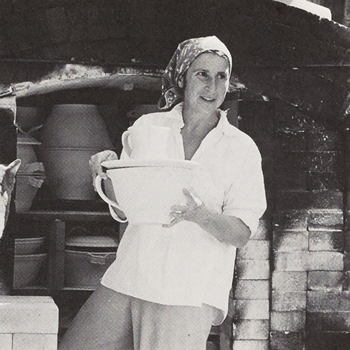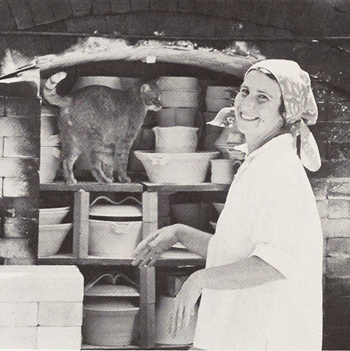 Betty Woodman, 576 Endid Ave, Boulder, CO. BO
Dynamic potter and well-known workshop leader. Works in salt-glaze, stoneware, porcelain, raku and most recently earthenware. Has a 60 cu. ft. sprung arch gas kiln, and small raku kiln. Present work influenced by Etruscan, early Roman and later Tuscan pottery. Husband George, a painter, often decorates Betty's pots, "and then we fire them together with a lot of noise and argument." Summer studio in distant soft Italy.
"I'm constantly searching for ways to exploit clay–to reflect in the finished pot the sense of the wet and plastic clay."
"I'm involved with the concept of the softness of the form, in which the pot is collapsed and moved in its plastic state."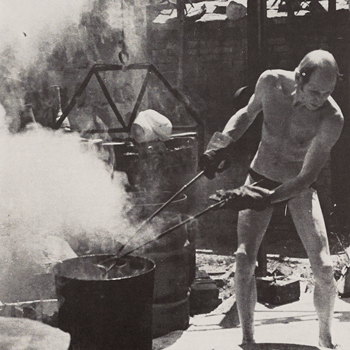 Paul Soldner
Paul Soldner lives and works near Aspen, Colorado. He is also a professor of ceramics at Scripps College and the Claremont Graduate School, part of every year. In addition, he serves as President of the Soldner Pottery Equipment Corporation, with a factory located at Silt, Colorado. 
He believes the value of our work, its success or failure, will be decided eventually by others, by the test of time and in relation to its culture. In this context, the quality of the objects we make becomes very special, and the reasons we make them are therefore of supreme importance. 
To imbue one's work with art, that is the eternal struggle. It is the silver thread that links us to the best of the past. It is our common denominator with history. We can only try and try again. 
I am a Potter!

It's important being a Potter. A potter has many facets.

He is curious. He hopes one day to make a pot

never seen before.

He is frustrated, happy, disappointed.

Control eludes him!

The love of throwing tingles his fingers.

He can throw a pot without a wheel.

The wheel turns. In time,

all things of pot-making

turn.

firing, glazing, building, mixing, calculating, throwing, decorating; teaching, thinking, learning, observing, experimenting, rejecting, accepting.

Each year, less caring for importance.

More laughing. More concern. What is important? The act? The man?

The pot?

Does it matter?

We leave our mark fired

in stone!