Toshiko Takaezu: Remarks on her Exhibition "At Home." 
Originally published in Volume 27, Number 2 Summer/Fall 1999. 
When I first saw the waterfall it was so beautiful, I said, "This is where I want to live."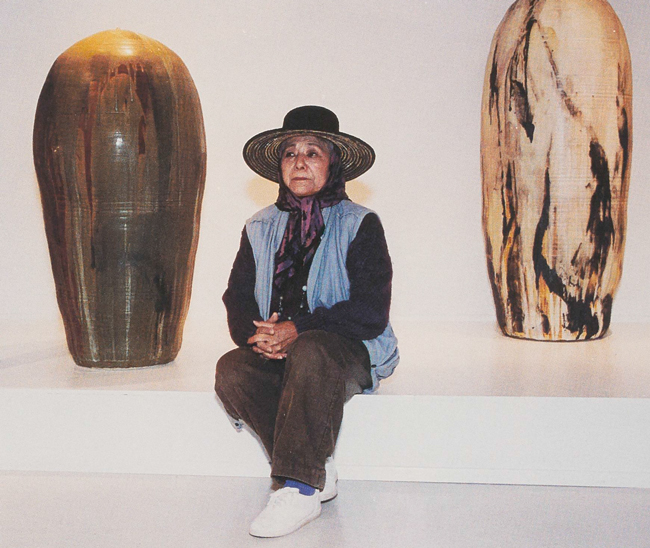 I volunteered for seventeen years at the Hunterdon Art Center, which is now called the Hunterdon Museum of Art. In 19971 was approached by the director and staff to have an exhibition. At that time, I had two shows in New York City-the Charles Cowles Gallery and the American Craft Museum. I was hesitant to take on another exhibition. I told them I'd like to think about it.
After thinking very quietly I decided it was a good place to have a show since I know this place very well. Plus, I thought about the founders who made it possible for the Art Center to exist. They are all gone. In their memory, I decided to have the show. 
It was also proposed that I have the whole building-all three floors. When I decided to have the show I told them that I'll do anything that is good for the exhibition and the museum. Having Sandy Grotta as curator was encouraging. Consequently, I made it possible to have a benefit dinner, studio visit, donated a piece for a raffle, met students from high school and college, volunteered my friend to talk so the docents could understand about the exhibition.
The people at the Hunterdon Museum were very good. Anything I asked for, they did. It made me feel it was the perfect place to have a show. The show was on for two-and-ahalf months. Not only that, the impact the show made was great.
I knew exactly what pieces to show and where and how they would be placed. The ground floor was all the Star Series. There were ten large pieces. As you entered, the largest white piece was called Sirrius, the biggest white piece I ever made. I thought of it as a star, the thing that shines out. Behind was the invisible dark companion, Po Tolo. The Dogonpeople knew of the dark companion star long before modern astronomers discovered it. Ancient Egyptians did too, at the time of the flood. I'd been wanting to make a room full of big forms that you could walk through. You could also stand in one spot and see the whole series. I knew exactly how I wanted it. I did the best I could.
The location was very important, because from the window you saw the river and when you went downstairs you saw the waterfall. Somehow it was all connected. It was complete, in a way, like a circle, it was complete. I'll never have a show to compare to this. Where else can I have a place like that to have a show? The peace that you feel in the whole environment is very special.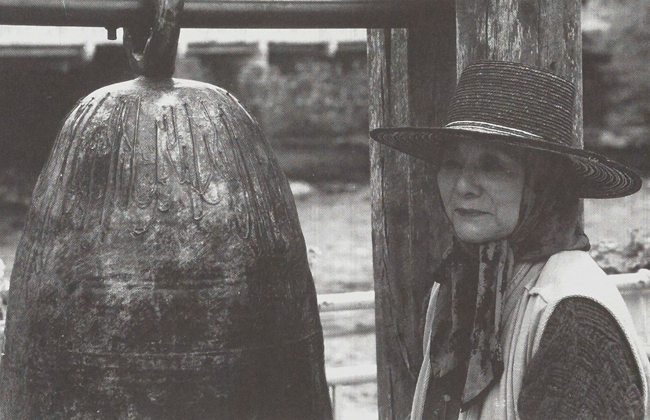 The response that I got from the people-it touched them-a lot of them came back two or three times. There it's so small. It's so intimate there that people know each other, that you hear about it. People wrote poems on it. It seems it gave them a certain kind of peace and they wanted to be there. It touched them, from what I understand, and they really enjoyed it. Anyway, the place was quiet-so that in itself was something. Because the pieces are quiet in many ways.
Not only the children, the adults also wanted to touch them. So I said, "Go ahead and touch it." I think it was to be touched anyway.
I'm not a judge of my own work. But I see some of my pieces-l wonder how I did it-because I'll never be able to do it again-it just happened. I'm very glad I had the show. I did the very best I could. I really loved being there myself and hated to see it end. Somehow, it fitted the place just right.
One of the docents told me about this little boy, a heavy, boisterous kid of six or seven years of age who said, "You know, there's language in there, and the language is silenceinside the piece. If you really work hard enough to shake the piece, it says, "ting, ting." I thought that was pretty great, "the Language of Silence."
Taken from the audio portion of a videotape made by Martin Lucas, December 8, 1998, and from further remarks at Lenore Tawney's studio February 24, 1999. 
Want to read the full issue? Log In or Subscribe today!