The following three essays were written by recipients of Studio Potter's merit award for the National Juried Student Exhibition held during the 2018 National Council on Education for the Ceramic Arts (NCECA) conference in Pittsburgh, Pennsylvania, March 14-17. The award includes a one-year subscription to the journal and the opportunity to write an essay on any topic for our Summer/Fall issue.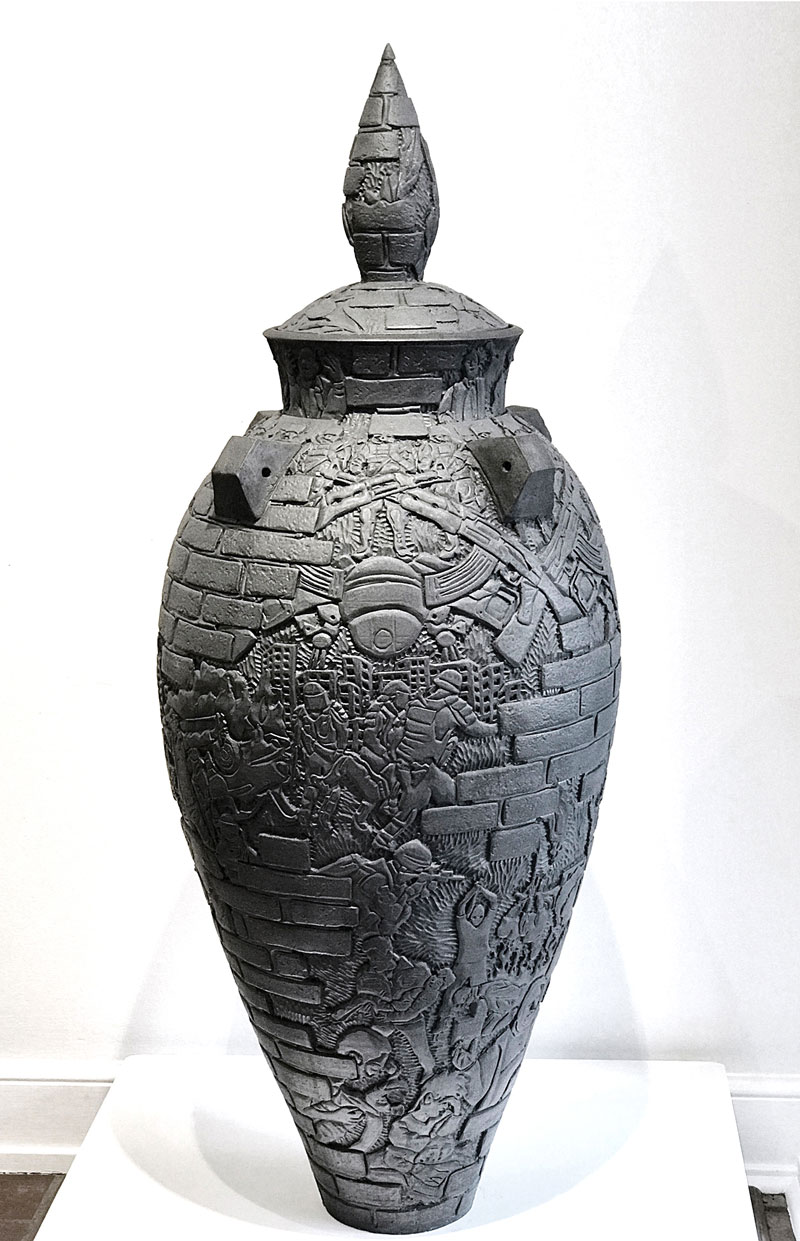 Developing a New Visual Language for Political Ceramics
By Lukas Easton
Over the past few years, and particularly since November 8, 2016, the language of socially engaged ceramic art has changed. Emerging and established artists alike are producing art that explores issues of feminism, minority discrimination, poverty, police brutality, Black Lives Matter, LGBTQ rights, immigration, environment, climate change, and war. The passion and voice of ceramic artists addressing these issues in their work excites and inspires me, but the importance and emotional impact of the message is lost when the work lacks craftsmanship.
As I look at the work from my 2017 BFA exhibition, I struggle with how to continue to make meaningful work that addresses difficult topics. I wonder if the images I carve into my vessels seem too direct and obvious, and question their lasting emotional impact on my audience after the awe wears off. In this age of great political tension, is subtlety the answer, or do these times warrant direct and confrontational visual language? While content is important, without strong formal elements to frame that content, the work risks failing in its primary purpose as art. These concerns have led me to take a hiatus from using imagery on my vessels in order to develop more nuanced ways of communicating through form first. To that end, I am exploring the styles of imagery and form that have the highest emotional impact.
As the National Council on Education for the Ceramic Arts conference in Pittsburgh (2018) approached, I was eager to be inspired by contemporary political art exhibited during the conference and excited about the possibility of seeing how other artists were handling these issues. I did see a lot of political art, but much of it spoke through a neophyte visual language. The content was often overt, and the message trivialized by poor craftsmanship. In Pittsburgh, I found no clear answers to my question of subtlety verses explicitness, and so I continue to struggle with it in my work.
To call what I saw "bad art" would be too simple. Much of the work was made by highly skilled and respected artists, but its visual language seemed undeveloped for the ideas of this time. On the one hand, the work has a sense of urgency and immediacy. This desire to get the ideas out into the world is very exciting.  On the other hand, the desire to incite social change is no excuse for a lack of visual and technical self-criticality. The political artwork I saw in Pittsburgh speaks about new issues using language from a distant past. If political ceramics is to have any significant impact on the world, a new visual language must be developed and refined to connect emotionally to the modern viewer. As a ceramics community, we need to evolve our expressive language so that we can effect change.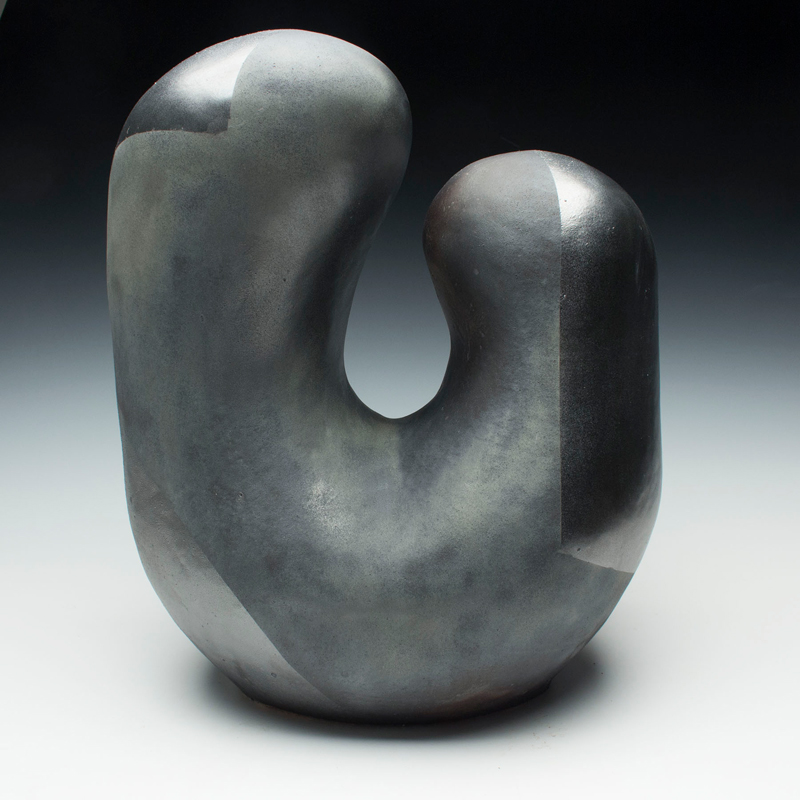 Reinvention and Uncertainty
By Will McComb
Being an artist demands that we tackle moments of upheaval and uncertainty head-on. I see my studio practice as a process of coming to terms with the uncontrollable and unexpected.
In 2010, I graduated from the University of Kentucky with a Bachelor of Arts degree in ceramics and a resolve never to step foot in an academic institution again. My only goal was to get a job and try to make work in my spare time, imagining that ceramics would never be more than a fulfilling hobby. My job in retail drained me, and even though I was only sporadically engaged with clay, my passion for the medium grew. In 2015, exhausted, exasperated, and desperate for more time to make my artwork, I was fortunate enough to stumble into a residency at Lighthouse Art Center in Jupiter, Florida. The residency included a part-time assistantship with wood-fire potter Justin Lambert. 
As excited as I was for this unexpected opportunity, the move was emotionally draining. I had never lived outside of Kentucky and only briefly outside of my hometown. Dragging my then-girlfriend (now-wife) along, I was afraid that she would be bored and unhappy, and I had no idea how it would affect our relationship (for the better, as it turned out). 
Through conversations with Justin during the residency, I was challenged to think earnestly about my personal reasons for making artwork. I faced the reality that the work I enjoyed making was not personally meaningful, and that by extension, it probably wasn't meaningful to my audience, either. New ideas came, and my work began to change, but the results were often disappointing. The downside to exploring unknown territory was that I often had no idea what I was doing.
Slowly but surely my work improved. It began to reflect my interests and personal history—it felt honest. After a little more than two years in Florida making this new work, I applied and was accepted to graduate school at the University of Mississippi, Oxford.
There I encountered many of the same challenges.  Again, moving was stressful, although this time it was less so because I was married and not leaving my home state. Again, I was challenged to delve into my work, to make it even more personal, to experiment with new technical approaches, and to explore my work's relationship to art history.
I was proud of the body of work I had developed in Florida, and even though I knew it could still be better, it felt comfortable. As a graduate student, I was asked to explore processes and make things that made little sense at the time, that weren't comfortable. Additionally, I was expected to explain what all this experimentation had to do with me or anything, for that matter. I struggled to accept a decline in the quality of my work and reminded myself that the decline was in service to a longer-term gain.
Slowly, little breakthroughs accumulated. As I write this essay and approach the end of my first year, I can see the first glimmers of a deeper voice emerging—little visual moments in my work that reflect me, that feel real, and may even be important. I realize that not only has all of this has happened before but also that fear leads to a deeper understanding. 
I am negotiating many uncertainties, contrasts, and tensions in my work. To some degree, my work is a reflection of my experiences of the last few years, but it feels more like trying to grab hold of a lesson waiting to be learned; like trying to leap into spaces where experiences don't all come together in a neat package, where features that don't "go together" coexist in harmony, where the limits of my comfort are dissolved, where all the parts of me that don't quite meet up are forced into a solution.
Being forced to deal with change has ultimately made me a better artist and a stronger person. It has helped me see that uncertainty and absurdity are part of the beauty of life. Looking forward, the challenge is to make that realization into art.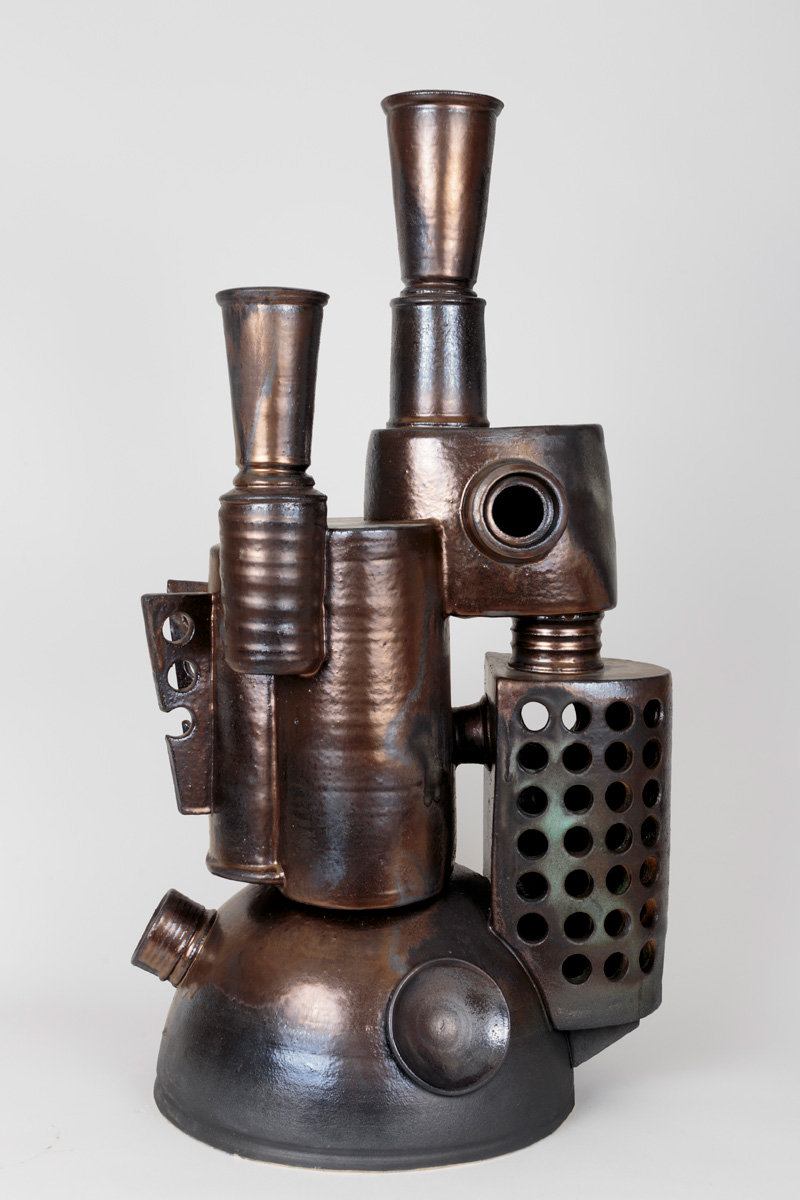 Contemporary Relics
By Steven Osterlund
I began my ceramics journey in high school, where I realized my ability to produce attractive and functional forms in clay. After several years of working on the potter's wheel, I was proficient with simple forms and wanted something more from the medium. I began studying studio art at Palomar Community College in San Diego County, where I worked as a student technician in ceramics, learning about firing the kilns and mixing glazes. My professors pushed me to make more advanced forms and to develop more sophisticated concepts. After I transferred to California State University Chico, I began to use the potter's wheel for the creation of sculpture. I completed my BFA degree in 2017.
My process involves a combination of  building techniques, incorporating wheel-thrown forms with slab-built, extruded, and molded elements. The desire to create complex forms led me to develop an organized and disciplined studio practice, focused on strategic construction and careful timing. I'm challenged by the task of bringing drawings from my sketchbook into a three-dimensional forms in my studio, then sucessfully through the firing process.
Conceptually, I am interested in the prowess and permanence of the industrial machines that emerged during the rapid technological advancement of the past century. I am attracted to and find beauty in the derelict and discarded. I'm inspired by junkyards and abandoned industrial sites that exist as relics of recent history. Through creating unusual but somewhat recognizable forms, I am using the ceramic medium to communicate humans' relationship with machines and to ask my audience to make assumptions about the use and meaning of objects. I aim to transcribe outdated industrial vessels and apparatus into a modern vernacular through the medium of clay. The historical importance of ceramic vessels for transportation and storage is often overlooked in today's world of plastics and metals.
I plan to continue this work, expanding it to address issues of cheap labor, unhealthy working conditions, environmental degradation, and cultural pollution surrounding global trade and manufacturing. Post-graduation, maintaining an active studio life has been challenging, but several wonderful institutions and many generous educators and fellow artists in the ceramics community have supported me and I am confident in my ability to continue to work within it—the challenges of being a ceramic artist are undoubtedly worth it.