I stood at the top of the driveway in the falling snow, stunned by the beauty and by the great task ahead of me.
Can I really do this? How am I going to make it all work? Am I going to be able to pay the mortgage? What if I don't get into that show? Can I actually make a living selling pots? Am I completely crazy?
The freezing weather seemed to reinforce my internal doubts and I realized that I was standing still. I took a breath of cold air, picked up an armload of wood and carried it into the garage. By the time I was finished stacking the wood, it was almost dark and the snow was falling harder. I poured hot tea into my cup and looked into the fire burning in the stove, relieved that the woodpile had saved me from questioning myself to death.
There have been many moments like this since October of 2000, since the day I saw that ad in Ceramics Monthly. I was in the ceramics studio at the Worcester Center for Crafts, waiting for my class to arrive. My friend Robbie Lobell breezed in holding the magazine up in the air. "Have you seen this?" She pointed to the page. The ad read: "house...pottery studio...noborigama wood kiln...20 acres...beautiful views...call Steve". Wow. It sounded like a dream, a pipe dream. I laughed at the idea of buying this place, or any place for that matter. I was just getting by with what I was making as the studio technician and by teaching. How on earth could I even get a loan? Still, the seed had been planted.
After class I called Steve Morowitz, who, as it turns out, was a friend of mine from college. We were both ceramics majors at the Hartford Art School. The following week I drove to upstate New York to meet with him and see this potter's dream far myself.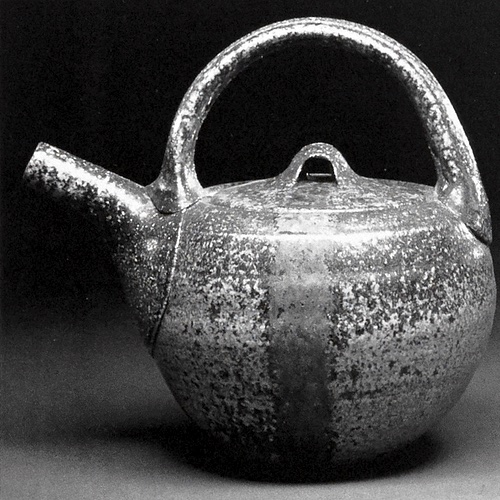 That was it. Once I saw the place there was no turning back. The kiln hooked me. Steve had built it in 1998 with another friend of ours from Hartford, and it was plain to see that it was well-made and solid. The single-chamber noborigama was similar to the Peg Udall design at the Worcester Center for Crafts, but on a larger scale. I had been firing the Worcester kiln for the past two years and knew it well. The idea of buying a piece of property that already had this type of kiln on it was extremely appealing. I would be taking a huge risk, but I knew this was a good opportunity. I also knew that I wanted to make pots for a living and I figured this time was as good as any to begin. Things came together from there. I was approved for a loan, thanks to having good credit. My parents offered to give me the down payment; they did not hesitate to support me but were concerned about my living in the country alone. Being alone was only part of my worry. What really kept me up at night was this idea of being a full-time potter. It had always been an abstract image in my mind; now I was actually going to do it and what was that going to look like?
The choice I made to move away from my supportive community to a place where I didn't know anyone presented a dilemma. I now had a beautiful setup, but I was in the middle of nowhere and the kiln required a group of people to fire it. There was no pre-established community in Harpursville, New York. It was a strange feeling because I had only worked in communal studios. While I relished the solitude of my new space, at the same time I felt removed from something significant. That isolation served a purpose, by reinstating a desire and a need to make a connection with others. Despite my remote location, I was determined to bring people in. It was a matter of logistics and I knew that wood kilns have a way of drawing folks together. It didn't take long; soon I was firing the kiln about every six weeks with the help of many people, including Steve. He maintained a connection with the place by renting the apartment above the studio. Although he lived part-time in New York City, he came upstate to make pots and fire the kiln.
The firings became a way of expanding my community. They also proved to be my main social outlet. My crew came from all over, some from up to three hours away, to chop wood and stoke the fire. We worked out a system that allowed everyone involved to put a number of pots in the kiln in exchange for their labor. I had everything I needed to make the pots and fire them, but there was much more to it than that.
There are many expenses involved in the making and selling of pots. I had no real concept of this until I had to sell pots to make money. It changed everything. Although clay is affordable enough and wood is cheap, the real cost in making the work is the time each piece takes. I learned the importance of efficiency in the studio and in daily life. I made certain compromises in my work in order to be more efficient, such as once-firing, glazing more simply, and making more round pots. My principal source of income was from craft shows. When I compared the costs linked to marketing with the amount of revenue obtained from each show, I found that I was only breaking even. To stay afloat I relied on a number of different sources, including gallery sales, commissions, rent from the apartment, and some teaching. I've worked part-time jobs outside of the studio and have received continued financial help from my parents. With all of this I have managed to forge an existence, but eventually the weight of my financial responsibilities became too much to carry. I was unable to make and sell enough pots to support my overhead. To make it work I needed to cut back expenses. Considering that most of my money goes to the mortgage payment each month, I have decided to sell the property.
This experience has reinforced my commitment to being a studio potter I am in the process of moving to a place where I'll have a small studio and will be sharing living expenses. I will continue to make pots full-time with the benefit of much lower overhead costs. I am staying within the reach of my new community and plan to build a kiln there once I'm settled. Until then I'll be traveling to wood fire, as I've done in the past. As I prepare to leave this place and embark on the next phase, I will be taking with me the lessons learned over the last three years. I am looking ahead with confidence that I can actually make a living as a potter.
Above: Julie Crosby Teapot, woodfred stoneware, 9x6".