Voting to cancel the Richmond, Virginia, conference in March 2020 was my first daunting task as a newly appointed National Council on Education for Ceramic Arts board member. This decision took place two weeks before the conference was to begin when the severity of COVID's impact on life as we knew it remained as yet uncertain. NCECA received many pleas not to cancel from those who had purchased airline tickets, made travel plans, and were in or hosting shows. However, states in the US did not start to shut down until March 15, and in Virginia, closures were not acknowledged as necessary until after the conference began. Contracts with vendors, hotels, and other conference services were in question. What type of financial penalties would NCECA have to absorb? This message of unprecedented change was intensified two months later by the murder of George Floyd by police in Minneapolis. NCECA had to somehow navigate these cascading circumstances. As a still new member of NCECA's board of directors, I understood we faced crisis-driven realities and had to address difficult decisions. Little did I know then how familiar I would become with people I hardly knew, let alone met, through a virtual meeting platform. It was an intimidating time to plan a large ceramic arts conference. 
The realm of Zoom became our virtual boardroom as our wayfinding through societal circumstances, and organizational examination dominated our meetings. Amid the COVID crisis, NCECA was also challenged for its lack of diversity and cultural insensitivities. These two complexities absorbed the organization's focus. 
Out of necessity, we pivoted the 2021 conference to a newly created online platform. The virtual lectures and discussions offered an inclusive international reach never achieved before. We were able to feature makers from around the world, including Kwame Akoto-Bamfo from Ghana, Lori-Ann Touchette from Rome, and Madhvi Subrahmanian who lives and works between India and Singapore. This virtual global gathering opened the eyes of many who welcomed their culturally nuanced presentations. However, virtual art exhibitions didn't adequately convey the three-dimensionality of sculpture or pottery, and spontaneous conference camaraderie was evasive. Like other organizations, schools, or businesses, NCECA redefined itself in the course of eighteen months. We sought solutions to unprecedented problems and worked to remain hopeful and relevant for an art community that was reeling from changes taking place throughout society. Like almost every city in the country, Sacramento experienced these drastic shifts as art galleries closed, and commerce suffered. Exciting plans for the 2022 conference appeared to be dissolving into uncertainty. Although I live in California and am used to earthquakes, the world seemed to shudder and shake as we searched for pathways regarding the impacts of COVID-19, while recalibrating the organization's mindset and culture. 

My responsibilities as onsite conference liaison informally began in 2018 when I welcomed NCECA executive director Josh Green to Sacramento to solidify anchor exhibition venues like the Crocker Art Museum and California State University, Sacramento. Each venue agreed to host the NCECA Annual Exhibition and the National Juried Student Exhibition, respectively. Those sunny spring days in March of 2018 instilled great promise for NCECA in California – a state they had not officially visited for more than forty years. 
Securing additional exhibition venues, connecting NCECA leadership with regional contacts, building a regional advisory committee, and resolving potential conference issues is a simplified description of the complex role of the onsite conference liaison. As this volunteer position includes an appointment to the board, governing the organization, particularly during the tumultuous times of 2020 and 2021, required resolve. Organizational skills, regional contacts, and broad art experience comprised my skill set necessary to navigate conference planning. Having been a member of the Northern California ceramic arts community as a curator, college educator, arts administrator, and writer, I was well-matched to meet NCECA's needs. I understood the commitment required of board members, having served as the executive director of two non-profit organizations. I viewed my role as an opportunity to give to a non-profit arts organization whose mission I supported. 
As is institutional practice, onsite liaisons shadow their cohorts at preceding conferences to gain insight into the scope of the position. However, there were no in-person conferences in 2020 or 2021, no in-person exchanges or introductions, or ways to observe conference insights or get tips on implementation. Layered into this unsettling scenario was the fact that California was experiencing a historic drought with devastating wildfires each summer. On a few occasions, I had my car packed with important papers, family photographs, beloved artwork, and supplies for my dog in case I got the call to evacuate with minutes to spare. I knew several people who lost their homes in a fiery instant with heat so severe buildings incinerated. One friend's extensive ceramic collection went up in flames in a matter of minutes.
Our monthly Zoom board meetings became a reassuring connection to talented people throughout North America. I came to appreciate board president Pete Pinnell's dry humor and steady hand of leadership, and Josh Green's skill to advance plans, adapt to organizational revisions, and address financial considerations. Other board members inspired me with their commitment to the organization and compassionate thinking. Each person brought their best self to the cause and purpose of NCECA while all of us tried to navigate with grace a tumultuous sea of uncertainty.
As the lead onsite liaison, I formed a Sacramento Planning Committee comprised of a diverse team of artists, educators, gallerists, and museum curators. Sacramento arts administrators who knew the broader art community were also included. A second one-year onsite liaison, Ray Gonzales, came on board from March of 2021 to March of 2022. Successful project management and information sharing were very effective on the web-hosted management platform BASECAMP. Conference theme development, promotional video production, logo brainstorming, and exhibition venue identification occurred, all while living in different parts of the state. The conference theme, Fertile Ground, references California's agriculture and the Farm to Fork movement, acknowledges the abundance of clay in the state, and celebrates intergenerational artistic growth spawned through academic programs and community art centers. We kept working on these projects and more while remaining hopeful that the Sacramento conference would indeed take place in person in 2022. Rallying the involvement of artists, galleries, and other art venues that were new to NCECA was a highlight. I encouraged their exhibition ideas, supported their inquiries, and fostered their participation in one of the largest art events to ever take place in the Sacramento region.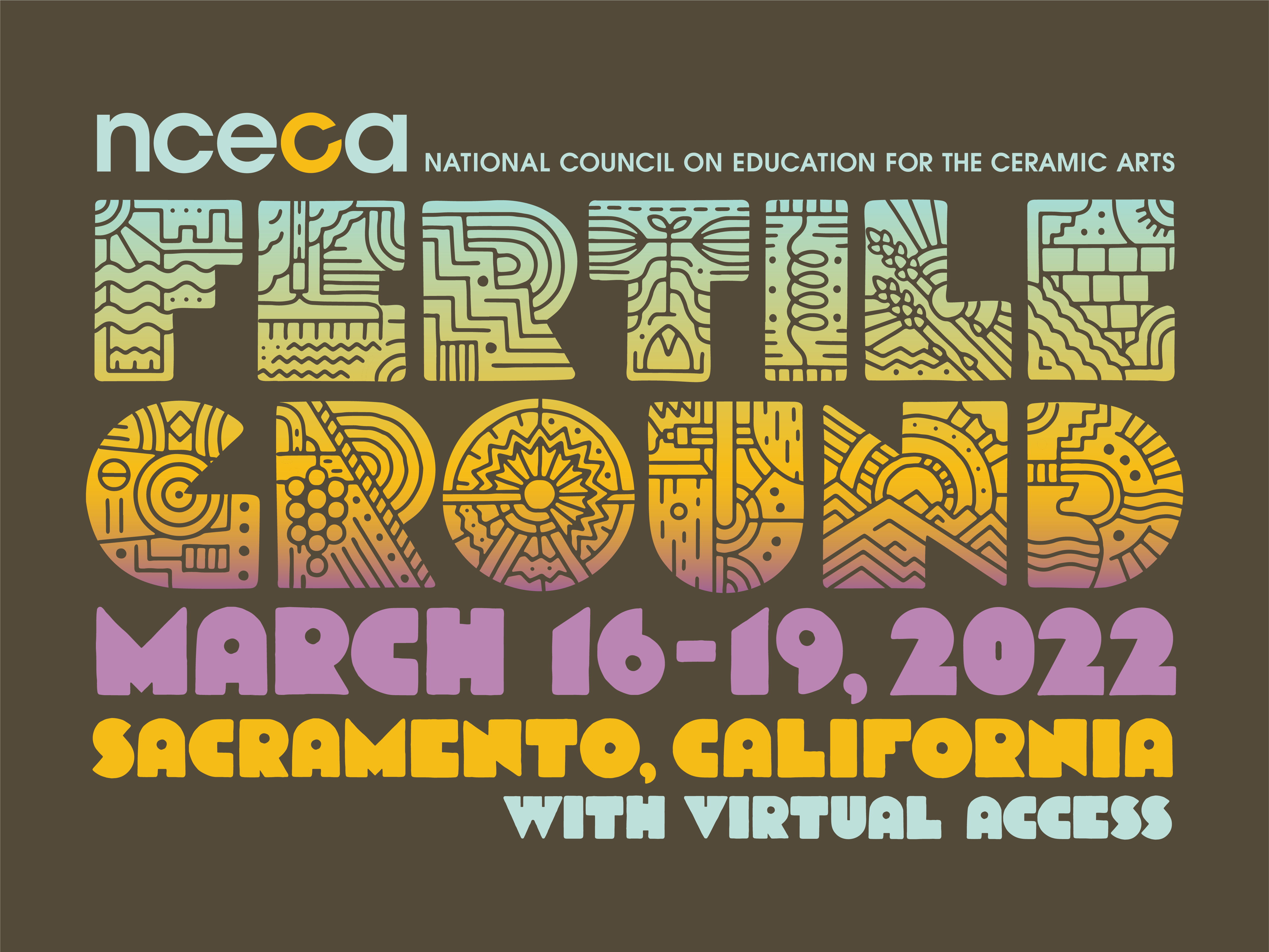 Amid conference planning, there were advancements within the board of directors. We established two new board positions – governance, advocacy, and policy director with MaPó Kinnord, and collaboration and engagement director with Heidi McKenzie. These positions, purposefully created within the structure of the by-laws, will diversify NCECA's leadership, programs, and membership.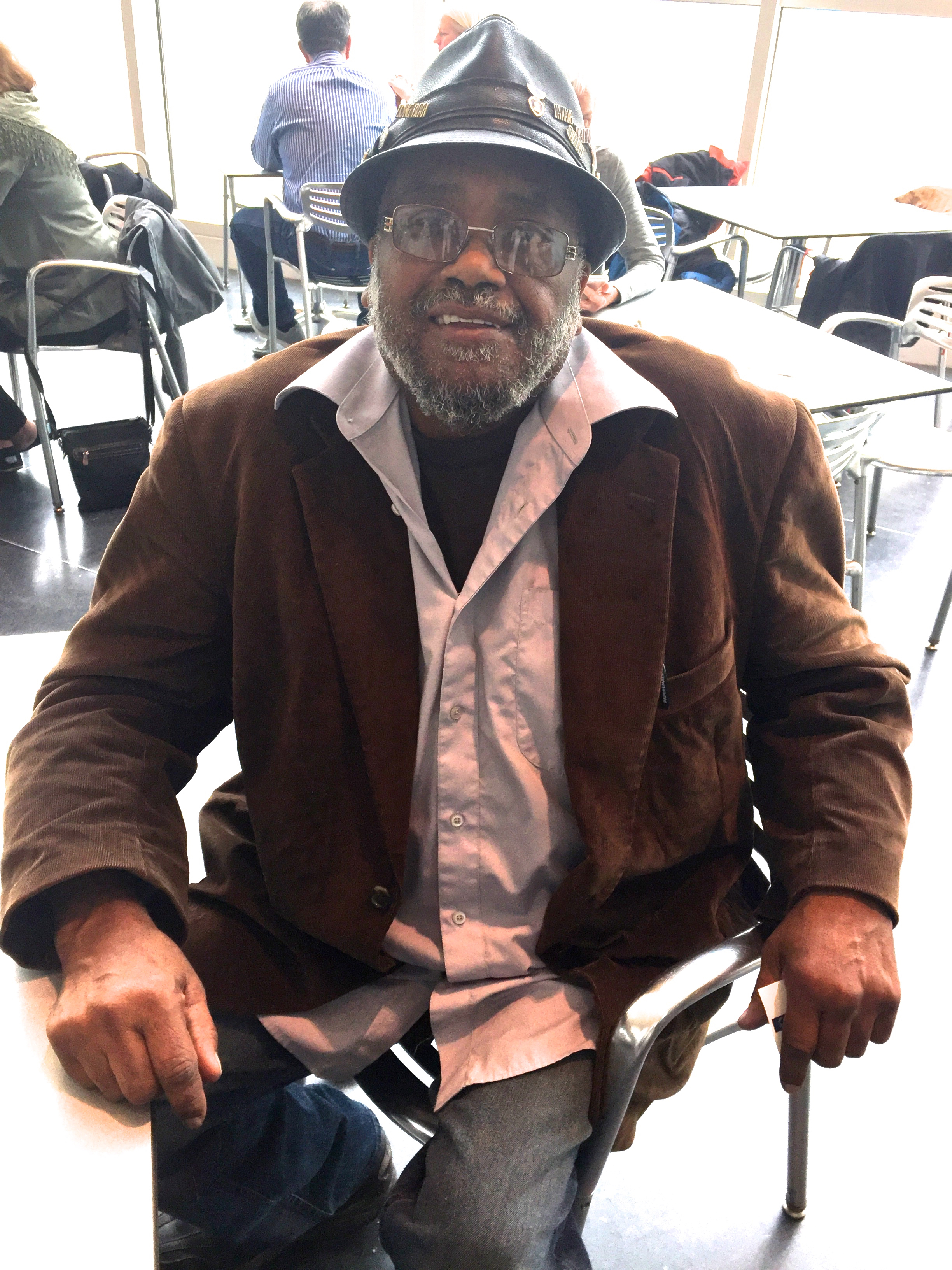 Onsite liaisons can bring their unique talents to the organization. As a board member, I chose to fundraise for the Sacramento conference by writing grants and hosting events to introduce regional donors to the organization. One partner was VetArt in Southern California. I met their program director, Steve Dilley, and sought approval from NCECA to raise conference scholarship funds on their behalf. Additionally, two K-12 educational programs in the Sacramento region are receiving support for their outreach programs to youth through a grant I successfully secured. Every non-profit art organization I've served has asked board members to extend themselves as campaign ambassadors. I was familiar with that expectation and knew how to appeal to my sphere in Northern California. I was pleased to contribute beyond the onsite conference liaison scope.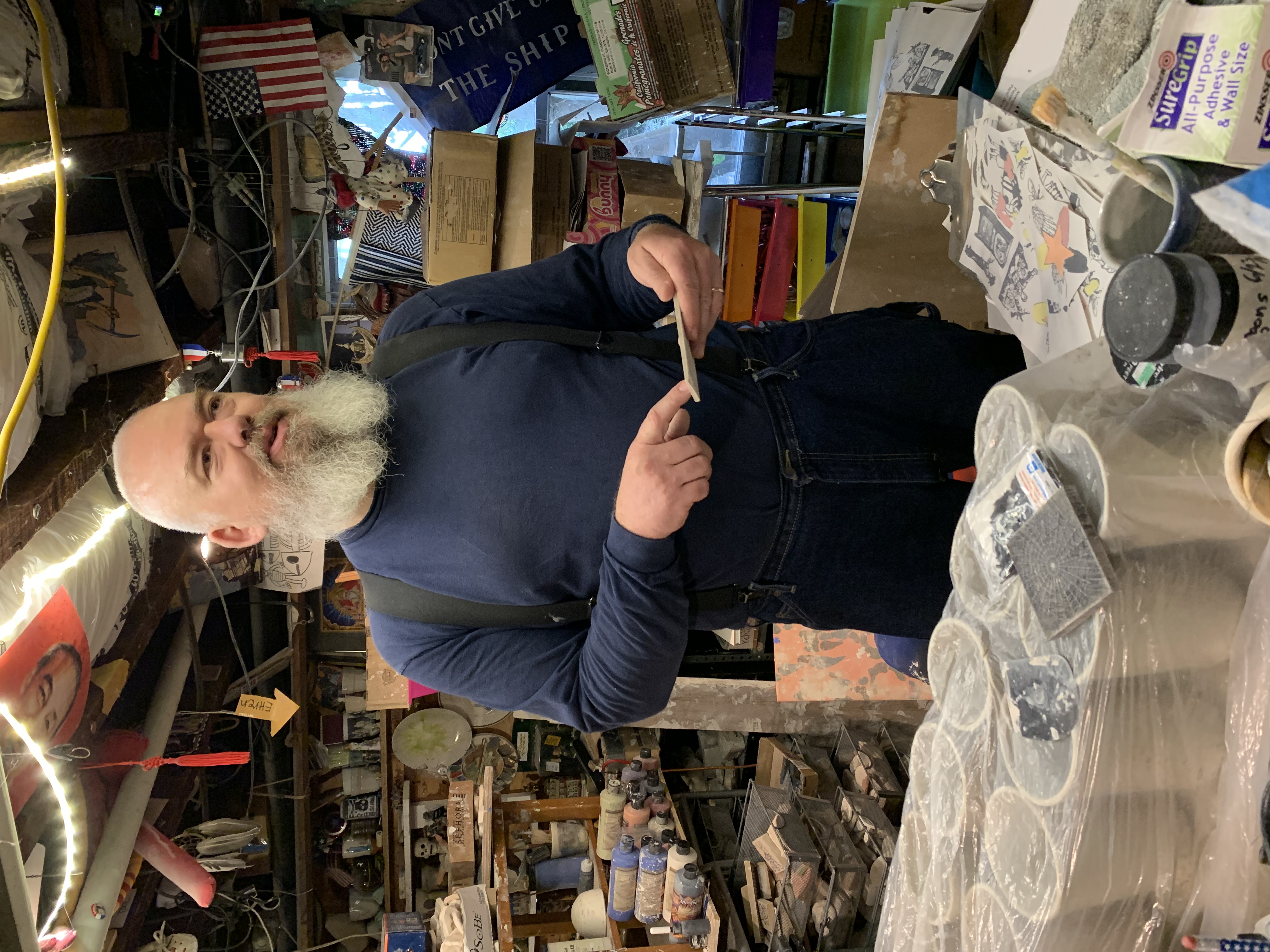 NCECA's Regional Award of Excellence is a meaningful opportunity for the onsite liaison to nominate a person or organization for national recognition. I nominated the sculptor and painter, Akinsanya Kambon. Born and raised in Sacramento and first known as Mark Teemer, Akinsanya divides his time between his hometown and Long Beach in Southern California. For twenty-six years he taught as an adjunct professor at California State University, Long Beach, but his remarkable artistic journey is a deeper story. Akinsanya served as a combat illustrator with the Marines during the Vietnam War and earned three Purple Hearts. Later he was a lieutenant of culture in the Black Panther Party for Self Defense and created what has become known as the Black Panther Coloring Book designed to bring attention to racial inequality and social injustice. These touchstones are just a part of Akinsanya's compelling life story to be celebrated at the March 2022 conference. I also was asked to guide the nomination of Berkeley artist and Marine veteran, Ehren Tool. Ehren uses the thrown cup as a vehicle for conversation and perhaps healing for those who have experienced the trauma of war. Each piece is thrown on the potter's wheel and decorated with wartime imagery, insignias, and personal symbols. Though galleries would like to represent Tool and his work, he embraces the gift economy and has given away more than 22,000 individually created and adorned cups around the world.
The Sacramento Planning Committee achieved many successes during its two years working together, like encouraging NCECA to offer conference programming that is specifically linked to the host region. Unfortunately, even though our outreach to potential exhibition venues was extensive and thoughtful, some community centers, galleries, and educational institutions did not participate in the conference. Many art entities in the region, however, recognized the artistic, educational, and financial benefits of being a part of this major art event, as evidenced by the eighty-five ceramic exhibitions displayed throughout the region. Also, some committee recommendations could not be integrated into conference planning, which discouraged some committee members. A gap developed in the understanding of our efforts since COVID travel restrictions prevented periodic board visits to the region as is customary. Thankfully, the board's introduction to Sacramento came in October of 2021 when many arrived in Northern California for a regional preview five months before the conference. 
Despite many pandemic hurdles, I navigated these past twenty-four months with an appreciation for NCECA's broadening scope of programming, institutional vision, commitment to fairness, and willingness to change. I witnessed the dedicated effort to implement better diversity, equity, and inclusion practices, while also prioritizing educational growth and artistic excellence. NCECA is a large, member-driven non-profit organization that operates by way of a legion of volunteers and small and exceptional staff based in Boulder, Colorado. The scope of what is produced year after year is eye-opening and is a testament, I believe, to the skill, resilience, and heart of the many who guide the organization. NCECA has evolved as both a leader and guide in the realm of ceramic arts and education since its modest beginnings in 1966. 
Facing the conclusion of my term, I am evaluating my experience as the lead onsite conference liaison. While the long-range implications of COVID for the organization are unclear, I can say with certainty that my service to the organization was both what I expected and unlike anything I had ever experienced. There were false starts and confusing first steps, but there were also clear opportunities to finesse programming, implement ideas, and provide leadership for regional decision-making. Accepting this role was driven by my hope to contribute to an organization whose mission and vision I respected. It was rewarding to be a part of an artistic enlivening of a region that had suffered great loss due to the impacts of COVID and racial injustice. I trust that the Sacramento NCECA Conference, weathered by these experiences, will revive the breadth and depth of the ceramics community so we can cultivate together clay's prolific, enduring, and nourishing fertile ground.