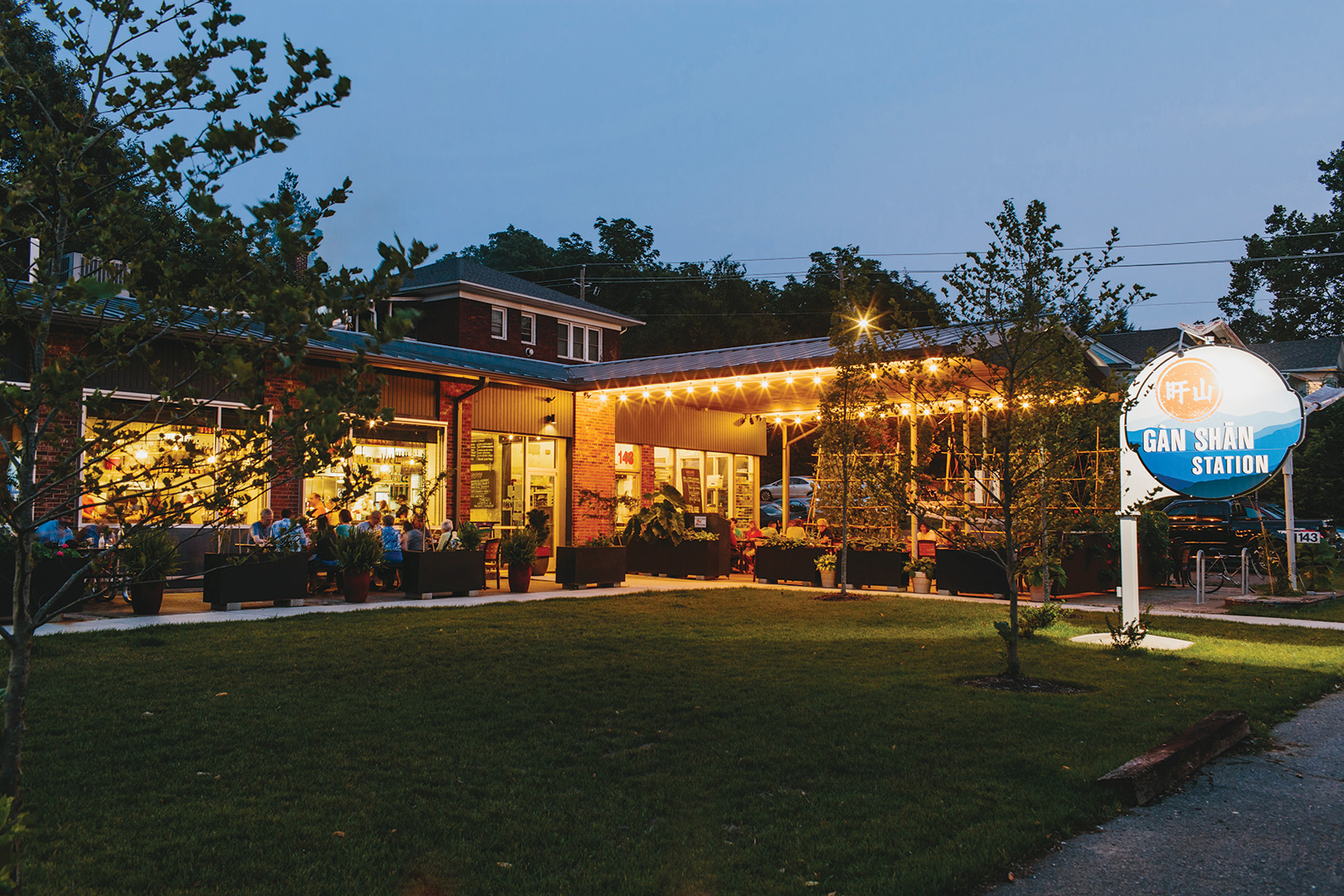 A dozen Warren Wilson College students and their teacher, Leah Leitson, lean over tables in the clay studio, touching up final decorative elements on bisqueware. They are finishing a major spring semester project – a collaboration with the Asheville restaurant Gan Shan Station (旰山站), or "Sunset Mountain Station." Its name not only reflects its locale and the building's original use as a gas station but also its culinary ethnicity. Gan Station creates traditional East Asian dishes from locally farmed ingredients. Before the project got underway, Patrick O'Cain, the restaurant's chef and owner, met with the students to discuss the food he serves, and they have worked all semester creating ceramic wares for that food.
Student Ella Conder has glazed a set of rice bowls in dark blue with hand-painted white sprigs, colors Ella chose through her research. Today she transfers the restaurant's logo – its name in Chinese characters – to the underside of each bowl using a screen print designed by classmate Anna Aresco. They don't mind signing pots with the restaurant's name rather than their own; in their curriculum, which includes academics, on-campus work, and service in the wider community, Warren Wilson students are used to contributing their labor.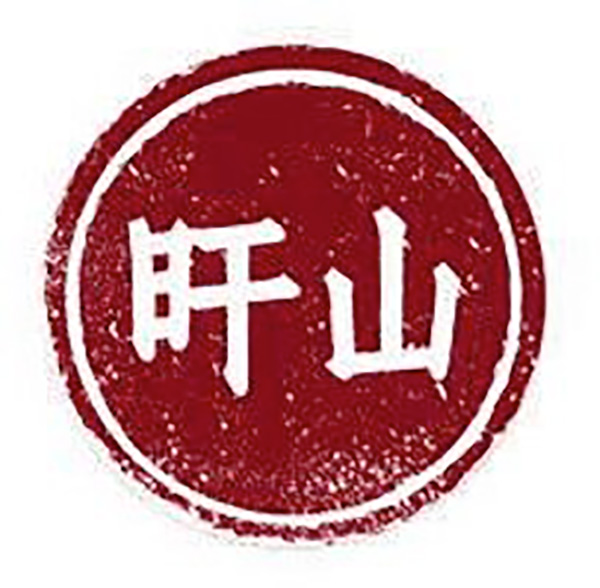 During the semester, the students examined East Asian motifs in architecture, tile work, and dress as well as ceramics; developed prototypes to suit Gan Shan's East Asian menu items; and chose glazes to complement the look of the food. Once the class approved the prototypes, each student embarked on creating a set. Individuals strayed from the group aesthetic, but not too far. Leah stressed to her students that each set should resemble other sets the way family members resemble one another, for example, a child and her grandmother having the same shade of red hair; a particular hue of blue in one student's work should appear in other pieces produced for the project.
Leah has partnered with Gan Shan Station only twice during her eleven years of teaching at Warren Wilson, but she has always encouraged students to design pots with an eye toward the food they'll hold. As a potter who loves to host dinner parties that feature her collection of pottery, she typically arranges for students to cook and eat a celebratory meal using the pots they've made before they take them home. This semester, Gan Shan will make and serve a multicourse meal using the students' pots, and the restaurant will continue to use them afterward.
An end-of-semester meal structures Leah's lessons. Glaze, weight, form – everything is selected in service to the final meal. Leah continually models the kind of thinking that goes into such a project: "When the students say they're making bowls for soup, I say, well, what kind of soup?"
*          *          *
On a sunny, breezy May afternoon, the class gathers on the patio of Gan Shan Station, located just north of downtown Asheville in a century-old residential neighborhood. Leah has invited me along; I work at Warren Wilson as a writing teacher and tutor, but in my free time I'm taking pottery classes at an Asheville studio, and Leah includes me in events with her ceramics students when she can.
Patrick welcomes us, praising the students' work, while waiters pass small round dinner plates with a repeated fan motif done in black slip, a design that student Caitlyn Lancaster said she borrowed from tablecloths she had seen in American Chinese restaurants.
The family-style meal begins with appetizers served in Ella's blue-and-white bowls. We pick up the salt-and-pepper tofu with chopsticks, dipping it into a ginger-and-garlic sauce. The tofu has a delicate, browned crust, an attractive color against the dark blue ceramic surface, and Ella's white blossoms dance.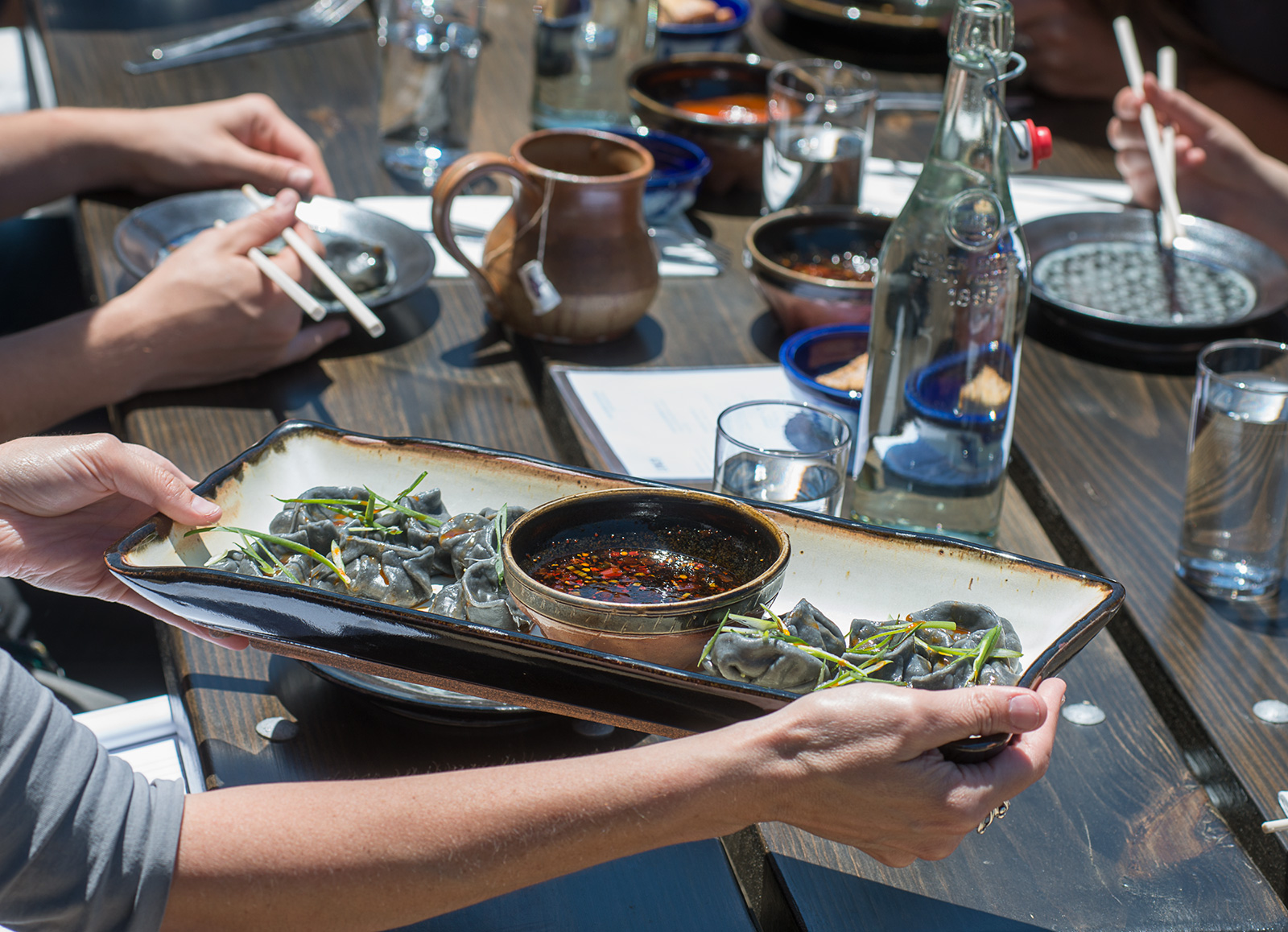 Each new course brings exclamations about how wonderful the food and pots look together, followed by quiet, absorbed eating. Ginger-beef dumplings arrive, framed by carved bamboo shapes and centered in white rectangular serving platters made by Deanna Dragan. Their edges and exteriors are tenmouku, just like the insides of Ivan Resnick's small bowls of dipping sauce, nestled among the dumplings. Deanna and Ivan hadn't planned the pairing, but it works.
In a lull after several courses, people lean back and chat about upcoming exams and summer plans. To keep the experience cohesive, Leah opens an envelope of slips of paper: twenty questions about ceramics. It's a teaching tool she learned from a Ceramics Monthly article by Jack Troy (October, 1998). She asks the students to take turns responding to questions such as, "What was your life like before you began making pots?" "Can you describe a pot that's been with you for more than five years and what makes it special for you?" "Are there too many pots in the world?" Leah answers this last question by acknowledging that all pots can be useful for learning but, she says, "I don't think we need to keep everything. It's not so precious."
I see Maia Gawor-Sloane smiling with delight as the waiters arrive with yet another course. Not all of the students' wares have been used yet, so Maia has been waiting to see hers, and here comes the main course of Korean bulgogi – amazingly plentiful, given how much we have already eaten. Deanna's platters hold thinly sliced medium-rare beef, fermented chili sauce, Szechuan cucumbers, and toasted peanuts. For gathering up the food, leaves of Napa cabbage fill Maia's blue and white floral-patterned bowls. The curve of the outer leaf extends the curve of her hand-painted bowl, older sister to Ella's small bowls. It's the genetic similarity I was waiting for: tenmouku and white dominant, accents of red, and this steady quiet current of deep cobalt blue.
Leah asks the students, "How do you feel about making the work and giving it up?"
"It's a decent trade-off," a student responds, licking his lips.
Others chime in that the project has helped them develop their design and throwing skills and set and meet higher standards for their work. "That's the first time I've tried to make two pieces the same." Someone adds, "Knowing, okay, this is going in a restaurant, the level of finesse that goes into the finished product has to be so much higher."
I ask how the students feel about getting compensated with a meal instead of money. "In the class, [the trade-off] is a great deal. But if I were a potter trying to make it in Asheville, I don't know."
Leah explains that potters often make exchanges like the one with Gan Shan. "When I was a young potter, I bartered for tofu. You can barter for almost anything." By doing this project, the students have learned that adhering to certain design requirements for their pots and making them for a local business can inform rather than limit personal growth. Now they hear that a project like this need not be a one-time thing; here's one component of how as potters they might sustain a livelihood.
I ask Patrick a version of one of Leah's questions. "What do you hope the students will get out of the project?"
 "I hope they get a sense of pride and ownership knowing that we will serve the food on their dishes for a long time to come," he answers. "And if we can open them up to foods they've never seen before, that's great, too."
Patrick got his first taste of Chinese cuisine as a child growing up in the Sunset Mountain neighborhood, thanks to a Szechuan cookbook his uncle gave to his parents, who loved to cook. Later, he traveled to Japan, Taiwan, and Thailand, where food was omnipresent in open markets and street vendors; he wanted to bring a consciousness of seasonally fresh food to his hometown.
Combined, the food and pottery contribute to an experience Patrick hopes to give future customers. He explains, "Restaurant people do what we do because we want to celebrate food and drink and sharing that with others in conversation. The basic joys of being alive, I suppose – or at least a couple of them."
*          *          *
I had always judged my visits to restaurants by the quality of the food and the conversation, but Leah, Patrick, and the student potters helped to open my senses. When I had arrived for that meal, I already had a favorite Gan Shan dish – the heart of palm salad. My appreciation for it deepened over the course of the meal. Patrick described how he crafts this signature salad: he pairs grapefruit with heart of palm and adds pecans for fat and slivers of carrot for color and sweetness. As he served up that bright, fresh salad in a tenmouku-and-white handmade bowl, everyone at the table was struck by how the curve of carrot shavings looked against that smooth backdrop – and how tricky the crisp, paper-thin heart of palm is to grasp with chopsticks.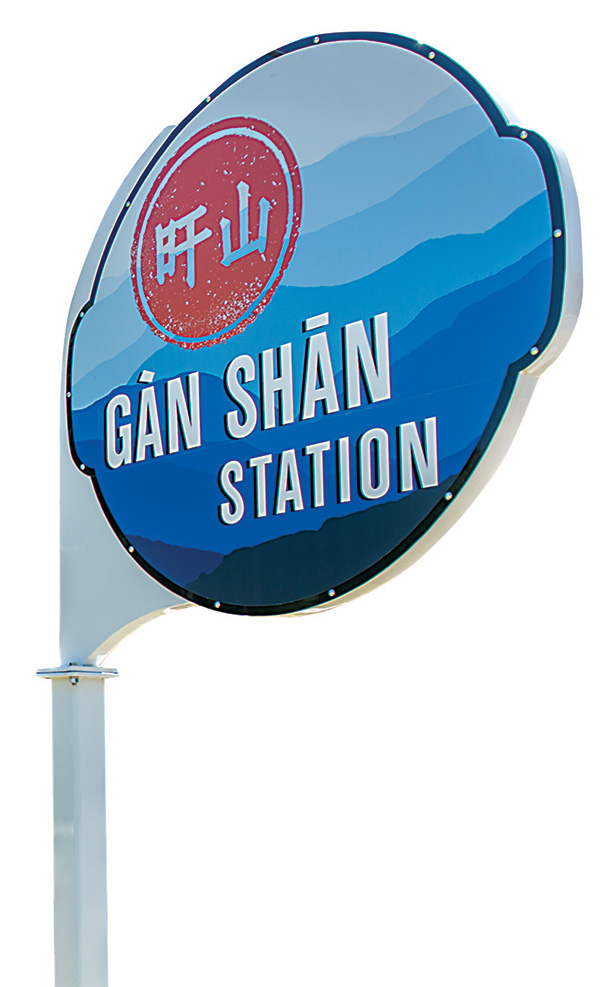 In a college ceramics program such as Warren Wilson's, students make many pots before they can speak eloquently about their craft choices. This project gave them a reason to start articulating those choices to one another, to Leah, and to Patrick: the final sets of dishes relate to both one another and the food they serve. The celebratory meal provides further synthesis, as students see the life their pots take on beyond the studio, independent of who made them.
Leah had said that not everything was so precious that it had to be kept, but as we stand to go, student Paul Landowne drains each person's leftover ramen into one large plastic to-go container – presumably for late-night snacking with roommates in the dorm. We walk away from the tenmouku serving trays, the faceted bowls that held dipping sauce, the two kinds of blue-and-white floral bowls, the round plates with a repeating fan motif. All the dishes are scraped nearly clean, and the waitstaff stacks them to be washed and put away for supper.