Author's note: Birth and death dates are given for those artists who lived and worked primarily in Northern California.
Introduction
Ruth Rippon (b. 1927) is a ceramic artist whose active presence in Northern California spans seven decades. Her story parallels the rise of vessel-based ceramics in the greater San Francisco Bay Area, clay's evolution into sculpture, and unconventional pluralism.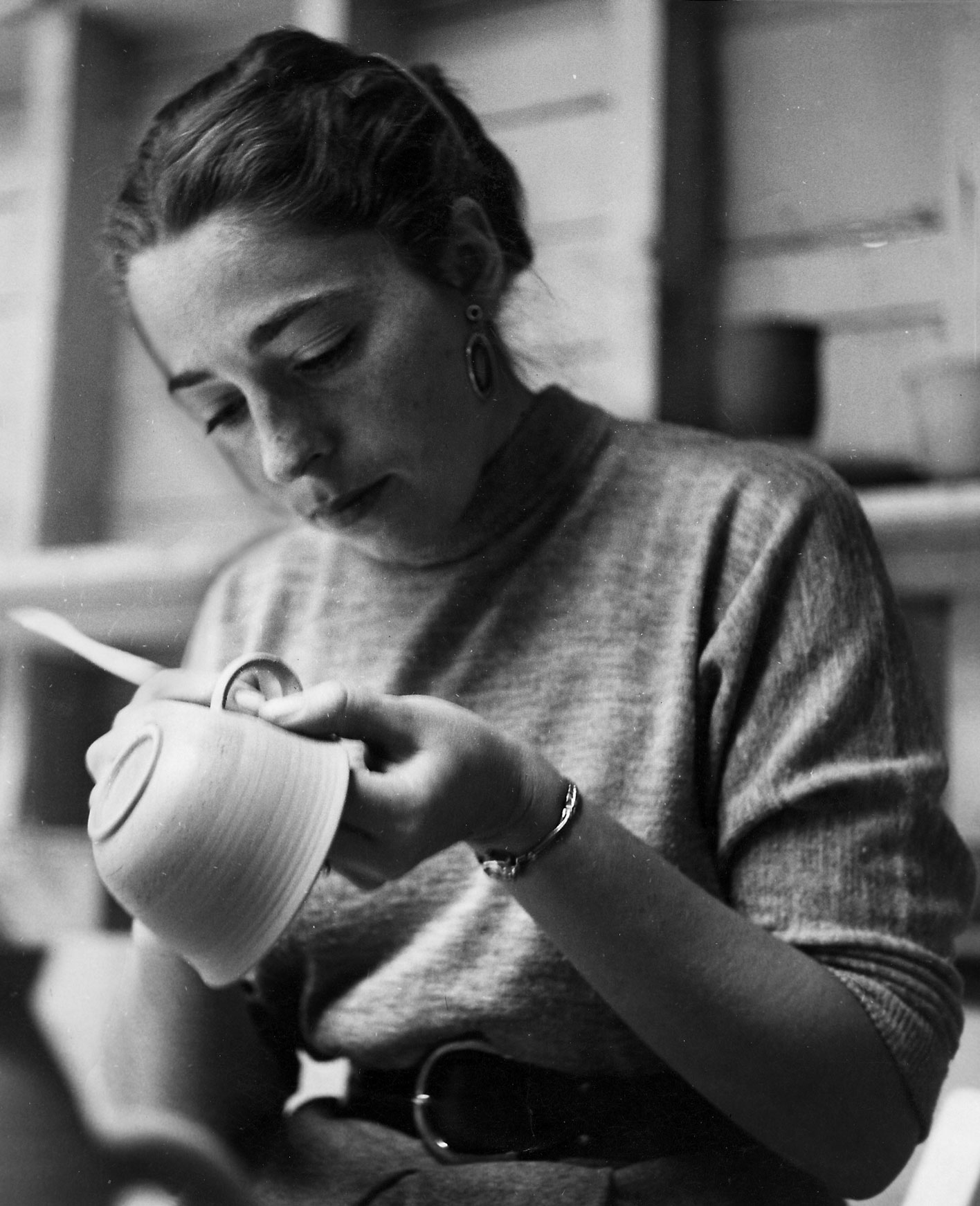 Born and raised in Sacramento, Rippon began her prolific ceramic life unceremoniously in high school, but it steadfastly developed when she was attending California College of Arts and Crafts (CCAC), Oakland (now known as California College of the Arts). She was a student there from 1947 to 1951, and her college years overlapped with those of Peter Voulkos, who graduated from CCAC with a MFA in 1952. She also knew Robert Arneson, who enrolled at CCAC a few years later and then attended Mills College, receiving his MFA in 1958. Rippon and Arneson often traveled in the same spheres, participating, for instance, in throwing demonstrations at the California State Fair. Arneson recalled, "Jack Ogden, David King, and Ruth Rippon would come out and demonstrate ceramics with us, with Tony (Prieto). It was a good time. I certainly feel good about this period."1
After working in some transitional positions in the Bay Area, including one as the summer assistant to artist-potter Antonio Prieto at Mills College, Oakland, in 1954 and 1956, she began teaching at California State University, Sacramento in 1956, and in the thirty-one years that followed became an influential teacher there. Rippon was also active in the Creative Arts League at the E.B. Crocker Gallery—now known as the Crocker Art Museum, Sacramento—where she developed exhibits and helped secure gifts to the museum.2 Her accomplishments as an artist, teacher, and gallerist were celebrated by the California Arts Council in the summer of 2008 with its "Artist of the Year" award. She was also recognized as one of 100 Distinguished Women Artists by the Fresno Art Museum, with an extensive exhibition in 2002. And the Crocker Art Museum featured her work in a retrospective exhibition in 1971. From her early days growing up in Sacramento, she wanted to be an artist, and she made her living doing the very thing she set out to do as a young girl. Decades later, a vibrant Rippon will celebrate her ninetieth birthday in 2017 with a comprehensive October exhibition at the newly expanded Crocker Art Museum.
...