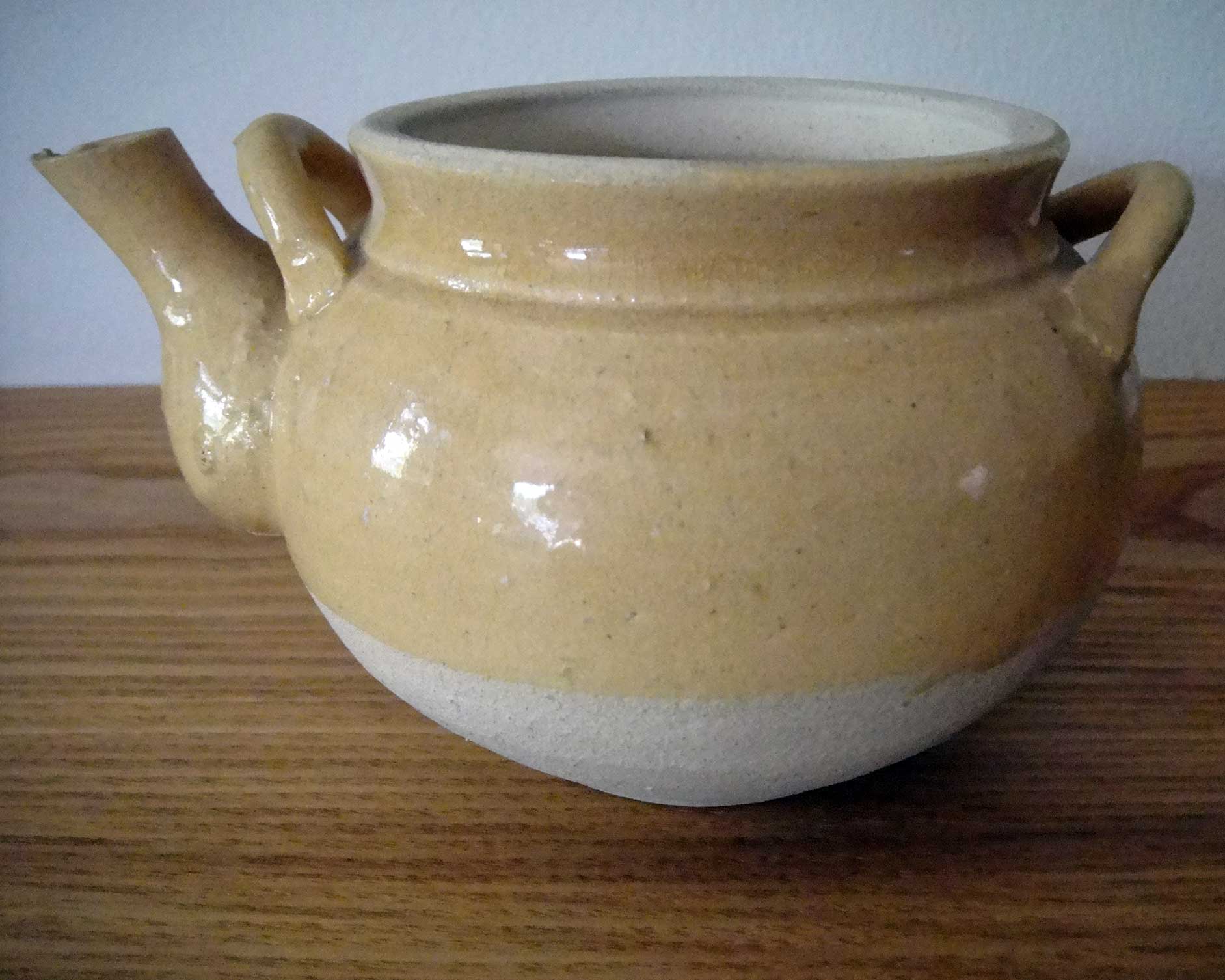 In the summer of 1973, I was taking a walk with two young women who were apprentices at workshops in the pottery-filled town of Shigaraki, Japan, when we came across a small shed by the side of the road. The shed was built in the old way, using clay daub over a woven bamboo framework, with a thatched roof, but the roof had sagged, and the walls were so dilapidated that we could see into the interior. Dusty bundles of ceramics lay on the ground. The straw rope that had bound them together had rotted, leaving neat stacks of pots in place. They were small teapots, of the plainest possible sort. Just sandy, off-white clay spheres dipped halfway down in clear glaze that had fired to a golden tone. Two loops in front and back of the wide mouth of each pot, aligned with the stubby spout, were ready to receive a bail handle. If clay lids had been made, we did not find them.  
These were "train teapots" (kisha dobin), one of the town's mainstay products from the late nineteenth century to mid-twentieth century. Vendors sold them from trays on station platforms. As a train pulled in, travelers reached out the open windows and exchanged a few coins for a pot of hot green tea. (The tea was the subject of the transaction; the pot simply conveyed it.) Although we three recognized what these pots were, none of us had ever bought one during a train ride. By the 1970s, molded plastic containers had replaced clay ones. Awed that the shed and its contents still stood undisturbed, we respectfully took away one teapot each.  
The rise of Japan's railroads created a niche ceramics industry related to the selling of food and drink to passengers. Japan's first railroad line, built in 1872, connected Shinbashi Station in Tokyo to Yokohama, twenty-nine kilometers to the south. By 1901, rail lines linked stations from one tip of the main island of Honshu to the other. At first, rail passengers translated the ancient custom of carrying picnics to scenic places by bringing their homemade food onboard, but local entrepreneurs at stations along the way quickly realized the potential for selling lunches sourced from nearby inns or restaurants. The experience of buying food during station stops gave travelers a fleeting but enjoyable sense of place.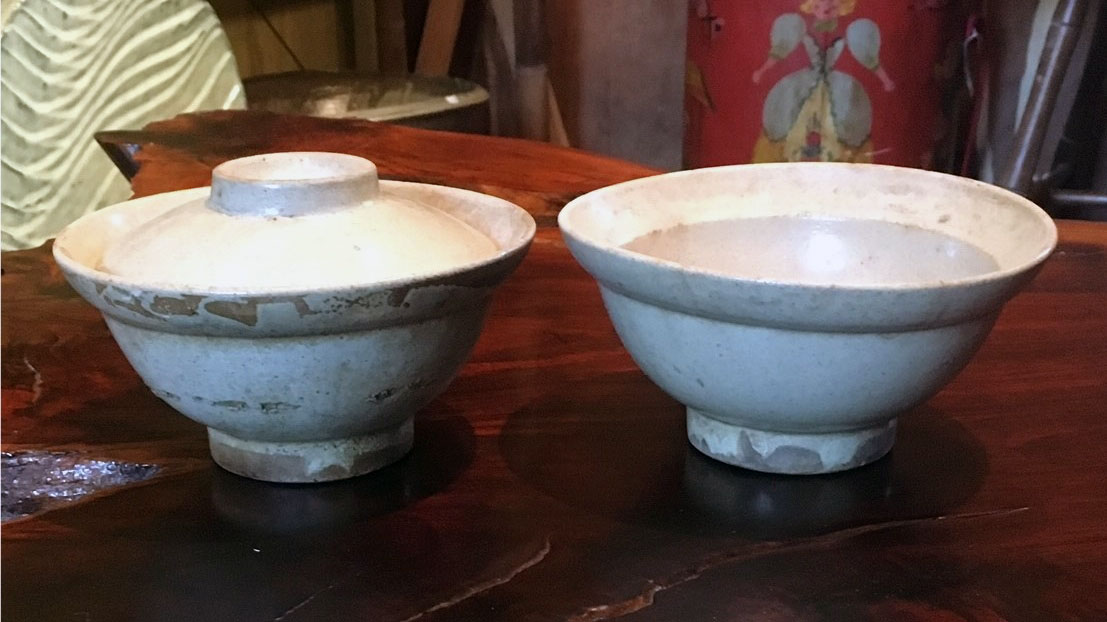 The earliest "train-station box lunch" (eki no bento, abbreviated to ekiben) was simply an old picnic standby: two rice balls (nigiri) with pickles, wrapped in the venerable throwaway packaging of bamboo skin. Soon, though, inventive merchants attuned to the romance of train travel discovered that ekiben featuring local and seasonal specialties sold well. Certain stations came to be known for their delicious offerings. Timetables listed the stations selling ekiben, and travelers planned their itinerary accordingly. Sushi could be packaged in bentwood boxes, but other dishes, such as grilled eel or chicken and egg on rice, which needed to be kept warm, required capacious ceramic bowls (donburi) with matching lids. Decorative paper wrappers tied over the lids often conveyed stories of the local dish or the station environs. Stamped with the date and hour of production, they also reassured buyers about freshness. With such meals, hot tea was indispensable. Thus workshops supplying the specific ceramic needs for ekiben and tea came into being and flourished around the country.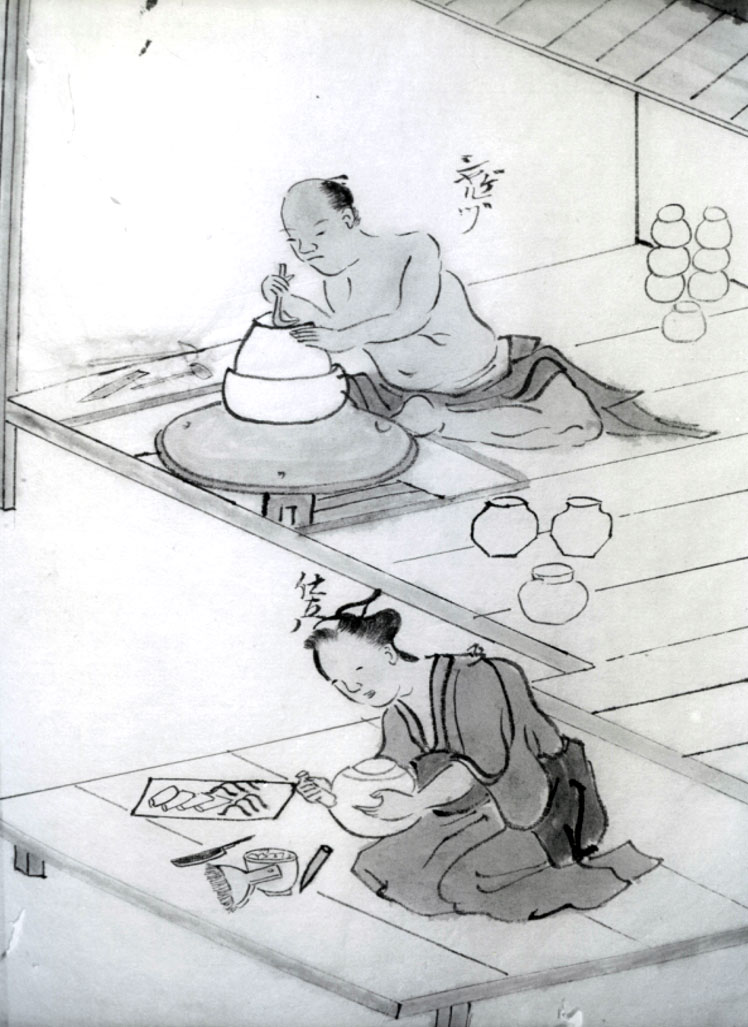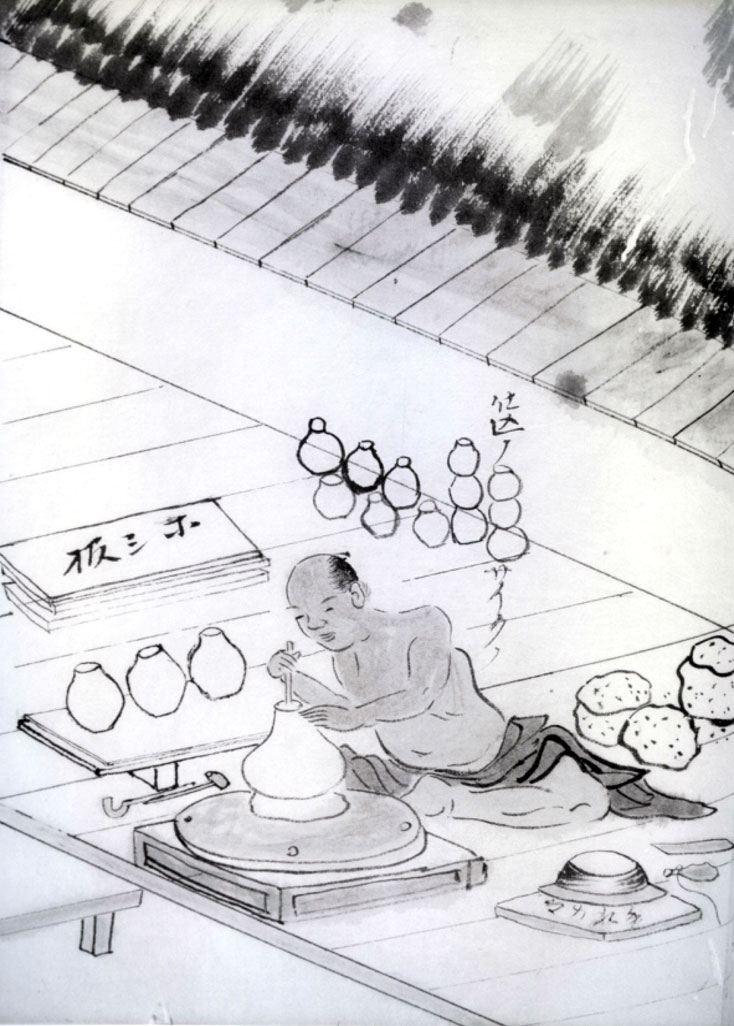 Shigaraki was the first pottery-producing center to add railroad-related teapots to its repertory, which already included larger teapots for homes, schools, offices, and restaurants.1 An illustrated report documenting production in Shigaraki as of 1872 captured the activities in a workshop making teapots. At right, a male potter works on a standard large wheel, hand-turned with the T-shaped tool lying beside the wheel, to throw teapot bodies, using a long-handled wooden rib. A second man trims concave bases over a clay chuck. Applying the finishing touches, a woman punches holes for the strainer and attaches the prepared spout and lugs. (Cups inverted on the opening served also as lids. Bail handles made of rattan, vine, or twisted wire were added at the stations that sold the teapots.)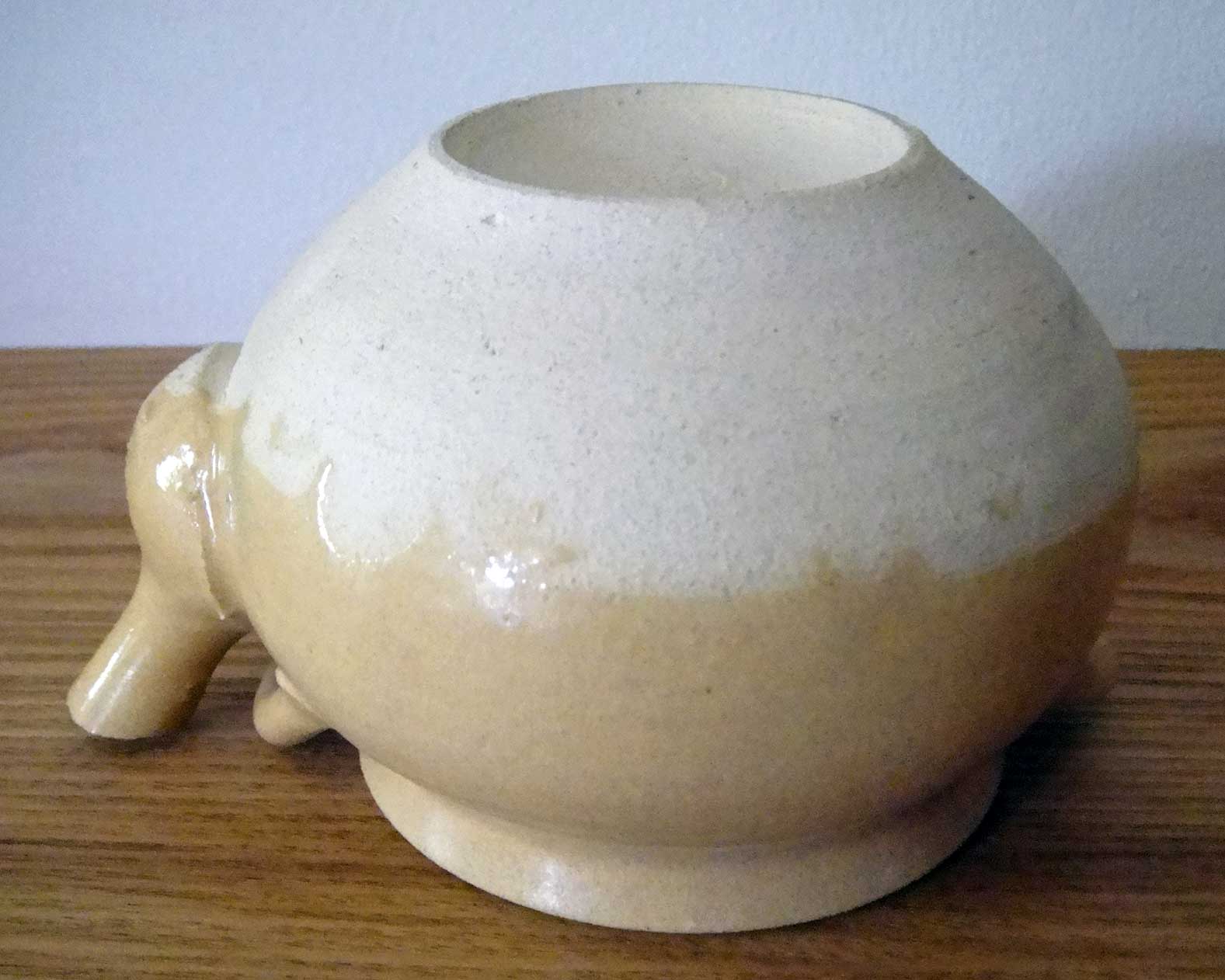 A workshop like this turned out five hundred small train teapots a day. At the peak of production, thirty-five shops operated in Shigaraki. The railroads that created the market for these teapots also distributed them to stations along the lines. Often the teapots bore the name of the station brush-written in iron under the glaze and sometimes a promotional motto, such as "For tea, it's Shizuoka." By the 1920s, however, competition from producers in other pottery-making centers and pressure from vendors to lower production costs encouraged the shift from hand-forming to slip-casting using gypsum molds. Decoration and logos could be molded at the same time. In the 1950s, the mold-formed round or cylindrical shapes gave way to boxy jugs that stacked neatly on kiln shelves and in shipping crates and vendors' trays. Soon enough these efficient shapes were replicated in translucent plastic. The last Shigaraki train teapots were made in 1965. 
Like early train teapots, early bowls for ekiben were hand-thrown and usually undecorated. After the shift to mechanized production, even simple bowl forms came to be slip-cast or jigger-molded. Such bowls were made, for example, in the pottery centers of Mashiko and Kasama and supplied to food vendors at nearby Tsuchiura station. When anthropologist John Singleton was living in Tsuchiura with his family and commuting to Tokyo for doctoral dissertation research in 1961, he would stop on his way home to buy bowls of grilled eel on rice at the station. The plain, simply glazed bowls left over from these treats had sentimental value for the Singletons, who took them back to the United States as reminders of their Japan stay and used them for many years. How many Japanese customers living in the vicinity of train stations made use of ekiben as John Singleton did—as an early form of carryout?  
Another such vessel is a black-glazed bowl that I bought in 1967. I continue to use it, although it too was mechanically produced. On its base is stamped or molded the station name (Nagano) and the purveyor's name (Sakajima Kaikan). As the marking shows, bowls like this one came to be associated with specific foods available only at certain stations. My black bowl was the distinctive container for Nagano's famous kijimeshi donburi, which had deep roots in the mountainous area as the lunch carried by hunters. (Despite the luxurious-sounding name "pheasant rice" [kijimeshi], the main ingredient of the ekiben version, at least, was broiled chicken.)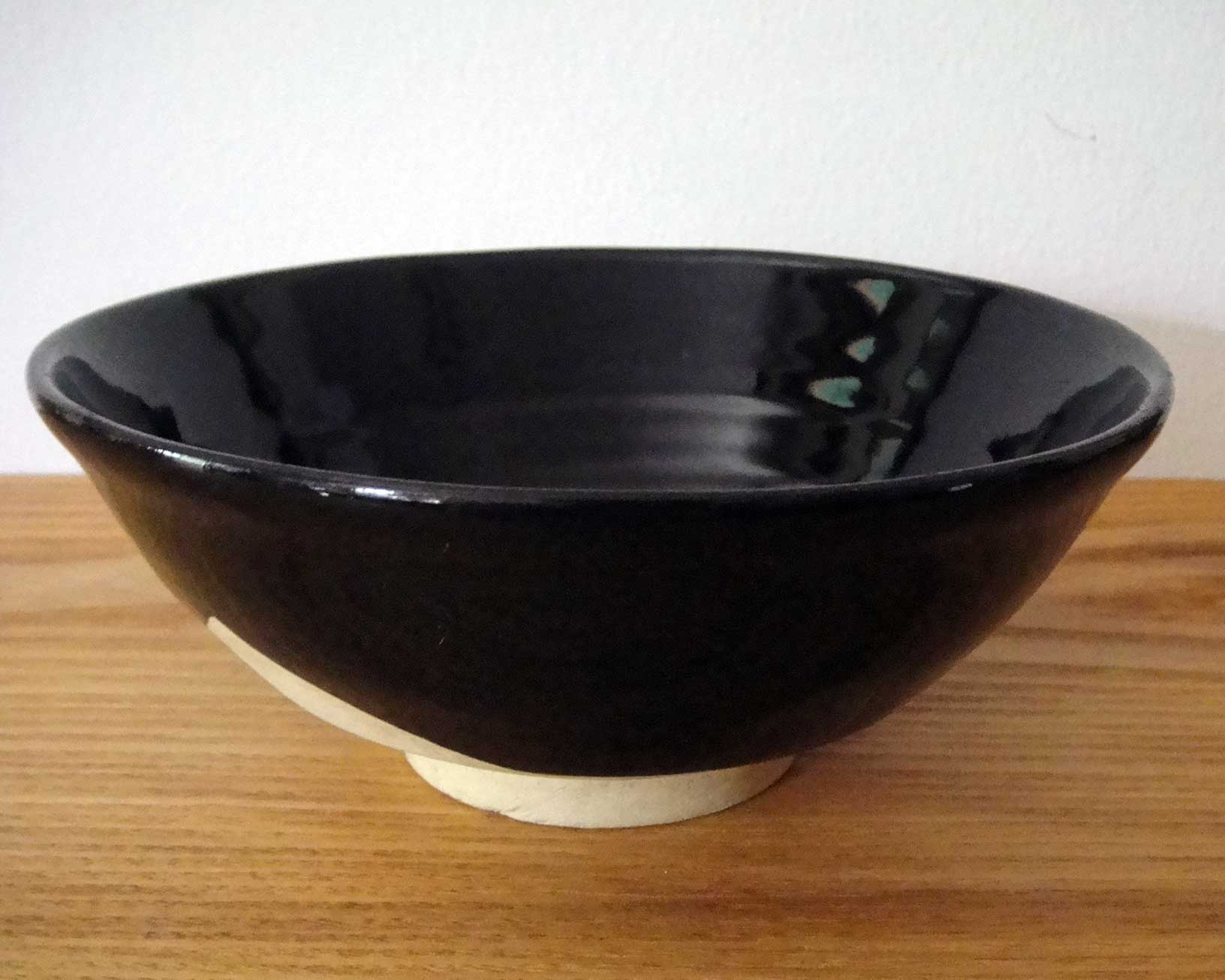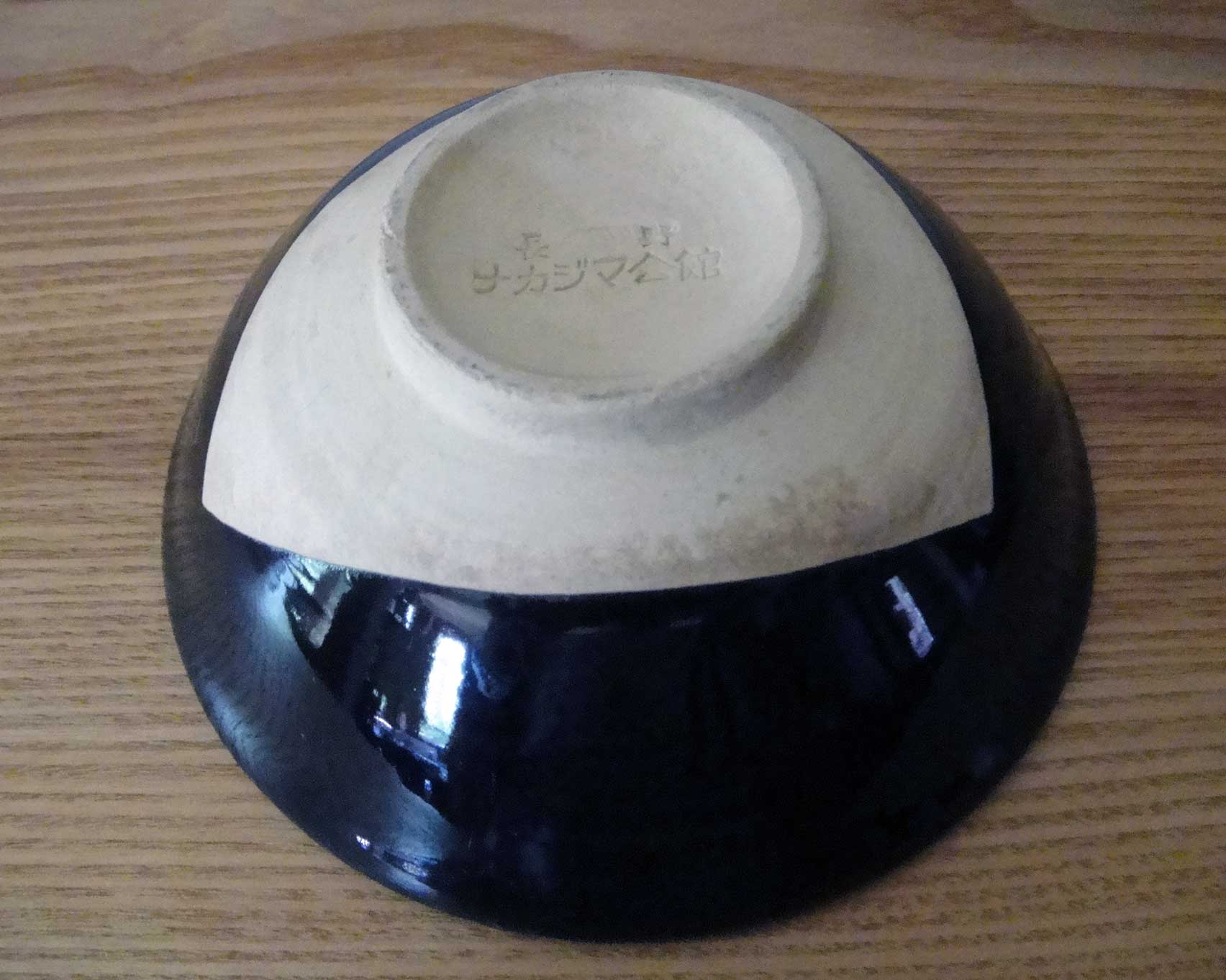 But I did not go to Nagano to get my bowl. Instead, I participated in an ekiben phenomenon that flourished in the newly prosperous 1960s, when taking train rides for recreation expanded. The travel boom led to an ekiben boom. Urban department stores staged "ekiben fairs," which gave an opportunity to taste and buy train station foods without actually traveling. Along with my black bowl, I bought a pocket-size guidebook that catered to the fad with regional rail maps and color images of tasty-looking lunches.2   
That book informed me that my black bowl was made in Tajimi, one of the towns making Mino ware. Tajimi lies considerably west of Nagano, but its bowls could easily be shipped to Nagano by rail. Although the marked base of my bowl shows that it was made specifically for use at the Nagano station, the same Tajimi workshop probably used different stamps on similar bowls it supplied to other stations. Thus such bowls participated in creating a sense of place for the consumer, although they did not have to be of that place.  
Given the versatility of slip-casting, a logical progression was to invent ever more ornate containers for famous lunches. Suggesting their savory contents, brightly glazed lidded boxes took the form of crabs, clams, wild boar heads, and leaping red snapper. Who knows how many travelers bought these (usually somewhat higher-priced) lunches for the sake of their containers, which they then carried home, especially after train travel became a sort of hobby for many.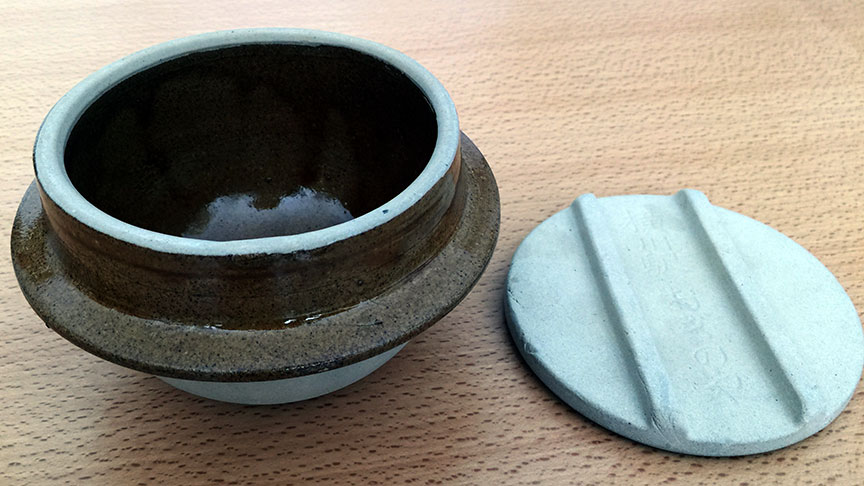 This custom contrasted to the early days of train dining. When finished with their meals, passengers simply placed the empty containers under their seats—or tossed them out the window. At the end of the line, janitors swept the cars clean. Recent archaeological studies of early train-station sites have uncovered jumbles of vessels with different clay bodies and various inscribed place names, representing the diversity of production and marketing sites that contributed to the pleasures of train travel. 
One common but souvenir-worthy molded container took the miniaturized shape of the iron kettle (kama) once used for cooking rice over a wood-burning stove. The cover resembled the traditional heavy wooden lid and completed the nostalgic image of home cooking. Many stations used such containers to purvey kamameshi, rice steamed with regional or seasonal flavorings such as wild herbs or fish. Although the amber-glazed bodies were unmarked and interchangeable, the lids usually carried the name of the station and maker.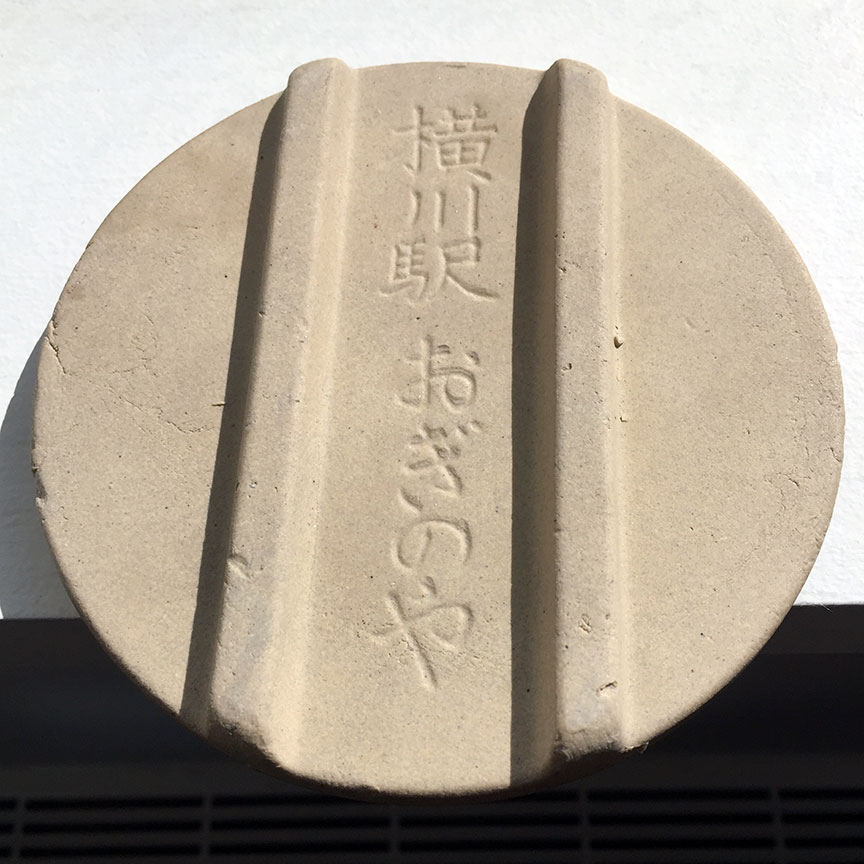 My friend Alice North became a collector of such containers during her stay in Japan in the 1960s. As a college student commuting by train to take language classes, she kept an eye out for abandoned kamameshi containers. Several came from Yokogawa station, known for its special "steamed rice at the pass" (mine no kamameshi). This dish drew its title from no less a source than Japanese classical literature. An eighth-century poem from the Manyoshu, the oldest existing collection of Japanese poetry, describes cooking rice in an earthenware pot before crossing the Usui pass near Yokogawa. Passengers who bought this ekiben could contemplate the hardships of early travel on foot from a pleasurable remove as their train car carried them comfortably over the pass.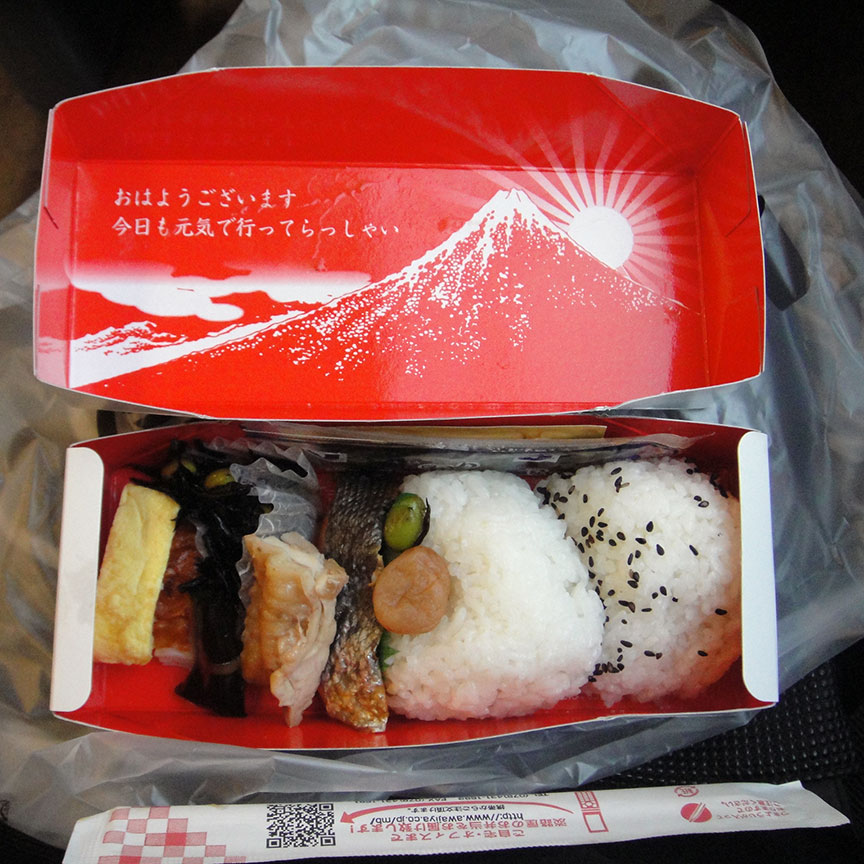 The much-celebrated arrival in 1958 of the first high-speed "bullet" trains linking Tokyo and Osaka transformed the experience of train travel. In relation to the sense of place conveyed by ekiben, the most critical difference between these trains and earlier ones was that the windows were sealed tight. Passengers could no longer throw open the windows at chosen stations to select their lunches from platform vendors. The railroad company began to select them for passengers. Uniformed young women now push carts through the rail cars, selling "modern" ekiben, including white-bread sandwiches and "hamburger bento." The chance to buy a more interesting ekiben is limited to the vendors' stands at departure stations. Nonetheless, as the sleek train smoothly pulls out of Kyoto station, there is still joy to be found in opening a well-designed cardboard box containing freshly formed, tender rice balls and bearing on its lid the cheerful greeting "Good morning! Today, too, may you travel well." This is a Kyoto station breakfast, and I am leaving for adventure. 
---
NOTES:
1. Cort, Louise Allison. Shigaraki, Potters' Valley. Tokyo, New York, and San Francisco: Kodansha International, 1979. pp. 264-265,326-329, figs. 233-236.
2. Ishii Izuo. Ekiben ryoko [Ekiben Travel]. Tokyo: Hoikusha, 1966. 
REFERENCES:
Kawano Mariko, ed., Ekiben mukashi monogatari—obento ni ocha [Long-ago tales of ekiben—box lunch with tea]. Tokyo: Higashi Nihon Tetsudo Bunka Zaidan, 2015.