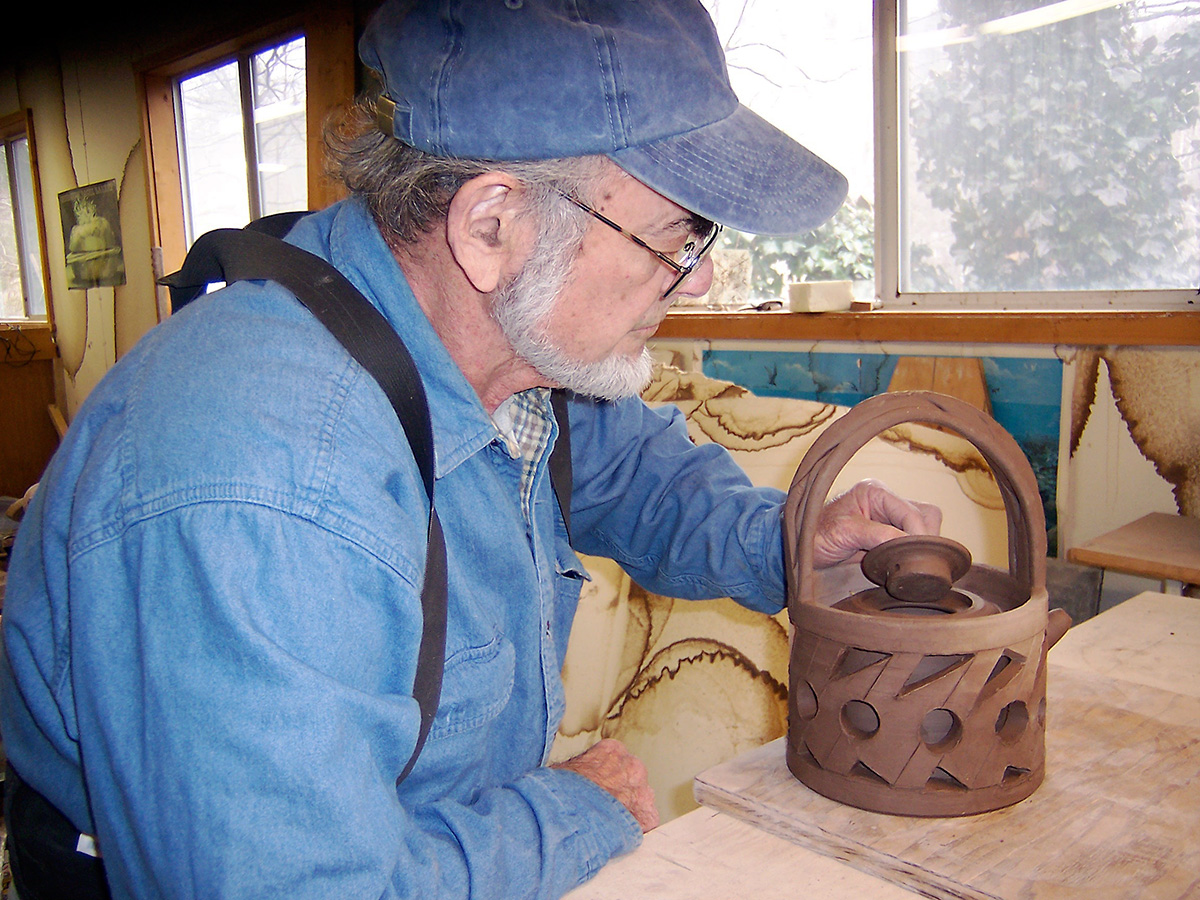 Editor's note: Also see Vol. 34 No. 1, Winter 2005 for an interview with Norm Schulman by Stanley Mace Andersen.
Norm Schulman passed away in October of 2014 in Penland, North Carolina. Norm was an independent thinker, at once rebellious and innovative, engaging, defiant, loving, passionate, a husband, a father, and perhaps most of all, a dreamer. He has joined other giants in clay who have died, including Peter Voulkos, Val Cushing, Viola Frey, Don Reitz, Robert Turner, and Gerry Williams. These first-generation clay makers (from the postwar, GI Bill, studio artists/craftsmen movement) in large part created and built the world of clay as we know it today.
The cover of the 2014/2015 Winter/Spring edition of Studio Potter depicts a banyan tree as a metaphor for the American ceramics movement. It's a powerful image capturing the interconnectivity of so many clay makers. It is beautiful and powerful, with deep roots, and what better way to remember Norm Schulman than through the thoughts and stories of ceramic artists and friends whose paths intersected with his?
Norm's influence was wide. Among those he affected was a vast network of colleagues, an impressive list of students, workshop participants, casual drop-ins, friends, community members, and two apprentices, me and his grandson, Colin. To share their remembrances of Norm, along with my own, I've invited Cynthia Bringle and Jun Kaneko, colleagues; Don Pilcher, Rick Hensley, Chuck Hindes and Stanley Andersen, former students; Sharif Bey, Jill Beech, Mike Vatalaro, and Mignon Durham, friends met through the arts and crafts community at large; and Stanley Andersen, Nick Joerling and Cynthia Bringle from the Penland community.
Shoji Hamada said, "To work with clay is to be in touch with the taproot of life." Norm connection to that taproot ran strong and deep. He had a deep-seated passion for and curiosity about all things. He embraced people while being ferociously independent. Norm was fearless as he embraced the natural world, wandered freely within his dreams, and lived his life in the in-between. And he put all of his self into his pots and sculpture.
When I think back to what drew me to clay, I often wonder whether it was working with my hands, the physicality of the material, or the challenge of the potter's wheel? Perhaps it was a little of each of these things? What I do know is that what led me deeper into clay was Norm Schulman.
...