My ceramic work is an artifact of my reality, made up of historical references, cultural melodies, and an aesthetic vocabulary. It is a realization of a multitude of memories. Most important are the cultural memories of growing up as an African American in the 1950s and 60s, in a farming family in Athens, Alabama. We lived under Jim Crow laws: I attended segregated public schools, and all areas of our lives were segregated. I was eighteen years old before I shook hands or had an informal conversation with a white person. It wasn't that I didn't want to; I just never had the opportunity. To say that this period was culturally restricting is an understatement. My first relaxed encounter with people of different races took place when I attended Calhoun Community College in Decatur, Alabama, where I also took my first ceramics class. The clay studio was a place of cooperative activity. We formulated and mixed clay together. We weighed chemicals to make glazes, loaded the kiln and fired it together, and built a large stoneware kiln using reclaimed firebrick. We all worked together in harmony. My ceramics instructor was Paul Molesky, a Polish American who ignited my passion for clay and inspired me to pursue a career in teaching and the arts. At that stage of my life, the ceramics class was both socially and culturally cathartic.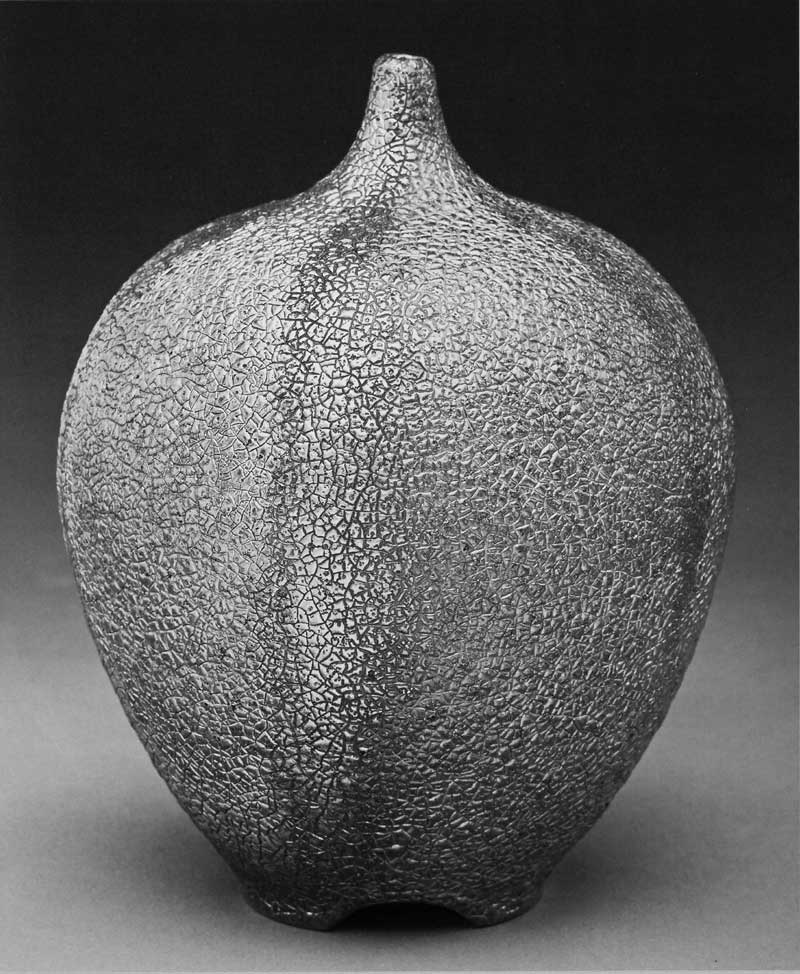 My parents and grandparents never had the luxury of being called "artists," yet inventiveness was a way of life for them. My father and maternal grandfather hand-crafted farm tools and modified farm equipment to meet their needs. My father cut trees from the farm and hauled coal from the mines to sell during the winter. He built a hydraulic system for his flat-bed truck from parts that he found at a junk yard, and turned it into a dump truck so that unloading the wood and coal would be easier. Every day they sought creative solutions to the challenges of providing for their families in an adverse social environment.
My grandmother canned fruits and vegetables, churned butter, and stocked the smokehouse with meat. One of the few things she had to purchase was flour. She bought it from my maternal great-grandmother, who had turned the back room of her house into a small store. The flour came in large, printed cloth bags, which my grandmother made into quilts.
My mother made soap out of fat and lye, hominy out of dry corn, and souse from the heads, tails, and feet of pigs, which were all boiled in large cast-iron caldrons. As a child, my job was to keep the fire burning hot around the black vessels. All of these experiences are deeply etched into my psyche. From my family's example, I developed a strong work ethic and the sense of industry and frugality needed to maintain my own ceramic studio practice.
I use my work to connect with my rich heritage. My double-walled caldrons are an attempt to materialize and conjure up ancestral memories. My family's appreciation for the land, learned through cycles of cultivating, growing, and harvesting, influences the way I use my environment as a source of inspiration and a point of departure. I often gather materials from canyons and deserts to color the surface of my pots, or collect dust after dust storms to make terra sigillata to add to my texture palette. I want my caldron forms and drawings to communicate the uniqueness of my cumulative knowledge and experience.
My architecture students at Texas Tech University, where I have taught drawing for thirty years, use a laser cutter to cut out their models. I am experimenting with this technology to inscribe drawings onto porcelain substrate tiles, which I buy as factory seconds. The laser-cut drawings on tiles reflect my experience of looking at my fiery pots through the kiln spy hole.
My use of a new technology, and of materials that would otherwise be discarded, parallels the frugality and inventiveness practiced by my parents and grandparents. Their ability to adapt and be creative is my legacy, which I pass on to future generations through my work.