Often, acts of generosity go unnoticed and undocumented. As part of an effort to right this wrong, this article acknowledges and recognizes the enormous contribution made by the irrepressible yet humble Vipoo Srivilasa to those suffering from natural disasters.
Vipoo is a Thai-born Australian who is a maker of positive artwork – artwork that is uplifting, accessible, and visually striking.[1] Although I encourage you to explore Vipoo's incredible exhibition practice, public art installations, and events, my intent is to discuss the altruistic motivations behind what I would more broadly describe as a socially engaged art practice. Vipoo is the creative force behind Clay for Charity on Instagram and its sibling, Clay for Charity (by Vipoo Srivilasa), on Facebook. Both platforms use social media to engage and encourage international communities of potters and ceramists to gift their ceramic work, then donate the proceeds directly to charities working in the field. This is a unique and targeted form of crowdsourcing that began in 2016 and has raised tens of thousands of dollars.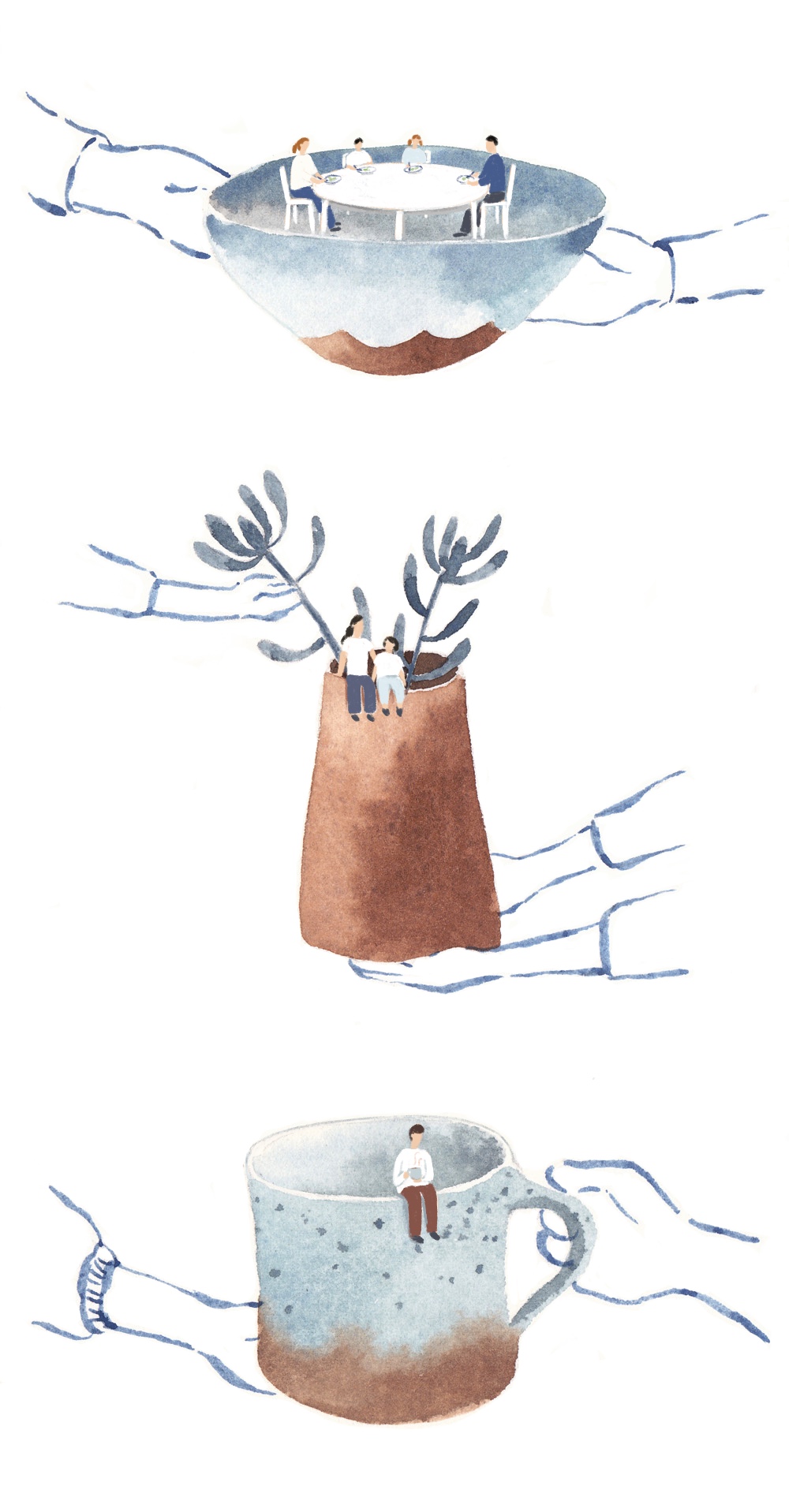 Charity vs. Mutual Aid
When we feel overwhelmed by the scope of misery or frozen by survivor's guilt from seemingly endless natural disasters that affect the world, Clay for Charity gives us a purposeful outlet. What can we do from the comfort of our homes and the sanctuary of our ceramic studios? Clay workers in my community tend not to have excess cash but have an excess of will – the will to help. Reflecting on the ceramics listed at Clay for Charity, most donations are listed and sell for between $20 and $100 AUD. The impact of this price point is not significant on the studio budget, nor is it beyond the means of most buyers. This goes back to the adage, "It is the little things" that become important. Success, in this case, is the sum of small efforts repeated day in and day out. Further scrolling through the Instagram grid, I observe that the work donated varies greatly in the ceramic genre, skill, aesthetic, and function; we are a mixed community of makers. However, donations are consistently intimate in scale, accessible in price range, and accompanied by compassionate words from both the maker and Instagram followers who support the donation. I see Vipoo's fundraising model as a form of mutual aid, a term used in organizational theory that describes a voluntary reciprocal exchange of resources and services for mutual benefit. Mutual aid has been used to provide people with food, medical care, and supplies, as well as relief from natural disasters and pandemics.
There is no questioning the fundraising success of Clay for Charity since its inception. Cold, hard cash is raised and then donated to service providers "on the ground," enabling crisis care providers to provide support to those most in need. Mutually, potters gain a sense of well-being from giving aid. People feel a sense of relevance when they can "do something." After major natural disasters in Australia, namely floods and bushfires, I struggle with mixed feelings of compassion, guilt, and helplessness, glued to news services in shock and fear. Mental health authorities suggest one way of healing and creating a sense of hope is to explore ways to get involved with the repair and recovery of your community.[2] Clay for Charity opens pathways for care, action, and giving – a condition of reciprocity that is both tangible and intangible in its service to humanity.
Vipoo is like a human talisman, picking up the emotional energies of the world. This is quite a feat for an artist who, by his own admission, spends most of his time alone in the studio. He also admits to a passion for social media and news of the world, which motivates the artist into positive action. I wondered whether his generous nature and his charitable accomplishments reflected a Thai Buddhist faith. Vipoo believes his benevolence is due to more than just religion: "…it is my nature to have a good heart." Buddhists believe in dāna, or "making merit." Similarly, and in monotheistic terms, giving charity can be found in other religions: zakat in Islam[3] and tzedakah in Judaism[4], which are understood as almsgiving and an obligation to help others. Vipoo explains that he "…doesn't do something because of Buddhism – it is his way of life; as an artist, [his socially engaged practice] connects him to the world, and it unites us."
The first fundraiser – Soothing the South 
By creating Clay for Charity, Vipoo clearly understood the important mathematical formalities of fundraising. His vast social network + his time coordinating and promoting + an original ceramic work = substantially more money than a direct cash donation. Vipoo's first charitable auction was Soothe the South, a heartfelt and swift response to severe flooding that occurred during the monsoon season in Thailand and was exacerbated by Tropical Storm Nock-ten that traveled west from the Philippines in mid-2011. Huge bodies of water spread through the provinces of northern, northeastern, and central Thailand along the Mekong and Chao Phraya river basins. By October, floodwaters had reached the mouth of the Chao Phraya and inundated parts of the capital city of Bangkok. The effects were devastating, with a total of 815 deaths, three missing, and 13.6 million people affected. Sixty-five of Thailand's seventy-six provinces were declared flood disaster zones.[5] 
Vipoo set up the fundraiser from his studio in Melbourne with the help of five friends in Bangkok. They used the social media features of Facebook to make an auction and donation project. At the time, Facebook was incredibly limited in its image management, accessibility, and online selling functions; Facebook Marketplace was still five years away. Facebook friends of friends of friends shared artwork and compassion in a scrolling dialogue. The "sale" ended at 7 p.m. on April 30, Thai time, raising 500,000 THB, or approximately 14,000 USD, in cash donations to the Red Cross. Vipoo was onto something big and beneficial, something that could be repeated and refined.
An earlier fundraiser, just prior to the COVID-19 pandemic, was Clay for Tonga, which ran from January 24th and ended on January 30th, 2020. Vipoo's final post thanked the community of makers, donators, and collectors and called for comment on the new donation process. For the first time, Vipoo gave the buyer and seller control over sales, payment, delivery, and where the donation should go. This was a huge investment of time on Vipoo's behalf, and from the comments made by participants, it gave agency and more administrative time to those involved. Clay for Tonga raised $17,589 AUD in just six days, which is an amazing amount. Most of the money came from Australia, which has a small number of potters and ceramics fans.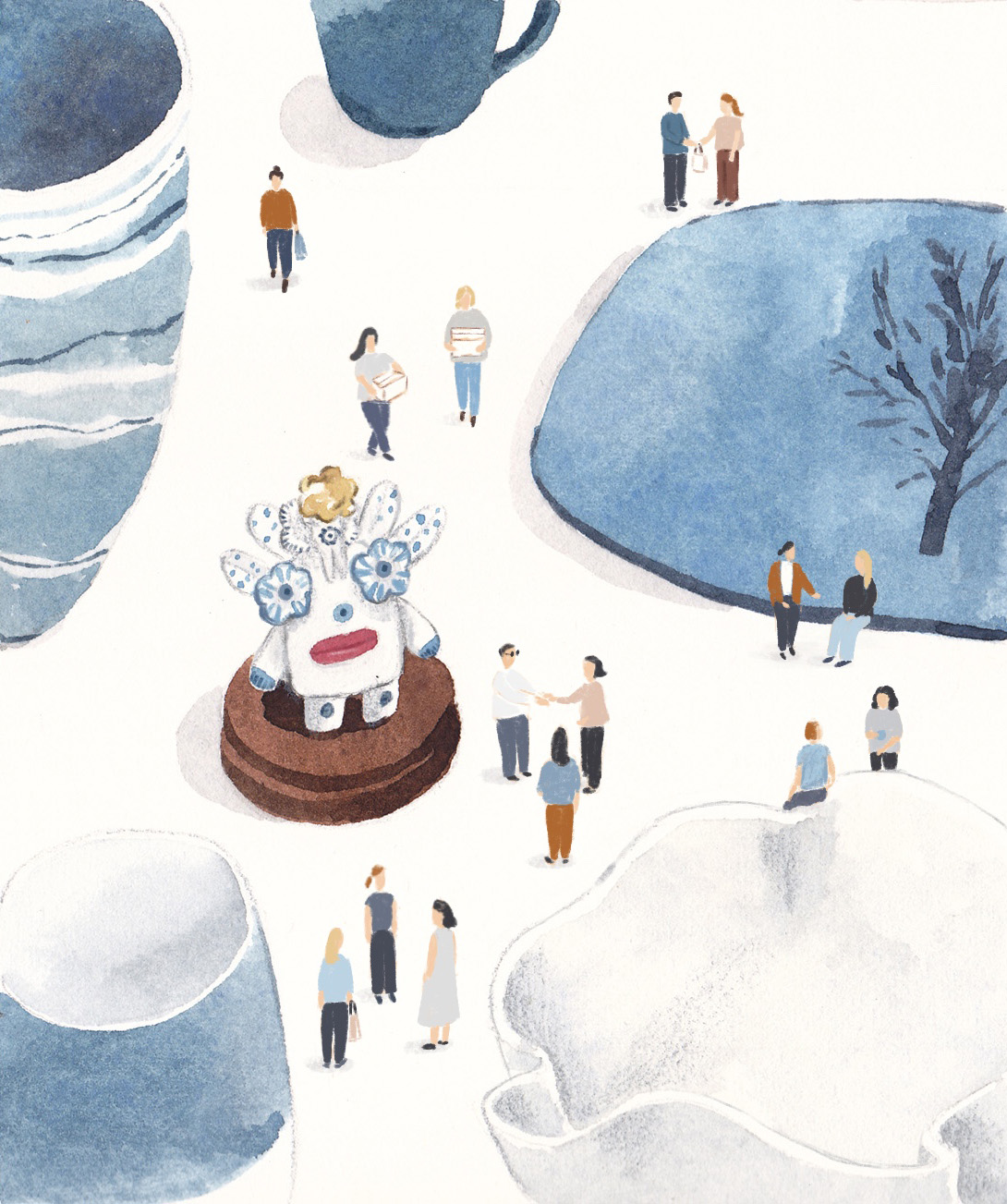 Clay for Australia fundraiser
Vipoo's necessary administrative shift came after his biggest fundraiser to date, Clay for Australia, which was to be a twenty-four-hour auction promoted through Instagram with the bidding on Facebook on January 24, 2020. When donations from all over the world flooded onto the Facebook page, bidding was opened early to manage the scale of interest. Vipoo refined the online management of the platform, delegating the administrative tasks of uploading, listing, selling, donating, and delivering to the artist donating. This mutual sense of doing something and pulling together is immensely beneficial to all involved. Interestingly, in this fundraising iteration, desirable services were auctioned alongside ceramic works. Notable examples were a two-day masterclass with Australian master potter Janet DeBoos at her studio and online art coaching sessions with the inimitable Leslie Ferrin of Ferrin Contemporary, USA.
How it works
The Clay for Charity (by Vipoo Srivilasa) Facebook page lists the process of how to buy works online in the Clay for Australia auction and reads as a checklist for any of us wanting to create an online fundraising project. Once you've logged in to the server, the process is as follows:
You contact the artist directly and buy directly from him or her.

You negotiate the shipping cost with the artist. Some artists offer free shipping within their region, but many artists ask buyers to pay for the shipping. There are no fixed rules here.

Pay the artist; overseas artists might ask you to donate directly and send the donation receipt to them instead of paying them.

The artist emails us proof of donation so we can total the amount raised.

The artist mails the work to you.

Done!
Facebook does the grunt work of the auction room, while Instagram promotes the donated work whilst documenting the inspiring tally of monies raised.[6] 
Dollar donations from sales were directed to five charities: the Red Cross Disaster Relief Australia, Wildlife Victoria Bushfire Appeal, South Australia Bushfire Appeal, the Food Bank, and Wildlife Rescue NSW. Many ceramicists nominated wildlife services in their respective states, acknowledging the huge loss of animal life, which was wreaked by bushfires that consumed over seventeen million hectares, cutting a catastrophic swath of death and ruin across southern and south-eastern Australia. It was truly heartening to see the response to the deadly situation we were in back in 2019–2020. Black Saturday was the third major bushfire event that I have lived through; I'm not that old, and climate change has yet to take its full course. Seeing the response from the international ceramics community made me realize how huge this fire event was.
By early February, at the closing of the campaign, $49,104.51 AUD had been donated from countries as vastly different as Argentina, Australia, Brazil, Canada, Denmark, France, Germany, Hong Kong, India, Indonesia, Iran, Ireland, Israel, Italy, Japan, Mexico, the Netherlands, New Zealand, Poland, Portugal, Romania, Russia, Scotland, Serbia, South Africa, Spain, Thailand, Turkey, the United Kingdom, and the U.S.A. 95% of these donations were from people who identified as female. Thinking about a Venn diagram where the two data sets are female and ceramics, I suggest the overlapping commonalities are: generosity, empathy, and action.
In the culmination of the Facebook event, Vipoo wrote about the labor of the project, not as a complaint but in thankful collaboration:
When I began Clay for Australia, it was just me alone, but by the end of the project, I had an amazing team of people helping me manage the project. I cannot thank you enough. Without your help, I wouldn't have been able to get Clay for Australia off the ground.
Warisa Somsuphangsri – helps out with all admin and Facebook posts; my right-hand assistant!
Wanisa Somsuphangsri – logo and Facebook banner design,
Vicki Grima – an adviser as well as a writing expert,
Carol Epp – looks after all Instagram-related things,
Dean Netherton – built the submission automated data system,
Jeromie Maver – helps with formal writing and is a promoter,
Avi Amesbury – taking on the huge task of adding up all the finances.
Clay for Turkey and Syria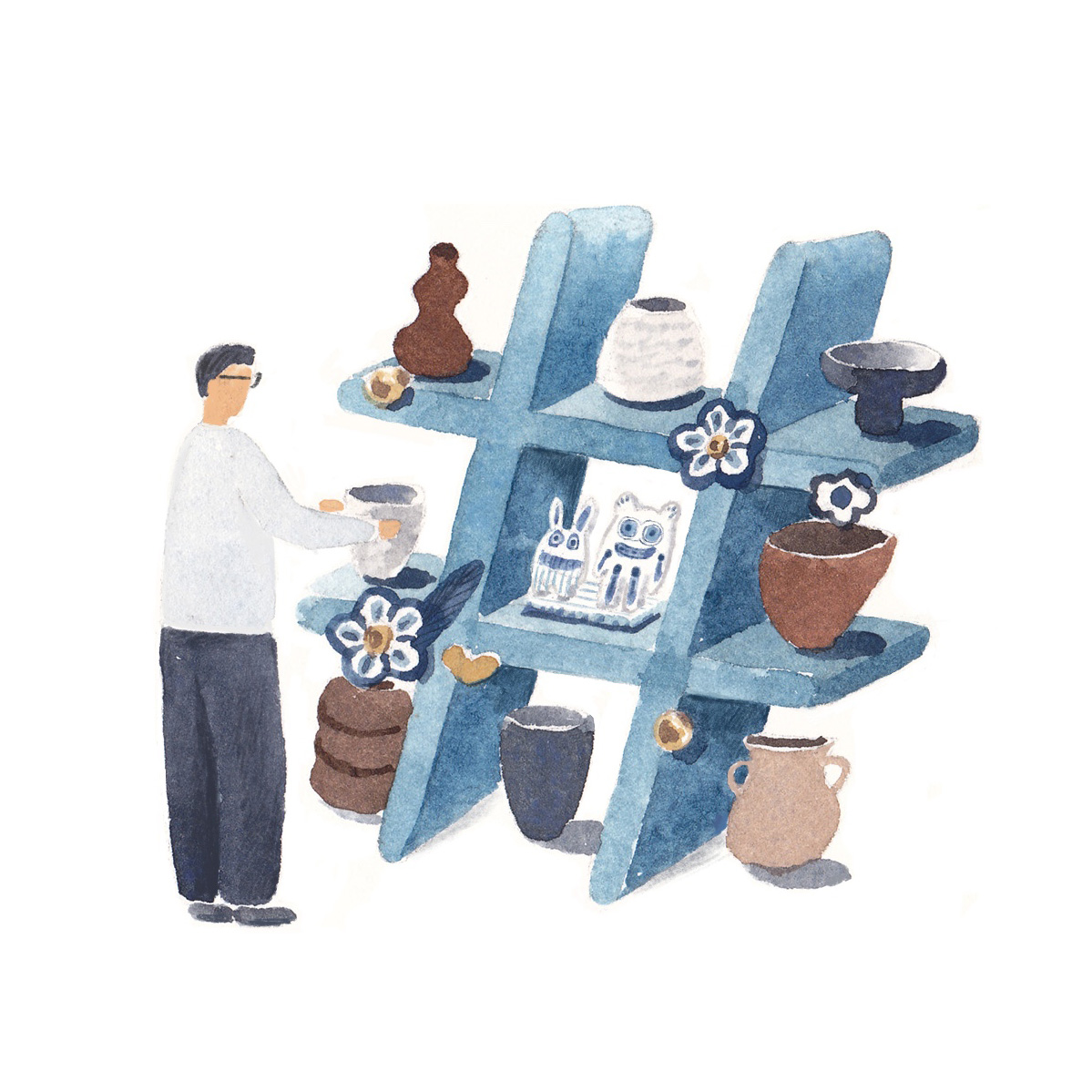 As I write, Clay for Charity on Instagram has 27,100 followers and 547 posts. At the close of Clay for Charity's most recent campaign, $27,820.79 AUD had been raised in response to news of the 7.8-magnitude earthquake that devasted communities in Turkey and Syria. Home to more than two million people, including refugees from war, this region has poor infrastructure and building practices, resulting in thousands of people being trapped, injured, and killed in terrible circumstances. Scrolling back through the Turkey and Syria campaigns, I see a potter from regional Victoria has posted in immediate response to Vipoo's call for donations. Peter Pilven writes, "Woodfired bottle @clayforcharity…like everyone, I am devastated by this event." Pilven chose World Vision as his charity donation; he has acted. A few days after Pilven's post, the account announced that $10,000 AUD had been raised. Here Vipoo chips in with a post for a series of his figurative brooches at $125 AUD each. By now, Vipoo is a master at moving this charitable action along, boosting viewings via his @vipooart Instagram account, which has 26,700 followers. Scattered through Vipoo's correspondence are carefully placed hashtags: #ClayForTurkeyandSyria and #clayforcharity. A hashtag is a keyword, or in this instance, a phrase with a # prefix, used within a post on social media. It has the mutual benefit of drawing attention to your posts and encouraging interaction with other like-minded people.
I continue scrolling through Instagram and see a post for two simple platters with silhouetted tree and bird decorations. Cheerful and optimistic, these works lift me out of a deeper sadness as I reflect on the aftermath of the earthquake. Donated by Canadian potter Laura McGibbon, we exchange Instagram messages extolling the virtues of Vipoo. "He seems to be the hardest-working person in ceramics…with immense energy and enthusiasm." In light of McGibbon's observation, I wholeheartedly agree and add that Vipoo's work and the labor he applied to this platform are one part of his creative practice. As an artist, Vipoo's sculptural figurines and large-scale installations engage audiences with delight and joy. His ceramic art explores cultural identity, and his other posts about food and stories of belonging require another article entirely.
Laura McGibbon also admires Clay for Charity as a platform that displays the contribution of an entire community, providing a sense of communal and global action. Inclusion is entirely non-hierarchical and accessible to anyone participating in social media. The ceramic and pottery worlds are fairly niche and relatively small, especially in an expansive country like Australia, yet in moments when the world is in crisis, social platforms such as Clay for Charity pop up and begin generating goodwill. Vipoo applied his heart, soul, and physical labor in those early years of the fundraising platform. By adopting new technologies that are open and engaging, his Instagram site gives agency to those of us who need a way to express benevolence and generosity. Clay for Charity is a new form of currency exchange whereby donating artist products is a direct act of philanthropy. The impact of all our many gestures of care, empathy, and action really does add up and make a difference.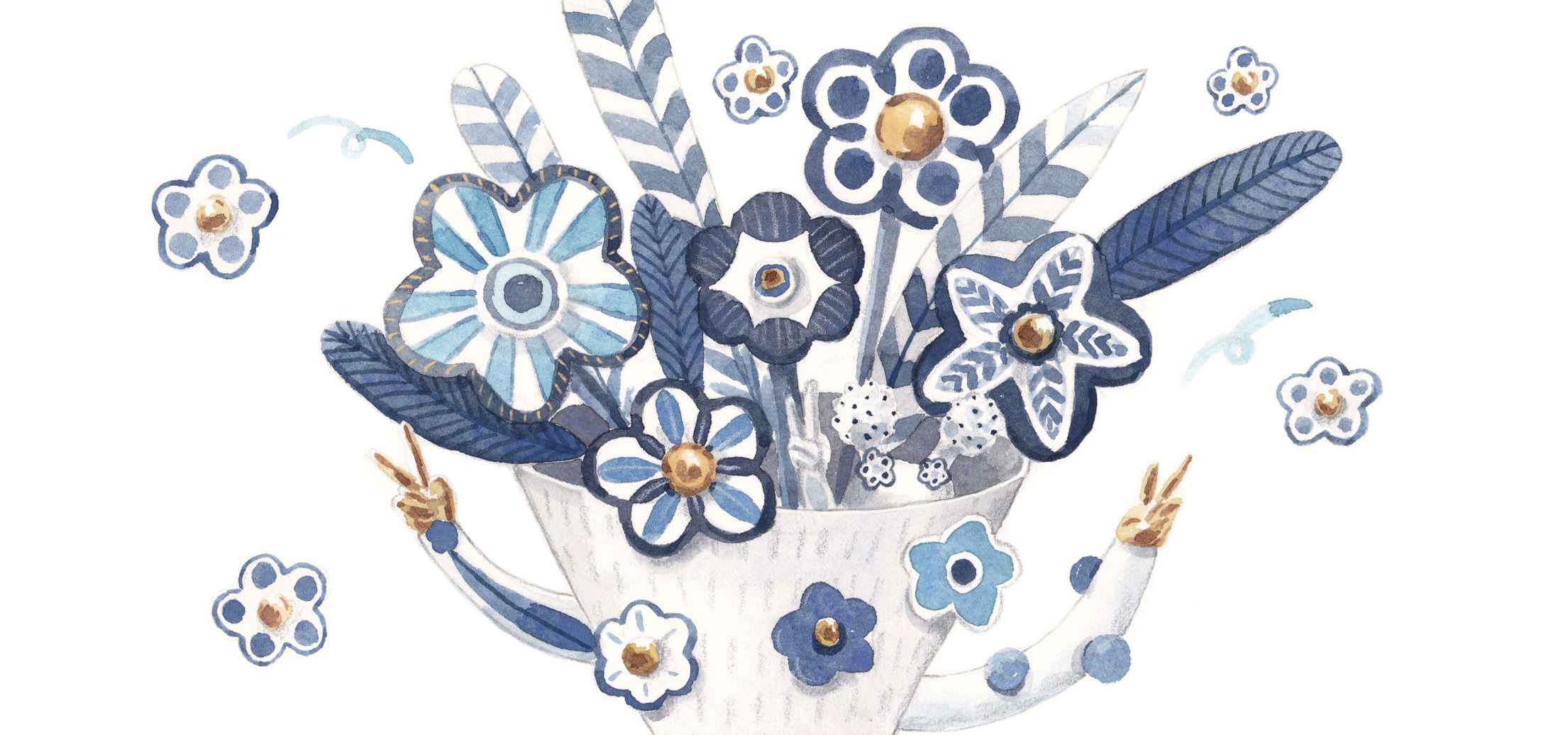 ---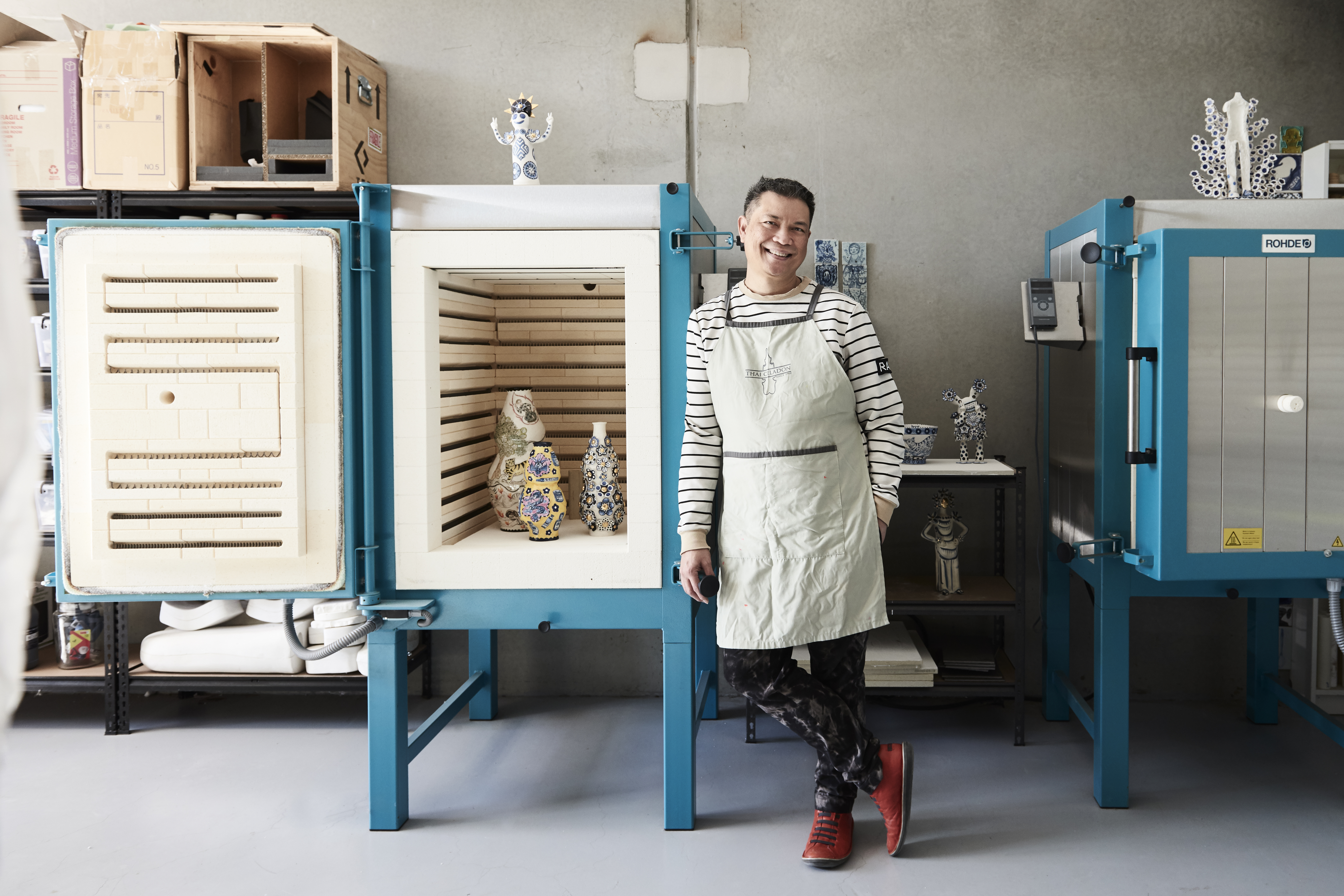 About Vipoo Srivilasa
Over the past two decades, Vipoo Srivilasa, a Thai-born Australian artist, has made works that engage with complex questions of queerness, migration, and spiritual meaning, using an aesthetic and medium that are accessible, uplifting, and beautiful. An important aspect of Vipoo's practice is his collaborations and work as an activist to create opportunities for cultural exchange between artists and diverse communities and invite further engagement with cross-cultural and migration experiences.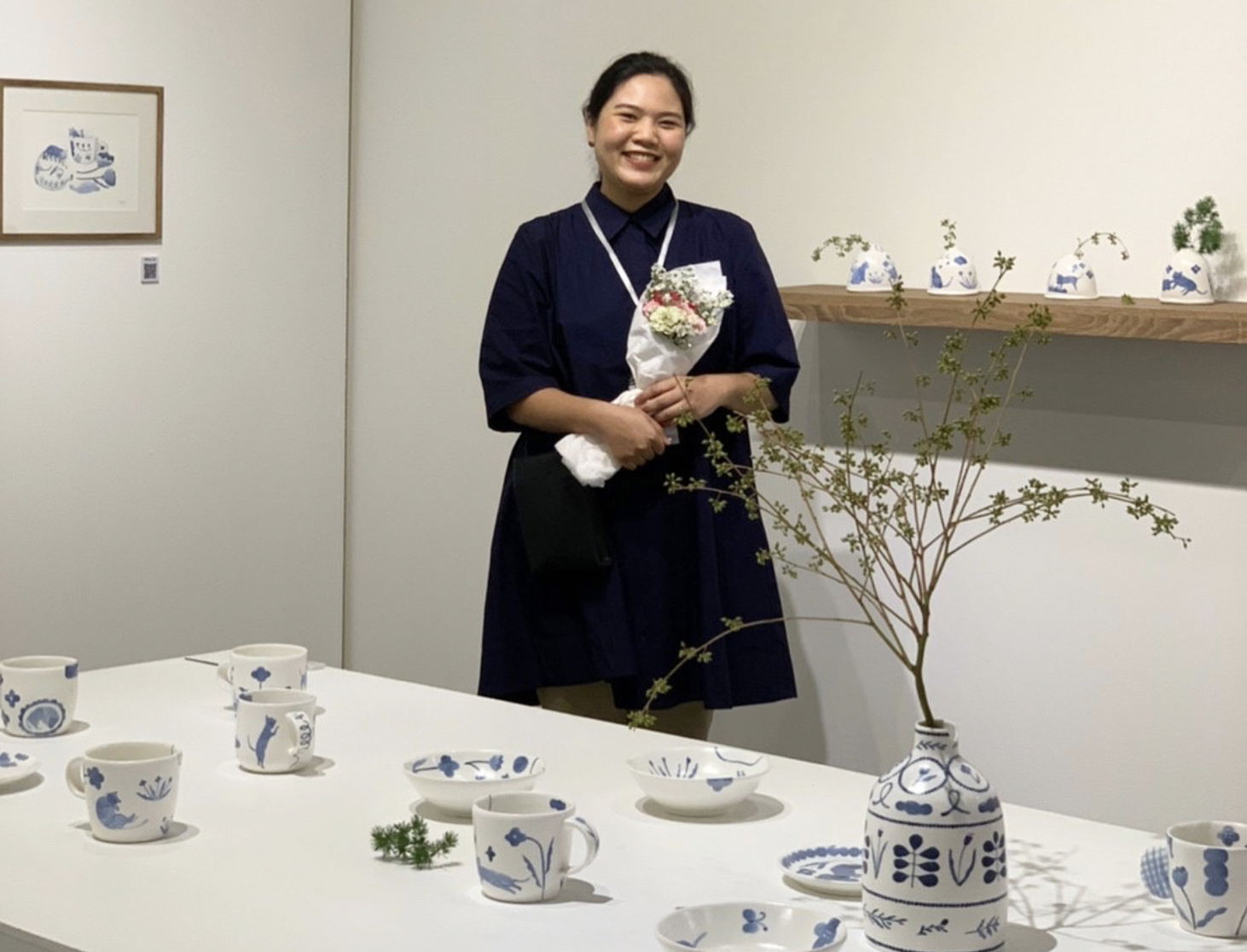 About the Illustrator
Atelier Pakawan, or Pakawan Thongvanit, is a Thai illustrator and ceramic artist. Pakawan has a background in interior design but decided to make a career shift to a more artistic path. She loves drawing everyday objects and then putting some creative ideas into them. She often uses watercolor, colored pencils, and a little bit of digital painting as well. Pakawan has also spent two years studying ceramics in Aichi, Japan. Wheel-throwing is a technique she enjoys the most. She also practices a blue and white painting technique called sometsuke with a Japanese specialty brush.
---
NOTES:
[1] "Vipoo Positive Artwork," Vipoo Ssrivilasa, accessed March 12, 2023, https://www.vipoo.com/.
[2] "How to cope with the stress of natural disasters," Headspace, accessed March 7, 2023, https://headspace.org.au/explore-topics/for-young-people/natural-disasters/.
[3] "Zakat Al-Mal," Sadaqa Welfare Fund, March 7, 2023, https://sadaqa.org.au/ramadan/51/zakat-al-mal?gclid=Cj0KCQjwk7ugBhDIARIsAGuvgPab4vkcOzmZbyOdJ8n8eXCIQpecFzA0vVpJCpnr9Otqo4QBHnTNYtEaAlh6EALw_wcB.
[4] "Tzedakah," Australian Jewish Funders, accessed March 7, 2023, https://www.google.com/url?q=https://ajf.org.au/our-values/&sa=D&source=docs&ust=1681319726945925&usg=AOvVaw054QuxA9KngMFYTaykmCzw.
[5] "Tropical Storm Nock-ten," Wikipedia, accessed March 12, 2023, https://en.wikipedia.org/wiki/Tropical_Storm_Nock-ten.
[6] ​​"Clay for Australia," Facebook post February 7, 2020, accessed 12 March 2023, https://www.facebook.com/ClayForClayCommunity/.