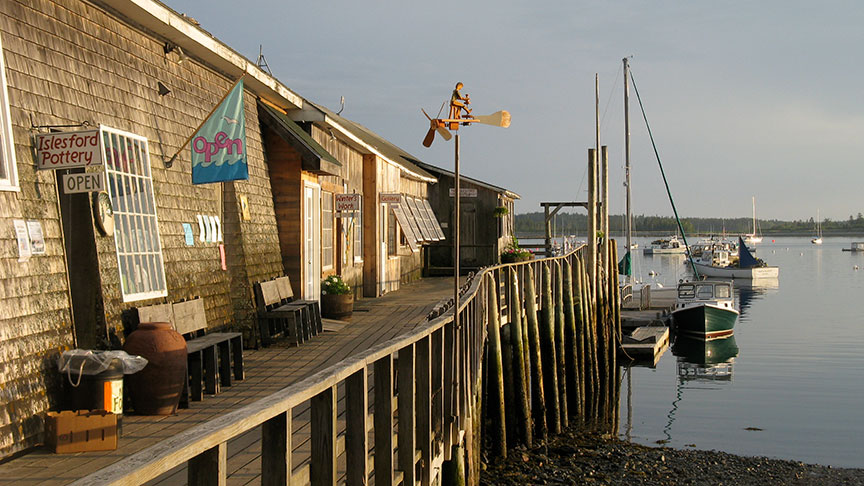 One would think that to be successful, a retail shop would need to be in a busy area, a city or town, easy to find, with high visibility, and accessible to a lot of people. So what did I do? I set up a small pottery studio and gallery space on an island off the Maine coast that you can reach only by boat. I sell my work and about nine other potters' work in my gallery, which sits on a covered pier with a view of Mt. Desert and Acadia National Park. 
Over the twenty-eight years my studio-gallery has been open on Little Cranberry Island, also known as Islesford, business has steadily increased. The shop is open only in the summer, like so many other businesses in coastal Maine. Customers include the year-round island residents (about sixty), summer-only residents or renters (about 400 or so), and visitors from the mainland traveling in their boats or water taxis. Sometimes I sell to day-trippers who come over on the ferry to check out the island. But more of my sales come from people back for another visit. Like a good coffee shop, my store has developed "regulars." 
I established Islesford Pottery in 1989, renting a section of the wharf, which had a long building on it with three or four sections and its south-facing side an open walkway for the business entrances. The most prominent business already there was a restaurant, which, being the only one on the island, helped promote the dock as a destination—a great benefit for my shop. My space needed a front door and window, and a wall to separate it from a large boat storage area at the land-end of the pier. This part of the dock had served other purposes in the past; at one time it had been a local lobsterman's workshop. It is now a small studio work area (table, shelving, kiln, wheel) with an adjacent gallery space, both open to visitors. When I was setting up the shop, I wanted to keep the historical ambience and hung up a lot of the original stuff—wonderful old wooden buoys and tools—out of the way but visible. Most of the shelving is comprised of driftwood boards from the beaches nearby.  
...