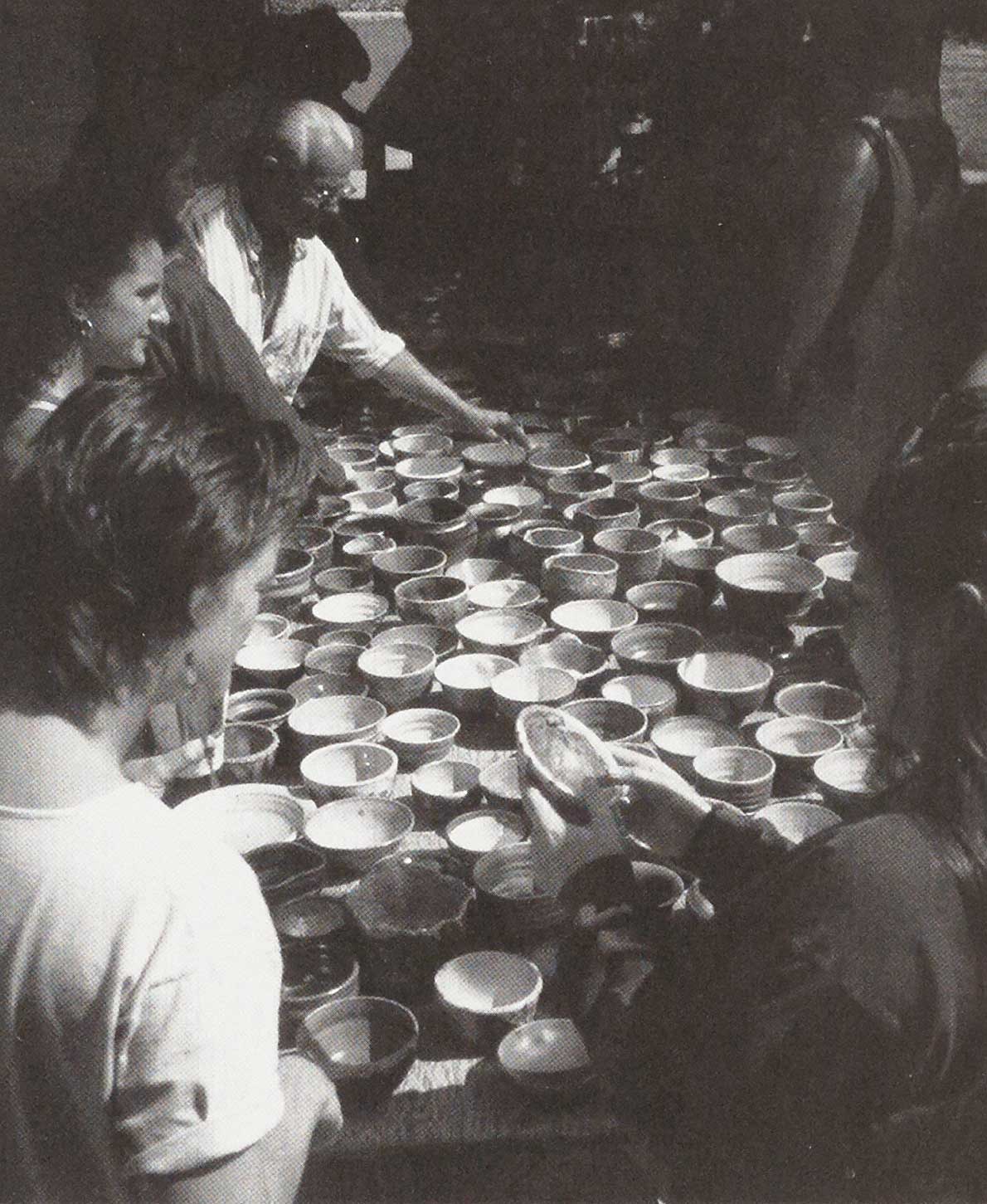 During the summer of 1998 I helped organize and was a guest artist in a two-week workshop that Gerry Williams taught with his younger friends John Hartom and Lisa Blackburn at the Penland School of Crafts in North Carolina. What we hoped for was a way to honor and call attention to John and Lisa and their inspiring "Empty Bowl" project by designing a workshop curriculum to include it and some of the concerns it grew out of. We called the session "Ethics and the Art of the Bowl."
Studio time was spent focused in a deep consideration of the bowl as formed on the potter's wheel. There were daily demonstrations by the workshop leaders. One afternoon was spent at nearby Rock Creek Pottery where Douglass Rankin and Will Ruggles demonstrated and shared their Zen-inspired way of working movingly. Another afternoon we hosted several potters who live at or near the Penland School for a communal demonstration. Nick Joerling, Cynthia Bringle, Jon Ellenbogen and Suze Lindsay, joined by Penland residents Shawn Ireland and Michael Kliene spent several hours throwing bowls and responding to our questions. All the bowls they made were left with us for the Empty Bowl dinner that ended the session.
The students and instructors made and fired over 600 bowls during the session, of which 216 were chosen to be donated to an evening meal attended by the Penland Community of students, faculty, staff and neighbors. The meal consisted of soups ladled into our bowls, breads, salads, wine and desserts. All 216 bowls were sold for $10 each, whether made by a novice student or a veteran professional. The bowl we each purchased was not chosen but handed to us randomly. It was an especially cheerful and fraternal occasion, at the end of which Jean MacLaughlin, Penland's director, made a presentation of the $2160 raised to the director of the Shepherd's Staff, a local agency that serves the indigent and homeless. During this past decade, hundreds of such occasions have been inspired by the Empty Bowl project originated by John Hartom and Lisa Blackburn, raising millions of dollars by potters to help feed the homeless, literally and figuratively.
Every afternoon during the Ethics and the Art of the Bowl session, we took an hour's break to talk together and with guests about ethics, particularly ethical questions facing craft artists. Each afternoon had a theme, a presenter or presenters who began our time together with a brief talk before opening the floor to conversation. We talked about the ethics of dealing with galleries and the market place, about the ethics of craft education (an especially lively session), about mingei, environmental ethics, global ceramics, and about the ethics of sexism, racism and violence.
To inaugurate these afternoon sessions on ethics, we invited Donna Jean Dryer, a former director of Penland, to give a more formal talk that might help define and open the question. Donna Jean Dryer has been connected to two of the schools that I have most appreciated in my own experience: Pendle Hill, a Quaker adult school and retreat center in Pennsylvania, and Penland School. Donna Jean was on staff here at Penland for a number of years and then retired. She was called out of retirement soon after to act as interim director this past year. Everyone agreed she did a remarkable job. What follows is an edited transcription of Donna Jean Dryer's remarks delivered at the opening session on ethics at Penland on August 10, 1998.