This Weeknd: Hilltown 6 Pottery Tour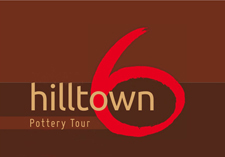 This weekend is the 10th annual Hilltown 6 pottery tour. Founded by six nationally recognized potters who call the hill towns of Western Massachusetts home, the tour has grown to include nine distinguished potters as well as many guest artists. SP editor Elenor Wilson is a guest artist at Robbie Heidinger's studio so be sure to stop there first! Visitors get the chance not only to purchase work, but also to mingle and browse the distinct studio spaces of each artist. There will be demonstations throughout the weekend at many of the studios, so be sure to check the Hilltown Six website for full details.
I sat down with tour member Maya Machin to find out a little more about the tour and get the inside scoop.
JS: So how long have you been a member of Hilltown 6?
MM: I was a guest in 2012, and was granted full membership in 2013, so this will be my fourth year. You guys need to throw me an anniversary party. The big four!
JS: I will bring balloons. How do you feel the tour has changed over the years?
MM: The tour has added members and guests as time went on, as well as more demonstrations and special events. Each year there is a little bit more to see and do as you travel through the tour.
JS: Pottery tours like this one seem to be popping up around the country. What makes Hilltown 6 stand out?
MM:  Hilltown 6 is very special. It is a unique opportunity for customers to see where we work, and what inspires us. They can see our studios, kilns, houses, gardens, and families. This allows them to place the pots that they buy in context, and to know the stories behind them. I always have thought that it makes using the work much more interesting.
JS: What are you looking forward to about this year's tour?
MM: I love seeing my repeat customers and hearing about their lives and families, and meeting new people. I also love watching someone unexpectedly fall in love with pottery who is just along for the tour because a loved one dragged them along.
JS: How can eager visitors get the most out of the weekend?
MM: I always encourage visitors to take their time. To really, fully appreciate the tour and the area, taking two days makes sense. There are great restaurants, music venues, et cetera, in the area so finding something to do at night after the tour is never a problem. Being able to wander the hills at leisure and see the landscape as well as each studio makes it much more enjoyable.
JS: You and Michael McCarthy, fellow Hilltown 6 member, go way back. You both apprenticed for Mark Shapiro (also on the tour), continue to fire kilns together, and have been known to "bicker like siblings." (That quote will remain anonymous). So Michael McCarthy: Great potter or greatest potter?
MM: There is a reason that Michael has my initials. All except the middle one. But my middle initial (D) comes before his (E) in the alphabet. Need I say more?
You can see Maya's work at her home/studio in Conway, and Michael McCarthy's pots at Sam Taylor's studio in Westhampton. See the full Hilltown 6 Pottery Tour map here! The tour runs this Saturday and Sunday (July 23rd and 24th) from 10 a.m. to 5 p.m. Also this weekend, our friends at Project Art in Cummington, MA, are hosting their annual open house. In addition to work by guest artist Mara Superior and program director Alex Jelleberg, on view are the studios and recent works by Sergei Isupov, Kadri Parnamets, and Paul Scott, as well as watercolor paintings by June Ferrin and selected works from Ferrin Contemporary's recent exhibitions that include Stephen Young Lee, Peter Pincus, Kurt Weiser, and Vipoo Srivilasa. Find out more on the Project Art website.