March 13 - March 19: NCECA Kansas City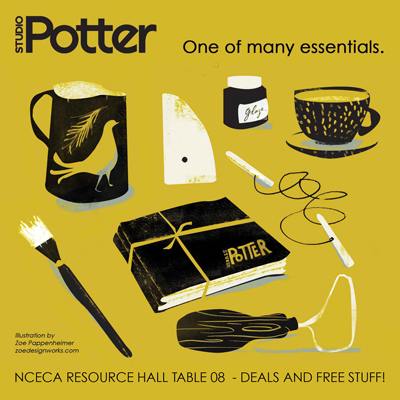 Studio Potter will be in Kansas City for the 50th annual NCECA conference, March 13 - 19!  Come see us at the Kansas City Convention Center Resource Hall - Table T08 on the resource hall map.
We will have these special deals for NCECA goers:
A free back issue when you fill out your contact information on our card (same image as at left), and bring it to our table.
A FREE SP logo apron, FREE tote bag, and FREE back issue for NEW members who join at our table.
A $10 add-on SP logo apron option, FREE tote bag, and FREE back issue for renewal memberships.
Logo aprons for sale at $5 off our website price.
The Limited Edition SP Mug by Tandem Ceramics will be available for sale to support our internship program.
A few tickets are still available for The Heartland Table event, produced in partnership with Cook On Clay, and FEAST Magazine, on Tuesday evening (March 15th) - get yours now! 
The SP staff will be out of the office during this week, and will resume regular business on Monday, March 21st.